As a personal trainer, I recommend that all my clients should sit in a sauna for 10 minutes after a workout at the gym. I always looked at this as a way for your muscles to relax, and it is part of my regular post-workout routine.
But I wanted to explore if the sauna and steam room could be helpful for weight loss as well.
So, I got together with the team, and we did some research into all the benefits of spending some time in the sauna and if there was ideal timing as well.
Here's what we found.
Quick Summary
Saunas can aid in weight loss by increasing sweating and boosting metabolism rates.
It's recommended to start with five-minute sauna sessions and limit infrared sauna sessions to 15-20 minutes to avoid excessive water and electrolyte loss.
According to the National Institute of Health, sauna sessions can increase metabolism by 25% to 33% [1].
In my opinion, regular sauna use, combined with proper hydration and moderation, can be a beneficial addition to a fitness routine for enhanced weight loss and muscle recovery.
Do You Lose Weight In The Sauna?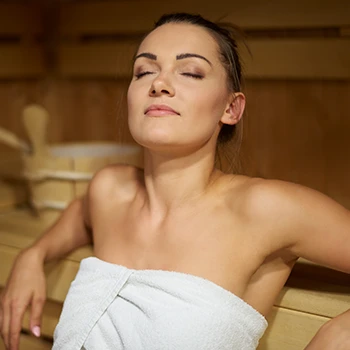 I often clarify to my clients that while saunas can aid in weight loss, it's crucial to understand the reality.
A common misconception is that you're losing fat in the sauna, but it's primarily water weight. Rehydrate after your sauna session, and you'll regain that weight.
But don't write off saunas just yet.
According to the National Institute of Health (NIH), incorporating a sauna session before or after your workout can increase your metabolism by an impressive 25% to 33% [1].
The best part is that this boost in metabolism extends for several hours beyond your time in the sauna.
And if you want to further boost your metabolism, then consider adding the following products to your daily supplement stack.
How Much Time Should You Spend There to Lose Weight?
I advise starting with five-minute sauna sessions for weight loss. It's crucial to gradually acclimate your body to the heat.
For those using infrared saunas to burn fat, I recommend limiting sessions to 15-20 minutes
Overstaying can lead to excessive water and electrolyte loss, causing dizziness or fainting.
In extreme cases, according to NIH, it might even result in heat stroke [2]. Remember, moderation is key.
Related Article: Does a Sauna Suit Help With Weight Loss?
How Does Sweating Burn Fat?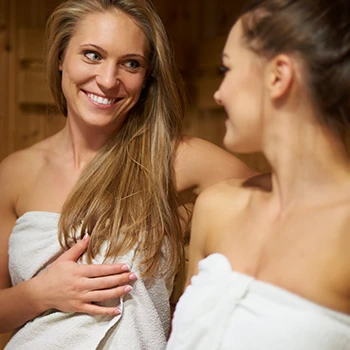 I always explain to my clients that sweating is our body's way to regulate temperature. In a sauna, your body sweats to cool down and maintain a stable internal temperature.
But it's important to understand that sweating itself doesn't directly result in fat loss.
Let me break down what actually happens.
1. Water Weight Loss
You'll be sweating even in just five minutes of sauna time. And if you step on weighing scales before and after, you'll notice a significant amount of weight loss that could be up to a pound.
But when you lose water weight, you have to replenish it, so this isn't true weight loss.
2. Fat Loss
A sudy by NIH has shown that regular trips to the sauna can boost your metabolism and burn more calories after you leave the sauna. And there's an added bonus of this helping to build up more lean muscle mass [3].
Now, it's not like you're going to burn extra calories that compete with a tough workout. But your body will use up more energy, even when resting and recovering.
3. Detoxification
A 2019 study from the NationalLibrary of Medicine shows that the body sweat can help to flush out the lymphatic system, which is also responsible for flushing out toxins and supporting the immune system [4].
It's one of the main health benefits of going to the sauna, as your body will become more effective at removing toxins.
"Far-infrared saunas provide a gentle, side-effect-free, effective mechanism for detoxification. Their waves penetrate deep into the human body, elevating the body's surface temperature, activating circulation, sweating, and excretion of toxins from the lymph and blood through the skin."

- Marilee Nelson, Writer at branchbasics.com
Safety Tips for Sauna Use
For safe sauna use, especially for beginners or those with health conditions, follow these guidelines:
Start with brief sessions of 10-15 minutes, gradually increasing as tolerance builds.
Stay hydrated by drinking water before and after, but avoid alcohol or heavy meals.
Listen to your body; exit if feeling lightheaded.
Individuals with cardiovascular issues or pregnant women should consult a healthcare professional.
Shower before to remove lotions and makeup, and sit or lie down rather than standing to prevent blood pressure drops.
Limit sessions to 2-3 times weekly.
If on medications or with medical concerns, seek advice from a healthcare provider before sauna use.
FAQs
How Many Days a Week Should You Go to a Sauna?
You should try to go to the sauna up to three times a week. That's a generally recommended guideline and safe option if you limit your time to under 15-20 minutes.
Should You Drink Water in the Sauna?
Yes, you should drink water in the sauna. If you just go in for five minutes, you might be fine.
But after a tough training session, you can't afford to become further dehydrated. It's also a good idea to drink some water before a sauna visit.
How Many Calories Do You Burn in a Sauna for 30 Minutes?
For 30 minutes in a sauna, you would burn around 68 calories. Staying 15-30 minutes in a sauna allows you to burn 1.5 - 2 times the number of calories you would if you were sitting anyplace else.
---
References:
https://pubmed.ncbi.nlm.nih.gov/3766176/
https://www.ncbi.nlm.nih.gov/pmc/articles/PMC5507382/
https://pubmed.ncbi.nlm.nih.gov/33922289/
https://www.ncbi.nlm.nih.gov/pmc/articles/PMC6773238/
Was this article helpful?