I first encountered collagen supplements when I started doing a lot more work with competitive bodybuilders. I was only a little bit familiar with the health benefits of these products and really didn't realize how important collagen is for athletes.
You might be familiar with it as it's often in beauty, hair, and skincare products, but there is so much more to it when it comes to your body.
For performance athletes, tendons, ligaments, and other connective tissue can come under a lot of strain, and any lack of collagen can make things worse.
So, our team at TotalShape has done some extensive research and testing to come up with some product recommendations.
Our Top Product Recommendations
1 - Kylea Collagen Peptides Powder
Over many months of testing out these products, our team has agreed that of all the collagen powders, Kylea has managed to create one that stands out the most.
It's made from pasture-raised, grass-fed bovine collagen. It's also free of common allergens, artificial flavors, sugars, and sweeteners. It's one of the cleanest ingredient list based on our testing.
It also contains a good amount of protein per serving, so it may help with better muscle strength, stronger joints, and healthier skin, hair, and nails.
Pros
Contains 11 grams of bovine collagen peptides
Has 10 grams of protein per serving
Free from artificial additives like colors, flavors, and preservatives
Many user reports of positive results on joints, hair, skin, and nails
Cons
Only comes in an unflavored option
While it's unflavored, blending it with some fresh fruits solves the issue.
2 - Transparent Labs ProteinSeries Collagen Hydrolysate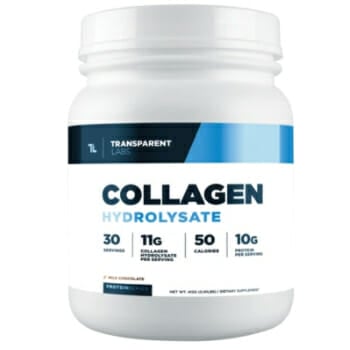 Another one that stood out among the products we tested was from Transparent Labs.
From a nutrition perspective, it only contains collagen and some traces of carbs and iron. In an industry where supplements are so commonly packed full of additives, it's something very refreshing to see.
Some of my female clients who use it didn't just report good results for their bones and joints. They found that it had a positive impact on their skin and hair as well.
Pros
Contains 11 grams of hydrolyzed collagen peptides
With less than 2 grams of carbs, it's keto-friendly
Void artificial ingredients
Restores nail and hair health
Cons
Some more flavor options would be great
One thing I would say is that limiting it to just the chocolate flavor means you can get a bit bored with it.
3 - PaleoPro Grass-Fed Bone Broth Collagen + Turmeric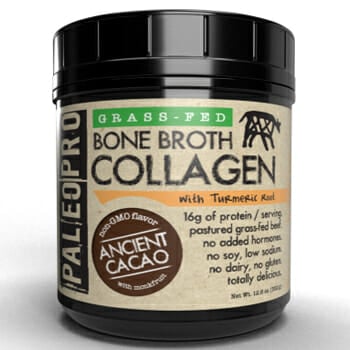 As someone who has had success with paleo, I know how difficult it can be to plan your diet.
PaleoPro definitely fills that gap when it comes to premium collagen peptides, which you would only get in your diet by eating the less appetizing parts of animals.
The grass-fed collagen is also certified hormone and GMO-free, which is something that a lot of paleo dieters take quite seriously.
Pros
Minimum processing to provide a healthy source of natural collagen
Certified paleo-friendly using only grass-fed, pasture-raised cows
Contains no carbs or fat to mess up your ketosis
GMO and hormone-free to keep your gut flora healthy
Cons
Some people have struggled with the texture
My personal experience with the flavor was positive, but I found that just mixing it in a shaker left it a bit grainy.
4 - Physician's Choice Collagen Peptides Powder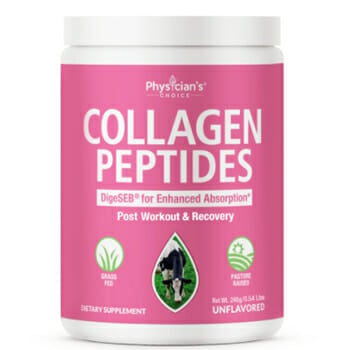 This is specifically marketed as a health and beauty supplement for women.
Because of this, it's important to note that the dosage is designed for women as well.
Many female users have reported in forums and Facebook groups that the supplement had a positive result on their skin, hair, and nails.
Because it is sourced from animals that haven't been exposed to hormone or antibiotic treatment, you're also getting something that is of higher quality and much safer from a health perspective [1].
Pros
Contains 7 g of bovine collagen per serving
Includes some digestive enzymes that can help to absorb the collagen faster
Comes unflavored, making it ideal for adding to snacks
Sourced from grass-fed, hormone, and antibiotic-free animals
Cons
High-quality food supplement but a bit on the expensive side
If you work it out per gram of collagen, then this one does come out on the high side, but the quality is highlighted as a big plus in many reviews.
5 - Vital Proteins Collagen Peptides
If you're looking for collagen supplements with a stronger dose per serving, then Vital Proteins is one of the best options.
With 20 grams in each serving, your body will have plenty to work with.
After speaking with my dietitian, she said that for most people, half a scoop would be plenty as a nutrition boost.
This means that you can make the powder last a good bit longer.
Pros
20 g of grass-fed collagen peptides per serving
With no flavor or odor, you can mix it with tea or coffee
No added sugar or artificial flavors
Many positive reports that it mixes easily with water
Cons
Some users reported a slight aftertaste and sensation
While it mixes easily with hot and cold water, I did notice a few comments online that said it left a slightly strange and grainy sensation in the mouth.
6 - NeoCell Super Collagen Powder
Marketed more as beauty collagen products, NeoCell is still a great choice, especially for female athletes.
The formula is designed with the needs of women in mind, meaning you don't get too large a dose in each serving.
A lot of users provided positive comments that it's very easy on the stomach, and many women reported positive and noticeable results within 2 weeks.
Pros
Claims to provide the ideal amount of collagen to support skin, hair, and nails
Mixes very easily with no flavor to deal with
Hydrolyzed collagen can make it a lot easier to digest
Available in bulk containers to save on costs
Cons
Some reports about damaged packaging
The main negative that I saw was that some people reported that the seal on the container was damaged during transport, but they were able to get a replacement shipped out.
7 - Sports Research Collagen Peptides Powder
This Sports Research product is specifically marketed for supporting healthy joints and bones.
This claim is backed up with several reports from users that they suffered less joint pain when taking the supplement.
It's also one of the few products that claim to provide the complete profile of amino acids that your body needs to repair and rebuild damaged tissue fully.
For performance athletes, that can make a significant difference when it comes to recovery from training.
Pros
Claims to provide the full profile of amino acids
Can be mixed with drinks and healthy snacks
Doesn't leave an aftertaste or chalky sensation
Good bulk order options available
Cons
Can cause some bloating and gas
I liked that it had no flavor at all, so you can mix it with all types of drinks and food. But some people did report some initial bloating and gas.
8 - Ancient Nutrition Multi Collagen Protein Powder
I follow the Dr. Axe blog a lot and have been using some of their supplements for years.
While this isn't one of the cheaper products available, it does provide a full range of the 5 main types of collagen.
Sourced from chickens, eggs, cows, and fish, you get a very healthy blend to support various body functions [2].
Pros
Low-calorie with no carbs to support most diets
Provides a small boost of calcium
Includes chicken, eggs, bovine, and marine collagen
Also available in convenient stick packs that fit in your pocket
Cons
Does have a slightly fishy smell
While the collagen from fish does provide benefits, be aware that it gives the powder a slightly fishy smell.
Types Of Collagen In The Body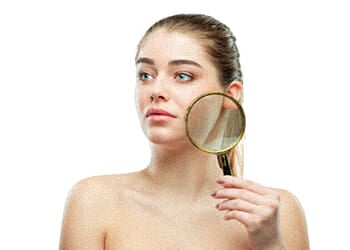 While there are 5 main collagen types, three of these are more commonly found in the human body.
Some of the above product recommendations will have you covered for all 5 [3], but this is not always necessary.
The 3 main ones to make sure you get are:
Type I: Needed for skin, tendons, and bones
Type II: Mostly found in cartilage
Type V: Found in cell surfaces and hair
"Type II Collagen is less prevalent within our bodies, it still offers great benefit to the aging body by promoting joint and cartilage health!" - Taylor Kiser, Food and nutrition blogger.
Getting these 3 types through supplements, along with some vitamin boosts, can make a significant difference to your health and appearance.
More on this next.
Benefits Of Collagen Supplements

While collagen is needed in practically all vital organs of your body, it mainly provides noticeable health benefits in these 3 areas.
1 - Joint Health
Many studies have identified the direct link between collagen intake and joint health.
One particularly interesting trial looked at the impacts on arthritis and revealed that it also provided an anti-inflammatory effect [4].
When coupled with a stringent weight loss diet, many people can make a significant difference in the health of their tendons and cartilage.
2 - Skin Health
Collagen is one of the most dominant substances needed for regenerating skin cells. You'll find it in many beauty products and skin creams, but taking it in the form of supplements can have the most significant impact on skin elasticity [5].
Many people are amazed how quickly it will impact the appearance of their skin, with even better results than topical skin application.
3 - Bone Density
Most people tend to just think of calcium intake when it comes to making sure that their bones remain healthy. But bone mineral density is also very heavily reliant on vitamins and collagen [6].
Collagen production in the body goes down once you hit the young age of 20, with a reduction of about 1% per year [7]. This explains the initial wrinkles but eventually leads to more problematic issues with bone density.
How To Choose The Best Collagen Protein Powder

To come up with the above list of product recommendations, we looked at the best-reviewed options considering the following 4 categories.
Type Of Collagen Supplements
Types I, II, and V collagen are the most important ones to improve your physical appearance as well as joint health. I would always focus on these first, as they give you the most impact without needing to choose some of the more expensive options.
Source Of Collagen
You can get collagen from all types of animals, but the best options are from grass-fed, hormone, and antibiotic-free cows. If you want to get the full range of all collagen types mentioned above, then you'll need a supplement sourced from different animals, including fish.
Flavor
Some collagen supplements are available as flavored options, but I generally prefer to have something that is completely tasteless. The advantage of this is that you can easily mix it with drinks or into your breakfast cereal for a quick boost in the morning.
Budget
I would always say that you're better off taking a smaller dose of a more expensive but higher quality collagen. Some of the cheap options are difficult to digest, and you simply won't get the same results.
Potential Side Effects Of Collagen Protein Powder
Side effects of taking collagen supplements are generally very rare. In most cases where I found comments in forums and Facebook groups, the reason was mainly down to taking very large doses.
Bloating And Gas
This can happen if you take a large dose with just water on an empty stomach. If you're in a fasting period, then it can often be safer to take the supplement in smaller amounts throughout the day.
Nausea
Some people report that they feel a bit sick after taking collagen, and this can mainly be due to your stomach adapting to handle a sudden increase in this protein. The best solution for this is to mix the powder in with some food or to take it in smaller amounts several times per day.
FAQs
Is Collagen Protein Powder Good For You?
Yes, collagen protein powder is good for you, as your body will gradually produce less of it as you age. Also, for performance athletes, it's best to take some regularly to ensure ligaments and tendons are adequately repaired.
Should You Take Collagen Protein Powder in the Morning or at Night?
You should take collagen protein powder in the morning with your breakfast. This gives you a consistent supply throughout the day. If you do some high-intensity training, then you can also take some along with your post-workout recovery drink.
Does Collagen Protein Powder Make You Gain Weight?
No, collagen protein powder doesn't make you gain weight unless you're taking it in large doses and not exercising enough. As part of a balanced diet, and along with a regular exercise routine, it can have the opposite effect.
How Much Collagen Should You Take?
You should aim to take about 10 grams of collagen for regular daily use. On training days where your body comes under more stress, about twice that amount is the best option to ensure optimal joint health.
Bottom Line: Which Collagen Supplement Should You Choose?
Of all the products that my clients and I have tested, I keep going back to Kylea Collagen. Because it contains only the essential ingredients you need, it won't mess with other diet efforts you might have.
The dose is ideal for athletes, and on less intense days, you can easily just take a smaller amount to maintain a consistent supply.
If you've had some experience with any of these supplements, then let us know on one of our social media channels.
Kylea Collagen Peptides Powder
Our #1 Recommendation
Contains 11 grams of bovine collagen peptides
Has 10 grams of protein per serving
Free from artificial additives like colors, flavors, and preservatives
Many user reports of positive results on joints, hair, skin, and nails
Get the BEST PRICE until the end of June
Click For Best Price

About the author