17
Supplements
Considered
175
Hours
of Research
94
Reviews
Examined
5
Experts
Interviewed
Workout recovery is one area that a lot of beginners get wrong. They think that just putting in the work at the gym or playing sports is all that's needed.
But we've also encountered some more serious athletes and bodybuilders who just use a standard protein powder.
That's not always the best approach, though.
As I was recently asked what I eat after workout and sports training, I decided to take a closer look at the post-workout recovery products at my gym.
And here are the best post-workout supplements we'd recommend.
Editor's Choice
Transparent Labs
Click For Best Price
#2nd Best Choice
Jacked Factory
Click For Best Price
#3rd Best Choice
Optimum Nutrition
Check Current Price
Our Top Post Workout Supplements (June 2023)
1 - Transparent Labs Post Workout (Editor's Choice)
This is our favorite post-workout drink as it contains a well-balanced blend of amino acids that claims to be scientifically designed to speed up recovery and reduce muscle soreness.
Some of our clients have been drinking it after every training session, as it seems to help repair and rebuild damaged muscle tissue a lot faster.
Main Ingredient : L-Glutamine 5,000 mg
Pros
Claims to have a scientifically chosen blend of amino acids for faster muscle recovery
A good dose of L-carnitine to help overcome fatigue
Contains no fillers or artificial additives
Cons
The cherry juice flavor is a bit too intense
The protein powder mixes easily with water, but the cherry flavor is a bit intense, so you might want to water it down a bit more.
Get 10% off using coupon code: TOTALSHAPE
2 - Jacked Factory Growth Surge Post Workout
This best post-workout drink from Jacked Factory is a favorite with many bodybuilders looking for fast recoveries and some healthy post-workout energy boosts.
We noticed a lot of comments where people said that the ingredients it contains seem to be absorbed by your body pretty fast.
Main Ingredient : Creatine 3,000 mg
Pros
Seems to start working fast due to faster-absorbed ingredients
Positive comments about the flavor
Comes with a money-back guarantee for added peace of mind
Cons
Just make sure you shake it well to avoid a lumpy texture
It doesn't seem to be the easiest one to mix with water and will require a bit more effort in a shaker.
3 - Optimum Nutrition Instantized BCAA Powder
Here's another BCAA that you could possibly take as a pre-workout as well. The post-workout recovery formula does seem to give an energy boost that might improve your endurance and promote muscle growth.
There are also plenty of positive reviews that the protein powder might repair muscles significantly faster than other supplement powders.
BCAA vs Whey Protein: Which one should I take?
Main Ingredient : BCAAs 5,000 mg
Pros
Specifically formulated to provide important BCAAs for faster recovery
Mixes very easily without the need of a shaker
Also available as capsules for better convenience
Cons
Some people found the flavors a bit fake tasting
The only thing I'd point out is that some of our clients thought the protein powder tasted a bit fake.
4 - BSN Amino X Muscle Recovery & Endurance Powder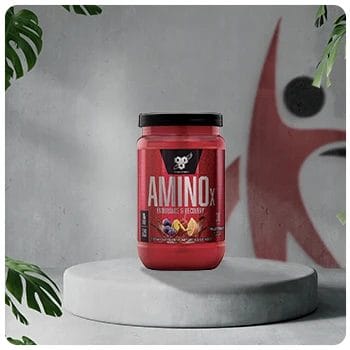 This post-workout nutrition shake is possibly one of the strongest for essential amino acids we've been able to find in the fitness industry.
You'd really only need this post-workout nutrition amount if you're going through a serious bulking phase since it promotes muscle growth.
Most research would point to significantly lower doses, but if you have this kind of requirement, then it's possibly the best option [1].
Main Ingredient : BCAAs 12,000 mg
Pros
One of the more potent products for BCAAs
Suitable for stacking with their other supplements
Positive comments about the refreshing taste
Cons
The company hides behind a proprietary blend
The only thing we didn't like about this post-workout recovery product is that you don't get details about the breakdown of each ingredient due to a proprietary label.
5 - XTEND Sport BCAA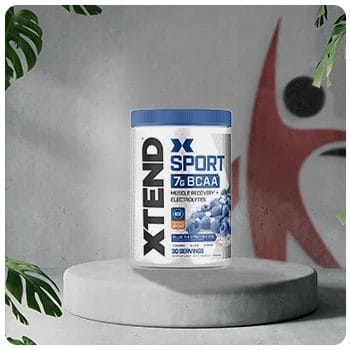 XTEND is taking the approach of focusing more on L-leucine, which has been shown to play a key role in post-workout recovery [2].
The company has also ensured that the fitness supplement doesn't contain any sugar or other carbs that could end up messing with your diet.
You also get some electrolytes, including potassium, to bring your hydration levels to a healthy level.
Main Ingredient : L-leucine 3,500 mg
Pros
Provides a total of 7g of BCAAs for faster recovery
Contains no sugar to avoid messing up your diet
Provides added electrolytes that may help you rehydrate quickly
Cons
Some users said the texture isn't great
The downside we should mention is that this post-workout recovery supplement is not the smoothest texture even when shaken a lot.
6 - JYM Post Workout
This is a popular post-workout recovery product that combines nutrients that make it suitable both before and after training.
It's formulated by one of the leading brands in the bodybuilding industry, which should mean you're buying something for high strength and endurance levels.
Our clients have reported that they like the effects it has to avoid stiffness and cramps after particularly tough workout routines.
Main Ingredient : L-glutamine 3,000 mg
Pros
Formulated by one of the leading sports fitness experts
Might work well to boost endurance as well
Positive comments that it helps after high-intensity exercise and post-workout routine
Cons
We found the flavor a little bit on the sweet side
Just keep in mind that the post-workout nutrition product tastes a bit sweet, so you might want to mix the powder with a bit more water or milk.
7 - MuscleTech Myobuild BCAA
This post-workout drink claims to focus on BCAAs in a specific combination to boost protein processing in your muscles.
This does seem to be backed up by research from health and fitness experts, and we found a lot of reviews about faster recovery.
Main Ingredient : L-leucine 2,000 mg
Pros
May help to keep you better-hydrated thanks to the included potassium
Many users take it as a pre-workout for intense exercise
Contains some taurine which may support a boost in mental endurance
Cons
It's not the strongest option so may not suit professional athletes
It'll be fine for the average athlete, but professionals might find it's not strong enough.
8 - Vintage Build Post Workout BCAA
One of our Keto clients has been using this post-workout nutrition supplement for several months as it claims to lack any carbs or fat on the nutrition label.
We also like that the company has its products tested by a 3rd party to ensure and certify a certain purity and quality level.
Main Ingredient : Creatine 3,000 mg
Pros
Comes with a good dose of BCAAs in the right balance
Claims to contain no sugar or fat making it Keto-friendly
3rd party tested for purity and quality
Cons
You'll want to give it a good shake to get the right texture
We did find that you'll need to give the protein powder a powerful shake as the powder doesn't seem to mix that easily.
9 - PROGENEX Recovery
The final best post-workout drink on our list is a more traditional protein supplement, but it is one that comes with quite a high dose.
It also uses hydrolyzed whey, which should provide you with the most important essential amino acids to allow your muscles to recover more effectively.
Main Ingredient : Whey 23 g
Pros
Uses hydrolyzed whey for faster absorption rates
Positive comments about retained muscle mass
The flavor is nice, and the texture seems smooth as well
Cons
I'm not a big fan of powder in pouches as they tend to be a bit messy
The only thing I don't like about this protein powder is that it comes in pouches, and I think those always end up being messy.
10 - Performance Lab Sport Post
After several months of testing, we kept going back to Performance Lab for muscle recovery. Most of our clients agreed that it seemed to work fastest to replenish amino acids and reduce muscle soreness.
Some of the bodybuilders I work with will take these capsules after training and wash them down with a protein shake. As such, this is the best post-workout supplement around.
Main Ingredient : Creatine 1,750 mg
Pros
Claims to work for avoiding muscle wasting
It's taken as convenient capsules
Added beta alanine might help reduce muscle fatigue and damage
The electrolytes could support your hydration levels after training
Cons
Some people prefer a refreshing protein shake after an intense workout
If you're not a fan of pills and capsules, then you might want to pick one of the powder options below.
Post-workout Drinks Buyer's Guide
1 - Pay Attention To The Types Of Protein
Many folks think any protein will boost their muscle recovery.
But in reality, you need a specific amino acid profile to maximize this effect.
Now, when it comes to the recovery phase after a challenging workout, you ideally want popular post-workout drinks that contain some extra BCAAs [3].
Your standard whey protein will contain some. But by adding an extra boost, it's possible to speed up the recovery and muscle protein synthesis a bit more.
"BCAAs contain leucine, isoleucine, and valine, the three main amino acids that your body uses to repair muscle. After a tough workout, your muscles are torn up and in need of repair. They build back stronger, and you put on muscle — as long as you have plenty of those three special amino acids."

- Dave Asprey, Health And Nutrition Expert And Author.
2 - Avoid Sugary Supplements
If you see a supplement that contains a lot of carbohydrates, then the chances are that those are from highly refined sugar.
And sugar is one thing to avoid after your workouts.
They might make you feel like you receive an energy boost when you need it most. But that boost comes with a crash after your blood sugar levels drop again.
Here's what I tell my clients.
You should feel drained and tired after your workouts. If you don't, then you haven't worked hard enough.
And sugar certainly won't improve things.
If you are a diabetic check out these sugar-free protein powders.
3 - Be Careful With Stimulants
I generally advise staying away from post-workout supplements that contain caffeine.
Why's that?
There are two reasons.
Firstly, many people train in the evening, and caffeine could mess with your sleep. And that would reduce your ability to recover from heavy workouts. Worse, you'll actually feel more exhausted and unmotivated to continue with your exercise routine.
Secondly, they tend to give you a false sense of providing a boost. The stimulants from post-workout supplements will make you feel more alert, but your body is still missing the nutrition to repair properly.
FAQs
Are Post-Workout Drinks Necessary?
Yes, post-workout drinks are necessary if you want to achieve your goals faster. By helping your muscle fibers to repair faster, you should be in a good position to perform at a higher level in your next training session.
Is Coffee a Good Post-Workout Drink?
No, coffee isn't a good post-workout drink as it might dehydrate you and make you feel jittery. It's a lot more important to focus on protein to fuel a faster recovery process.
Our #1 Recommended Post-Workout Drink
The clear winner for us has been Performance Lab Sport. It's top of our list and the first supplement we recommend to all of our clients.
Between our own test results and the online reviews, it just seems to be the one option that contains the best ingredients to give you a speedy recovery.
Order yours today, and then let us know how your first couple of training sessions go.
Our #1 Recommendation
Transparent Labs Post Workout
Click For Best Price
Pros
Claims to have a scientifically chosen blend of amino acids for faster muscle recovery
A good dose of L-carnitine to help overcome fatigue
Contains no fillers or artificial additives
Get 10% off using code:

TOTALSHAPE
Cons
The cherry juice flavor is a bit too intense
Was this article helpful?