Active individuals who experience energy dips and feel their pre-workouts lack brain-enhancing ingredients can benefit from natural cognitive enhancers, such as Rhodiola Rosea supplements.
Throughout my career as an athletic trainer, I've worked with clients who struggled to focus due to a lack of sleep and chronic fatigue. So I gathered my team and for eight months, we tested twenty Rhodiola supplements to see which ones could support healthy brain function the most.
In this review, we'll reveal our ten best Rhodiola supplements on the market, so keep reading to learn which one might be most suitable for you.
Let's begin.
Editor's Choice
Nootropics Depot
Click For Best Price
#2nd Best Choice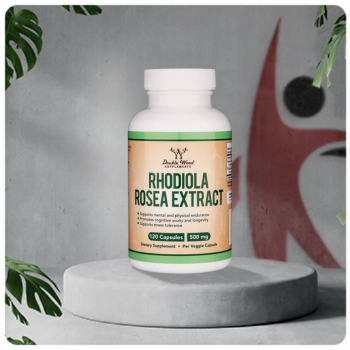 Double Wood
Click For Best Price
#3rd Best Choice
NutraChamps
Check Current Price
Our 10 Best Rhodiola Rosea Supplements (September 2023)
1 - Nootropics Depot Rhodiola Rosea Capsules (Editor's Choice)
Our first pick is the Rhodiola Rosea capsules from Nootropics Depot. This supplement has provided us with the best level of stimulation that is neither too short nor too intense.
Furthermore, since it comes in capsule form, increasing your capacity for stress and fatigue resistance becomes extremely handy, making it ideal for people who are always on the go.
We liked Nootropics Depot because it provided us with the physical energy and mental clarity we needed without being overpowering, just enough to boost our concentration while working out and carrying out the most demanding cognitive tasks.
Rhodiola root extract : 500 mg (one capsule serving size)
Rosavins (3%), Salidrosides (1%)
Pros
Very convenient to take
Assists in building stress resilience
Helps fight fatigue
Improves athletic performance
Cons
It may not be suited for people who do very high-intensity workouts
2 - Double Wood Organic Rhodiola Rosea Capsules
The next product on our list is Double Wood's organic, pure Rhodiola Rosea extract. This supplement is ideal for vegans who work long hours but still want to have enough energy to work out or connect with friends at the end of the day.
It contains a good amount of salidroside, an active compound in Rhodiola that has been shown to improve cognition, among many other benefits [1].
This high concentration enables people to maximize physical and mental energy levels for extended periods. Since it's also in capsule form, you can take it anywhere, at any time.
Taking Rhodiola Rosea from Double Wood provided us with extra energy when we needed to accomplish more reps and longer sessions. In addition, we noticed that we felt less tired after long workouts.
Rhodiola root extract : 500 mg (one capsule serving size)
Rosavins (1%), Salidrosides (3%)
Pros
Helps the body adapt to stress
Improve cognition and mood
Easy to consume
Cons
Some consumers find it too intense
3 - NutraChamps Rhodiola Rosea Capsules
NutraChamps, like our first supplement, is standardized to 3 percent rosavin and 1 percent salidroside, making it ideal for those seeking a mild boost in mental clarity and physical stamina.
However, this supplement has a smaller serving size of 300 mg extract per capsule, so consumers must take two of them each day to meet the recommended amount for optimal results.
We liked how it gradually increased our mental and physical energy, but taking two capsules instead of one can be more expensive and inconvenient.
Siberian Rhodiola root extract : 600 mg (two capsules serving size)
Rosavins (3%), Salidrosides (1%)
Pros
Clean, all-natural, allergen-free formulation
Gradually enhances mood and focus
Helps support healthy stamina
Cons
Some consumers find it costly and inconvenient to take
4 - Thorne Research - Rhodiola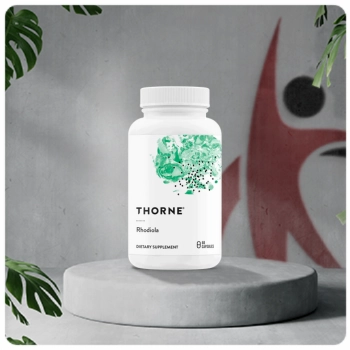 The next Rhodiola supplement that we've tested is from Thorne Research, a trusted manufacturer of high-quality supplements for more than 30 years.
Thorne Research's Rhodiola Rosea contains scientifically studied ingredients designed to balance serotonin and dopamine to improve body and brain functions.
However, the label doesn't say how much salidroside this supplement has, indicating that it isn't standardized.
A few of my clients used this product for several months, and they reported increased mental stamina and faster muscles recovery.
Rhodiola Rosea extract : 100 mg (one capsule serving size)
**Also contains Leucine and Silicon Dioxide.
Pros
It may help to accelerate muscle building due to its added leucine
Promotes deep sleep
Enhances focus and workout performance
Cons
Taking two to three capsules per day might be pricey and inconvenient
5 - Pure Organic Rhodiola Rosea Powder by Micro Ingredients
As with other supplements on the list, the pure organic Rhodiola Rosea root powder by Micro Ingredients is designed to improve physical, emotional, and mental energy.
What's important to point out is that this particular USDA Organic Rhodiola powder supplement is antioxidant-rich and free of hormones, allergens, and unnecessary fillers, making it a perfect option for people who live a clean, healthy lifestyle.
Most people in my team who tested this one immediately felt more relaxed and collected during the first week of taking it. But we must say that we needed to mix it in my tea and add lemon to improve the taste.
Organic Rhodiola extract 400 mg (one scoop serving size)
Pros
Boosts strength and energy levels
Helps reduce symptoms of depression
Easy to mix with plain water or any beverage
Cons
The powder has a strong flavor on its own
6 - NOW Rhodiola
Now's Rhodiola supplement is specially designed for people who follow a vegan diet. Its extract is also standardized to contain at least 3 percent rosavin and 1 percent salidroside, ensuring efficacy.
When consumed once or twice a day, this supplement has been shown to improve stress tolerance by minimizing symptoms of depression, increasing focus, and enhancing mood.
My clients took two capsules every morning before going to the gym, and they claimed it worked great with their pre-workout.
This combination gave them a lot of strength and energy and a great sense of focus and calm.
Rhodiola root extract : 500 mg (one capsule serving size)
Rosavins (3%), Salidrosides (1%)
Pros
Improves energy levels without jitters
Reduces symptoms of anxiety and depression
Non-GMO and manufactured in a GMP facility
Cons
Some consumers who took two capsules per day reported difficulty falling asleep
7 - Herb Pharm Certified Organic Rhodiola
Herb Pharm is the only liquid form Rhodiola supplement on the list. This gluten-free, certified organic liquid extract is quickly absorbed and gives you a boost in energy and mood quite rapidly.
However, mixing 30 to 40 drops in a small amount of water and taking them three to four times a day may be inconvenient for those who lead a hectic lifestyle.
In our experience, we found it tedious to prepare, but we must admit that we felt an uplifted, energetic mood right away, which lasted a few hours.
Rhodiola extract 685 mg (0.7 ml serving size)
Pros
Fast-acting
Certified organic and vegan friendly
Promotes faster post-workout recovery
Cons
Preparation is inconvenient on the go
8 - Nature's Way Premium Extract Rhodiola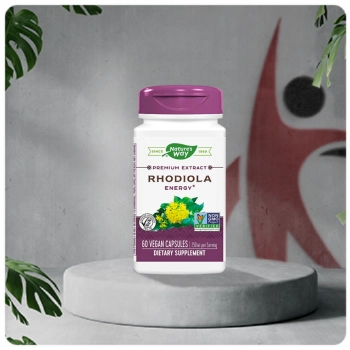 This Rhodiola Rosea dietary supplement from Nature's Way Premium Extract might be ideal for people who experience natural energy dips many times a day.
This allergen-free, hormone-free, stress relief supplement will help them manage their time more effectively by improving brain function and physical performance.
After three weeks of taking it twice daily, clients reported the ability to extend their workouts, add more reps, and feel relaxed even after working out.
Rhodiola root extract : 250 mg (one capsule serving size)
Rosavins (3%), Salidrosides (1%)
Pros
Additive-free, clean formulation
Better performance due to improved cognitive function
Lessens mental fatigue throughout the day
Cons
Twice-a-day consumption may be costly and inconvenient
9 - aSquared Nutrition Rhodiola Rosea
People who do high-intensity workouts may benefit a lot from taking aSquared Nutrition's Rhodiola Rosea supplement.
With a large serving size of 1000 mg, this particular brand of Rhodiola extract provides maximum strength to improve overall energy, cognition, and mood.
After our first week of using this supplement, we felt a significant boost in our physical and mental performance.
However, I didn't like how overpowering it was because I needed a mild brain booster that could work well with my pre-workout supplements.
Rhodiola extract 1000 mg (two capsules serving size)
Pros
Highly effective for people who engage in heavy physical activities
Promote a positive mood by increasing serotonin and dopamine levels
Rich in antioxidants that can help in post-workout recoveries
Cons
Some consumers report that it interacts with their blood pressure medications
10 - Swanson Rhodiola Rosea
Last but certainly not least is a Rhodiola supplement from Swanson Health, a company providing clinically-supported health products for over 50 years.
Swanson Rhodiola extracts are ideal for anyone who wants to relieve stress, boost energy, improve sleep quality, and safely lose fat because independent third-party labs have tested them.
Our team appreciated that this supplement gave us the mental energy boost we needed to balance out the physical energy provided by our pre-workouts.
Rhodiola extract 400 mg (one capsule serving size)
Pros
Helps lower stress hormone levels
Aids in the fat-burning process
Improves athletic performance by boosting energy levels
Cons
Contains unnecessary fillers and additives
Buyer's Guide - How To Pick The Best Rhodiola Rosea Supplement

The easiest way to choose the best Rhodiola brand for you is to consider your personal preferences regarding the convenience of use, proper dosage, and value for money.
Form and Quality
Rhodiola Rosea supplements are available in liquid extracts, powders, and capsules, and you should choose the form that is most convenient for you to take daily. Also, my team and I agreed that the liquid extract has the highest absorbability, and taking it in this form is the best way to get results quickly [2].
Dosage and Effectiveness
The dosage for Rhodiola Rosea ranges from 170 mg to 680 mg, but some studies reveal that 300 to 500 mg of intake might be ideal for improving symptoms of stress and fatigue. It is also important to note that it's recommended one dose of Rhodiola Rosea contains 3 percent of the active ingredients, rosavin, and 1 percent of salidroside [3] [4].
"Rhodiola Rosea is an adaptogenic nootropic that may improve cognitive function, enhance memory and learning, and protect the brain. It also helps with emotional calming and protects against emotional stress."

- Jennifer T. Haley, MD, FAAD, Scottsdale, Arizona
Cost
To figure out which product will save you the most money, look at the label's suggested serving size to see how much dosage each brand gives per serving, and then divide the total cost by the number of servings to get the price per serving.
FAQs
What Are The Health Benefits Of Rhodiola Supplements?
Rhodiola supplements have a wide range of health benefits, including the ability to improve mood, strengthen the immune system, improve thyroid function, increase mental capacity, and fight aging because of their antioxidant properties.
Can Rhodiola Supplements Help Improve Athletic Performance?
Rhodiola Rosea can help people improve their physical and athletic performance by increasing energy levels, supporting the mind and body in coping with stress, and improving mental clarity.
How Do You Take Rhodiola Rosea Supplements?
You can take Rhodiola Rosea supplements in the morning on an empty stomach. If you wish to take it twice a day, consume it two hours before lunch. It's also not advisable to take it at night.
Are There Any Side Effects To Taking Rhodiola Rosea Extract?
As with any dietary supplements, there are minor side effects to taking Rhodiola Rosea extract, including headaches, vomiting, and dry mouth. Additionally, there have been reports of interactions with blood pressure medications.
How Long Does It Take For Rhodiola Rosea To Work?
Rhodiola Rosea supplement's relaxing effects can be felt within 30 minutes of taking it, but most people don't notice long-term improvements in their mental health until after a few weeks.
Our Recommended #1 Product
After reviewing twenty Rhodiola Rosea brands over eight months, we all agreed that Nootropics Depot manufactures the most potent Rhodiola capsules making it our number one recommended product.
We extensively tested all the Rhodiola brands on this list, but Nootropic Depot has given us just the right stimulation that wasn't too short or too strong to support the effects of our pre-workout supplements since we found those to go together exceptionally well.
As a result, most of my team, including me and some of my clients, have all performed better at our workout sessions and dealt with stress more effectively, at a reasonable price
Our #1 Recommendation
Nootropics Depot Rhodiola Rosea Capsules
Click For Best Price

Pros
Very convenient to take
Assists in building stress resilience
Helps fight fatigue
Improves athletic performance
Get the BEST PRICE until the end of September
Cons
It may not be suited for people who do very high-intensity workouts
Was this article helpful?