In this Evlution Nutrition ENGN Shred Pre-Workout review, you'll find out whether it lives up to the hype, what sets it apart from other pre-workouts, how it works, and who it's best suited for.
We've examined ingredients, consulted experts, and checked hundreds of user reviews to reveal the truth.
So, let's see if it's a real game-changer.
What Is Evlution Nutrition ENGN Shred Pre-Workout?
Evlution Nutrition ENGN Shred is a pre-workout supplement designed to power your intense workouts and support your fat loss goals by boosting your energy. It also improves endurance, enhances muscle performance, and sharpens mental focus [1].
Produced by a famous fitness supplement brand, this science-based product enables you to kill two birds with one stone.
You get clean, extra energy for your tough workouts, plus lose weight while gaining lean muscle and feeling great.
As one of our clients said, it's a Swiss army knife.
SUITABLE FOR MEN AND WOMEN
Evlution Nutrition ENGN Shred Ingredients
Evlution Nutrition ENGN Shred is an all-around supplement that provides a unique combo of powerful amino acids like L-Carnitine L-Tartrate, vitamins, nootropic brain boosters, and thermogenic ingredients many top-tier fat burners and best pre-workouts contain.
1. Vitamin B Complex
The B Vitamins in this formula are:
Niacin (35mg)
Vitamin B6 (2mg)
Folic Acid (800mcg)
Vitamin B12 (25mcg)
The B-vitamin energy complex in ENGN Shred is vital for the metabolism of carbs, fatty acids, and protein synthesis to help produce energy for the body.
It supports the normal brain, kidneys, and liver function, improves mood and focus while exercising, reduces fatigue, and enhances endurance.
Also, I did notice I have better digestion, better energy levels, and a more regulated appetite.
2. Beta-Alanine (1600mg)
Evlution Nutrition ENGN Shred Pre-Workout contains an effective dose of beta-alanine at 1,600mg per serving, improving your athletic performance and endurance.
This ingredient has been proven to:
Boost muscle carnosine levels
Boosts muscle circulation
Reduce fatigue
I've noticed that I have more energy and focus during my workouts and experienced less fatigue afterward.
3. ENGN Mind-to-Muscle Matrix (2016mg)
The ENGN Mind-to-Muscle Matrix (2,016mg) contains:
Betaine Anhydrous
Choline Bitartrate
L-Tyrosine
Agmatine Sulfate
Alpha-Glycerolphosphorylcholine
Huperzine A
The essential amino acid and other components in this Mind-to-Muscle Matrix help metabolize macronutrients to convert food into energy.
It also supports muscle activity, enhances mental response speed, and improves memory, mood, and focus.
Evlution Nutrition ENGN Shred Pre-Workout also reduces workout stress effects, supports elevated nitric oxide levels, and boosts blood flow to muscles, providing great pumps and power during workouts.
While using it, I have noticed a significant improvement in focus during exercises and overall performance.
4. ENGN Shred Matrix
The ingredients included in the ENGN Shred Matrix contain appropriate doses of:
Conjugated Linoleic Acid/CLA (500mg) - promotes weight loss and building muscle mass by helping your body burn stored fat during intense workouts.
L-Carnitine L-Tartrate (500mg) - promotes the use of fat for fuel during intense exercise like weightlifting, enhances athletic performance, endurance, focus, helps reduce inflammation.
Coleus Extract (100mg) - one of the testosterone boosters that triggers the fat loss process, helps control appetite, and develop muscle.
Capsimax Cayenne (25mg) - common thermogenic in fat burners, Red Pepper Fruit Extract, boosts metabolism and fat oxidation to burn fat.
Yohimbe Bark Extract (40mg) - a potent stimulant with fat-burning properties, helps keep fatigue at bay for more intense workouts.
We have seen some weight loss in users who have been using this product in combination with a healthy diet and a steady workout regime.
5. ENGN Energizers
The natural caffeine from coffee and green tea extract (260mg) with included antioxidants in ENGN Shred helps:
Burn fat by boosting metabolism
Increase energy levels
Stay focused and alert
Boost endurance
Reduce oxidative damage during workouts to ensure smooth exercise
Shed fat
Build firm, strong muscles
As expected, I've noticed significant boosts in my energy levels that helped me get through my workouts.
"Caffeine acts as an adenosine receptor antagonist and has been shown to acutely improve cognition as well as performance during endurance, power, and resistance exercise when consumed in dosages between 3 and 6 mg/kg body weight." - Dr. Camila Padilha, Post-Doctoral Researcher at São Paulo State University
Pros
Premium top-quality ingredients provide consistent energy levels during workouts
Advanced thermogenic formula
Various delicious flavors currently available - Blue Raz, Cherry Limeade, Fruit Punch, Grape, and Pink Lemonade
Helps improve your stamina, endurance, motivation, and concentration
Added antioxidants and vitamins for better performance and processing of carbs and protein
Produced in the US facilities strictly following GMP guidelines
Easy to consume
Reasonably priced
Cons
Hides behind a proprietary blend
Contains artificial flavors
Too much caffeine from coffee and green tea extract
Are There Any Side Effects?
Some potential side effects of Evlution Nutrition ENGN Shred include diarrhea, stomachache, vomiting, and nausea. A few of our clients also experienced gastrointestinal discomfort and facial flushing due to large quantities of niacin and beta-alanine.
ENGN Shred contains a high caffeine content from natural caffeine and green tea extract, which some people are sensitive to. Too much caffeine intake can cause a wide array of negative effects, including:
Headaches
Jitters
Nervousness
Sleeplessness
Rapid heartbeat
Mood swings, etc.
High-quality pre-workouts like Evlution Nutrition ENGN Shred made by renowned brands are generally safe to use and don't cause sudden energy crashes or bursts if used in the recommended doses.
But of course, if taken in recommended dosages, these adverse effects would rarely occur.
SUITABLE FOR MEN AND WOMEN
How to Take It?
You take ENGN Shred by mixing one scoop of the powder with 8oz (236ml) of cold water. Drink it 15 to 30 minutes before every workout for the best effects, and avoid using it several hours before bedtime to avoid insomnia.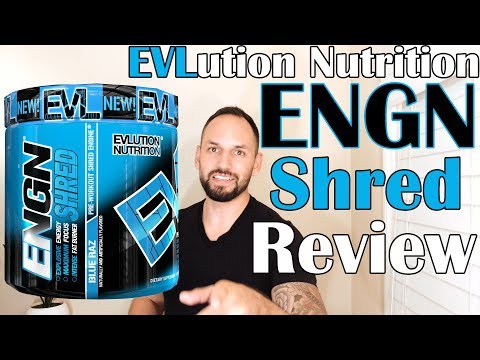 ENGN Shred Customer Reviews
ENGN Shred has very high online user ratings.
Based on online comments and reviews, as well as our own experience, people mostly like its great candy taste, not feeling jittery, getting a good pump feeling while their muscles contract, plus losing weight while not losing energy and workout gains.
Check out some customer ENGN Shred reviews:
"There's a slight prickly sensation, which I almost always experience with beta-alanine. The texture is quite coarse but overall, it's easy to take even on an empty stomach."- Brooke
"Love the ingredient and nutritional profile. It really helps me during my workouts."- Mike G.
"I love the Blue Raz flavor! It's refreshing, not too strong but definitely not diluted and watered down. It's easy to drink."- Dan
"I enjoyed the Blue Raz but my only concern is how much artificial flavoring there is to the drink."- Marco
"I experienced some tingly sensation and it messed up my sleeping pattern. It works but it's too much caffeine for me."- Al T.
The review samples are very much positive for the most part, but take note of the caffeine content and artificial flavors.
If you're not a fan of non-natural supplements, you better skip this one.
Do I Recommend ENGN Shred?
To sum up, based on our experience with the Evlution Nutrition ENGN Shred, it seems like a pretty good product.
The only downside to it is that it hides in a proprietary blend, so I can't justify its effectiveness overall.
If you're a beginner-to-intermediate fitness enthusiast striving to lose weight and boost your performance, I'd instead recommend 4Gauge.
It doesn't hide behind proprietary blends, so you'll know exactly what amount of which ingredient you are taking while offering the same benefits as ENGN Shred.
Also, it contains all-natural ingredients that can give you the extra energy you need for your workouts.
It could also be a better option for more sensitive individuals since it doesn't have a high stimulant content, so it won't make you feel jittery and cause energy crashes.
Contact us to share your impressions when you try out any of them.
We Recommend This Instead
Click For Best Price
Pros
It contains a significant amount of caffeine for muscle endurance and strength
Longer lasting energy without the jitters due to the caffeine and L-theanine combination
No proprietary blends or artificial sweeteners
Vegan-friendly pre-workout supplement
Get the BEST PRICE until the end of June
Cons
Some more flavor options would be great to avoid getting bored of it
Was this article helpful?