While I get many of my clients to start taking pre-workout supplements regularly, I also have to warn them not to get carried away and be tempted into taking too much in one go.
As a personal trainer, I have seen and experienced some negative effects of pre-workouts. The reality is that these products only go so far to boost energy levels and endurance. And taking more of a supplement may actually hold you back.
To better understand and determine whether my clients have taken too much of a supplement, I got together with my dietitian to help me research what exactly might happen with many pre-workout supplements if you take the wrong dose.
Quick Summary
If you take too much pre-workout, drink plenty of water, eat some light snacks, and avoid taking any more dose of your pre-workout supplement.
The dangers of taking too much pre-workout are stomach upset, buzzing, headaches, dehydration, and high blood pressure.
It takes roughly between 4-6 hours for pre-workout supplements to wear off from your system.
What Should You Do If You Took Too Much Pre-Workout Supplement?
If you start feeling unwell, jittery, or itchy after taking some pre-workout supplements, it's most likely due to being overly sensitive to the ingredients or side effects from doubling up on the scoops.
Here's what you should do if that's the case.
Eat Some Light Snacks
If you feel that your stomach isn't feeling well after taking pre-workouts, it could be down to the sudden high dose of proteins. You could feel cramps, bloating, or gas, and it's a good idea to rebalance your stomach contents.
Eat some light carb-rich snacks, for example, some toast with peanut butter to rebalance things [1].
During pre-workouts, your snack time is important. Consuming a light snack before your workout can provide an additional source of energy to fuel your exercise session.
Opting for a combination of carbohydrates and a small amount of protein can help sustain your energy levels throughout the workout.
Drink Plenty Of Water
Some ingredients can cause dehydration, and that's one of the side effects you don't want at the gym. If you have noticed side effects like feeling jittery, it could be down to overstimulation with caffeine [2].
Drink a few glasses of water slowly to keep your body hydrated.
Avoid Any Further Supplements For The Day
Even if you fight through the side effects at the gym and get to the end of your sets, don't be tempted to add more supplements then. Give it at least an hour, but ideally, wait until the next day to reevaluate your supplement intake.
What Are The Dangers Of Taking Too Much Pre-Workout?

So, if you realize that you've used the wrong scoop for a pre-workout supplement, then you need to look out for these side effects.
1. Stomach Upset
Many pre-workout formulas have very specific types of amino acids to help with energy metabolism and deliver energy to muscles. But under normal conditions, the amount of pre-workout you need to take should only be a small portion.
If you then suddenly take a large pre-workout shake on an empty stomach, it can quickly lead to aches, bloating, and cramps [3].
Related Articles:
2. Headaches
This may happen to coffee drinkers who choose pre-workouts that also deliver a strong caffeine dose.
Large volumes of stimulants can quickly trigger headaches, which are partially due to dehydration.
And studies have also shown that it may bring on migraines [4].
If you tend to get headaches after coffee, it might be best to be more careful with your choice of pre-workout.
3. Buzzing
Because many pre-workout supplements rely on stimulants like caffeine and guarana, it's possible to get a bit jittery [5]. Some people refer to it as a buzz, but it's generally not a pleasant experience.
"By speeding up the nervous system, stimulant medications can make you feel jittery and increase your heart rate. The caffeine in guarana might also speed up the nervous system."

- WebMD.com
It's more like your mind is going in ten different directions, which doesn't help you stay focused at the gym.
4. High Blood Pressure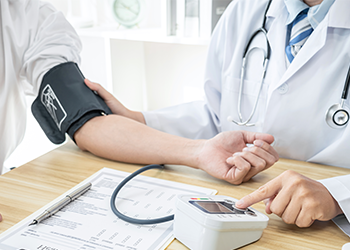 Some pre-workout formulas contain citrulline to improve blood flow [6].
And when it's combined with caffeine, it may lead to blood pressure changes.
For people with existing heart conditions like hypertension, that's something to be careful about.
Optimizing blood flow is paramount for individuals dealing with high blood pressure. Efficient blood circulation ensures that essential nutrients and oxygen are delivered to vital organs, promoting their proper functioning.
Regular physical activity, such as engaging in cardiovascular exercises or brisk walks, plays a pivotal role in enhancing blood flow by strengthening the heart and improving the flexibility of blood vessels.
Adopting a balanced diet rich in fruits, vegetables, and whole grains contributes to maintaining healthy blood flow.
It is equally important to manage stress levels and embrace relaxation techniques as they positively impact blood circulation and effectively manage high blood pressure.
Related Article: Can You Die From Pre Workout?
5. Dehydration
Dehydration is never a good thing at the gym when your muscles are reliant on fluid. But because most pre-workout supplements contain stimulants like caffeine, there is a risk of them triggering some level of dehydration before you even start your warmup [2].
So, always check how much caffeine is in a pre-workout and drink plenty of water to make up for any loss.
Avoiding Pre-Workout Supplement Problems
If you know that you're sensitive to stimulants or you've had a bad experience with beta-alanine tingles and side effects, there are some things you can do without avoiding a pre-workout supplement altogether.
First of all, avoid taking larger than recommended doses or mixing pre-workout supplements. Many of these products have overlapping ingredients in the pre-workout formulas, which may be the main reason for side effects.
Also, try to take a smaller dose of a supplement and wait for your body to get used to it. It's quite likely that side effects will go away after a few weeks.
FAQs
How Long Does It Take for Pre-workout to Wear Off?
It can take 4 to 6 hours for pre-workout supplements to wear off [7]. Some ingredients will only last for about an hour or two, like L-arginine, but caffeine could last up to 6 hours.
Can Pre-workout Damage Your Health?
No, pre-workout supplements aren't likely to damage your health unless you take very high doses of things like creatine [8]. Most side effects don't last long and are harmless, but it might be best to limit them if possible.
Do You Know How To Deal With Pre-Workout Side Effects?
These supplements are great for boosting high-intensity exercise capacity but don't be fooled into thinking that taking twice the dose will have twice the effect.
The ingredients in pre-workout products have a limited impact, and the body can only absorb and process so much of them.
And if there's too much caffeine in your diet and supplement, then you'll likely get some unpleasant effects.
---
References:
https://www.medicalnewstoday.com/articles/pre-workout-side-effects#alternatives-and-reducing-side-effects

https://www.abc.net.au/everyday/does-drinking-coffee-make-you-dehydrated/11220452

https://www.mensxp.com/health/fitness/29014-5-reasons-why-your-protein-shake-is-causing-stomach-ache-and-making-you-bloat.html

https://www.health.harvard.edu/blog/if-you-have-migraines-put-down-your-coffee-and-read-this-2019093017897

https://www.webmd.com/vitamins/ai/ingredientmono-935/guarana

https://www.rxlist.com/l-citrulline/supplements.htm

https://www.healthline.com/health/fitness/how-long-does-pre-workout-last

https://www.rxlist.com/consumer_creatine_creatine_phosphate/drugs-condition.htm
Was this article helpful?