34
Products
Considered
194
Hours
of Research
37
Reviews
Examined
9
Experts
Interviewed
I've had a lot of my bodybuilder clients look at me as if I had two heads when I ask them about the floor exercises they do at home.
Even if you don't do yoga or pilates, exercise and yoga mats can be a huge asset for your workout routines.
The comfortable joint cushioning could make a big difference during stretching or free weight exercises. But the problem is always quality and durability.
I've had too many mats that tore to shreds within weeks, so we decided to test some of the most popular ones to come up with this list of best exercise mats.
Table of Contents
Editor's Choice
HemingWeigh
Material
Nitrile Butadiene Rubber
Check Current Price
#2nd Best Choice
Sunny Health & Fitness
Material
Plastic and Vinyl
Check Current Price
#3rd Best Choice
Manduka Eko Superlite
Check Current Price
Our Top Exercise Mats
1 - HemingWeigh Extra Thick Yoga Mat (Editor's Choice)
I've had one for over a year and firmly believe it might be the best exercise mat.
At 1 inch, it's a thick exercise mat that suits me during my extended stretching routines.
Dimensions: 70 x 23 x 1 inches
Material: Nitrile Butadiene Rubber
Pros
Positive comments about the non-slip surface even when you sweat
Uses only non-toxic material to reduce skin reactions
Easy to clean with a damp cloth
It's long enough to suit taller people
Cons
It has a strong smell when you first unpack it
2 - Sunny Health & Fitness Tumbling Mat
Sunny Health & Fitness has a range of exercise mats, and we picked this one as it's extra thick.
We also liked the non-slip surface, which might be great for HIIT routines.
Dimensions: 72 x 24 x 2 inches
Material: Synthetic nylon
Pros
Folds up easily with a zip to hold it together
Extra padding suits people with joint problems
Positive comments that it wipes clean easily after intense workouts
Cons
It might not be dense enough for heavy-duty use
It's not a high-density one to support heavier people and might lose its shape a little.
3 - Manduka Eko Superlite Yoga Mat
If you need something small and light for your gym bag, then this might just be the answer.
It's also a non-slip exercise mat that you could use for some dumbbell workouts.
Dimensions: 68 x 24 x 0.06 inches
Material: Biodegradable tree rubber
Pros
Nice and light design makes it a more portable option
Improves your grip even on smooth, hard surfaces
Suitable for machine washing after use
Cons
It's thin by design, which might not suit everyone
4 - ProsourceFit Tri-Fold Exercise Mat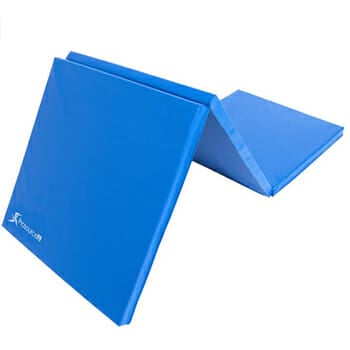 While the interlocking tiles make this a slightly larger mat when folded down.
It might give you the thickness you need for certain yoga poses that might strain your joints.
Dimensions: 72 x 24 x 1.5 inches
Material: Vinyl
Pros
Folded foam tiles make it easier to store under a bed
Vinyl materials are more suitable to avoid movement and stretching
Easy to clean with a cloth and doesn't seem to smell
Cons
Might not stand up to high-intensity floor exercises
5 - Gaiam Yoga Mat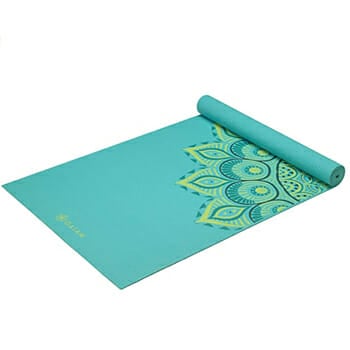 This is another one of the thinner workout mats that we noted as feeling like it's almost stuck to the ground.
That might be helpful if you have wood floors where some other mats could start to slip.
Dimensions: 68 x 24 x 0.25 inches
Material: 6P free PVC
Pros
Positive reviews about the non-slip material
Comes with some guided yoga class videos
Available in some great color options and designs
Cons
The thin design might not suit people with joint issues
6 - AmazonBasics Thick Exercise Mat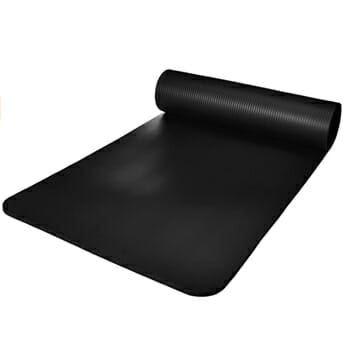 This is possibly the longest non-slip exercise mat you'll find.
At 74 inches, it should suit taller athletes with many types of yoga and pilates exercises.
Dimensions: 74 x 24 x 0.5 inches
Material: NBR foam
Pros
It's one of the longest yoga mats we could find for taller athletes
Suitable for hardwood floors as it doesn't seem to slip
The surface is textured, which helps improve traction during yoga
Cons
It may receive some tears from high-intensity workouts
7 - BalanceFrom GoYoga
If you do some HIIT or CrossFit type exercises at home, then you need a mat that won't tear easily.
And this mat has a lot of positive comments that highlight that may be more tear-proof than most other mats.
Dimensions: 74 x 24 x 0.5 inches
Material: Synthetic foam
Pros
The high-density foam is suitable for heavier people
Straps detach so they don't get in the way of exercising
Easy to wipe clean even after intense workouts
Cons
It tends to slip a bit on hard surfaces
8 - Everyday Essentials Large Yoga Mat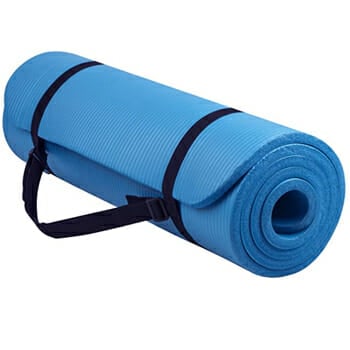 I disagree with the name a bit, as it's not really a large exercise mat.
But it does come with a lot of positive feedback about providing a lot of traction and grip.
Dimensions: 71 x 24 x 0.5 inches
Material: Synthetic foam
Pros
Positive reviews about the mat not slipping on a wood surface
Moisture-resistant foam should avoid it getting smelly
Seems to provide good traction for home yoga exercises
Cons
The foam could be a bit denser to reduce pressure on joints
9 - SPRI Exercise Mat
Some people just want a small mat for their gym bag to support their back during a yoga workout.
At just 48 inches long, this is one of the smaller ones, but it may work surprisingly well.
Dimensions: 48 x 24 x 0.5 inches
Material: Poly-foam
Pros
Small enough to fit in your gym bag
Users like that it provides good traction and less slipping
It's easy to keep clean with a damp cloth
Cons
It's pretty short so won't suit all types of exercises
10 - Gxmmat Workout Mat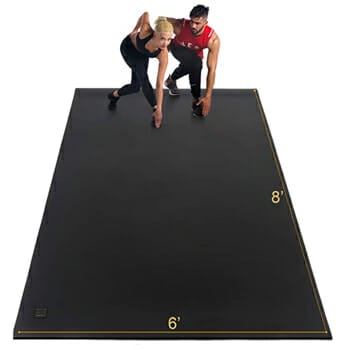 The final one of our recommended exercise mats is an oversized one that could be large enough for two people.
A lot of people like it for HIIT and plyometric exercises as it gives you way more square feet to work with.
Dimensions: 72.05 x 95.67 x 0.28 inches
Material: Micro-foam
Pros
Extra large workout mat ideal for cardio
Rolls up into an easy to store package for
Includes workout gloves for HIIT exercises
Cons
It tends to get a bit slippery with a lot of sweat
Buyer's Guide

Here are three important things you need to keep in mind when making a buying decision.
1. Optimum Materials
You'll find some cheaper mats that use EVA foam. It might feel nice and soft, but it misses a few important things.
Not only is it not dense enough to withstand some more intense exercises, but it might also tear quite easily.
If you need something that provides good padding and will last a long time, rubber is possibly the best choice. 
Our best exercise mat recommendation uses a nitrile butadiene rubber [1], which has two important advantages.
It gives it a non-slip surface, but it's also very easy to clean.
2. Size And Thickness
Most mats are about 24 inches wide, and the longest ones will be about 74 inches long.
If you're over 6 feet tall, then make sure you get a 74-inch mat.
But what's probably more important is the thickness.
A thick exercise mat of about 1.5 to 2 inches may be ideal if you have some joint issues where pressure tends to cause some pain.
But they might also help if you do a lot of stretching where you might spend a long time in a certain position.
3. Roll-Up Or Fold-Up Design
Both of these are easy to store, but you might find the roll-up mats would be easier to fit in your gym bag.
I know many people who bring their own mat to the gym for hygiene reasons, and that's where a rolled-up mat is ideal. Just make sure that you get one where the carrying strap detaches.
I find the ones where the strap is permanently attached to the mat end up with bits hanging off it where your feet can get tangled up.
Related Articles:
FAQs
Is There a Difference Between a Yoga Mat and an Exercise Mat?
Yes, there is a difference between a yoga mat and an exercise mat. Most yoga mats would be thinner than exercise mats, normally ranging between 1/4 and 1/2 inches thick. Exercise mats tend to be 1/2 to 2 inches thick.
How Thick Should an Exercise Mat Be?
An exercise mat should be 0.5 to 2 inches thick. The thicker they are, the more suitable they might be for a high-intensity workout. Thinner ones tend to be more portable if you want to bring it to the gym.
Which Of These Best Exercise Mats Should You Choose?
Our top pick for the best range of flexibility is the HemingWeigh mat. It's suitable for all types of workouts, and I regularly use mine for yoga, pilates, and stretching.
It's durable enough to withstand the odd dumbbell being dropped, and you might find it easy to keep clean as well.
Order yours today and let us know how it worked out for you.
Our #1 Recommendation
HemingWeigh Extra Thick Yoga Mat
Material
Nitrile Butadiene Rubber
Check Current Price

Pros
Positive comments about the non-slip surface even when you sweat
Uses only non-toxic material to reduce skin reactions
Easy to clean with a damp cloth
It's long enough to suit taller people
Cons
It has a strong smell when you first unpack it
About the author
You may also like