The NordicTrack Fusion CST is popular among fitness enthusiasts looking for an effective and efficient way to get in shape.
An innovative design that allows users to engage in cardio and strength training simultaneously is something we cannot say of too many machines on the market.
So, we gathered our team to test out and review what makes this functional trainer special by examining its features, performance, pros, and cons. We'll also discuss how it compares to similar products.
Read on to find out if the Fusion can help you hit your fitness goals.
What is the NordicTrack Fusion CST?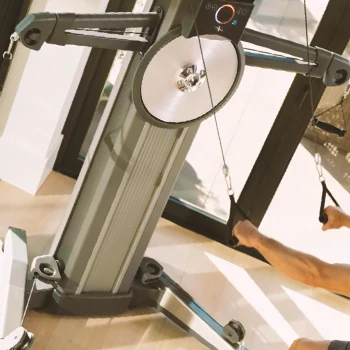 The NordicTrack Fusion CST is a functional trainer that uses 20 levels of magnetic resistance to deliver a challenging home workout that fuses cardio and strength training.
Known for its machines like quality exercise bikes and treadmills, NordicTrack enters the resistance training game with this featured functional trainer that combines both.
Studies show any exercise improves health, but performing both strength and cardio workouts offers an additional benefit [1].
At first glance, this machine is impressive with its exposed, shiny magnetic flywheel and 10" screen. Let's see what we found beyond the first impression.
How Does It Work?
The Fusion CST works via a system of cables and pulleys along with a large flywheel to offer 20 levels of silent magnetic resistance with a maximum load of 100 pounds, differing from traditional top cable machines that use plates or weight stacks instead of a flywheel.
Benefits of This Trainer
One of the most noticeable benefits of the Fusion CST is that it provides both a cardio and strength workout.
The resistance system features 20 power levels, an inertia-enhanced flywheel, AutoAdjust technology, and six precision cable ends to target each muscle groups.
We found the resistance to be strong enough to provide a solid, sweat-inducing workout.
NordicTrack includes a freestanding tablet stand. We found this handy so we could place the included tablet where we could easily see our stats, power output, and heart rate during any exercise.
iFit
Most Nordictrack and ProForm machines allow you to stay at home and ditch the gym membership for an iFit app subscription and join thousands of studio classes led by experts live on the interactive 10" tablet.
What sets this feature apart in the Fusion CST is that you can select your difficulty level in each video.
Also, while streaming an iFit class, we were impressed that the system will take control by intuitively adjusting resistance levels based on trainer cues.
NordicTrack also includes a Bluetooth chest strap to monitor your heart rate's fat burning zone during workouts, which can help to know if you're burning calories in the most efficient zone, which studies suggest is between 60.2 and 80% of your maximum heart rate [2].
Are There Any Downsides?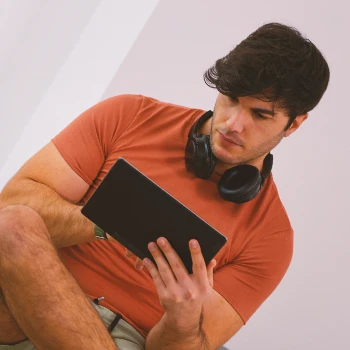 The Fusion weighs nearly 400 pounds, which is particularly challenging during assembly.
It also requires considerable floor space, with a footprint of 73.5 H x 60.5 W x 41.5 D.
Keep in mind that NordicTrack recommends six feet of clearance around the system.
Thankfully, our testing team included two people available for assembly and plenty of space to place the unit.
The Fusion CST offers a maximum of one hundred pounds of maximum resistance.
While testing the machine, we concluded that the amount is likely okay for most users but may prove too little for strong individuals at a higher fitness level.
This machine is designed specifically for the iFit app.
There are far better options if this app does not appeal to you or you do not want to avoid paying a monthly fee.
Finally, this is something other than a budget piece of gym equipment. With a price tag near $2000 and the additional iFit subscription, you'll want to make sure you will use this equipment frequently to make it worth your investment.
"In general, cardio exercise works to improve cardiovascular adaptations that increase oxygen consumption. Strength exercises work at the level of the muscles and the nerves controlling those muscles to improve strength and neuromuscular control: balance and coordination."

- Christopher McMullen, M.D.
Pros
NordicTrack offers a generous 10-year frame warranty
Quiet magnetic resistance
Includes 30-day iFit membership trial
Includes freestanding, adjustable tablet stand
Cons
A very heavy piece of home gym equipment
Maximum resistance of 100 pounds may not be enough for some users
How to Use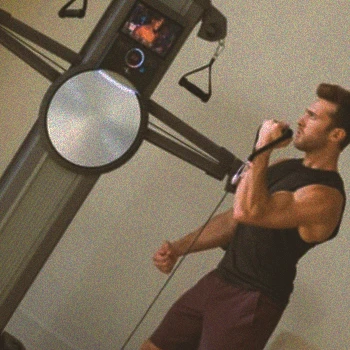 Using Fusion is pretty straightforward. You can adjust the resistance manually through the tablet, or the AutoAdjust system will do it automatically in iFit trainer-led workouts.
The system includes six precision cable ends and ergonomic, removable handles.
The product manual can give you more specifics on use and is available on NordicTrack's website if you don't have a physical copy.
The cable ends and handles enable you to do lat pull-downs, low rows, triceps push-downs, and other exercises with a traditional cable machine.
The two ankle straps and two squat pulleys allow for certain exercises like hip abduction, extension, and hamstring curls.
The included free month of iFit is a great way to get to know the machine and use it appropriately under the guidance of professional trainers.
Who Is the Fusion CST Best For?
The Fusion CST is best for individuals looking to meet their fitness goals with one machine that offers strength and cardio workouts at the convenience of their home.
Beginners to advanced fitness enthusiasts can receive a solid workout, and the iFit classes can guide you in targeting specific muscle groups or a full-body workout.
It is worth noting that this machine may not be suitable for heavy lifters as the magnetic resistance has a maximum load of 100 pounds.
People with back, hip, knee, or ankle problems may find this machine too intense or uncomfortable, so we advise anyone to consult their physician before beginning any new training.
Where to Buy and Price
You can buy the Fusion directly from the NordicTrack website or on Amazon.
When you order from the NordicTrack website, you can bundle accessories to save, and options include resistance bands, free weights, a massage gun, and a yoga mat.
Additionally, ordering from the website, as we did, will get you free standard shipping and the option to pay at once or over time upon approval.
Shipping and Delivery
Through the NordicTrack website, standard delivery is free. You can have the unit brought into the room of your choice and assembled for a fee.
We opted for the standard delivery for testing as we had enough people to help with the leg assembly and handle attachments.
Other User Testimonials
Research is vital before purchasing any piece of home gym equipment, and that includes reading actual user reviews. We handpicked the following reviews to see how other fitness enthusiasts view the Fusion.
He states that it is easy to assemble but very heavy, so having another person to help is a must. He says it gives a great overall workout.

- Angelo from Pennsylvania
A few months into working out, she says the iFit training sessions are a game changer for upper or lower body exercises targeting specific muscles.

- Jessica from Utah
He loves the idea of the machines but says they need to be better manufactured, as he experienced uneven resistance and no customer support.

- Gil from Washington
Fusion CST Versus the Competition

Let's briefly examine how NordicTrack's functional trainer stacks up against the competition.
Concept 2 SKIERG
This American-made machine from Rogue will create resistance with air through a fanned flywheel, and you can use a spiral damper to make adjustments quickly.
The Performance Monitor 5 (PM5) tracks all the essentials like distance, speed, pace, calories burned, and watts. All this is available on the PM5 without an additional app subscription.
You can mount this unit to a wall or purchase a floor stand; it weighs under 50 pounds, and assembly only requires the 12 included screws.
The Concept 2 SKIERG targets cross-country skiing, but its unique design allows for using it sitting down, making it great for rehabbing athletes.
We like the simplicity of use, particularly when adjusting resistance. The full-body workout left us sweaty and tired.
This trainer comes from a reputable fitness brand known for high-quality equipment. A relatively low price point makes this a budget-friendly option for many users.
XMark Home Gym Functional Trainer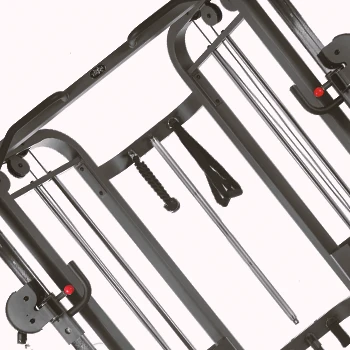 The XMark trainer is a versatile piece of equipment to add to your home workout space.
Its dual 200-lb weight stacks and 19 quick-adjust pulleys with 3.5" intervals between settings allow for targeted workouts and plenty of adaptability.
The price point, resistance, and product weight are heftier than NordicTracks's offering.
This 700-pound functional trainer also has a large footprint of 65" W x 43.5" L x 83" H, so it will chew up some real estate in your workout space.
Many in our test group liked that the XMark trainer is a more traditional trainer that does not require an app or includes an interactive screen.
MAXPRO Fitness Cable Home Gym
Seen on Shark Tank and backed by Shaq, the MAXPRO Raw Metal SmartConnect is a portable yet powerful cable machine that provides coach-led workouts and progress tracking via Bluetooth through its accompanying app.
This set comes complete with adjustable concentric resistance levels running from 5 to 300 pounds that you adjust by turning a dial.
You will also get two handles, straps, door mount brackets, and a USB charger.
At under a grand before adding any accessories, this unit is a more budget-friendly and space-saving option than other trainers.
We ordered the backpack accessory for easy, no-footprint storage, and the trainer only weighs nine pounds, making it easy to work out anywhere on the go.
FAQs
What Is the Difference Between the Fusion CST and Fusion CST Studio?
The main difference between the Fusion CST and the Fusion CST Studio is that the Studio includes a full-size 70"x15" mirror on the front that allows you to monitor your form when performing strength training exercises.
Can You Bench Press on a Fusion CST?
Because of its design, you cannot do a traditional bench press on the Fusion CST, but you can do a standing chest press that will work the same muscles.
Can I Use the Fusion CST Without a Membership?
You can use the Fusion CST in manual mode without the iFit membership, but to reap the full benefits, like training videos or studio classes, you will want to maintain the membership.
Final Thoughts on the NordicTrack Fusion CST
Many people want to find the perfect piece of equipment for their home gyms, and NordicTrack offers a great trainer.
However, before this Fusion CST review, we extensively tested the Rogue Concept 2 SKIERG and loved the effective and intense full-body workout with its wide range of intensity controls, which is why we feel it offers a better value.
It's a rugged piece of equipment by a reputable brand that doesn't take up much space.
If you want an efficient way to stay in shape without sacrificing space or money, our team recommends Concept 2 SKIERG from Rogue Fitness.
Our #1 Recommendation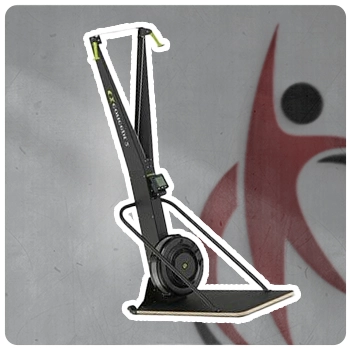 Click For Best Price

Pros
Provides a fun cardio workout that can burn a load of calories
Clear and simple display allows you to make adjustments without disruptions
At high-intensity levels, this can become a good core strength training tool
Get the BEST PRICE until the end of December
Cons
It's a heavy machine that isn't easy to store out of the way
Was this article helpful?