When I learned about Andrei Deiu, I thought he was one of the world's most popular and successful bodybuilders and fitness models.
I was surprised by his workout routines. And as an experienced personal trainer, I tried a few of his exercises.
After hours of research and watching his gains, I discovered his best routine, diet, and supplementation.
Get ready to learn from the best and unlock the key principles behind Andrei Deiu's incredible results.
Andrei Deiu's Current Stats
Andrei Deiu is a Romanian bodybuilder, fitness model, and certified personal trainer who has been competing since the age of 17.
With his inspiring physique and dedication to health, he has become a sought-after social media influencer, inspiring countless fans worldwide to pursue their fitness goals.
His current statistics are:
Age: 26 years old
Height: 5'11"
Weight: 175 - 185lbs
Waist: 28"
Chest: 44"
Andrei Deiu's Workout Routine

Andrei Deiu's workout routine is based on training different muscle groups each day of the week.
Below is his physical training plan.
Chest and Shoulder Workout
Andrei Deiu's workout plan starts on Monday with a chest and shoulder workout combination that includes the following:
Incline barbell chest press: 4 sets of 10–12 reps
Inclined press up: 4 sets of 10–12 reps
Incline cable fly: 4 sets of 10–15 reps
Flat barbell bench press: 3 sets of 8–12 sets
Machine chest fly: 4 sets x 10–12 reps
Reverse pec deck machine: 6 sets x 10–15 reps
Shoulders military press: 4 sets of 10 reps
Seated dumbbell rear delt raises: 4 sets of 10 reps
Standing one arm lateral raises

:

5 sets of 10 reps
Back and Abs Workout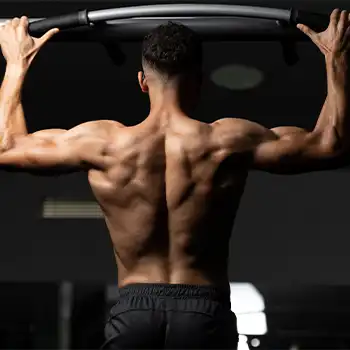 Andrei's Tuesdays are meant for a killer back and abs training program. He also trains abdominals on Saturdays.
Pull-ups: 3 sets until failure
Pulldowns: 5 sets of 12 reps
Seated cable row: 4 sets of 10 reps
Machine pullover: 4 sets of 10–12 reps
Dumbbell row: 3 sets of 10 reps
Deadweight: 3 sets x 8–10 reps
Deadlift: 4 sets x 15–20 reps
Cable crunches: 3 sets of 15 reps
Also read: 7 Minute Ab Workout
Quadriceps and Calves Workout
Fridays are specially meant for quads and calves. As a very successful fitness model, Andrei must keep all his body in shape.
Bike warmup: 15 minutes
Squats: 6 sets of 15 reps
Narrow stance leg press: 4 sets of 12 reps
Leg extensions: 6 sets of 15 reps
One-leg extensions: 4 sets of 10 reps
Standing calf raises: 5 sets of 16 reps
Read more: How to Get Teardrop Quads
Arms Workout
Arm workouts are meant for Saturdays in Andrei's schedule.
EZ bar Skull crushers: 4 sets of 12 reps
Pushdowns with rope: 5 sets of 15 reps
Reverse tricep single arm extension: 3 sets of 12 reps
Bicep barbell curls: 4 sets of 10 reps
Inverted barbell curls: 4 sets of 10 reps
Concentration curls: 4 sets of 10 reps
Hamstrings Workout
Hamstrings require a special day for training, Sundays.
Lunges: 4 sets of 12 reps
Wide stance leg press: 5 sets of 10 reps
Seated leg curl: 5 sets of 12 reps
Leg deadlift: 3 sets of 15 reps
Calf press: 5 sets of 15 reps
Standing calf raises: 3 sets of 10 reps
Andrei Deiu's Workout Principles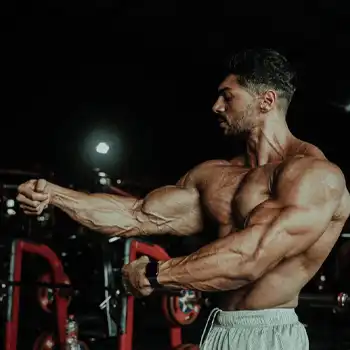 Andrei Deiu's training principles are based on consistency, dedication, and focus on his weak points.
Deiu takes his strength training seriously, dedicating five days a week to it. He seems to perform multiple sets per exercise, which, according to a review article from Sports Medicine, can improve maximum muscular strength [1].
He has admitted that he used to overeat junk food, which is why he takes the fitness industry more seriously.
As a very active person, he constantly tries new exercises to maintain a lean physique while keeping his healthy lifestyle.
He even embraces and preaches his habits and workout tips on his Instagram.
"Every day is a chance to get better. Wake up, eat your meals, lift weights, get your supplies in & don't forget to flex."

- Andrei Deiu
Andrei Deiu's Diet Plan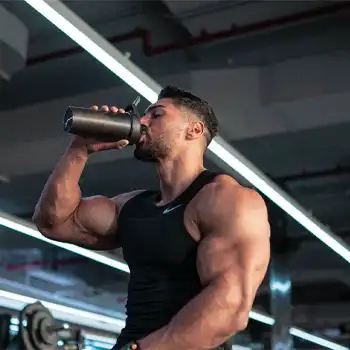 Andrei Deiu's diet consists of six meals daily, with foods rich in protein, carbohydrates, and healthy fats.
Most of his nutrition habits are healthy to keep a muscular physique, but he also includes an occasional cheat meal. And according to a research article from the Journal of Consumer Psychology, a cheat meal once in a blue moon could help you in the long run by avoiding cravings [2].
Let's break it down:
Breakfast: Oat, berries, eggs, peanut butter.
Lunch: Chicken breast, white rice, broccoli.
Pre-workout: fish or chicken, sweet potato.
Post-workout: Quality whey protein or chicken, sweet potato, and vegetables.
Dinner: Red meat, green bean.
Snack: Cottage cheese or Greek yogurt, almonds.
Andrei Deiu's Nutrition Principles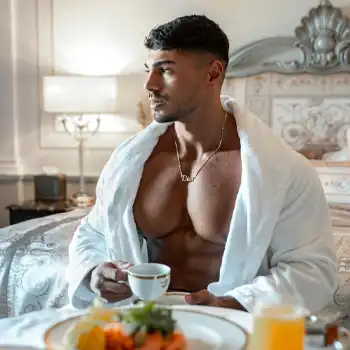 The principles of Andrei's nutrition are based on a balanced and personalized diet that goes as follows:
Adjust carbohydrates and fats according to physical activity.
Include foods rich in micronutrients.
Hydration.
Avoid alcohol, sugar, and processed foods.
Plan meals and be consistent with the diet.
Andrei Deiu has achieved an impressive physique and optimal health with these new nutrition habits.
Andrei Deiu's Workout Plan Supplements
I recognize it's hard to stay lean year-round. And as a personal trainer, I know first-hand how difficult it is to reach that calorie count with just food.
That's why Andrei uses multiple supplements essential for muscle growth.
For example:
Fat Burner
BCAAs (Branched Chain Amino Acids)
Fish Oil
FAQs
What Food Does Andrei Deiu Avoid?
Andrei Deiu avoids processed, fried, sugary foods, alcohol, and soft drinks.
What is Andrei Deiu's Meal for Post Workout?
Andrei Deiu's meal for post workout consists of 2 scoops of whey protein. He could also ingest a source of lean protein, complex carbohydrates, and a portion of vegetables.
Andrei Deiu's workout and diet routine showcases the importance of a balanced approach to fitness, combining scientific methods like progressive overload and macro calculations with mental techniques such as flow state and mind-muscle connection.
To complement such a rigorous routine, incorporating a high-quality protein powder can be beneficial.
These products aid in muscle recovery and growth, ensuring that you get the most out of your workouts just like Andrei Deiu does in his fitness journey.
Check out our list and find one that best suits your needs.
---
References:
https://link.springer.com/article/10.1007/s40279-018-0862-z
https://www.sciencedirect.com/science/article/abs/pii/S1057740815000443?via%3Dihub
Was this article helpful?