As a self-confessed fitness addict, Mario Lopez has retained a ripped physique that most men his age, and younger can only dream of.
So if there's one guy you'd want to emulate in the gym, it's him.
To score a body like this real-life Adonis, check out this Mario Lopez workout.
Quick Summary
Mario Lopez's workouts she performs are triceps press-downs, biceps curls, double crunches, heavy bag drills, squat presses, push-downs, and dumbbell swings.
Lopez's exercises are categorized into total body circuit training, abs circuit training, and boxing circuit.
Mario consumes meals rich in high protein, carbs, and healthy fats to fuel his workout routines and boost his results.
Lopez takes whey protein to boost his results from workout.
His Stats and Career Highlights
Born in San Diego, California, Mario Lopez started dancing when he was 3 years old.
Before landing roles on tv, Lopez did local ads and commercials. He starred in "Kids Incorporated" and "Saved by the Bell," a series that ran for five years.
The American actor and host has also co-authored several fitness and nutrition books, including "Knockout Fitness" and "Extra Lean," a book that hit the New York Times bestseller list.
Mario Lopez stands 5'10 inches tall and weighs about 175 pounds. Now 47 years old and a father of three, the star remains one of the hottest actors in show business.
Here is Mario Lopez's body sculpting workout.
Mario Lopez Workout Routine
The Mario Lopez workout routine involves various training exercises, such as resistance training, weight training, circuit training, and interval training.
During his non-lifting days, Lopez does boxing workouts that consist of five different training drills.
Here are the exercises in his weekly workout routine.
Total Body Circuit Training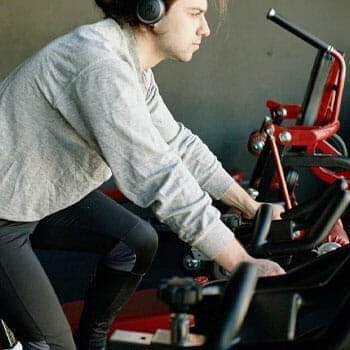 Mario Lopez does a five-minute warm-up on a bicycle machine before starting this workout.
He then proceeds to circuit training and finishes it off with an ab session.
Instructions: Do each pair of exercises back to back and take a one-minute rest before moving on to the next pair.
Pattern: 3-4 sets
Repetitions per exercise: 12-15; 20 for push-ups
Squat Press
Dumbbell Lunges
Push-ups
Dumbbell Rows
Biceps Curls (Zottman style)
Triceps Pressdowns
Dumbbell Swings
Incline Prone Dumbbell Y's
Bike/treadmill/elliptical (sprint/walk intervals for 30 minutes)
Abs Circuit Training
Lopez says he likes doing his ab workouts at the very end of his routine because it helps him push harder.
Instructions: Rest for one minute between each set. Keep your abs tight while doing these exercises.
Notes: If you don't have access to cables, you can change the last exercise to Dumbbell Lateral Flexions.
Pattern: 3-4 sets
Repetitions per exercise: Until failure
Hanging Leg Lifts

Weighted Decline Bench Sit-ups
Double Crunches

Cable Wood Choppers
Boxing Circuit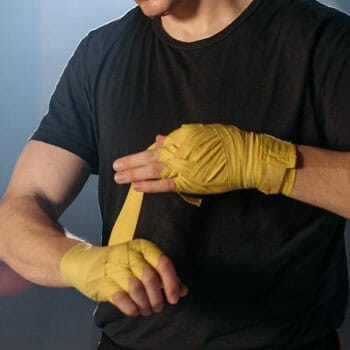 The Mario Lopez workout includes boxing training, which can help you burn fat fast and tone your arms and legs.
Instructions: Rest for one minute between each set.
Notes: Lopez uses a rope that is at about shoulder height for the bob and weave workout. For the mitt drill, it's best to get a partner to help you.
Again, make sure to keep your abs as tight as possible while doing these exercises.
Pattern: 2 sets per exercise
Bob and Weave Drill
Mitt Drill
Shadow Boxing Drill
Heavy Bag Drill
Speed Training Drill
His Workout Plan
Working out like Mario Lopez involves changing things up from time to time, so we've provided two workout variations that can both help you reach your goals
Option #1
This option follows the routines discussed above.
Monday, Wednesday, Friday
Total Body Circuit
Ab Circuit
Tuesday, Thursday, Saturday
Option #2
For this one, you're free to choose which exercises you want to include under the HIIT, resistance training, and weight training drills.
Monday: Chest and Triceps
Cardio: 20 minutes

Weight training: 45 minutes
Tuesday: Abdominals and Core Workout
Hanging leg raise: Until failure

Decline weighted crunch: 15-20 reps

Double crunch: 15-20 reps
Cable wood chops: 15-20 reps

Cardio: 30 minutes

Stretching: 10 minutes
Wednesday: Back and Biceps
Cardio: 20 minutes
Weight training: 45 minutes
Stretching: 10 minutes
Thursday: Legs and Glutes
Cardio: 30 minutes
Resistance training: 35 minutes
Stretching: 10 minutes
Friday: Abdominals and Core
HIIT: 20 minutes
Resistance training: 30 minutes
Stretching: 10 minutes
Saturday: Full body
Run/swim/box: 30-60 minutes
Mario Lopez Diet
From an eating standpoint, there's also a lot we can learn from Lopez. Luckily, his eating habits and meals are fairly easy to replicate.
For him, a good diet entails eating clean and healthy food always. In addition, he believes that no one should indulge. It's important to be mindful of portion sizes and eat everything in moderation.
Protein-rich foods such as chicken breast and eggs are also a staple in his diet. Mario Lopez says that eating lots of high-quality protein helps him increase his fat-burning muscle mass gains [1].
As for carbs, Lopez says the key is to find the right ones. That's why he consumes plenty of fresh fruit, vegetables, and whole grains like quinoa and steel-cut oatmeal.
On the other hand, Lopez steers clear of white bread, sugar, liquid calories, and anything fried.
Lopez only eats healthy fats such as wild salmon and olive oil. He also snacks on walnuts, almonds, and pecans.
Does He Take Any Supplements?
Mario Lopez doesn't talk a lot about his supplement choices. All we know is that he consumes a fast-digesting protein, like whey protein, 30 minutes before a workout.
Other workout routines:
Are You Going To Try Mario's Workout Routine?
From a physique standpoint, Mario Lopez is undeniably the definition of perfection.
If there's anything you can take away from his fitness philosophy, it's that getting in shape isn't as simple as working out until you're sore.
It involves tons of hard work and a commitment to adapting a lifestyle that will maximize your health.
And that means making smart food choices and being intentional about moving your body—whether in the gym or outside—every day.
Challenge yourself today and try this Mario Lopez workout program. Let us know how it goes in the comments below.
---
References:
https://www.healthline.com/nutrition/10-reasons-to-eat-more-protein
Was this article helpful?