What could an ex-UFC champion and cardiac arrest survivor teach you about health?
Two things: you can't overlook the importance of physical activity and getting enough nutrition.
Unfortunately, we are living at a time when more than 1.4 billion adults worldwide [1] do not engage in either. As a result, it's no wonder why so many people are becoming sick and frail.
If you're looking for a lifestyle change, I want to share a no-nonsense program with you that will immensely boost your physique and well-being if you follow judiciously.
Let's take a look at the Randy Couture workout.
Quick Summary
Randy Couture's workouts range from military presses, split squats, deadlifts, single presses, kettlebell swings, upright rows, and squat push presses.
Couture's exercises can be categorized into the following categories barbell complex, kettlebell complex, and deadlifts to shrug complex.
Randy's workouts is a 45-minute circuit training routine comprising 18 different workout routines.
Couture diet aims at covering all nutritional bases to fuel his exercise routines.
Who is Randy Couture?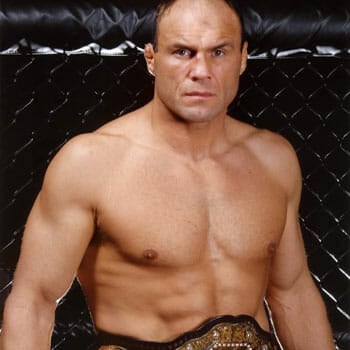 Randy Duane Couture is a retired Mixed Martial Arts (MMA) fighter, six-time UFC champion, head trainer at Xtreme Couture gym, former U.S Army sergeant, and coach for Team Quest.
Born in Washington State in 1963, Randy began his wrestling career in middle school and became a state championship winner as a high school senior.
His first fight was at the Ultimate Fighting Championship at 13 in 1997.
After his debut fight, Couture quickly established himself as the most celebrated competitor of all time.
He has won the UFC heavyweight title three times, UFC Light heavyweight title two times, and became an interim UFC Light Heavyweight Champ.
He's also the first of seven UFC fighters to have won two titles in two different divisions.
On October 23, 2019, at the age of 56, Randy Couture suffered a severe heart attack after a workout in Los Angeles. Surprisingly, due to his determination to finish his gym workout, he tried using a foam roller to roll his way out of the heart attack.
He then finished his workout and walked to a nearby hospital, where doctors informed him that he had a blood clot in his diagonal artery and immediately admitted him to intensive care for further treatment.
After a successful operation, Couture made a full recovery.
Workout Routine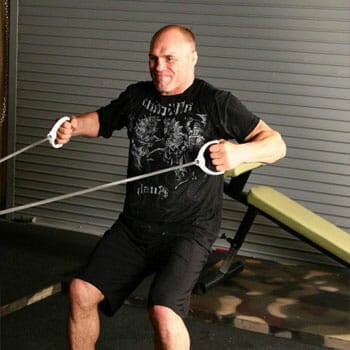 The Randy Couture workout is a 45-minute circuit training routine comprising 18 different exercises.
Circuit training is similar to a complex cardio workout, where you move from one activity to the next with little to no rest.
The Randy Couture workout is designed for MMA conditioning and boosts overall strength, speed, balance, and coordination.
This intense 3-days-per-week, 45-minute working cycle targets large muscle groups in the chest, abdomen, back, shoulders, and quads through a high number of reps.
It also combines synergistic cardio moves to engage your core and plyometric conditioning workouts to keep your heart pumping hard.
A heavy dose of lifting is also an integral part of this workout plan, aimed at working the biceps and triceps for Greco Roman wrestling and fighting strength.
 

View this post on Instagram

 
This involves exercises such as the military press and working with a medicine ball.
As a result, these conditioning workouts create the physical and mental character you need to become a champ.
Here's a sneak-peek at the popular Randy Couture workout using certain weights.
Related: Back Attack Workout
1. Barbell Complex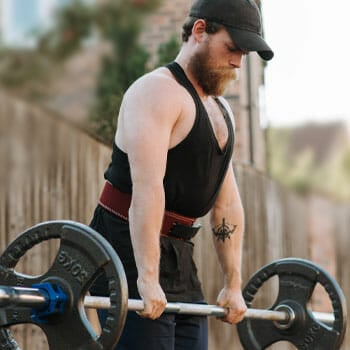 Randy Couture's Barbell Complex or grappling circuit is a workout used for MMA conditioning.
This workout uses a steel bar or barbell weight to perform a series of movements.
Something important to note is that you're not allowed to put the barbell down or rest until you complete all the exercises.
Each exercise consists of 8 reps, with a 2-minute break in between rounds.
Here are the workout details for the Randy Couture Barbell Complex:
Bent-Over (Horizontal) Rows
Upright Rows (Up rows)
Military Press (keep knees off)
Good Mornings
Split Squats/ Rear Lunges (each leg)
Squat Push Press
Straight-Leg Deadlift x8
If you're a beginner, we recommend starting with a 45 lb weight bar and working upward depending upon your base conditioning.
As you'll be doing multiple repetitions in a row, you'll have burnt a lot of fat by the time you finish your first exercise.
2. Kettlebells Complex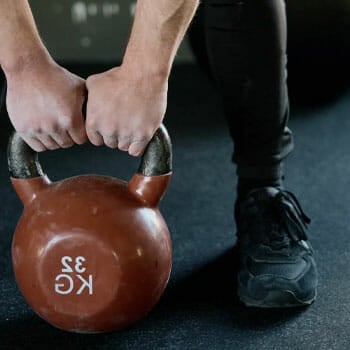 Kettlebells are great for strength body workouts.
You can also opt to interchange them with dumbbells or other weights; however, stick to kettlebells for weighted moves that require explosive movements.
A kettlebell engages a lot of muscles at once through fast, swinging motions that combine flexibility, strength, and cardio.
Examples of Randy Couture kettlebell workouts that are suitable for beginners and MMA fighters include:
Around-the-body Pass
Halo
Deadlifts
Goblet Squats
Kettlebell Swings
Single Press
Additionally, Randy Couture Kettlebell Complex is a high-intensity interval training (HIIT) that's effective in burning fat through a lot of reps.
When you repeat each kettlebell exercise several times with little or no rest between sets, it offers short and intense bursts of strength.
Ultimately, this exercise program ensures you get the most efficiency and results, while minimizing fatigue.
3. Deadlift to Shrug Complex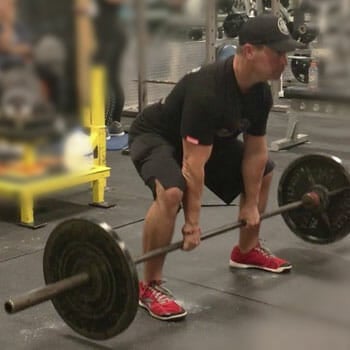 The benefits of the clean Deadlift to Shrug complex cannot be underestimated.
It remains an integral piece of every beginner's exercise program, from training for health reasons all the way up to performing at the Olympics.
Some of the polar Deadlift to Shrug moves include:
Hybrid Deadlift x8 reps

Hybrid Deadlift to Shrug

Conventional Deadlift to Shrug
You can stack up all the above moves into a vicious series circuit in your body workouts. Or, work through just one of them in your next leg session.
If you're aiming to train heavy, keep the reps low and focus on technique during your workout.
Randy Couture's Diet
The Randy Couture raw food diet is an improved version of an alkaline diet.
His eating habits focus on three key things: 
Increasing the amount of live foods
Decreasing the amount of acid-forming foods
Covering all nutritional bases with supplementation
He also advises to do this:
1. Fresh or Steamed Vegetables
On most days of the week, start your day with fresh or lightly steamed vegetables.
These include spinach, cabbage, cucumbers, broccoli, green peppers, kale, etc.
According to research, this helps to counter the acidity that builds up from weight training and stress.
"When you eat a plant-based diet or supplement with an alkaline green drink, you assist the body in [many ways] to maintain an alkaline aerobic environment. [Comparatively],  excessively acidic food creates an unhealthy cellular environment, which increases the chance of pathogen growth [2]."

- Deanna Minich, IFM
2. Cut Down on Red Meat and Poultry
Avoid consuming too much red meat and poultry. Instead, get your protein from an organic source such as almonds, nuts, fish, and cereals.
3. Drink Plenty of Water
One thing that cannot be overlooked is proper hydration, aiming for around one gallon of water per day.
However, this will largely depend on multiple factors, including how intensive your body workouts are.
4. Eat Water-Rich Foods with Each Meal
Steer clear of foods containing sugar, such as soda water.
Eliminate as much soda water from your diet as possible, as sugar-rich foods can hurt your conditioning.
Supplements

1. Testosterone
Randy Couture's testosterone supplement boosts athletic performance. It also enhances coronary and sexual health.
2. Lean Body Mass Booster
The lean body mass booster is a safe and legal anabolic accelerator. It supports the formation of human growth hormone (HGH).
3. Greens Supplement
An alkalizing greens supplement gives your body plenty of vitamins, antioxidants, minerals, and other phytonutrients.
4. Multivitamin
Couture supplements his diet with a multivitamin for men to ensure he meets all of his nutritional requirements.
5. Hemp Protein
Instead of taking dairy proteins, take hemp protein to assist with muscle growth. This is because it's made from plants and offers an all-inclusive array of amino acids.
6. Flaxseed Oil
Flaxseed oil is an omega-3 source derived from plants. It supports cardiovascular health and combats inflammation.
FAQs
How Often Should You Do the Randy Couture Workout?
Randy recommends practicing this intense workout three times per week, resting for 2 minutes between sets.
Is the Randy Couture workout effective?
Randy's plyometrics circuit is an effective full-body workout, especially if you do it with a partner or group.  It will fine-tune your timing, build strength, as well as muscular endurance.
What Does Randy Couture Recommend When Training With Workout Partners?
Randy recommends training with a workout partner who shares your goals. But if you can't find one, a bungee cord harness will work just fine as well.
Would You Try Randy Couture's Workout?
Whether you're 20 or 40, the Randy Couture workout will whip you into shape in just 30 days.
As a former UFC title-holder, Couture is a guy who knows a thing or two about fitness and what it takes to build muscle.
His workout program is designed to be brutal, focusing on MMA conditioning and high reps.
There's also a lot of focus on cardio to build endurance, which is the biggest difference separating novice fighters from ones that are a success.
Try out the Randy Couture workout today, and let us know how it's helping you build the body of a champion!
---
References:
https://www.who.int/news-room/fact-sheets/detail/physical-activity
https://greensfirst.com/blog/Acid/Alkaline_Balance
Was this article helpful?