As a successful mixed martial artist, UFC fighter, and welterweight world champ, Tyron Woodley undoubtedly knows the right ways to eat and exercise to stay fit and healthy.
He recommends sticking with what works. Let's find out what works for him, then.
Here's more detailed information on the exact diet and exercise routine he follows to prepare for the fight and stay in good health.
Quick Summary
Tyron Woodley's workouts range from bench presses, speed deadlifts, vertical jumps, Bulgarian split squats, lateral band walk, versa climber sprint, and overhead triceps, among others.
Woodley exercises high-intensity interval training, cardio, bike routines, and barbell exercises.
Tryon's diet comprises nutritious meals like fruits, vegetables, complex carbs, and lean protein.
Tyron Woodley's Diet and Nutrition Principles
Woodley eats clean, natural, and organic food. He consumes veggies, fruits, and plenty of lean protein and complex carbs.
He eats:
Wild-caught fish

Grass-fed beef

Organic poultry

Turkey bacon

Free-range eggs

Plant protein

Protein powder
Whole grains

Complex carbs

Cereal

Vegetables

Fruit

Oatmeal

Raisin
Bananas

Strawberries

Mangos

Nuts and seeds

Almond milk

Raw sugar
Tyron Woodley Stats
Height: 5ft9in

Weight: 200lbs in the off-season, 170lbs when fighting

Title defenses: 4

Wins by knockout: 7

Striking accuracy: 47%
Reach: 74in

MMA Record: 19-6-1

Fighting stance: Orthodox

Nickname: The Chosen One

Birthdate: 7 April 1982
His Most Notable Achievements
Due to his dedication and hard work, this talented athlete became a High School All-American wrestler twice and the first Big 12 wrestling champion from the University of Missouri. He was even the college wrestling assistant coach.
Shortly after finishing college in 2005, Woodley began his promising Mixed Martial Arts (MMA) career.
He won his first professional fight in 2009 and joined Strikeforce afterward.
In 2013, he made his UFC debut and continued winning most of his welterweight bouts with impressive first-round knockouts.
Some of the notable opponents he defeated are Josh Koscheck, Jay Heiron, Dong Hyun Kim, Darren Till, Demian Maia, and others.
He spectacularly won his first UFC title after beating welterweight champion Robbie Lawler in the fastest fight in UFC welterweight history, which lasted only 2 minutes and 12 seconds. [3]
Unfortunately, he had shoulder surgery, so he spent most of 2018 recovering, away from the fights(undergoing physical therapy, getting stem cell injections, and platelet-rich plasma/PRP shots).
At that time, this world-classfirst-rate UFC champ appeared on Fox as a commentator and analyst for UFC Tonight, tried stand-up comedy, and took up acting.
He landed action stunts and roles in movies like Escape Plan 2: Hades, Olympus Has Fallen, Kickboxer Vengeance, Office Uprising, Sultan, etc., and turned out to be a success even in the film industry.
Tyron Woodley's Fitness Routine & Philosophy

Even if he doesn't feel like training or fighting, Woodley gets up at 6 a.m. every morning and works out intensely because he believes that consistency in his daily routine matters a lot as greatness doesn't come by chance, but it's a choice you make.
As this reigning UFC welterweight champion suggests, you need to be a patient person with the right rhythm to box successfully. The key is perfect timing, increased stamina, physical and mental agility.
That's why his workouts are focused on pairing different training styles to build both power and endurance simultaneously.
Speaking of his fitness goals, T-Wood says:
"I don't need more muscle. I need endurance. I need explosion. I need quick feet. So that's why I'm hitting the agility ladder, pushing a sled, doing sprints, and slamming the medicine ball. These are the things that I can do and still perform at 100 percent."
Here are the exact workouts he does to achieve his physical goals - increased endurance, stamina, and power necessary for his maximum effectiveness in the octagon.
View this post on Instagram
Tyron Woodley's Workout Plan
When he was at college weighing 165lbs, T-Wood could deadlift at least 600lbs, bench 365lbs, and squat 425lbs for 5 reps. And he's proud of his 43-inch vertical jump.
But he doesn't lift heavy weights anymore.
Instead, his weekly fitness routine mainly includes:
High-intensity interval training (HIIT) for a fight length (around 25mins)
Sprints on the Airdyne bike (85rpm for 30 sec) followed by burpees or ball slams for another 30 sec without any rest in between to build endurance
VersaClimber bike routine (aiming at 150 feet/min, and at least 750 feet/5mins for a brutal cardio workout) or
Jumping rope for 1min alternated with one-minute long, broad, tuck, and other types of jumps (starting with 10min intervals) if he has no access to the vertical climber machine he swears by (VersaClimber)
"There is no cardiovascular machine that makes me feel anywhere close to as exhausted as I do after a VersaClimb workout."

- Tyron Woodley, UFC Champion
Full-Body Title-Card Workout Sample
Here's a sample of a full-body title-card workout plan, one of those Tyron Woodley used to prepare for UFC 228.
To get in the best possible shape and form, strive to do the sets and repetitions below without rest in between exercises (only rest upon completing each superset/circuit as suggested).
1A - Versaclimber sprint (3 sets x 30 sec)
1B - Swiss ball plank extension (3 sets x 20)
1C - Banded back extension (3 sets x 20)
Rest - 45 sec
2A - Lateral band walk (1 set x 20 each way)
2B - Forward band walk (1 set x 20 forward and back)
2C - Lunge with external rotation (1 set x 10 per side)
2D - Walking hamstring stretch (1 set x 10 per side)
Rest - 45 sec
3A - Trap-bar deadlift (5 sets x 10)
3B - Vertical jump (5 sets x 5)
Rest - 45 sec
4A - Bulgarian split squat (3 sets x 15/12/10)
4B - Lateral band abduction (3 sets x 20 per side)
4C - Pull-up (3 sets x 12)
4D - Banded face-pull (3 sets x 20)
Rest - 60 sec
5A - Inverted row (3 sets x 15 - begin each set with a 5-sec isometric hold at the top)
5B - Dumbbell raise series (3 sets x 20 each - lateral, front, and again lateral raises with light dumbbells - Woodley uses 10-15lbs)
MMA Barbell Circuit Sample
Now let's take a peek at one of his MMA explosive circuit strength training sessions when he prepared for UFC 161.
It consists of 55 reps of 11 barbell exercises performed in 50 seconds, including:
Speed deadlift
Jump shrug
Hang clean
Speed jerk
Upright row
Hang snatch
Good mornings
Pullovers
Curl
Bench press
Overhead tricep extension / French Press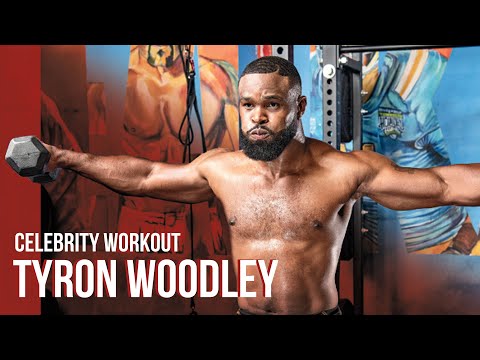 Dairy

Hydrogenated fats

Refined and processed foods
Junk food

Gluten

"White" carbs
He prefers quick and easy breakfast, and his favorite combos are:
a protein shake with almond milk and fruit, plus pre-workout
a fruit smoothie with bananas and mango
oatmeal with raisins and brown sugar
T-Wood also makes his own bulletproof coffee with raw sugar, Himalayan salt, Onnit MCT oil made from coconut (instead of using butter), and Alpha Brain.
He doesn't use pre-workouts with stimulants but takes Onnit's top-notch supplements like Krill Oil and Shroom Tech.
Other celebrity workouts:
What Do You Think of Tyron Woodley's Workout?
Sticking to T-Wood's grueling workout principles and plans seems tricky. It's not for the faint-hearted.
However, it could be rewarding. Just imagine developing muscle strength, stamina, explosiveness, power, and overall physical condition like his must be, with the accompanying health benefits.
I guess following his high-protein diet plan would be less challenging. You need to load up on protein and carbs to get enough energy for completing all those endless exercise circuits without resting.
Do you think you have what it takes to train like "The Chosen One"?
If you try it out, you'll see why he's among the greatest combat sports fighters ever.
---
References:
https://www.ufc.com/athlete/tyron-woodley
http://www.tyronwoodley.com/stats.php
https://www.sherdog.com/fighter/Tyron-Woodley-42605
Was this article helpful?