Dominic Purcell is over 50 years and still looks look in terms of muscle mass and general fitness. This automatically means he regularly hits the gym and maintains a healthy lifestyle.
Thankfully, Purcell has shared information about his workout routine and diet plan through interviews and social media.
We gathered all the info we could get to come up with this comprehensive plan you can follow. In fact, a lot of people across the globe find it easy to follow his diet plan.
Quick Summary
Dominic Purcell's workout routines range from push-ups, cable, kettlebell swings, deadlifts, pull-ups, air squats, running, and weight lunges, among others.
Purcell's supplements intake includes probiotics, BCAAs, and sugar-free protein shakes supplements.
Dominic Purcell believes that intermittent fasting and eating healthy ensures his body gets the right nutrients.
Who is Dominic Purcell?
Dominic Purcell is a British-Australian actor who has enjoyed quite an illustrious acting career starring in several hit TV shows.
 

View this post on Instagram

 
He's best known for his roles as Lincoln Burrows in the Fox drama series "Prison Break,", Mick Rory, aka Heat Wave, in The CW's "The Flash" and "Legends of Tomorrow," where he coincidentally teamed up with Prison Break co-star Wentworth Miller.
Purcell has also made an appearance in  the hilarious Yoplait commercials and small roles in action films such as Mission Impossible 2 and Blade: Trinity.
His Height and Weight
With a muscular physique like his, I think we can all agree that Dominic Purcell absolutely looks incredible for his age.
The Australian actor stands 6 foot and 0.5 inches tall and weighs approximately 198 pounds.
Dominic Purcell Workout Routine

You better be ready to do some lifting as Purcell likes to use a lot of weight when he's training. He focuses on each body part by performing 5 to 10 exercises.
The first three days of Purcell's routine involve a compound lift and then a circuit or high intensity training.
The rest are spent doing 40 to 60 minutes of high-intensity/circuit styled training.
Ready to train like Heat Wave?
Here's Dominic Purcell's workout routine.
Monday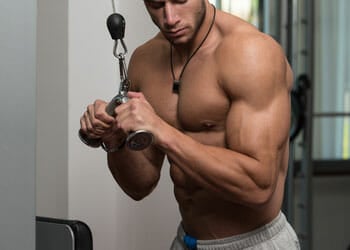 During the first day, Purcell follows a bench press routine consisting of five different exercises.
Push-ups (3 sets, 10 reps)
Bench Press (5 sets, 10 reps)
Tricep Pushdown (5 sets, 10 reps)
Close Grip Push-Ups (5 sets, 10 reps)
Cable or Dumbbell Chest Flys (5 sets, 10 reps)
Tuesday
On Tuesday, he focuses on a circuit and high intensity routine.
Pull-Ups (2 sets, 5 reps)
Then, he completes any one of these Crossfit workouts. Be sure to vary them as you see fit.
Circuit 1: Helen

400-meter run

21 kettlebell swings (53 pounds)

12 pull-ups (band-assisted, if needed)

Circuit 3: Eva

800-meter run

30 kettlebell swings (70 pounds)

30 pull-ups (band-assisted, if needed)

Circuit 2: Murph

1-mile run

100 pull-ups

200 pushups

300 air squats

1-mile run
Wednesday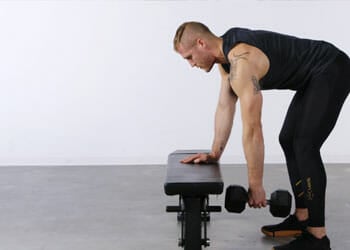 The following day, Purcell executes a deadlift and intensity routine consisting of four different exercises.
Push-Ups (3 sets, 10 reps)
Deadlift (5 sets, 10 reps)
Dumbbell Rows (5 sets, 10 reps)
Wide Grip Pull-Ups (5 sets, 10 reps)
Thursday
On the fourth day, he hits a circuit and high-intensity routine once again.
Pull-Ups (2 sets, 5 reps)
Push-Ups (2 sets, 10 reps)
Air Squats (2 sets, 15 reps)
Friday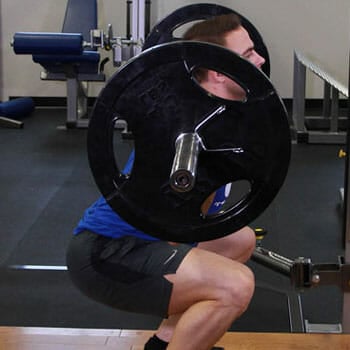 During the final weekday, Purcell does squats and follows an intensity routine consisting of six exercises.
Air Squats (1 set, 15 reps)
Back Squat (5 sets, 10 reps)
Goblet Squats (5 sets, 10 reps)
Kettlebell Swings (5 sets, 10 reps)
Weighted Lunges (5 sets, 10 reps)
Arnold Press (5 sets, 10 reps)
Saturday & Sunday
Purcell takes a break on the weekends to rest and recover.
Other celebrity workouts:
How Does He Stay Fit?

Dominic Purcell stays fit by consistently training and eating healthy.
In a 2017 interview with Muscle & Fitness, Purcell shared more information about his workout routine.
When he was younger, he loved doing big compound movements like squats because it "feels great and increases your testosterone." However, he had to stop because of his age and his lower back, which he said was a "mess."
Purcell maintains his muscular build through a combination of physical activity and a healthy diet.
"Training gives us an outlet for suppressed energies created by stress and thus tones the spirit just as exercise conditions the body." – Arnold Schwarzenegger, Former Professional Bodybuilder
When he's not in his Los Angeles home filming Prison Break or his other projects, you'll find him in the hotel gym doing 40 minutes of high-intensity training five days a week.
Nothing much has changed with his workout regimen throughout the years except that he doesn't lift as heavy anymore.
When he's in Los Angeles, he likes to surf as much as he can, describing the activity as his "therapy couch" and "way to escape."
Dominic Purcell's Diet And Nutrition

Dominic Purcell follows a variation of the Warrior Diet, a type of eating plan that involves extended periods of intermittent fasting, with the majority (about 85-90%) of your food intake concentrated on one big meal per day.
The Prison Break star is an early riser who takes his coffee each morning at 6 AM then goes to hit the gym.
After his workout, he'll snack on something healthy like fruits, nuts, a non-sugary protein shake, or a good old Bulletproof Coffee. When the night comes, he'll finally have his big meal, which is usually fish and salad.
For dessert, Purcell skips the sweets and treats himself to a couple of beers. He prefers the brand Stella Artois over Foster's, which he described as "bullshit" (ouch, sorry Foster's).
What Supplements Does He Take?

Dominic Purcell takes a sugar-free protein shake supplement after his morning exercise.
Here are other supplements you can benefit from if you plan to follow Lincoln Burrows' Warrior Diet.
BCAAs
BCAAs can help your fitness regimen by reducing fatigue, muscle damage, and soreness during and after workouts, promoting muscle building, and providing a source of energy during long periods of exercise [1].
Probiotics
Purcell has also suggested eating yogurt, but if you can't tolerate dairy products, a great alternative would be probiotics.
These good bacteria provide a host of health benefits, such as boosting your immune system and improving your gut health.
---
References:
https://www.ncbi.nlm.nih.gov/pmc/articles/PMC6212987
Was this article helpful?