Shannon Sharpe, at 50, showcases a remarkable physique on social media, often drawing envy from those half his age.
His expertise in sports, as seen in his hosting of 'Opening Drive' on Sirius NFL Radio and debates on 'Skip and Shannon: Undisputed', extends into his personal fitness regime.
Sharpe's disciplined approach, combining a rigorous workout routine with a strict diet, sets a high bar in fitness, even outshining younger athletes.
Let's dive into the secrets of his diet and workout plan that keep him in peak condition.
Sharpe Stats and Career Highlights
Here's a brief overview of Sharpe's body measurements, career highlights, accomplishments, NFL stats, and scores [1] [2]:
Date of birth: 26 June 1968
Place of birth: Chicago, Illinois, United States
Education: Savannah State College (GA)
Height: 6 ft 2 in (188 cm)
Weight: about 228 lbs (103 kg)
Games played: 204
Years played: 14 (from 1990 to 2003)
Position: Tight end
Played for: Denver Broncos (1990-1999, 2002-2003) 
Played for: Baltimore Ravens (2000-2001)
Jersey number: 81, 82, 84
Draft Class: 1990
Arm length: 33 in (84 cm)
Hand size: 10 in (25 cm)
40-yard dash: 4.67 sec
20-yard split: 2.81 sec
10-yard split: 1.61 sec
20-yard shuttle: 4.55 sec
60-yard shuttle: 12.69 sec
Vertical jump: 34 in (86 cm)
Broad jump: 10 ft 2 in (310 cm)
Touchdowns: 69
Receptions: 815
Yards: 10,060
Yards per reception: 12.3

3-Time Super Bowl Champion (XXXII, XXXIII, XXXV)

NFL 1990s All-Decade Team

Denver Broncos 50th Anniversary Team

8-Time Pro Bowl (1992-1998, 2001)

4-Time First-Team All-Pro (1993, 1996-1998)

Second-Team All-Pro (1995)
Shannon Sharpe's Workout Routine

To realize how serious this NFL Hall of Famer [3] is about the strict strenuous exercise regimen he follows, here's what Sharpe says about it:
"I tell people when I train I don't do a Hansel and Gretel workout. I don't drop breadcrumbs. I saved nothing for the trip home."

- Shannon Sharpe
Even though his workout routine in his 50s isn't as rigorous as it was when he actively played football, Sharpe tends to exercise at least three or four times per week.
Going to the gym is his only and favorite hobby.
Although Sharpe isn't a bodybuilder, he learned a lot from the best bodybuilders and incorporated a lot of bodybuilding exercises in his training.
Delving into the psychological journey of maintaining fitness post-retirement, we uncover the mental and emotional resilience behind Sharpe's dedication, revealing how his commitment to fitness significantly influences his mental well-being and lifestyle choices.
Shannon Sharpe's diverse workout regimen encompasses weight training, CrossFit, spin classes, and circuit training, among others.
He strategically varies his exercises, using equipment like dumbbells, kettlebells, and row machines, to challenge his entire body and keep his routine dynamic and engaging.
Next, we'll delve into the specifics of his weekly fitness schedule.
Other workout routines:
Monday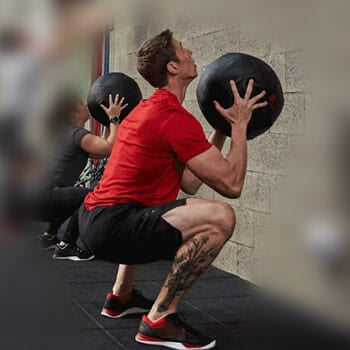 Monday morning is reserved for what Sharpe calls an old-school workout that includes 30-40 minutes spent in a gym exercising on an incline bench press to develop and strengthen his favorite body part - the chest.
He typically starts with higher reps and lower weight, then descends, e.g., performing 1-3 sets of 15, 12, 10, 8, and 6 reps.
On Monday afternoon, Sharpe has a one-hour CrossFit class, striving to complete as many reps as possible (AMRAP workout) for each exercise or circuit as fast as he can.
After guiding clients through similar Monday routines, I've seen the effectiveness of Sharpe's old-school workout, focusing on the chest with an incline bench press.
Various challenging CrossFit sequences he performs may include pyramid-styled or other types of exercises, such as:
100 wall balls
90 push-ups
80 squats
Or another example sequence like this:
150-200 squats with 53-pound kettlebells in each hand
500 meters of rowing (increasing the distance by 250-meter increments until hitting 1,000 meters)
20 push-ups
Burpees
Tuesday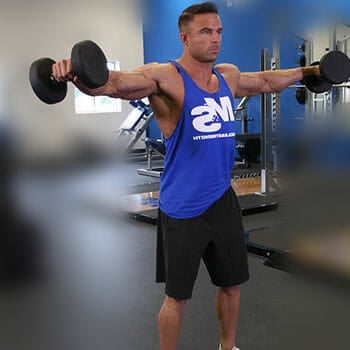 The 30-minute weight training in a gym that Sharpe does on Tuesday morning mainly focuses on shoulders, including 2 sets of 20 reps of each of the following exercises:
Dumbbell press
Side lateral raises
Front lateral raises
Upright rows
Sharpe is extra cautious when performing each movement because of his age and some injuries like tearing his labrum or the scoped rotator cuff he suffered from while he was younger.
Sharpe leaves his ego at home to avoid unnecessary injuries and surgeries, so his shoulder dumbbell press routine involves low weight at high reps.
Another one of the similar Monday Crossfit classes is on Sharpe's regular workout program on Tuesday evening.
Wednesday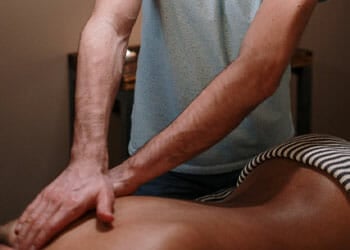 Wednesday is Sharpe's day off after the previous two days spent doing strenuous training sessions.
After shooting the series Undisputed, Sharpe goes for a spa treatment and gets a relaxing massage to refresh and recover his muscles after the exhausting CrossFit, shoulders, and chest routine.
Thursday
Sharpe's Thursday schedule includes one of his noon CrossFit classes, after which he gets a manicure and a shower.
Friday
Depending on his mood, Sharpe might repeat another Monday chest workout routine on Fridays, focusing on his upper body to save the strength for the next day's killer leg training.
Saturday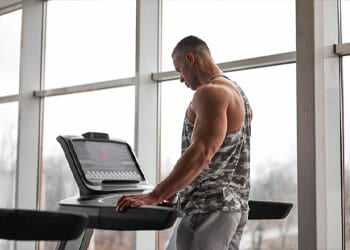 On Saturdays, Sharpe has another CrossFit class, but this time far more intense and demanding than earlier in the week.
He starts with a cardio noon session that usually lasts for 90 minutes to two hours.
Sharpe says: 
"I'll do an hour spin and then another cardio class like the VersaClimber."

- Shannon Sharpe
What makes this gym training session more exhausting and exciting is the fact that some serious CrossFit athletes typically compete with Sharpe, doing their best to beat this retired NFL player and famous TV sports personality.
Immediately after such an insane cardio workout, Sharpe is desperate for another relaxing and refreshing massage.
Sunday
Sunday is Sharpe's rest day he uses to recharge his batteries before doing the whole fitness routine all over again.
While he was actively playing football, he used to exercise every day without taking any days off.
His post-retirement fitness routine is almost equally grueling, but now he doesn't train for his team's strength and conditioning but his own fitness, adjusting the training pace and intensity to the way he feels.
Here's what Sharpe says about it:
"If I want to do three cardio sessions in a day, that's what I'll do. If I'm tired, then I'll take a day off. I go by feel, whereas when I played, I pushed (it) no matter how I felt. They were paying me; teammates were counting on me. So everything I did was like -  OK, I'm in the best football shape that I can be in."

- Shannon Sharpe
And when he doesn't go to a gym for any reason, including the current pandemic, here's what Sharpe's home workout plan looks like: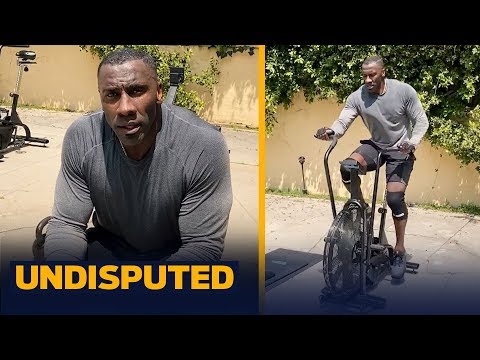 Impressive, isn't it?
Now you see why he's one of the best professional football players.
After taking a peek at all the variations of Sharpe's workout routines, it's time to find out more about his nutrition.
Diet Plan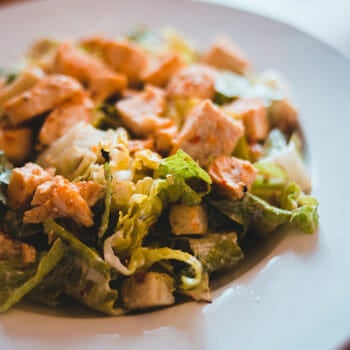 Shannon Sharpe eats clean, healthy food even after retiring from football because he wants to stay fit and prevent health issues such as diabetes and heart disease that run in his family.
In my experience as a personal trainer, following a diet plan similar to Sharpe's, which emphasizes clean and healthy foods, has been crucial for my clients in maintaining fitness and preventing health issues.
A closer examination of Sharpe's dietary adaptations post-retirement offers insightful revelations into how his nutritional choices have evolved, transitioning from the high-energy demands of an NFL athlete to a more balanced approach that accommodates the changing needs of his body with age.
He drinks plenty of water and isn't a huge fan of juicing cleanse and other similar fad diets and trends.
A diet that works perfectly for him includes a moderate intake of lean proteins, healthy fats, and complex carbs like brown rice, beans, vegetables, lean meat, and similar nutritive-rich food.
The food Sharpe mainly consumes includes:
Egg whites

Oatmeal

Chicken and other poultry

Fish

Beef
Bison

Legumes

Vegetables

Fruit

Water
And here's what he avoids:
Junk food

Processed meat

Refined sugar

Artificial ingredients
Chemical additives

Coffee 

Alcohol 

Fad diets
Sharpe occasionally eats his favorite indulgent foods such as chicken tenders, French toast, or pancakes when it comes to enjoyment.
Here's what Sharpe says about his nutrition:
"I eat healthily. For the most part, I eat chicken and fish. I also eat bison now. I don't eat a lot of turkeys anymore but will throw some lamb chops in there. Broccoli, sweet potatoes, and asparagus occasionally… and that's it."

- Shannon Sharpe
Maintaining a consistent routine, Sharpe starts his day with a substantial breakfast, a habit formed during his time on 'Skip and Shannon: Undisputed.'
While his football days involved meticulous macro tracking, he now focuses on portion sizes, balancing proteins like chicken and bison with ample vegetables.
To ensure healthy eating, he prepares and carries three days' worth of homemade meals.
Diet Plan Sample

Sharpe's typical diet plan may look like this:
Breakfast 
Egg whites
Oatmeal
Fresh fruit (usually pineapple, orange, or grapefruits)
Water
Lunch 
Grilled chicken, halibut, or bison meatballs
Collard greens
Black-eyed peas
Dinner
Barbecued chicken, turkey, or pork
Brown rice
A fresh salad or steamed vegetables
He might rarely have strawberry arugula salad with vinaigrette dressing for dinner.
Supplements
Apart from his balanced diet, Sharpe gets the necessary nutrients from the supplements.
Drawing from my own regimen, I can attest to the benefits of supplements like those Sharpe takes, including multivitamins and whey protein, which are staples in my own daily routine to complement a balanced diet.
He hasn't revealed every supplement he takes, but according to my research, his complete supplement list may include:
Creatine with BCAAs
Omega-3 fatty acids
A cinnamon supplement
Green tea
The reasons behind taking these supplements might be the following:
Multivitamin to ensure he consumes all the essential daily vitamins and minerals
Protein supplement for maintaining and building muscle mass
Creatine with BCAAs to increase muscle growth and prevent muscle breakdown
Collagen for enhanced joint mobility
Omega-3 fatty acids to help fight inflammation, prevent diabetes, brain, heart, disease, and other chronic health issues that run in Sharpe's family
A cinnamon supplement to help him regulate blood sugar levels when he's struggling with a sugar spike
Green tea to help him prevent type 2 diabetes and heart disease
Tru Niagen

an anti-aging supplement that contains the compound Nicotinamide Riboside Chloride (NAD), responsible for a few essential functions in the body
FAQs
How Much Does Shannon Sharpe Weigh?
Shannon Sharpe currently weighs around 228 lbs or 103 kg.
Does Shannon Sharpe have a Super Bowl ring?
Yes, Shannon Sharpe has a Super Bowl ring.
How Often Does Shannon Sharp Work Out?
Shannon Sharpe works out five days a week now when he's retired. When he was an active football player he used to work out every day, twice a day.
Sterling Sharpe, a former American Football wide receiver and analyst for the NFL Network, is Shannon Sharpe's older brother.
How much is Shannon Sharpe's worth?
Shannon Sharpe's net worth has been estimated at around $12 million, according to Celebrity Net worth.
---
References:
https://playersbio.com/shannon-sharpe/
https://nflcombineresults.com/playerpage.php?f=Shannon&l=Sharpe&i=25542
https://www.profootballhof.com/photos/gallery/photos-gallery-shannon-sharpe-receives-his-hall-of-fame-ring/
Was this article helpful?