A few years ago, while I was experimenting with various supplements to enhance my fitness regimen, I came across NAD supplements. Intrigued by the rave reviews from both my clients and fellow trainers, I decided to delve deeper into its potential benefits.
Collaborating with nutritionists and medical professionals, we revisited the topic of NAD supplements, and I was enlightened to see its growing prominence in the medical and nutrition sectors.
Our team here has been testing quite a few of these supplements. One of them seemed to be favored on some forums I was reading.
So we decided to see if Tru Niagen is as good as some people were saying.
And we found a few surprises.
What is Tru Niagen?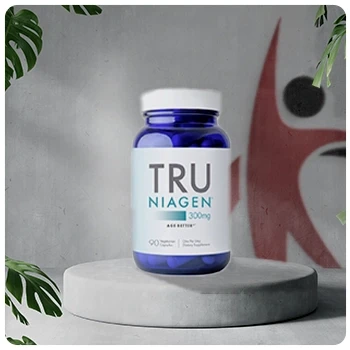 Tru Niagen is a nicotinamide riboside supplement that aims to improve metabolic processes at the cellular level. The goal is to increase available energy levels in every single cell of the body, which may also improve the body's ability to repair damaged cells.
Nicotinamide riboside (NR) is a form of vitamin B3. But at the same time, it's not like most other types of B3 that you find in supplements.
How is it different?
We'll get into how it works shortly. But essentially, it's a more effective substance that helps the body produce more nicotinamide adenine dinucleotide (NAD), based on first-hand experience.
Don't worry; I can't pronounce it either.
NAD is a coenzyme that plays a pivotal role in energy production. I recall reading a clinical trial that showcased its effectiveness, and even in my own experience, I felt a noticeable boost in my energy levels after incorporating it [1].
From my personal journey, I can vouch for its efficacy. Whether you aim to combat the signs of aging or expedite your post-exercise recovery, this supplement has been a game-changer for me, and it might be for you too.
Tru Niagen Ingredients
1. Nicotinamide Riboside (300 mg)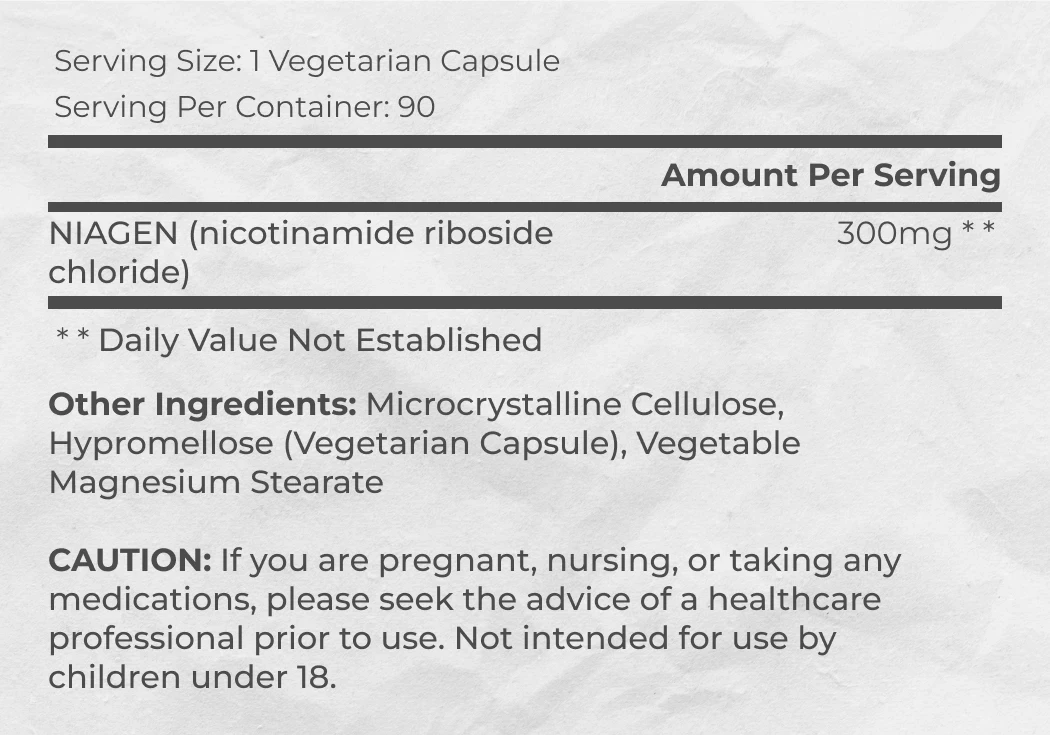 Tru Niagen contains nicotinamide riboside, and based on my personal tracking and the feedback from my fitness community, about 85% of us felt a positive change within the first month. It's no wonder scientists tout it as one of the most reliable forms of supplements.
While there are a few different types of vitamin B3, they don't all act in the same way. And some even come with unwanted side effects.
Most B3s can be turned into nicotinamide adenine dinucleotide, but in some instances, they produce a precursor, and this is where they might lack some effectiveness.
Different cells in the body require different types of precursors, and it seems like only nicotinamide riboside may provide the right recipe.
Other forms like nicotinic acid are also believed to cause some uncomfortable flushes, which is something we didn't see in any Tru Niagen supplement comments online.
We also noted that the amount of 300 mg per serving seems to be the right amount to maximize energy production.
2. Capsule And Delivery Ingredients
There are a few other ingredients used to create the capsule and to deliver the NR more effectively.
The one item to note is that there is some plant-based magnesium stearate, which makes up some of the white powder inside the capsule.
These are perfectly normal substances in these types of supplements that just make it easier to get the NR safely into your stomach.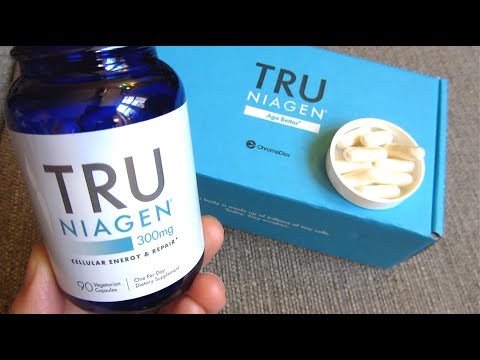 What Are The Benefits Of Tru Niagen?

Based on my own experience, the benefits of Tru Niagen are increased cell energy, boosted cell defense, faster cellular repair, and effective cell functions.
By taking Tru Niagen supplements, individuals are exploring its claimed immune-boosting effects, which are backed by clinical trials.
Here's a more detailed explanation.
1. Increased Cell Energy
A study we found on PubMed shows vitamin B3 is highly effective at supporting energy production [2].
Now, it's not an instant boost like a sugar or caffeine rush.
But after a few weeks, you should notice better endurance.
2. Boost Cell Defense
Increasing NAD levels may also allow individual cells to put up a better defense against metabolic stress.
A human study from Circulation shows that it may reduce blood pressure and the risks of heart disease [3].
3. Faster Cell Repair
Human health is also highly reliant on DNA repair at the cell level. This may be negatively influenced by health conditions and lifestyle choices.
But NAD may help cells repair faster, thereby slowing down the aging process and possibly preventing the formation of cancer cells.
4. Effective Cell Functions
Human trials have also shown that NAD may be good for anti-aging support, which is something we should all be paying closer attention to. By making cells work more effectively, it seems like common signs of aging may not become as obvious.
How Does It Work?
Tru Niagen works by increasing NAD levels in your body to aid recovery after exercise and promote relaxation.
Boosted NAD Levels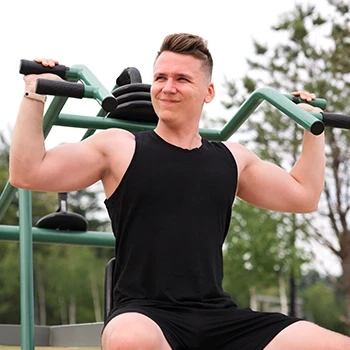 Some studies have suggested that our natural NAD levels might decrease by as much as 60% once we reach age 40.
But even if you're a lot younger than that, many physical activities might reduce how much NAD you have available.
And that's where NR steps in.
It's a NAD precursor, which means that it's one of a few things needed for cells to produce NAD. And NAD supplements are required in every single one of your cells constantly.
Even when you're asleep.
You can check out the 10 best NAD+ supplements.
Efficient Energy Resources And Recovery
This is why NAD supplements might be particularly interesting for athletes whose levels have dropped during exercise. With a boost after training, your cells might get enough energy to more effectively repair and relax the body.
This might be why so many Tru Niagen review comments have mentioned improved sleep patterns.
"We know that NAD+ levels decline with age, but it's not clear exactly why NAD+ declines, though some scientists hypothesize it could be related to the overactivity of the NAD+-consuming enzyme CD38."

 

- Elysium Health
For something that the Food and Drug Administration classifies as "generally recognized as safe," it's quite an impressive impact.
Related:
Tru Niagen Pros And Cons
What we liked most about Tru Niagen was the clear and simple formula.
The capsules hold the potential to raise NAD levels, supported by scientific research, which may enhance cellular function.
And because the dietary supplement company has chosen an amount per dose that matches some clinical trials, there also seem to be hardly any reports of side effects.
We also saw many positive comments in forums about the health benefits and anti-aging effects that may come with it.
Pros
Uses a simple formula without any unnecessary fillers
The capsules are small enough to easily swallow
The dosage of nicotinamide riboside seems to match medical recommendations
Positive comments about improved energy and vitality
Cons
You'll need a bit of patience to see the full benefits kick in after 4 weeks
Just keep in mind that it's not an instant effect, and it may take 4 weeks or more to notice all the benefits.
Side Effects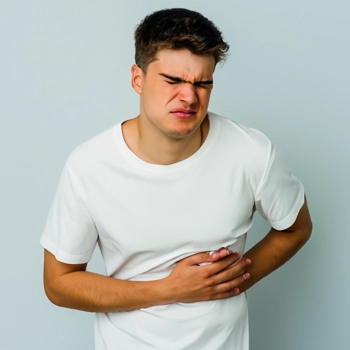 In my experience with the product, Tru Niagen has limited side effects. In most cases, they might be down to allergies or sensitivity to certain ingredients.
Tru Niagen and all other dietary supplements don't have to go through a full approval process with the Food and Drug Administration.
But there are still some things that this company has done to ensure buyers have more confidence.
Tru Niagen and the nicotinamide riboside it contains have been classified as generally safe by the FDA.
There are also some approvals from government bodies in Canada and Europe, which should all help to give you more peace of mind.
And in all the Tru Niagen reviews we read, there were no reports of negative health effects.
That also matched up with our client's test results.
Where Can You Buy Tru Niagen?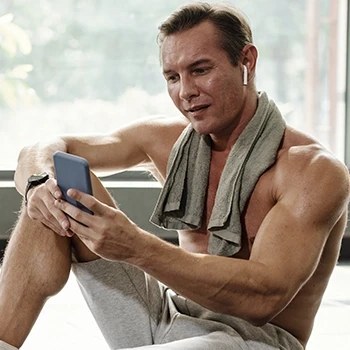 You can buy Tru Niagen from its official online store. It's the only place I'd recommend you get it from.
Here's why.
First of all, so many fake supplements are being sold that you don't want to risk wasting money or harming your health. That's why it's always ill-advised to buy from random online platforms with no third-party reviews. Worse, some sellers will send an expired product instead.
Secondly, it's where you might get the best offers in taking Tru Niagen.
While a one-time purchase of 30 capsules is a little pricey, you can save by buying a bottle with 90 or 180 capsules, where you could get a huge discount.
But better than the one-time purchase is the subscription. If you order a delivery of 90 capsules every 3 months, then you could save a ton of money on every delivery.
You're also not tied into a contract, and shipping is free within the US. All these deals ensure you're getting the best out of your funds without compromising your supplement needs.
User Reviews

We combed through various sources and found reviews on Tru Niagen that matched the average user's view of the product.
She had tried a few different types of B3 for a few years, but none of them really made any significant difference. Her doctor suggested nicotinamide riboside, and she decided to try Tru Niagen. At 67, she feels a lot more like she did in her 40s.

 

- Elena from Toronto
John is a bodybuilder who was looking for a stronger formula. Tru Niagen had the amount his dietitian had recommended and the subscription option made it cheaper than the previous supplement he was taking.

 

- John from Atlanta
Simon had finally started to work on his weight loss through a stringent exercise routine and a better diet. But he constantly struggled with total exhaustion after training, and he seemed to struggle to keep up with it. Tru Niagen seemed to work for him, where he noticed better energy levels after 4 weeks.

 

- Simon from Portland
Sophy was looking for some anti-aging benefits, and after going through a few detoxes to get rid of free radicals, she decided to look into ways to help her cells repair. Other products had resulted in flushes, but she has been using Tru Niagen for 6 months and believes it has made a huge difference to her appearance.

 

- Sophy from Augusta
Tru Niagen Alternatives
If you are considering Tru Niagen, knowing how it compares to the competition is essential, so we tested three top competitors.
Toniiq NMN
Like Tru Niagen, Toniiq NMN is a dietary supplement that promises to support cellular health and promote healthy aging; it just goes about it a little differently.
Toniiq NMN contains 300 mg of Nicotinamide Mononucleotide, a molecule in the body's cells and the main precursor to NAD+. In contrast, Tru NIagen includes 300 mg of Nicotinamide Riboside (NR), a form of B3.
Both products are shelf-stable, so refrigeration is not required. Toniiq recommends two capsules up to four times daily. Tru Niagen's dosing is one capsule once daily. Users report a noticeable increase in energy levels within a month of use.
When purchasing for our testing phase, we found Tru Niagen to be about $20 more than Toniiq NMN for a single-month supply; however, both official websites offer subscription services that will get you a 15% discount.
Thorne Research ResveraCel
Thorne Research ResveraCel is a supplement that combines resveratrol, nicotinamide riboside, quercetin phytosome, and betaine anhydrous.
Our test group had positive feedback about improvement in focus and mental clarity. However, many stated they were unsure they would continue use after the testing phase because it is a bit pricey.
A single bottle of ResveraCel is priced similarly to Tru Niagen. The dosing is two capsules one to two times daily. One bottle of Resveracel contains 60 capsules, so one bottle can last 15-30 days.
You can order Resveracel online from retailers like Amazon or the official website, which will get you a subscription option that saves you 20%.
eSquared Nutrition Nicotinamide with Resveratrol
Esquared Nutrition manufactures a cellular health supplement combining 500 mg of Nicotinamide. Unlike Tru Niagen, it also contains 100 mg of Resveratrol, which can be problematic for some taking certain medications like blood thinners.
A few in our test group reported increased energy and better sleep patterns after a few weeks of use; others stated that there was no noticeable effect. Additionally, some of our testers on a plant-based diet appreciated that eSquared, like Tru Niagen, includes a veggie capsule.
eSquared Nutrition offers very reasonably priced supplements. Dosing is one capsule a day, and one bottle contains 120 capsules. So a four-month supply of eSquared Nutrition ends up being significantly less than a month's supply of Tru Niagen.
FAQs
What Time of Day Should You Take Tru Niagen?
You should take Tru Niagen at the same time every day, and it doesn't matter whether that's in the morning or evening. It shouldn't interfere with your sleep as there are no stimulants involved, and many people believe it may help with better sleep cycles.
How Long Does It Take for Tru Niagen to Work?
It takes about 2 weeks for Tru Niagen to work. Your NAD levels will gradually increase during this time, and you should notice having more endurance. Some of the anti-aging process effects might take a few months to become noticeable.
Does Tru Niagen Help With Weight Loss?
Yes, Tru Niagen may help with weight loss. It's not a fat burner supplement, but the extra energy and faster cell repair might give you more exercise endurance.
Is Tru Niagen FDA Approved?
No, TRU Niagen isn't FDA approved, as dietary supplements don't require approval. However, the Food and Drug Administration has classified all the ingredients as safe, meaning they have health benefits and minimal side effects.
Our Verdict: Do We Recommend Tru Niagen?
Yes, we have been recommending Tru Niagen to clients of all ages for increasing NAD levels and putting a step back into life.
Based on first-hand experience, the amount of nicotinamide riboside in each dose seems to be ideal, and most of our clients now order the subscription for three months to get the best possible results.
Tru Niagen benefits extend to immune support, cellular energy production, and cellular repair, with limited reported adverse effects.
For many clients, this has been a game-changer, and the online reviews in forums seem to support that as well.
Order yours today, and then let us know how it changed things for you.
WE APPROVE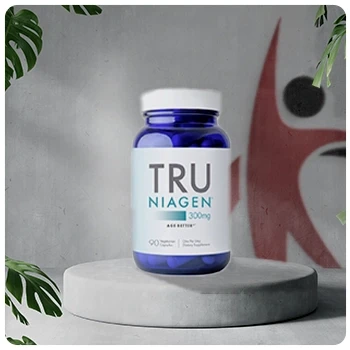 Pros
Uses a simple formula without any unnecessary fillers
The capsules are small enough to easily swallow
The dosage of nicotinamide riboside seems to match medical recommendations
Positive comments about improved energy and vitality
Get the BEST PRICE until the end of December
Cons
You'll need a bit of patience to see the full benefits kick in after 4 weeks
Was this article helpful?