I've been doing a lot of research into improving my training recovery phases. And one important factor that I had ignored for a long time was the amount and quality of sleep I get.
My dietitian pointed me towards a new supplement from ONNIT called New Mood, which claims to be specifically designed to help your mind and body relax more easily.
To be honest, I was a little bit skeptical, but our team decided to run a trial phase with some bodybuilding clients to see if there was a noticeable difference when taking New Mood.
Here are our research details.
What Is ONNIT New Mood?
ONNIT New Mood is a natural sleep supplement with a unique formula that may help athletes get into a relaxed mood with better sleep. With only natural ingredients like valerian root and chamomile, ONNIT promises that this isn't a habit-forming supplement like other traditional sleep medications.
Daily job routines and family life can be stressful at the best of times, and New Mood may help you to calm your brain after a long day to make falling asleep easier.
And with a better sleep cycle rhythm, you might also notice faster recovery for your muscles.
Now, let's take a closer look at those ingredients.
ONNIT New Mood Ingredients
The New Mood formula is relatively simple, and we had our nutritionist provide some details on each of them.
1. Chamomile Flower Extract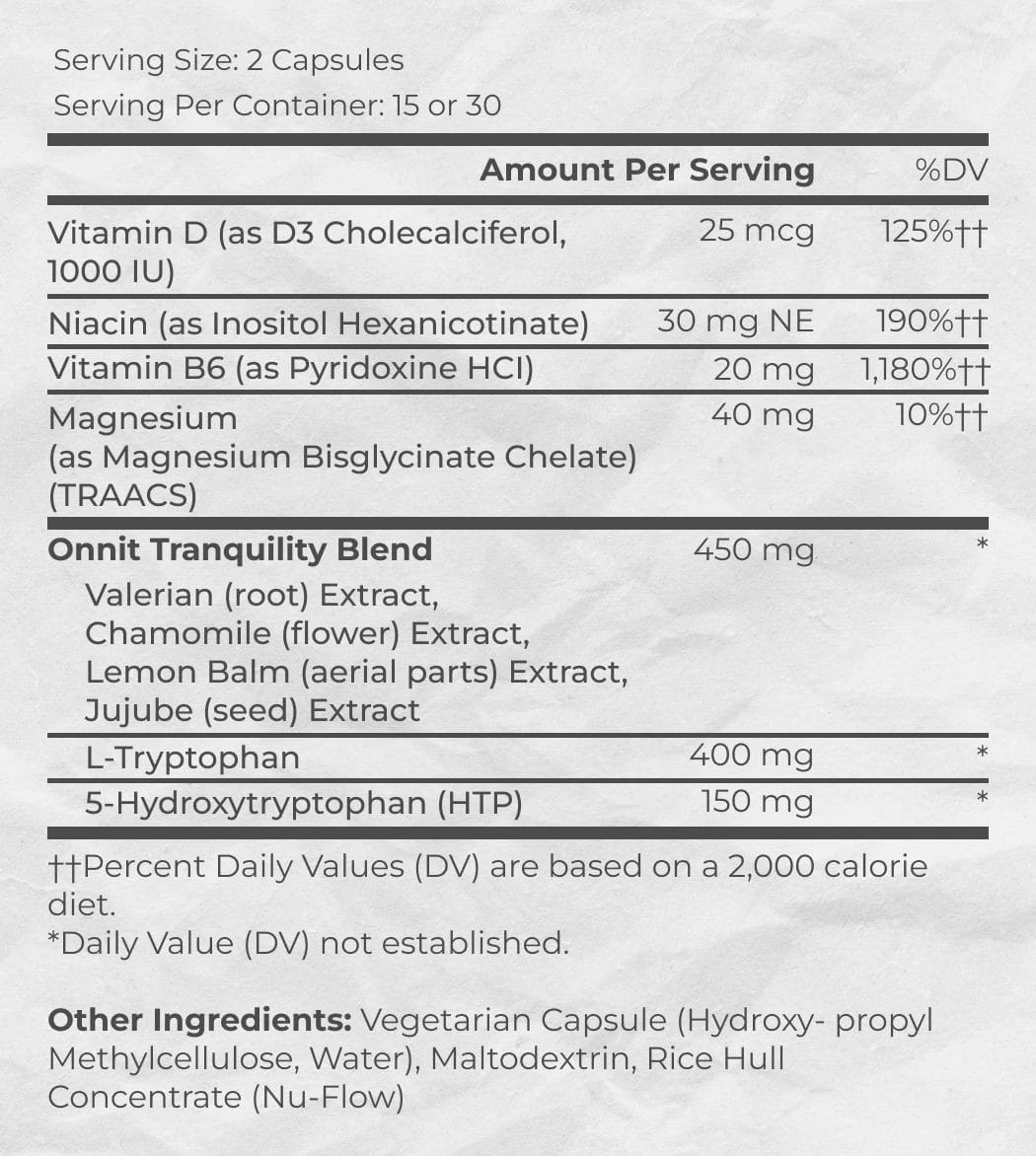 Chamomile is a true wonder of nature, and many studies have shown its potential uses. One study, in particular, found direct links to this flower's ability to relax the brain and body [1]. You'll often see this in bedtime teas for the same reason.
2. Lemon Balm Extract
What I found particularly interesting about lemon balm is that it has been tied to reducing stress levels.
One study from 2014 found a significant impact on stress levels throughout the day [2]. There may even be positive effects for focus and concentration when the mind is less stressed.
3. Valerian Root Extract
Valerian root is another herb that humans have used for hundreds of years to help with body relaxation.
Scientists have conducted hundreds of studies, but one, in particular, showed that it might have quite a positive impact on sleep cycles [3].
4. Jujube Seed Extract
Jujube is another plant seed that has been extensively studied, with some of the latest results pointing out that it might help you to fall asleep faster.
5. L-Tryptophan
L-Tryptophan may work in quite a complex way, but it's believed to be linked to serotonin production, which might directly impact your overall mood [4].
6. 5-HTP
Just call it 5-HTP, as I have no idea how to pronounce the word it stands for. The important thing to note is that this is another supplement ingredient that may influence the quality of your sleep.
Overall, our nutritionist was quite happy with the product ingredients, and with a small amount of magnesium thrown in as well, it should be a promising supplement for athletes.
"5-HTP has been shown in scientific studies to promote relaxation and alleviate stress and anxiety. The relaxation and anti-anxiety properties of 5-HTP appear to come from its ability to elevate levels of serotonin."

- Michael J Breus, Ph.D., and Sleep Expert.
Let's see how it's meant to work.
Other ONNIT Product Reviews:
How Does It Work?
ONNIT New Mood works by naturally increasing your body's serotonin production, which may directly affect your mood and stress levels. Based on our own experience, we did find that New Mood had a chill-out effect, which seemed to make getting to sleep easier.
The company recommends that you take two capsules, and in most cases, that would mean taking them in the evening time to help you wind down.
Now, ONNIT also says that New Mood should work fine to relax you during the day, but we would recommend sticking with this one for your evening wind-down. The good news is that you need not worry about stimulants, and the lemon balm extract could help your mind relax even more.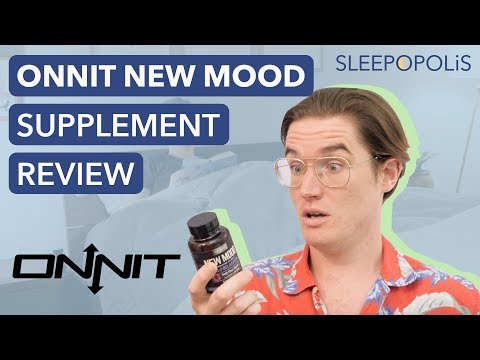 Pros and Cons
A few of our clients use the latest Apple Watch or Oura rings, which allow you to keep track of your sleep cycles.
And an initial analysis of the sleep quality data may suggest that the average quality score increased.
Personally, I found that I managed to fall asleep quicker without my mind spinning about all the stuff I had ahead the next day.
It's also good to see a money-back guarantee, so if you don't notice a good mood improvement, you'll be able to get a refund.
Pros
Positive comments about falling asleep faster
Trial results showed better sleep cycles
ONNIT has a good money-back guarantee
Cons
A higher dose of magnesium for better muscle relaxation
The only thing I would love to see is a higher dose of magnesium, as that would allow me to get rid of a separate supplement.
Where Should You Buy It?
You should buy ONNIT New Mood directly from the ONNIT web store. It's the only place where you'll be able to get the money-back guarantee.
There have been many reports of fake and counterfeit supplements on sites that look like professional retailers, so always stick to buying these products from trusted sources.
It's just not worth taking the risk of losing money and potentially your health.
New Mood Side Effects
We read through hundreds of online reviews and got a lot of feedback from clients, and overall we saw little to no evidence of significant side effects with this supplement.
The only issues we noted were people who took more than two capsules a day. In just a few cases, people seemed to feel a bit groggy in the morning, but that went away when they stuck to the recommended daily dose.
Customer Reviews

We pulled out some of the review comments online to confirm some of our own results.
This review highlighted that the ingredients were easy on a sensitive stomach and that he woke up every morning fully refreshed. Stan has stuck with this supplement ever since the first bottle 6 months ago.

- Stan from San Antonio
She struggled with getting enough sleep after exercising late in the evening, which is the only time she has due to her busy family life. Annie has tried other products, but New Mood seems to be the only one that gives her consistent results. - Annie from Fresno
James is a bodybuilder and has struggled with restless nights for a long time. While he initially thought New Mood made him feel sleepy in the morning, he managed to solve that by reducing the dose. - James from Salem
Other Nootropics for Sleep
Let's look at how ONNIT New Mood compares to three other popular nootropics for sleep.
Neurohacker Collective - Qualia Night
The first thing I did when I received the bottle of Neurohacker nootropic for sleep was to bring it to our dietitians to discuss the ingredients.
They confirmed that the formula includes scientifically-backed ingredients like Ashwagandha, holy basil extract, Reishi mushroom, and L-theanine to balance circadian rhythm and promote a healthier deep and REM sleep cycle.
In addition to reporting improved sleep, our testers noted improved cognitive function the next day.
There are no similar ingredients in the Neurohacker Collective Qualia Night and ONNIT New Mood formulas, but both manufacturers provide their sleep aid in a vegan-friendly capsule.
Qualia Night is more expensive than ONNIT New Mood. Order from the official website will save you through its subscribe and save option while also giving you free shipping.
Performance Lab Sleep
I immediately noticed that Performance Lab Sleep has a short ingredient list, all in a vegan-friendly capsule. Dosing is also easy; simply take two capsules 30 minutes before bedtime.
Like ONNIT New Mood, Performance Lab Sleep uses the amino acid L-Tryptophan, which is known for its ability to promote sleepiness without any next-day grogginess. Our dietitians did comment that the magnesium dose could be higher to maximize its sleep benefit.
Our test group had measured improvements in sleep quality and duration and appreciated that they didn't experience any grogginess the next day.
All-in-all, Performance Lab Sleep is a solid nootropic to promote sleep at a little less expensive price than ONNIT New Mood. I appreciated the transparent label with no proprietary blends and a concise list of ingredients.
EcoNugenics - HonoPure
One ingredient. One capsule dosing. EcoNugenics keeps it simple with Honokiol extract, an ingredient not included in ONNIT New Mood.
Honokiol extract is known for significantly lowering stress hormone levels, making it a terrific option for those who struggle with sleep due to stress.
By easing stress levels, Honokiol extract may help minimize disruptions in the sleep-wake cycle.
One of the advantages of this sleep aid is its straightforward formula which makes it easy to stack with other nootropics. Many in our test group found this supplement provided overall stress relief, improving their sleep quality, but not how fast they fell asleep.
I would expect to stack this with another sleep nootropic that helped me fall asleep, and I appreciate the formula's simplicity so that I have that option.
FAQs
Does Onnit New Mood Make You Tired?
No, ONNIT New Mood doesn't make you feel tired or sleepy. It calms down your brain and body to help you fall asleep easier at night time.
How Long Does It Take for Onnit New Mood to Work?
It takes about 30 to 60 minutes for ONNIT New Mood to work. That's why we recommend taking it about an hour before you sleep so that the product's benefits take effect in time.
Should You Buy ONNIT New Mood?
Yes, our test results and feedback from clients have been positive enough for us to recommend that all our clients should take it.
The effect is subtle enough to not make you feel exhausted, but you may still notice an improvement in your sleep cycles.
Order your first bottle of capsules today and see how quickly a simple supplement dose might help your sleep and recovery times.
Our #1 Recommendation
Pros
Positive comments about falling asleep faster
Trial results showed better sleep cycles
ONNIT has a good money-back guarantee
Get the BEST PRICE until the end of June
Cons
A higher dose of magnesium for better muscle relaxation
Was this article helpful?