Working in the fitness industry is a highly rewarding career choice, and the demand for certified personal trainers has never been higher.
It's a career I got interested in during my college years working with strength coaches, and I have never had any regrets.
These days, I often get asked by clients who achieve their fitness goals how they could become a certified personal trainer.
So, as a team of personal trainers, we combined our educational experiences to give you this complete guide.
Quick Summary
To become certified as a PT, enroll in an NCAA accredited program.
Personal trainer certification, certified strength coach, and sport nutrition are the recommended programs if you want to become a cerfified personal trainer.
A personal trainer course involves textbooks, lectures, exams, and practicals.
Becoming a certified personal trainer brings credibility.
Why Is It Important To Be A Certified Personal Trainer?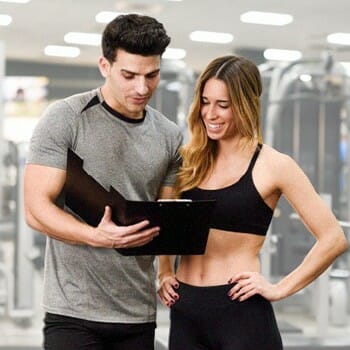 The world of sports and fitness trainers is largely unregulated, which means that pretty much anyone can open a gym or fitness class and build up a client base as a fitness trainer.
It's only when you get into the physical therapy and sports nutrition area where the industry becomes more regulated.
But even if you can simply join fitness professionals without any formal training, that doesn't mean it's an intelligent choice.
There are some significant advantages of becoming a certified personal trainer.
Internationally Recognized Standard
Whether you choose a certification program through the NASM, NFPT, or NCSF, you'll gain an education and certificate that you can use in many countries around the world.
That means your accreditation in the U.S. could help you to find jobs in most parts of the world and allow you to travel to where the work is.
Credibility
Certified training will involve course and class-work, practical experience, and an exam to prove that you're able for the job.
Being able to tell your clients that you've gone through accredited training will give you credibility and your clients' peace of mind.
Further Education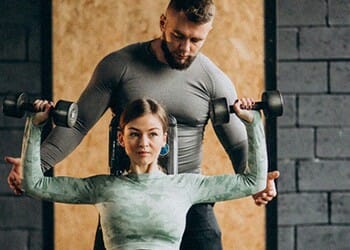 Going through certification and an exam can also open doors for further education in sports nutrition or even to become a physical therapist.
I've worked with many physical therapists for major sports teams who started off as a certified personal trainer in a small gym.
Believe me; it's a great stepping stone for a major career.
How To Become A Personal Trainer
Organizations like NASM, NCFS, and others offer a training program in multiple areas of sports, diet/nutrition, and fitness. But there are a couple of things you need to consider
1. Check If You're Eligible
The first thing you'll need is a high school degree or GED before you can even apply for a certification program.
The other thing you need to check for is whether the certification provider includes emergency cardiac care in the form of cardiopulmonary resuscitation (CPR) as part of the course [1].
You'll also need to complete automated external defibrillator (AED) training certifications before you become fully certified.
In some cases, these are prerequisites, and I would generally recommend you complete these before your training program starts to not get overwhelmed with work.
2. Find The Right Course Option
I'll get to some course options below that offer great education as well as value for money.
But when you're trying to find a way to become a personal trainer, I would say that you should avoid focusing only on the price of the program.
Ensure that you pick an NCAA accredited program [2], which is the gold standard in the fitness industry.
3. Choose A Program
All NASM and NCSF courses come with different enrollment options.
The most basic certified personal trainer program will offer self-study material in digital form. This will include audio, video, and text material, as well as a practice exam.
If you prefer a more guided approach with the ability to ask questions, then there are programs that would give you that level of training, but you will pay more for the service.
Recommended Personal Trainer Programs
The National Council for Strength & Fitness (NCSF) is one of the leading organizations for personal trainers. Along with NASM, it's also one of the certificates you'll always find as a minimum requirement on many job postings.
There are three courses that you can choose from.
1. Personal Trainer Certification
The standard certified personal trainer program provides all the materials you need to study and learn with instructor support available as well.
The NCSF course has become the most sought-after program because it offers a very reasonable package that includes two full days of workshops for less than $100 extra.
You'll also gain access to extensive practice exams that help to prepare you without getting into exam stress.
2. Certified Strength Coach
Once you become a personal trainer, you can take your skills and education to another level and offer your clients even more.
The strength training certification specifically focuses on methods to enhance physical performance.
Whether that's in everyday life or working with elite athletes at a professional level, this is one program that personal trainers can use to leap forward in their career.
"Practical, hands-on experience is a requirement for the strength and conditioning profession and is vital to your success and longevity in the field."

- Michael W. Favre, Writer at nsca.com
3. Sport Nutrition
More and more personal trainers these days have taken their studying beyond their personal training certification.
See, health and fitness goals are at least 70% reliant on a good diet.
And rather than refer clients to a nutrition expert, you can then offer the whole package. It would allow you to advise clients on what they do in the gym as well as how they structure their diet, meal plans, and supplements at home.
And the best thing about the NCSF courses is that you can continue your educational journey as you complete a course.
Personal Trainer Salaries And Employment Opportunities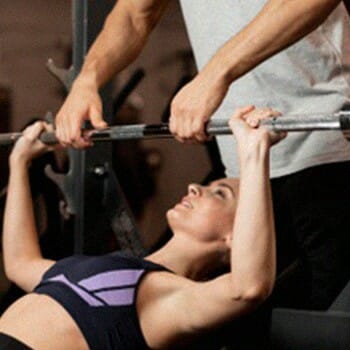 According to Career Explorer, the average hourly salary for a personal trainer is about $17.
However, it's important to note that you can earn up to $30 per hour depending on the level of personal training certification you achieve [3].
The more specialized your certification is, the more you can potentially earn.
You should also consider the fact that there are opportunities in the health and fitness industry to work with high-performance professional athletes and celebrities.
And this is where your earnings potential can go through the roof.
Demand for personal trainers has been consistently increasing and is primarily driven by a mix of baby boomers focusing more on their health and younger generations looking for ways to look like their celebrity idols.
There are also a growing number of job openings due to some states reducing the amount of physical education in schools, causing parents to seek health and fitness classes for children.
What Does A Personal Trainer Course Involve?
Most accredited courses, including NASM and NCSF, have a very similar breakdown, but they are heavily based on theory.
Text Books
These books usually come in digital form, and they cover everything you need to study for the exam and then implement your knowledge into exercise programs for clients.
You'll have to learn about exercise physiology, metabolic health, balancing aerobic and strength exercises, goal-based workout plans, and even managing your marketing and finance requirements.
Lectures
You'll also find that you get a lot of video and audio lectures to cover the study materials from the textbooks. This is a great way for individuals who don't learn as well from just reading books.
For an additional fee, you'll also find that certification bodies will provide in-person workshops that go through some of the tougher concepts.
Exams
Always make sure that the program you choose includes some practice tests. These cover all the most common exam questions and allow you to test your knowledge.
The certification exam is based on a multiple-choice format, but people have found them to be quite tough, so make sure you don't head into one unprepared.
Emergency Assistance
To become a personal trainer, you'll also need to complete CPR and AED training that the American Red Cross would accept.
Some programs integrate this into the coursework, but it's important to check before you get started as you won't be able to complete your certification until this is in place.
Brian Clark, founder, and CEO of United Medical Education, explains that CPR and AED training is important because it teaches trainers to take immediate action and potentially save a life while waiting for assistance.
Since personal trainers plan and lead exercise activities, including cardiovascular workouts, they need to be educated on the signs of risk during intense exercise as well as the possible medical interventions.
Additional Education Opportunities
The best thing about these programs is that they can open up other education programs and a much bigger career.
Here are two options some of my colleagues have chosen.
Nutrition
Diet and nutritional health have become much more in demand, with more people realizing that the typical Western diet is making them sick and/or fat.
Nutritional training certification is a great specialization that will set you apart from others in the industry by giving you a way to offer more services to clients.
Physical Therapy
As a personal trainer, you may be able to get a job as a physical therapy assistant. But it's also a great opportunity to start an advanced career as a physio.
This will require going to college and earning the necessary certification as set out by the American College of Sports Medicine (ACSM) [4].
But it's one way to get a job with significant employment and earnings potential.
FAQs
How Long Does It Take To Become a Certified PT?
It takes between 3 and 12 months to become a certified PT. This mainly depends on the complexity of the personal training programs and whether they cover advanced topics like strength training and nutrition.
What personal trainer certificate is most respected?
NCSF and NASM are the most respected personal trainer certificates. While they aren't known for having an easy-to-pass exam, this is one of the main attractions for students to become more employable in their careers.
Is It Illegal To Be a Personal Trainer Without Certification?
No, it's not illegal to be a personal trainer without certification, but it is risky. You'll find it difficult to get the necessary insurance and could expose yourself to serious liabilities due to an injury. Also, employers will always ask for certifications.
Is Getting a Personal Trainer Certification Difficult?
Yes, getting a personal trainer and fitness certification can be difficult.
You'll need to study a lot of theory about the human body and different types of exercises in order to pass a personal trainer certification exam.
But the potential career prospects are worth the effort.
---
References:
https://www.mayoclinic.org/first-aid/first-aid-cpr/basics/art-20056600
https://www.ncaa.org/sports/2014/10/6/core-courses.aspx
https://www.careerexplorer.com/careers/personal-trainer/salary/
https://www.acsm.org/
Was this article helpful?