If you're a fan of his, you've probably been wondering what it takes to achieve such a killer physique.
So, today we're going to take a peek into Branch Warren's workout routine and diet plan - the kind that only professionals can endure.
Quick Summary
Branch Warren workout routines are incline T-bar rows, lat pulldowns, cable crossovers, rope pushdowns, preacher curls, leg extensions, squats, and side laterals.
Warren's exercises are categorized for the lower back, shoulders, legs, arms, and chest.
Warren's diet comprises red meat, eggs, oatmeal, potatoes, chicken, rice, fish, and vegetables.
Branch uses supplements like creatine, fat burner, pre-workouts, and whey protein to boost his results from workouts.
What You Should Know About Branch Warren
This American professional bodybuilder earned an iconic status among his fans and fellow bodybuilders.
He began his bodybuilding career when he was still in high school, with his motivation leading him to win first place in the 1992 Teen Mr. America.
Since then, Branch Warren has won numerous bodybuilding contests, including the Arnold Classic competition, and became an IFBB member.
The Texas-born bodybuilding star was also a frequent competitor for the title of Mr. Olympia, and a number of times, he was damn close to winning, but he didn't win the grand prize.
The list of Warren's accomplishments is long. He owes them not only to his draining workout sessions but also the incredible determination [1]:
"Don't cut corners or take the easy way out, it will end up biting you in the ass. Put in the work, stay focused, and be damn proud of what you have accomplished."

- Branch Warren
Branch Warren Workout Routine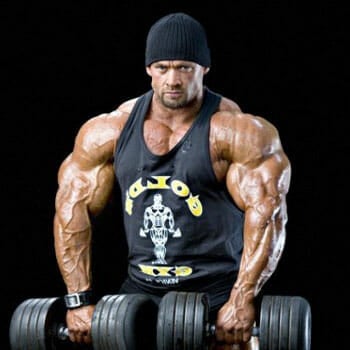 Before he starts his daily workout, Warren starts out with cardio that usually includes walking on the treadmill on an incline at a moderate pace. He avoids running since he is after muscle strength, not lean muscle mass.
Branch Warren stats:
Age: 45
Weight: 245 lbs
Height: 5 Ft 7 Inch
Waist: 32 Inch
Chest: 56 Inch
Biceps: 21 Inch
He trains every day, except Sundays and Wednesdays, which is reserved for rest and recovery.
Branch Warren's week at the gym usually looks something like this:
Monday – Back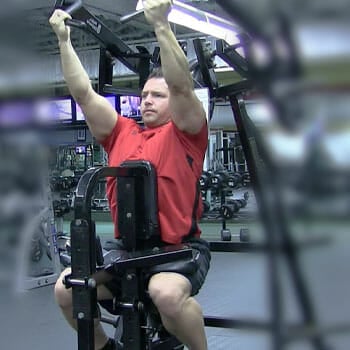 Incline T-bar rows - 3 sets (10 reps)
One-arm dumbbell rows - 3 sets (8 reps)
Bent-over barbell rows - 3 sets (8 reps)
Lat pull downs - 3 sets (5 reps)
Seated upright row machine - 3 sets (15 reps)
Sets of hammer strength pulldowns - 3 sets (15 reps)
Sets of seated low cable row - 3 sets (20 reps)
Rear delts on fly machine - 4 sets (10 reps)
Bent over dumbbell rear laterals - 4 sets (10 reps)
Tuesday – Chest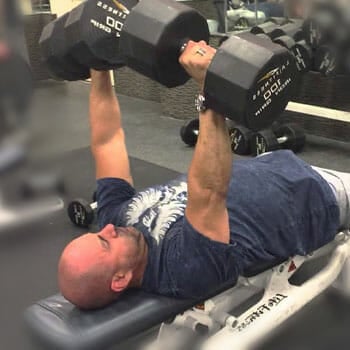 Incline bench press - 3 sets (8-15 reps)
Flat dumbbell press - 3 sets (10 reps)
Hammer strength incline press -3 sets (10 reps)
Weighted dips (with chains) - 3 sets to failure
Cable crossovers - 3 sets (15 reps)
Wednesday - Rest
Thursday – Arms (Biceps and Triceps)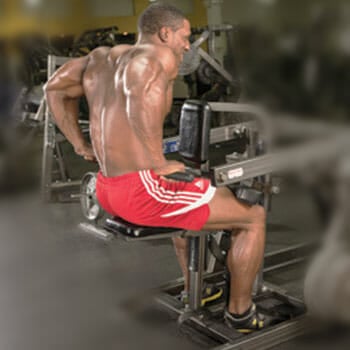 Standing dumbbell curls - 3 sets (8 reps)
Standing barbell curls - 3 sets (12 reps)
Preacher curls - 3 sets (12 reps)
Tricep pushdowns - 3 sets (15 reps)
Seated dip machine - 3 sets (15 reps)
Rope pushdowns - 4 sets (12 reps)
Friday – Legs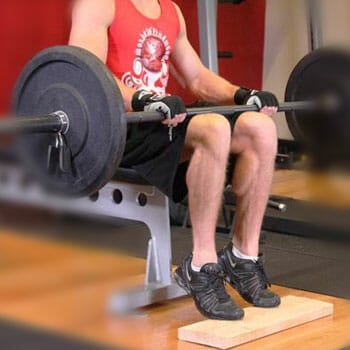 Leg extensions - 2 warm-up sets (100 reps)
Squats - 2 light sets, plus 2 heavy sets to failure
Hack squats - 3 sets (10-15 reps)
Leg press - 3 sets (30 reps)
Standing leg curls - 3 sets (10 reps)
Seated leg curls - 3 sets (15 reps)
Lying leg curls - 3 sets (12 reps)
Standing calf raises -  3-4 sets (8-15 reps)
Sitting calf raises  - 3-4 sets (8-15 reps)
Saturday – Shoulders, Lower Back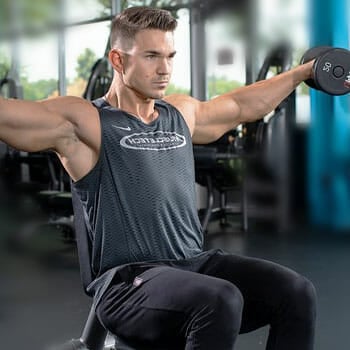 Deadlifts - 3-4 warm-upsets, plus 4-5 heavy sets (5-8 reps)
Military press - 2 warm-up sets, followed by 3 sets (10 reps)
Squats - 3 sets (12 reps)
Side laterals - 3 sets (8-12 reps)
Dumbell front raises - 3 sets (8 reps)
Upright rows - 3 sets (12 reps)
Sunday - Rest
Branch Warren Diet Plan

One of the most important sources of Branch Warren's strength is definitely his nutrition.
To support his demanding workouts, he relies on a low-fat diet, a lot of protein (about 500 grams on a regular day), carbs, and some vitamins.
During his 'bulking' phase, he eats seven meals per day and consumes two to three pounds of chicken daily.
Other foods on Branch's regular menu include; 10-20 egg whites per day, fish, potatoes, and whole-wheat pasta.
Branch Warren Pre-Contest Meal Plan
This is how a typical pre-contest menu looks like for Branch:
Breakfast: 1 ½ cup oatmeal, 8 oz. red meat, 5 egg whites, fat burner
Early lunch: 1 ½ cup rice, 1 cup vegetables, 9 oz. fish
Post-workout: 2 scoops of protein
Post-workout Meal: 9 oz. chicken, 16 oz. potato (white or sweet)
Late lunch: 1 ½ cup rice, 9 oz. fish,
Dinner: 9 oz. chicken, 12 oz. potato
Post-dinner: 10 egg whites
What Kind Of Supplements Does He Use?
The list of products Warren relies on to build his muscle, boost endurance and recovery is actually not that long. According to him, he only takes:
---
References:
https://www.greatestphysiques.com/male-physiques/branch-warren/
Was this article helpful?