The boxing superstar Floyd Mayweather admittedly has one of the most impressive physiques out there.
I've been following him for some time now to see what he eats and how he trains to maintain his ripped body.
If you want to have Floyd Mayweather's body, keep reading to discover his workout routine and diet plan!
Quick Summary
Floyd Mayweather's workouts examples are shadowboxing, hand pads, heavy bags, body pads, speed bags, jump ropes, weighted shadowboxing, and push-ups.
Mayweather mostly eats vegetables, fruits, chicken, eggs, wild fish, fresh-pressed juice, and low-fat meat.
Anyone can try out Floyd's exercises for improved physical appearance, strength, stamina, and fitness.
Always stay hydrated and eat a healthy diet while exercising for positive results.
Stats and Achievements
Born in 1977, Mayweather Jr. is considered to be one of the best fighters of his generation.
So far, the boxer has won major world titles, including the WBD super featherweight, WBC lightweight, IBF welterweight, WBC light middleweight, WBA super welterweight, and WBO welterweight. Impressive, but that's not all!
Mayweather Jr. also won the national Golden Gloves in 1993, '96, and '98, competed in the 1996 Olympics, and won the bronze in featherweight [1].
He's the son of Mayweather Sr. — a former welterweight contender.
Moreover, he also has two uncles who were professional boxers, as well. Talk about a family of fighters!
In addition to all his incredible titles and awards, Mayweather also holds 3 Guinness World Records and appeared on Dancing With the Stars.
Besides having more than 23 million followers on Instagram, Mayweather also has four children.
So, let's see how this 5 feet 8 inches tall and 150 lbs heavy champion maintains his ripped abs!
Floyd Mayweather's Workout Routine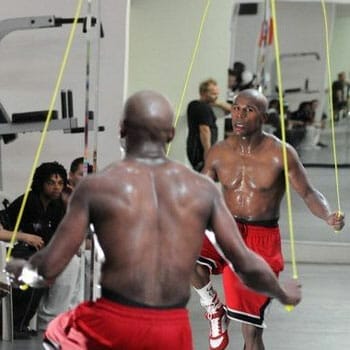 Floyd Mayweather regularly trains in front of more than 50 people but keeps his focus sharp and doesn't let anyone distract him.
His training routine includes a heavy bag, speed bag, sparring, floor work, pads, core exercises, neck training, bodysuit work, and a 5–8-mile run.
Some would say you'd need a superhuman strength for this typical Floyd Mayweather training.
Mayweather is a big believer in hard work and old-school training. He doesn't need anyone to give him pep talks; he motivates himself.
He likes to stay grounded and remind himself of the old days, so sometimes he varies his cardio and core training like Rocky Balboa — by using an ax to chop some wood.
He actually did this during his training camp while getting ready for his match with Pacquiao.
However, he also likes to be futuristic, so you can also spot him using a Cryosauna. It's basically an ice bath that goes as cold as -175℉ and helps accelerate the recovery [2].
Now, Floyd Mayweather is known for going to extremes. He takes the expression go big or go home to a whole new level.
He never takes the easy way out. His workouts are known for the 40 rounds he does and 12-mile midnight runs followed by cycling.
I don't even have to tell you that being a boxing champion requires high-intensity workouts, dedication, and some serious equipment.
If you'd like to train like Floyd Mayweather, you'll need:
3, 5, and 8-lb hand weights
Jump rope
Ankle weights
Neck harness
Ab-roll wheel
Wraps
Boxing gloves
Heavy bag
Dody bag
Hand pads
Speed bag
And, of course, a partner or a coach to help you get through the workout.
Here are all the 40 rounds of the impressive Floyd Mayweather's workout routine:
Round 1–3: Shadow Boxing
Floyd Mayweather practices footwork, punching, movement, stance, speed, and technique as a warmup.
He then spends at least two rounds just practicing form. Very often, he adds weights after round two.
Rounds 4–7: Hand Pads
Floyd then spends 10–15 minutes hitting hand pads with his trainer. This helps him work on combinations and speed.
Rounds 8–10: Body Pad
Here's when Mayweather needs a partner. He works on right hands, hooks, short jabs, and uppercuts for at least ten minutes.
Rounds 11–14: Heavy Bag
The champion uses a 160-lb bag to practice various combinations. He mainly focuses on speed and technique.
Rounds 15–18: Hand Pads Again
Another 15 minutes of slips and weaves with a partner.
Rounds 19–21: Going back to the Body Pad
At this point, Mayweather reverses places with his partner for another round of body pads. But, if you don't have a partner, you can use the heavy bag instead.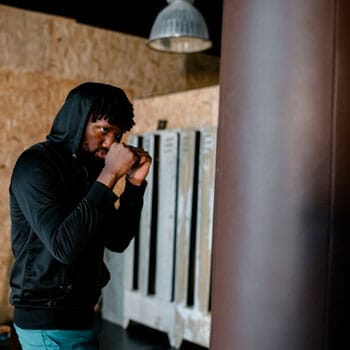 Rounds 22–23: Another Round of Heavy Bag
Mayweather does about ten 1–2s in a row, which he follows by ten left-right hooks, and ten left-right uppercuts. He takes a breath then repeats all.
Rounds 24–26: Hand Pads
Mayweather does another round of hand pads with his trainer, focusing on speed rather than strength.
Rounds 27–29: Speed Bag
He follows it with three rounds of speed bag — gloves off.
Rounds 30–31: Jump rope
Typical for boxers, Mayweather does three rounds of jump rope. He does all kinds of steps: double jumps, criss-cross, etc.
If you're doing this round, my advice would be to jump until you sweat.
Rounds 33–35: Weighted Shadow Boxing
Floyd alternates between 3, 5, and 8-pound weights. He usually does 1–2s, hooks, uppercuts, and shoulder presses.
He starts with the 8s, goes until he can't take it anymore, then switches to the 5s, going down to 3s when he gets too tired.
Rounds 36–37: Abs
After shadow boxing, Mayweather does 50 ab roll-outs followed by 200 sit-ups. He repeats both the ab-rollouts and sit-ups.
Rounds 38–39: Weighted Neck
Mayweather usually attaches a harness and does up and down neck raises with 25lbs, repeating the exercise 50 times, doing 3–6 sets, since boxers need neck strength.
Round 40: Push-ups
50 push-ups
Other training routines:
Diet Plan
Mayweather doesn't hide that he loves eating fried hot dogs with BBQ sauce and baked chicken with rice and gravy, but he eats clean organic foods most of the time.
Since high-intensity training burns a lot of energy, his breakfasts are enormous and include eggs, grits, pancakes, and meat such as bacon, turkey, sausage.
He has a private chef who prepares all his meals, so he doesn't eat canned or processed food.
Floyd also loves eating broccoli or drinking it in fresh juices.
However, since he's burning so much energy, he doesn't stay away from carbs.
His lunches often include baked chicken with rice or spaghetti bolognese.
The boxing champion recommends eating:
Vegetables

Fruit

Low-fat meat: turkey sausage, etc.

Chicken

Eggs
Grass-fed beef

Fresh-pressed juice (mixed fruit and veg)

Water

Wild fish
However, Floyd avoids food such as:
Pork

Sugar

Refined foods

Processed foods
Hydrogenated fats

Soft drinks

Hydrogenated fats

Artificial additives
What Supplements Does He Use?
Floyd doesn't use any workout supplements. He only uses vitamins but has never revealed which ones.
Would You Train and Eat like Mayweather?
The boxer works hard but parties like a millionaire. I know that everyone would eat and live like him — I mean, who wouldn't like to have a personal chef.
But, the question is — would you train like him? Could you survive his 40 rounds of exercise?
Leave your opinion in the comments!
---
References:
https://www.biography.com/athlete/floyd-mayweather
https://www.medicalnewstoday.com/articles/319740
Was this article helpful?