The famous Jon "Bones" Jones is a living legend and a role model of many of my clients who'd like to follow in the wrestler's footsteps.
So, I decided to make this in-depth guide about his diet and workout routine and help everyone who'd like to train like a champion. Let's see what Jon Jones did to build and maintain his physique!
Quick Summary
The best Jon Jones exercises include ring twists, barbell push presses, medicine ball supersets, lying leg curls, squats, and one-leg-straight-leg walking dumbbell deadlifts.
Jon's healthy diet comprises avocados, bananas, protein shakes, spinach, chicken, eggs, steak, salmon, oatmeal, olive oil, and quinoa, among others.
Jones' main goal for working out is to focus on his balance, strength, and quickness.
Combining Jon's exercise routines and a healthy diet can help you attain a toned body.
Jon "Bones" Jones - a Wrestling Champion
As you may know, Jon Jones is a mixed martial arts fighter champion from Rochester, New York, USA.
Like many other athletes, Jones was passionate about wrestling when he was in high school.
Luckily, Jones comes from a family of athletes — he has two brothers in the NFL.
Jones has two Ultimate Fighting Championship (UFC) Light Heavyweight championships under his belt.
He is considered one of the most celebrated pound-for-pound trained competitors of all time.
Jon had a UFC debut in August 2008, which helped launch his career and build an impressive record.
Jones' awards and achievements include 22 wins from 24 fights, nine knockouts, six submissions, and seven wins based solely on the decision.
The champion also holds a couple of UFC records in the light heavyweight category, such as:
most wins
most successful and consecutive defenses
longest winning streak
the most amount of submission victories
Since the start of weight classes, he became the youngest ever titleholder in the UFC and created history in 2011 at UFC 128.
Jones is one of the biggest names in the UFC Light Heavyweight champion and one of the world's most reputable MMA champions.
But, Jon Jones didn't achieve all this with luck. His strict diet and strenuous workout routine have made him the champion he is today.
Jon Jones Workout Routine: Go High-Tech
Jon Jones is 6' 4 and weighs 230lbs, so his workouts are designed to push his limits to the maximum and focus mainly on explosiveness and quick movements.
As Jon Jones himself has shared, he does cardio and strength training three times a week since doing compound exercises is the best and quickest way to gain strength and build muscles.
Jon Jones' workout includes high-tech equipment that mimics a real fight.
Just one of the tricks that Jones' trainer does is place a dummy on top of a non-motorized treadmill, strapping Jones into a vest along with some resistance cords that are attached to the vest.
Jones then pushed the dummy as if he was doing a takedown while being pulled backward by the cords. This exercise builds up your explosive strength.
Jon Jones also trains with a VertiMax machine — a platform with bungee cords attached to it. Jones attaches his hands, waist, knees, and ankles to this bungee cord and does kicks, knee strikes, and punches.
The extra resistance makes it difficult to keep your hands up and throw punches which makes kicking and punching without the straps even more powerful.
Training with resistance is an excellent way to build explosive strength and power and coordinate your muscles.
Jon Jones typically does a full-body workout targeting multiple muscle groups and focusing on his core muscles.
Having a solid core is essential in MMA fighting because fighters need to endure many kicks and punches in the stomach. Moreover, all punches, kicks, and other explosive movements are pushed forward with your core strength.
Also Read: Floyd Mayweather's Boxing Training Regimen
His workout usually includes:
Hang clean (5 sets of 5 reps)
Barbell push press (8 sets of 5 reps: 30-second rest between sets)
Lying leg curl (6 sets of 6 reps)
Depth dumbbell snatch (4 sets of 4 reps)
Ring twists (3 sets of 4 reps to each side)
Clean from knees with a jump (3 sets of 10 reps)
Medicine ball superset (run the cycle three times for a total of three supersets)

Medicine ball power-up (5 reps)
Medicine ball sprawl and jump (8 reps)
Medicine ball plyo push up (8 reps)

One-leg straight-leg walking dumbbell deadlifts (3 sets for 25 yards each)
But the Jon Jones workout doesn't stop here. The fighter also practices Tabata on the treadmill — a form of HIIT. Jones does this at maximum intensity for 20 minutes and follows it by 10 seconds of a break.
He does this at least eight times with no pause. Besides reducing body fat, this type of exercise builds strength, flexibility, and endurance.
His Weekly Workout Routine

Jones' main goal is focusing on his quickness and balance. That's why he wants his workouts to be as intense as possible. He follows a strict schedule, doesn't believe in failure, and gives 100% when in the gym.
"I'm beating all the weakness out of myself, beating all the give-up out of myself, I'm beating the lack of cardio, I'm beating the lack of confidence — any sign of weakness that's in my heart, I'm getting rid of it."

- Jon Jones, Mixed Martial Arts Champion
In case you want to try working out like a beast, here's what Jones' weekly workout routine includes:
Shadow Boxing
Shadowboxing is excellent for improving your body and head movements, as well as footwork [1]. Jon Jones recommends playing heavy music and going with the flow.
Compound Exercises
Compound exercises help you build strength and lean muscles [2], so naturally, Jones loves them. They allow him to push his limits and burn fat. Deadlifts and squats are his favorites, and he includes them in every workout.
Jon Jones Workout for Legs
Strong legs will pack on powerful punches, so Jones does big set cycles and less repetition to build strength. His leg workout includes:
Box Squats
Jones typically does five sets of five repetitions. Box squats are excellent for building muscle size, leg and hip strength.
Barbell Back Squats
Jones' workout includes three sets done three times while keeping a 335lbs barbell on the shoulders. This is great for building strength and athleticism.
Zercher Squats
Jones does three sets of eight Zercher squats to work on his abs, biceps, and traps [3]. He holds a 315-pound barber in the middle of his elbows while doing the exercise.
Deadlifts
Jones' favorite — deadlifts are done in three sets with three repetitions because he lifts heavy and has to rest for 1–3 minutes between the sets. MMA fighters love doing deadlifts because it strengthens the back, glutes, hamstrings, and entire legs.
Jon Jones Workout for Abs
Apart from having strong legs, having abs of steel is also very important, as MMA fighters take many stomach punches, but they also need a strong core for dealing with powerful kicks. Jon Jones' typical ab workout includes:
Jack Knives
Jack knives are another Jones' favorite. He does at least three sets 3–5 times. The exercise is excellent for strengthening the abs and glutes but also for building hip mobility.
Push Up with a Leg Pull
Jones also does three sets of push-ups with a leg pull and tries to repeat the exercise at least five times, often adding a medicine ball. The exercise is fantastic for upper body strength, coordination, and stability, while the leg pulls train the abs at the same time.
Hanging Knee Raise
Three sets of 5–10 repetitions are also a part of Jones' workout to increase his ab strength. Jones says he tries to repeat this exercise as many times as he can.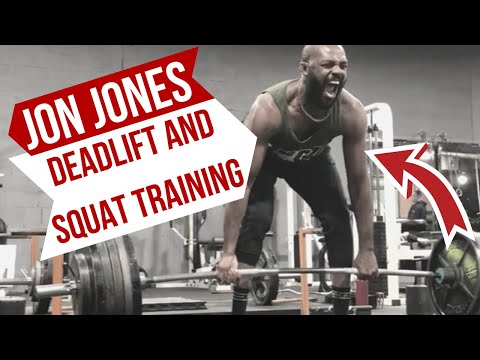 Jon Jones Diet Plan: No Cheating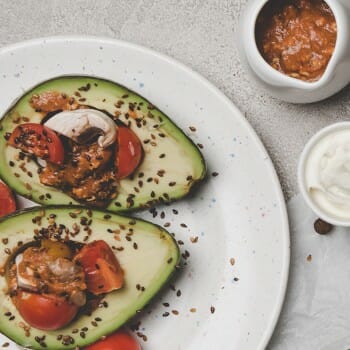 Having a great workout routine means nothing if you don't watch what you're eating.
Jones gives great importance to his diet and regularly eats throughout the day to maintain his energy levels.
His diet is clean and includes lots of vegetables, lean protein, but fibers and carbs, too, while fruits and protein shakes are his go-to snacks.
Jon Jones Diet Includes
Avocados
Bananas
Brown Rice
Chicken
Eggs
Kale
Oatmeal
Olive Oil
Protein Shakes
Quinoa
Salmon
Spinach
Steak
Turkey
What Jones Avoids Eating
Refined foods
Processed foods
Hydrogenated fats
Artificial ingredients
Breakfast of Champions
Jones believes in having a breakfast worthy of a champion and makes sure to start his day with a protein and fiber-rich breakfast of 5 eggs, turkey, spinach, followed by berry oatmeal, and lots of water.
Lunch and Dinner
Protein and carbs are also a part of Jones' lunch and dinner. His plate is packed with carbs which give him energy [4] and protein for strength.
The champion also loves to include vegetables in all his meals. He also eats fats to keep him full for longer.
Jones' Meals
Jones' usually has six meals a day, and they typically consist of:
Five large whole egg and a big bowl of porridge for breakfast
Protein shake with low sugar for a midday snack
A big bowl of pasta with chicken for lunch
Another low-sugar protein shake as an evening snack
A big bowl of steak, baked potato, and broccoli for dinner
Low-sugar protein shake before going to bed
Hydrate
Besides clean eating, Jones makes sure he's hydrated. He drinks at least 20 oz. of water with his meals, and yes, this includes snacks, too.
No Cheating
Jones is all about a clean diet and has no cheat days, but he loves eating cake occasionally. However, he compensates for these calories by removing something else from his diet.
What Supplements Does He Take?
Being a champion means getting lots of attention from supplement brands.
Jones signed a contract with GAT supplements in 2018 and uses a GAT PMP pre-workout to increase his stamina.
As I mentioned, he's also big on protein shakes and uses them on a daily basis to add as much protein to his diet as he can.
And that's all supplementation the champion uses.
Are You Going to Try Jon Jones' Workout?
Being an MMA champion is hard, even though Jones' makes it seem so easy. His hard work is definitely paying off, but it takes a lot of dedication and a strong character.
If you're looking to become a fighter and develop the body that you need, you'll have to undergo discipline. The Anime Physique Mastery Program , which is also designed by a fighter, can help you with that through their effective training and nutrition protocol.
Share your thoughts in the comments and tell us what's your workout routine and if you have a special diet plan. We'd love to hear different opinions!
---
References:
https://www.healthshots.com/fitness/muscle-gain/from-fat-loss-to-muscle-gain-heres-what-shadow-boxing-can-do-for-you/
https://www.healthline.com/health/fitness-exercise/compound-exercises
https://powerliftingtechnique.com/zercher-squat/
https://www.verywellfit.com/how-carbohydrate-provides-energy-3120661
Was this article helpful?