Pittsburgh Steelers' former linebacker James Harrison has a unique approach to training and games like no other player in his league.
He's become famous for his Instagram workout videos showing the incredible amounts of weight plates he lifts even after retiring.
Here's in-depth information all the fans want to know about James Harrison's workout regimen and nutrition.
Quick Summary
James Harrison's workouts range from dragon flags, barbell bench presses, sled push, barbell deadlift, hanging abdominal windshield wipers, and hip thrusts.
Harrison ensures he targets different muscles from the legs, chest, back, core, shoulders, biceps, and triceps.
James Harrison takes meals rich in healthy fats, protein, fiber, and low carbs to fuel his energy for workouts.
Harrison recommends people train at least five times a week to attain a physique like his.
James Harrison's Career Highlights
Before his retirement from the NFL after 15 seasons as a 40-year-old footballer in May 2018, Harrison played for these teams:
New England Patriots (2017-2018)
Pittsburgh Steelers (2004-2013, 2014-2017)
Cincinnati Bengals (2013-2014)
According to ESPN, some of the most notable career stats of this linebacker include:
Sacks: 84.5
Solo tackles: 573
Total tackles: 793
Forced fumbles: 34
Interceptions: 8 [1

]
And these are some of his record-breaking accomplishments:
NFL Linebacker of the Year (2008)
NFL Defensive Player of the Year (2008)
4 times AFC Champion (2007-2010)
NFL Top 100 Players (2011, 2012)
Steelers All-Time Sacks Record-Holder (80.5)
Steelers All-Time Postseason Sacks Record-Holder (11)
Body Stats
Height: 6ft
Weight: 255lbs
Chest: 46in
James Harrison Workout Routine
Now let's dive deeper into more detailed information on Harrison's workout routines that resulted in such massive power and success.
Harrison is very disciplined and hits the gym regularly five days per week between 7 a.m. and 5 p.m. Each of his training sessions is typically one hour long.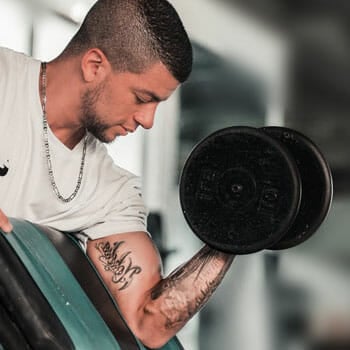 Despite his age, his weekly full-body workout schedule is grueling, and he dedicates each day to a particular muscle group:
Monday - Legs
Tuesday - Back and Chest
Wednesday - Core
Thursday - Shoulders
Friday - Arms (biceps and triceps)
Saturday - rest to enhance muscle recovery
Sunday - rest/pool workout
Almost everyone who has had access to his Instagram photos and crazy workout videos has seen the incredible amount of weights he lifts and can confirm that the powerlifting exercises he does look unreal to mere mortals.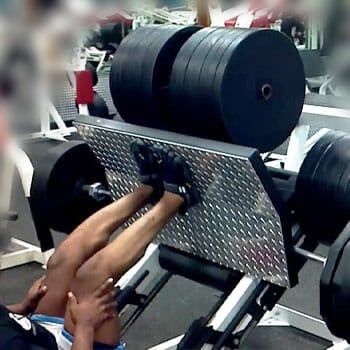 To generate more upper and lower body power and explosiveness than many other linemen from the opposite teams and build core strength and stability, Harrison performs the following exercises as a part of his regular workout plan:
Barbell bench presses
Single-arm shoulder presses
1,100-pound leg presses
Weighted pull-ups
700-pound squats
Dips with 200lbs of added weight
"No one works harder than James. He is one of the most powerful players in the NFL, and much of the credit can be attributed to his legendary workout regimen."

- Garrett Giemont, Steelers' Conditioning Coordinator
Many people think that heavy deadlifts are one of the secrets to his success.
However, Harrison's approach to his daily workout plan might change based on the way he feels on a particular day. So, the order of exercises, exercise variation and format, and the set and rep numbers may vary from one workout to the following.
He always finds ways to keep every workout fresh and challenging enough.
During the offseason, Harrison plays a game called Danney Ball on the field.
Shaw, the trainer who supervises Harrison's off-season workouts, ensures that this NFL star does the outdoor exercises such as distance running in the sand for tighter hips, stronger ankles, and greater stamina.
"One of the goals of Harrison's off-season training is to get him out of the weight room and into the hot sun to sweat and to do sprints and intervals to build bursts of speed."

- Tom Shaw, Harrison's Performance Coach
In a nutshell, James Harrison has never followed the same workout plan as his other team players but has always done things in his unique way.
Here are a few exercise examples he performs for a different body part each day.
1. Core Workouts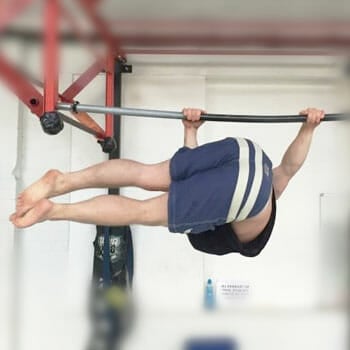 Hanging abdominal windshield wipers - 2 sets of 30 reps
Ab rollouts - 3 sets of 8-12 reps
Dragon flags - 3-5 sets of 4-5 reps
2. Chest Workout
Barbell bench press - 10 sets of 1-10 reps
Barbell incline bench press - 10 sets of 10-1 reps
Bench press without legs (weight: 375lbs)
Negative-accentuated bench press (weight: 500lbs at the top, 405lbs at the bottom)
3. Leg Workout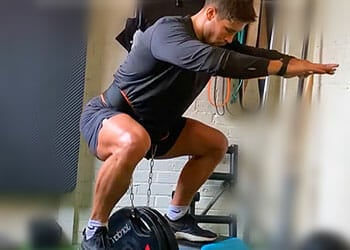 Barbell deadlift - 10 sets of 10-1 reps
Barbell back squats - 10 sets of 1-10 reps
Sumo belt squats (weight: 540lbs)
Hip thrusts (weight: 765lbs)
Sled push (weight: 1800lbs - equals the weight of approximately five big linemen)
James Harrison Diet
This master on the football field fuels his grueling gym work with a healthy, natural, low-carb diet to maintain his physique and gain more strength and explosive power with each training session.
Harrison consumes organic products and foods rich in fiber, protein, and fats rather than simple carbs.
He doesn't consume dairy products, gluten, white sugar, iodized salts, and caffeine.
When he's recovering from the intense workouts, he also avoids using alcohol, processed foods, and even nutrient-dense nightshade veggies, probably because he believes they might increase the risk of inflammation [4].
He also takes protein supplements like whey protein.
Are You Going to Try Harrison's Workout Routine?
Anybody whose fitness goal is to build incredible strength and stamina, boost athletic performance, and become a powerful beast in the weight room like this superhuman NFL champ may consider replicating his training routine and diet plan.
Honestly, such exhaustive gym work may be a problem for most average fitness enthusiasts.
Still, if you force yourself to stay disciplined and put even half of his effort into your workouts, I'm sure you can get exceptional results over time.
Ready to sweat for the explosiveness and power of James Harrison?
Go for it!
---
References:
https://www.espn.com/nfl/player/stats/_/id/4433/james-harrison
https://deebo92.com/bio
https://www.pro-football-reference.com/players/H/HarrJa23.htm
https://www.healthline.com/nutrition/nightshade-vegetables
Was this article helpful?