American basketball player and NBA champion Kevin Durant is one of the highest-earning players in the NBA who won two rings and two Finals MVP awards with the Golden State Warriors.
He has displayed some amazing physical feats on the court, which has led people to wonder what his workout routine is.
I spent a good deal of time looking through some of Durant's games, watching his interviews, and reading about his workouts.
With this information, we're going to shed some light on Durant's stats, training and diet, and his workout and nutrition principles.
Quick Summary
Thoracic spine extension, basic inverted row, basic med ball single Romanian deadlifts, freeze pull-ups, and sprints are examples of workouts Kevin Durant performs.
Kevin Durant takes the following supplements; whey protein, fish oil, chia seeds, flaxseeds, chia seeds, Vitamin B12, probiotics, electrolytes, and coconut water.
Some meals in Kevin's diet are eggs, fruits, chicken, salmon, cucumber, vegetables, fresh smoothies, brown rice, and yogurt.
Career Highlights
Kevin played for the Seattle Supersonics and Oklahoma City Thunder, and now he plays for the Brooklyn Nets.
Regarded as one of the best players in the NBA, Durant is decorated with the following NBA highlights:
Two NBA Championships
One NBA Most Valuable Player Award
Two Finals MVP Awards
Two NBA All-Star Game Most Valuable Player Awards
Four NBA Scoring Titles
NBA Rookie of the Year Award
Named to nine All-NBA teams (including six First Teams)
Selected 12 times as an NBA All-Star.
Additionally, he has won three Olympic gold medals and the 2019 FIBA World Championship.
Stats
To better understand Kevin Durant's workout principles, let's look at some of his stats.
Kevin Durant was born on September 29, 1988, and is currently 33 years old.
He stands at 6'10" (2.08 m) and weighs 240 lbs (109 kgs).
His chest measures 43 inches, his waist 35 inches, and his biceps 15 inches. He also boasts an amazing wingspan of 7'4".
Kevin Durant Workout Routine
Kevin Durant's workout routine reflects his dedication to maintaining peak performance. As an NBA rookie, Kevin Wayne Durant incorporates various exercises, including rotational med ball workouts, to enhance his agility and power on the court. Despite starting his career with the Seattle Supersonics, Durant's workout routine has evolved to match his status as one of the top players in the league.
Basketball requires agility, strength, and excellent at dribbling and shooting the ball.
So, the Kevin Durant workout routine consists of three main components: mobility training, strength training, and shooting drills.
Durant's Mobility Drills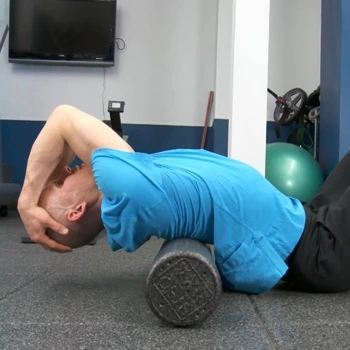 Based on my research on his workouts, I found that Kevin Durant's mobility drills involve three different exercises:
Thoracic Spine Extension: 2 sets x 30 reps
Rotational Med Ball Throws: 3 sets x 8 reps
Split-Stance Overhead Core Matrix (Forward, Rotational, and Lateral)
Let's take a look at why Durant specifically does these exercises.
The thoracic spine extension is essential for basketball players.
Durant's Strength Training
Kevin Durant's workout routine for strength is quite hectic as it involves ten different exercises.
Three-Way Med Ball Single-Leg Romanian Deadlift on an Airex Pad: 2 sets x 5–7 reps
Basic Med Ball Single Romanian Deadlift: 3–4 sets x 8–10 reps
Inverted Row on a Physioball with TRX Straps: 3–4 sets x 8–10 reps
Basic Inverted Row: 3–4 sets x 8–10 reps
Single-Leg Dumbbell-to-Press: 3–4 reps x 6–8 reps
Basic Overhead Press: 3–4 sets x 6–8 reps
Walking Dumbbell Push Up-to-Row: 3–4 sets x 6–8 reps
Basic Dumbbell Row from a Push-Up Position: 3–4 sets x 6–8 reps
Med Ball Multi-Planar Lunge on Core Board: 3–4 sets x 10–12 reps
Basic Med Ball Multi-Planar Lunge: 3–4 sets x 10–12 reps
Durant's Shooting Drills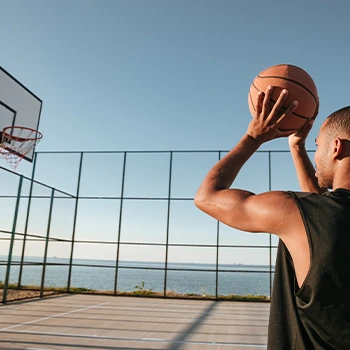 Durant's workouts are supplemented by shooting drills, for which he performs ten different moves.
Attack Help Defender
Freeze Pull-Ups
Hesitation on Drive to Attack
Pick and Pop
Catch and Shoot
Post Up
Dribble Drag to Crossover
Early Offense Duck In
Counter
Cross-Screen to Pick and Roll
Moves like the dribble drag to crossover, early offense duck, and other training exercises ensure that Durant is able to give his best on the court because these are essential to being a small forward.
Cardio
For cardio, Durant does sprints, suicide drills, and running on sand, often joined by his fellow NBAer Russell Westbrook.
Durant gets the necessary additions to his strength training with such intense basketball practice.
Workout Principles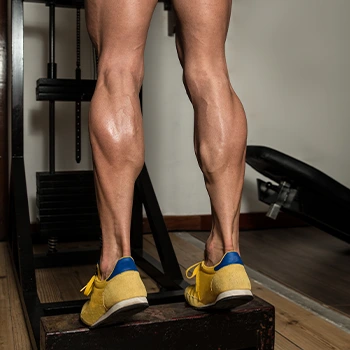 Kevin Durant, the NBA Most Valuable Player, incorporates TRX straps into his workout routine to enhance his strength and stability. As a key player for the Brooklyn Nets, Durant's workout regimen is designed to meet the demands of the NBA roster. Like many NBA players, he includes exercises such as walking dumbbell lunges and split stance overhead core work to improve his overall athleticism and performance on the court.
So, after looking at his highlights and stats, let's look at how you can build and achieve the same strength, speed, and physique as Kevin Durant.
Kevin Durant's main workout principle has to do with focusing on leg strength.
As a basketball player, leg muscles are one of the most important muscle groups to build.
Given that, his trainer ensures that squatting, jumping, or lunging are part and parcel of Kevin Durant's workout routine.=
Kevin Durant's workout routine incorporates his favorites: medicine ball and cardio.
"I was always in the gym. People would look at me crazy because I spent so much time there. But that's what it was about. I'm glad I did it."

- Kevin Durant, American Professional Basketball Player
Kevin Durant's Diet Plan

After watching some of his interviews, I found that Durant's Diet consists of healthy, organic, and nutrient-rich foods.
Here's what we found Durant eats for breakfast, lunch, and dinner:
Breakfast

Two Egg Whites
Omelet (One Egg)
Spinach
Tomato
Fresh Fruit

Lunch

Grilled Salmon
Cucumber
Yogurt Dressing
Brown Rice Pilaf
Sautéed Spinach

Dinner

Grilled Chicken
Roasted Vegetables
Fruit Smoothie
Kevin Durant's Supplements
Kevin Durant's supplement stack includes the following:
Vitamin B12

Electrolytes

Chia Seeds

Flaxseed

Acai

Coconut Water
Kevin Durant's Diet/Nutrition Principles
Durant eats fish before every game because this provides lean protein to keep him fueled.
In addition to this, he stays far away from junk like trans fats and processed sugar.
Before games, Durant prioritizes seafood while keeping away from gluten as it is hard to digest.
FAQs
Is It Possible to Get Durant's Physique and Strength?
Yes, but keep in mind that Kevin Durant is built differently than the average person. He's 6'10" and weighs 240 lbs but moves quickly. Depending on your genetic makeup and build, Durant's diet and exercises may have different results for you.
How Often Does Kevin Durant Work Out?
According to Rob McClanaghan, Kevin Durant loves spending a lot of time in the gym. He is known to spontaneously get out of the house for shooting drills and hard hour-long workouts.
Conclusion
Kevin Durant, an NBA champion in the National Basketball Association, incorporates a variety of exercises into his workout routine, including medicine ball exercises on the basketball court such as med ball single-leg exercises and cross screen to pick. He also includes challenging movements like lunge on a core board and catch and shoot drills to enhance his athletic performance. To support his training, Durant follows a disciplined eating plan and includes protein shakes as part of his major meals to aid in building muscle and reducing muscle soreness.
With so many NBA awards and other accolades, it's no wonder people are curious about how Kevin Durant gets into shape for his games.
Durant's combination of mobility, strength and basketball training makes him a monster on the court.
From basic overhead press over running drills and pull-ups to core board exercises, Durant's sports performance is on a whole other level. Follow his diet and workout regiment, and you are bound to see improvements in your athletic output.
To perform like Durant, you'll need the right supplements like multivitamins for athletes specifically attuned to the needs of sportsmen. I always recommend some of those to my clients as they usually make a big difference in their overall performance and results in the gym.
---
https://www.researchgate.net/publication/334720891_Thoracic_spine_mobility_an_essential_link_in_upper_limb_kinetic_chains_in_athletes_A_systematic_review
https://www.researchgate.net/publication/232192374_Medicine_Ball_Training_Implications_for_Rotational_Power_Sports
https://bleacherreport.com/articles/2855468-book-excerpt-inside-kds-nonstop-workouts-with-star-trainer-rob-mcclanaghan
Was this article helpful?