When you think of health and fitness, Miley Cyrus might not be the first name that comes to mind.
But that would be incredibly unfair; the touring schedule and level of fitness required to perform at her level is one that few would be able to keep up with.
So, what does Miley Cyrus do to keep in shape, and is there anything we can learn from her diet and workout routine to apply to our own? Read on to find out.
Her Stats
Height: 165 cm
Weight: 48 kg (Approx)
Age: 28 at time of writing
Destiny Hope Cyrus, or as she is now known, Miley Ray Cyrus, came of age and fame as Hannah Montana.
The future superstar's own career has since followed in the footsteps laid by her teenybopper self and established herself as an artist in her own right, shedding the packaged pop image for something more authentic.
She is famous for her high-energy stage presence and choreographed dance routines that lift her music from simple pop songs to more of a spectacle, and her rigorous touring schedule is one that few others could follow.
Miley Cyrus Workout Basics
Miley Cyrus's diet and exercise routine is something she has always been very open about. She works incredibly hard to keep her impressive physique.
Yoga
She is a passionate yogi, having practiced Ashtanga yoga for many years.
In my experience as a fitness coach, I've seen similar dedication in some of my clients who also practice yoga and pilates. Their commitment to these disciplines often leads to significant improvements in both physical and mental health.
Pilates
Another critical component of her workout is pilates; with the star enjoying the training so much, she had a pilates studio installed in her home.
These strategies have contributed significantly to her mental well-being, a crucial aspect often overlooked in fitness discussions.
Miley Cyrus Workout Routine
Bicycle Kicks
Small Circles Leg Rotations
Big Circles Leg Rotations
Hot Potatoes
Double Leg Lifts
Scissor Kicks
Bent Leg Lifts
Elevated Clams
One Hundreds
Criss Crosses
Days 2, 4, and 6:
Standing rollovers
Butterfly kicks
Workout Principles

Consistency Is Key
If you are looking to achieve your weight loss or exercise goals, the most important thing you can do is be consistent and build a healthy routine. This is a principle I always emphasize with my clients.
Miley Cyrus knows this better than most after taking a short break from her extremely athletic style of yoga and feeling the pain when she hopped back on the horse.
"I will never not practice for 10 days ever again! Today I got my ASStanga kicked!"

- Miley Cyrus
Mental Health Is As Important As Physical Health
Cyrus has found a routine that not only she enjoys, but also through its focus on breathing and connection, provides a therapeutic edge and mindfulness.
While yoga might not be for everyone its marriage with wellness and mindfulness gives it an edge.
"Gotta do yoga not for my body but for my mind! DO YOGA or GO CRAZY!"

- Miley Cyrus 
Find What Works For You!
You should never dread your workout. Miley has found the exercise that she actually looks forward to. If lifting weights down the gym doesn't work for you, try calisthenics at home.
If you still find that tedious get yourself a rubber tire and a sledgehammer and go full strongman with your routine.
Find what works, and be sure to look after yourself mentally as well as physically.
What Supplements Does She Take?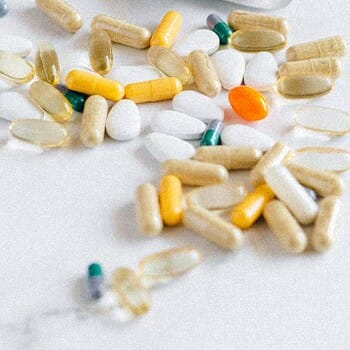 A devoted animal lover, Cyrus largely eliminated animal products, maintaining a primarily plant-based diet.
Recognizing the challenges of veganism, including potential nutrient deficiencies, she supplemented her diet with Vitamin B12 and others, aligning with recommendations from the Journal of the International Society of Sports Nutrition [1].
If you are going to go vegan, I always recommend consulting a physician or professional nutritionist first.
FAQs
Is Miley Cyrus gluten-free?
Miley Cyrus has claimed to be gluten intolerant in the past but has since managed her intolerance through a more healthy whole food-focused diet.
She still stays away from dairy due to being lactose intolerant but occasionally has a measured amount of gluten in her food.
---
Reference:
https://www.tandfonline.com/doi/full/10.1186/s12970-017-0192-9
Was this article helpful?