Hale's stunning appearance speaks enough of her health, fitness level, wellness, and other life habits.
After hundreds of hours spent reading her interviews and following her engaging social media posts on a range of topics like fitness, motivation, nutrition, body care, and others, we've found out all the details about Lucy Hale workout routine and diet plan.
Let's see what's her secret weapon.
Quick Summary
Lucy Hale's diet comprises the following meals; avocados, fish, eggs, vegetables, fruits, coffee, nuts, whole grains, and whole, natural foods.
The best Hale's workout routines are incline crunches, leg presses, lat pulldowns, cable rows, pull-ups, ball slams, delt flyes, plank holds, and plank twisters.
Lucy incorporates different workouts which can be categorized as cardio workouts, HIIT exercises, boxing, running, weight training, hiking, swimming, and instructed gym sessions.
Stats
Age: 32
Height: 5ft 2in
Weight: around 120lbs
Breast: 32in
Waist: 24in
Hips: 34in
Instagram followers: 24+ million
Career highlights:
Lucy Hale Workout Routine
To stay super fit and keep her muscles toned, Hale mainly trains every day when she's home in Los Angeles, working out with her trainer 2-3 times per week. When she's filming and traveling, Hale trains at least 3-5 days a week.
Hale's fitness routine constantly varies to help her stay motivated and consistent.
She incorporates different interesting exercise types in her daily training routines:
Gym workouts with her trainer
Taking a group fitness class (to see her friends)
Circuit training
Weight training (mostly using free weights)
Cardio workout
HIIT workout
SoulCycle spin class
Hot Pilates
Yoga (but not the Bikram type as she hates holding the poses)
Boxing
Running
Hiking
Swimming
Hale likes to have 3-4 days of weight training, two days of cardio or HIIT workouts, and one day of stretching workouts like Pilates or Yoga.
She also enjoys going for a hike, swim, and run, or taking her dog for a walk in the park on weekend mornings.
If you'd like to have a toned body like this Truth or Dare horror movie star, you could try the following workout routine we've created based on what she typically does to burn a ton of calories and fat while having fun.
The first four days could be dedicated to weight training that includes:
15-minute warm-up on a treadmill, elliptical, bike, stairs, etc.
3-4 sets of 10-15 reps of some or all of the following exercises with 20/30-second rest in between
Monday
Bulgarian split dumbbell squats - 3 sets of 10 reps
Incline crunches - 3 sets of 15 reps
Hamstring curls - 3 sets of 15 reps
Hanging leg raises - 4 sets of 15 reps
Single-leg pushdowns - 3 sets of 12 reps
Leg press -

3 sets of 10 reps

Plank twister - 2 sets to failure
Tuesday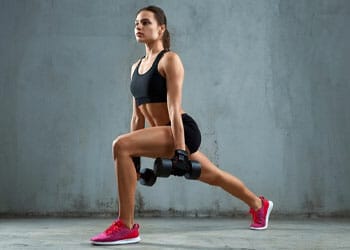 Weighted lunges - 2 sets of 12 reps
Dumbbell deadlifts - 3 sets of 8 reps
Shoulder flys - 3 sets of 15 reps
Resistance band push-ups - 3 sets of 10 reps
Cable rows - 3 sets of 10 reps
Lat pulldown - 3 sets of 12 reps
Thrusters - 2 sets to failure
Wednesday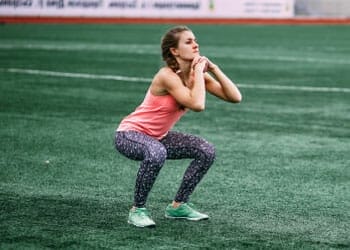 Burpees - 3 sets of 12 reps
Pull-ups - 3 sets of 8 reps
Clean and press - 3 sets of 6-8 reps
Leg extensions - 3 sets of 15 reps
Kettlebell drop squats - 3 sets of 10 reps
Ball slams - 3 sets of 12 reps
Glute thrusters - 2 sets of 10 reps
Thursday
Biceps curls - 3 sets of 10 reps
Delt flyes - 3 sets of 15 reps
Skull crusher - 3 sets of 12 reps
Triceps one-arm pushdowns - 3 sets of 12 reps
Leg raises with a twist - 2 sets to failure
Tricep dumbbell kickbacks - 2 sets of 15 reps
Plank holds - 2 sets to failure
Friday
Do 40 minutes of HIIT cardio workout, doing one-minute intervals of moderate speed exercises that motivate you - biking, running, hydro-rowing, spinning, or anything similar you want - for 20 minutes each.
Saturday
The same recommendation as on Friday, but choose a different exercise version to add variety.
Sunday
You can do toning and stretching series, e.g., an hour of Pilates, Yoga, or another group fitness class. If you don't feel like it, opt for hiking, swimming, trekking, and similar activities to keep moving.
Lucy Hale on her workout routines:
"I'm much happier; my mood is better when I'm consistently working out. [...] I'm one of the weirdos in the world that genuinely likes working out, not from a physical perspective, more from a mental aspect. [...] Fitness helped me become a more confident version of who I used to be. [...] It's a daily part of what I do. I work with a trainer, and that will be an hour-long session, or I'll do 45-minute spin classes or Pilates classes. It's not a crazy amount, just a little bit every day."

- Lucy Hale, Actress, & Singer
Lucy Hale's Diet Plan
Most food Lucy Hale eats in a day is healthy:
Whole, natural foods

Fish

Eggs
Whole grains

Vegetables

Fruits
Artificial ingredients

Alcohol
Meal Plan Sample
She typically has three meals per day, loves snacking and eating soup, especially chicken soup or vegetarian broth with tofu, basil, sprouts, hot sauce, etc.
In a video interview [3], Hale gave detailed information on meals of her choice, including her favorite treats.
Coffee with a lot of creamers

A slice of crispy toast with peanut or vanilla almond butter, honey, a banana, a sprinkle of cinnamon

A peanut butter Perfect food bar
Bacon and eggs

Avocado toast with a poached egg

Burritos

Chocolate chip pancakes (sometimes)
Sushi

Tuna with crispy onions

Salad with kale, leafy greens, or other veggies, and plenty of dressing
A club sandwich with crispy buttered toast, a fried egg, melted vegan Cheddar cheese, a slice of turkey breasts or bacon, tomatoes, avocado, crushed red pepper, a little mustard, and mayo
Dinner (her cheat meal):
A burger, French fries with buttermilk ranch dressing, and a Diet Coke
Thai curry
Spaghetti Bolognese
Snacks:
Hummus (red pepper, garlic, curry flavor) with Pita bread, Tacos, Celery, Carrots
Smart Sweets (candies)
Ice-cream
Greek yogurt bar with chocolate chips
Frozen grapes
Nutrition Rules She Follows
In the past, Hale suffered from an eating disorder, starving herself for several days or perhaps having a piece of fruit and then training in the gym for three hours.
Now, she follows a balanced, sensible pescatarian diet (she calls a lifestyle) that includes consuming plant-based products and some seafood.
Hale drinks lots of water, and an iced latte loves kombucha, and eats almost everything in moderation.
"I try to keep it healthy during the day, but I don't really follow a particular diet, per se. I'm lucky because I like healthier foods…though I definitely have a sweet tooth. I could never cut out sweets. I do try to avoid dairy because it makes me congested. But I love my sugar, and I love my coffee. Coffee is a must."

-Lucy Hale, Actress, & Singer
On occasional cheat days, Hale indulges herself in French fries, pasta, or her grandmother's pancakes.
Although this Pretty Little Liars celebrity usually prepares her food, she also enjoys eating out and tasting other cultures' weird foods when traveling.
Supplements
The supplements Lucy Hale has been taking daily for years may include:
Vitamin B12 - since it's tricky to get enough of it from the plant-based diet she follows;
Omega-3 essential fatty acids - necessary for proper heart and brain function, fighting inflammation and depression and overall health;
Spirulina (the blue-green algae) - rich in antioxidants and nutrients like Vitamins B, iron, and copper can help lower cholesterol levels, inflammation and prevent cancer;
Apple cider vinegar - one shot every morning to aid weight loss, regulate blood glucose and cholesterol levels;
Kombucha

- improves digestion and immunity, increases energy, detoxifies, helps lose weight, lower blood pressure, fight cancer and heart disease;
Final Words on Lucy Hale's Diet and Workout
If your fitness goal is to stay in top form and get a toned body like Hale without compromising your health, you could try Lucy Hale's workout routine and diet plan.
Some main guidelines to follow are:
Eat healthy, balanced, mostly plant-based food in moderation (with occasional treats)
Work out every day, adding variety to keep motivation
Get enough sleep
Do you think it would work for you? Let us know how it goes.
---
References:
https://www.biography.com/actor/lucy-hale
https://www.thefamouspeople.com/profiles/lucy-hale-29748.php
https://www.harpersbazaar.com/beauty/diet-fitness/a32256032/lucy-hale-food-diary/
Was this article helpful?