For anyone who grew up in the 90s, Gwen Stafani and her band No Doubt are icons that bring back many memories.
But looking at pictures of her today, you'll find it hard to believe that she's now in her 50s and has still kept her killer shape.
She's a mother of three, still sings, and is a coach on the TV show The Voice. But none of that stops her from eating healthy and exercising on a daily basis.
So, I took a look at Gwen Stefani's exercise routine and how she approaches her diet to stay in such great shape.
Quick Summary
The best of Gwen Stefani's workouts include dips, dumbbell curls, rowing machine, cardio boxing, lunges, barbell squats, kettlebell swings, running, and wide-grip pull-ups.
Stefani's exercises can be categorized into high-intensity interval training, and cardio routines.
Gwen adopts a low-carb vegan diet and takes supplements like protein powder and multivitamins.
Stats
Born

: October 3, 1969

Height: 5'7"
Weight: 120 lbs
Gwen Stefani shot to fame in 1995 as lead singer in the band No Doubt, but in recent years she has focused more of her attention on coaching young and upcoming talent on The Voice.
As a singer, she understands how tough the industry is and that has helped her become one of the most popular coaches.
What's even more impressive is her dedication to a healthy lifestyle, and her workout routine should get anyone into a sweat.
Gwen Stefani's Workout Routine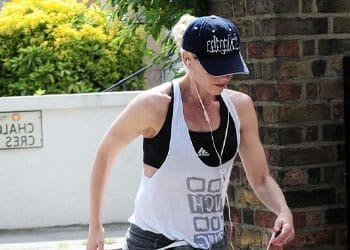 Gwen Stefani does a surprising amount of strength training with trainer Gunnar Peterson.
While she hasn't published details of her daily routine, her former personal trainer Mike Heatlie shared some details in an interview.
And it all starts with high-intensity interval training.
1. HIIT
High-intensity interval training is a form of circuit training that combines a lot of cardio and weight training work.
Unlike traditional strength training, these are full-body workouts focusing on all muscle groups in each session.
Here are some exercises, and you can pick 4 to 5 of them and repeat them three times.
You should also limit any rest time between sets, as the idea is to keep your heart pumping and muscles working as much as possible.
Dumbbell squats or barbell squats (3 sets of 12 to 15 reps)
Lateral Raises (3 sets of 12 to 15 reps)
Lunges (3 sets of 12 to 15 reps)
Kettlebell Swings (3 sets of 12 to 15 reps)
Stability ball crunches (3 sets of 12 to 15 reps)
Dips (3 sets of 12 to 15 reps)
Wide-grip pull-ups (3 sets of 12 to 15 reps)
Dumbbell curls (3 sets of 12 to 15 reps)
2. Cardio Routine
After each circuit, Gwen will do 5 minutes of cardio workouts, which is the secret to that rocking physique:
Cardio boxing
Rowing Machine
3. Active Family Time
While she works out 5 to 6 days a week, she also spends a lot of time focusing on outdoor activities and exercises she can do with her kids.
This would involve walks and hikes, but also some water sports in the summertime.
Weekly Workout Routine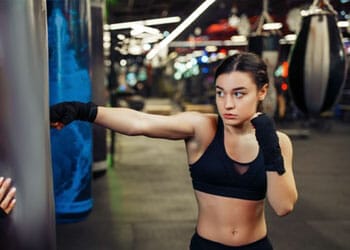 Monday: HIIT and walking
Tuesday: Cardio boxing
Wednesday: HIIT and hiking
Thursday: Mix of running and rowing
Friday: HIIT
Saturday: Outdoor family activity
Sunday: Rest
"Act as young as you feel. You're not getting older; you're getting more entitled to be your fabulous self."

- Gwen Stefani
Gwen Stefani's Diet Plan
Gwen Stefani became a vegetarian when she was 12 and later committed to being a full vegan. But her eating habits go beyond just looking at whether something contains animal products or not.
Low-Carb Vegan Diet
To maintain such a slim and lean appearance with some subtle muscle definition, Gwen keeps a very close eye on her carb intake.
This is easier said than done, but when you can limit the number of carbs you eat, then you significantly stabilize your blood sugar levels. And that reduces the stored glycogen in muscles, forcing the body into burning off more fat [1].
Here's what she typically eats in a day:
Breakfast
Decaffeinated coffee or tea with vanilla soy milk
A serving of fresh fruit
Lunch
Vegetables
Nuts on the side
Dinner
Lasagna with ricotta cheese
Supplements
To stick with the above exercise plan, you'll need to take a couple of supplements.
1. Protein Powder
Ideally, choose a hemp protein powder as it contains the full amino acid profile that your body and muscles need. Alternatively, a blend of rice and pea protein would be another go-to option to ensure you get the macros to sustain your workouts.
2. Multivitamin
Gwen takes this not just because she's vegan but generally as a health and immune booster. Vitamins also play a key role in muscle function, exercise recovery, and effective digestion, which all lead to a leaner appearance.
See the best women's multivitamins.
Are You Going To Commit To This Workout?
Some say that a work out and torture should feel like the same thing.
And I'll be the first person to say that HIIT can feel like you're being punished.
But as a personal trainer, I can say that with a healthy low-carb diet and a daily workout, you can achieve any weight loss goals and look as toned as Gwen Stefani with killer abs.
Try out this routine for a few weeks, and then report back to us how much it changed your appearance.
---
References:
https://www.nomeatathlete.com/burning-fat-for-fuel/
Was this article helpful?