Any person who has watched Kelly Ripa in Hope & Faith, All My Children, or in a recent talk show could notice that she's in the best shape of her life even at the age of 50.
No doubt she shows that age is just a number for her.
But how does she manage to keep such a perfect lifestyle balance and body shape as a dedicated wife, mother of three kids and one of the most influential people in the media?
When you read all the details about Kelly Ripa's diet and workout routine we've discovered after months of thorough research, her incredible energy and physique won't come as a surprise to you.
Stats
Born: 2 October 1970
Place of birth: Stratford, New Jersey, USA
Height: 5ft 2in (159 cm)
Weight: about 110 lbs (49 kg)
Breast: 32 in (81 cm)
Waist: 24 in (61 cm)
Hips: 33 in (84 cm)
Twitter followers: over 1.5 million
Instagram followers: over 2.8 million [1]
Kelly Ripa's Workout Routine

When I tried to emulate Kelly Ripa's workout routine, I realized just how intense and dedicated she is. Here's a breakdown of her regimen for those looking to achieve a similar physique and energy level.
Monday
AKT Dance - 60-minute choreographed cardio dance class
"Every exercise we do works your full core—the butt, the abs, and the back—at the same time. If you're training functionally, you're hitting those muscles from all planes of motion."

-Anna Kaiser, AKT Method Founder, & Personal Trainer
Tuesday
SoulCycle class - 45-60 minutes
Wednesday
AKT Bands class - involves high-powered repetitive small cardio movements using resistance bands with medium resistance hung from overhead bars to hit the hard-to-target muscles like triceps and inner thighs - 60 minutes
Thursday
SoulCycle class - 45-60 minutes
Friday
AKT Circuit class - intense cardio workout with weights - 60 minutes
Saturday
AKT Tone barre-based class or AKT Mixer full-body workout - 60 minutes
Sunday
Go for a 60-minute jog, do one-hour Yoga or Pilates sessions, or do exercises like these at home or in a gym:
Crab triceps dips (alternating straight and bent legs with each dip) - 8-10 reps per leg;
Leg raises - 1-2 minutes per leg;
Squats with a ball (alternating left and right heel raises) - 15-30 reps per side;
Rolling ab crunches - repeat for one minute;
So, What Does She Do for Exercise?
Kelly Ripa's diverse workout routine includes:
AKT choreographed dance-cardio strength classes with Anna Kaiser (AKT founder and trainer) - four to five days a week
SoulCycle classes - two days a week
Jogging - one day a week
Power Yoga
Pilates
HIIT
Circuit training routine
Functional training
AKT cardio workouts with resistance bands
Toning exercises
She is a dedicated fitness enthusiast who works out four to seven days a week for 60 to 90 minutes per training session, i.e., at least five hours per week.
Kelly Ripa likes to mix it all up, and here's the answer to why her fitness routine includes a lot of cardio work:
"I try to make my heart beat out of my chest, hard-core, once a day for at least a half-hour. I think that's very important. [...] I don't have the best family history heart-wise, so I really try to keep my heart strong."
Her Consistency in Fitness
From my own fitness journey, I've learned that consistency is key, and Kelly Ripa is a prime example of this.
Consistency in exercise promotes cardiovascular health, muscular strength, bone density, and metabolic efficiency. Furthermore, consistent exercise supports stress management and cognitive function, leading to improved mental health.
Ripa's commitment to her workout routine has not only kept her physically fit but has also enhanced her overall well-being, showcasing the profound and lasting advantages of regular exercise for a healthy and vibrant life.
Kelly Ripa's Diet Plan
Having tried a similar diet, I was curious about Kelly Ripa's low-acid meal plan. Let's dive into what she typically consumes.
In an interview for Bon Appetit [2], Kelly Ripa said that she doesn't eat breakfast before recording the morning talk show Live with Kelly and Ryan to avoid making digesting sounds.
She only has a cappuccino with half-and-half her husband makes, and a triple shot skim latte at the host chat desk later.
Here's what meals are typically on Kelly Ripa's menu:
Breakfast:
Coffee with cream
Chia seed pudding with coconut water, coconut oil, pitless dates, a bit of cacao, cashews, and a dash of salt
Almond butter with cinnamon on top of green apple slices
Lunch:
Salad of microgreens
Avocado toast sandwich with toasted nuts
Non-fat yogurt with blueberries, pistachios, lavender honey, or granola
Dinner: 
Minestrone or other soups with plenty of veggies and chickpeas, a piece of fish, and salad
Sliced chicken breast with sautéed spinach, lemon, and olive oil
Snacks:
Nuts
Dried fruit
Peanut butter ThinkThin high protein bars
Flaxseed snacks
Pepperidge Farm Goldfish crackers (her favorite snack)
"I try not to have too much cheese or too many high-fat foods, even though I love them. I would love nothing more than to have pizza and French fries every day, but I try to limit those treats to once a week." [...] "I'm not militant about anything. If there's cheesecake in the house, I'll have some…I could have 3 or 4 cheat days in a week and then not have dessert for another 3 months."

-Kelly Ripa
Fresh vegetables

Fresh fruit

Fish

Chicken breasts

Greek yogurt
Granola

Broccoli 

Kale 

Cabbage 
Leeks 

Half-and-half

Coffee

Water
Fatty food

Processed and junk food

Acidic foods

Pizza
Fries

Pancakes 

Cheese

Grains 
Soft drinks

Alcohol 

Artificial ingredients
Her Nutrition Principles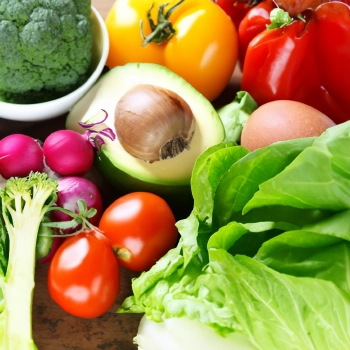 The former All My Children star mainly follows a balanced, plant-based alkaline diet.
However, she's not too strict with her diet, so she occasionally consumes animal protein from meat and dairy and indulges in her fav snacks or a glass of wine.
Kelly Ripa usually eats clean, whole foods (mostly a lot of fresh vegetables, fruits, and other low-acid foods) with a moderate intake of protein, fat, and carbs.
Also, she sometimes does a seven-day alkaline cleanse.
Supplements

According to the People magazine [3], Kelly Ripa takes:
anti-inflammatory supplements - turmeric and black cumin seed oil
ginger and peppermint Persona Nutrition supplements to calm her stomach
a CBD supplement for better sleep
Alkamind Daily Greens every morning, and
Alkamind Daily Minerals during workouts
Since Kelly Ripa follows a vegan diet and takes exceptional care of her health, flexibility and figure, she may be using some other products most other vegans regularly take to avoid common nutrient deficiencies, prevent inflammation, ensure a healthy immunity, brain, bones, eyes, proper metabolic, and other essential bodily functions.
These might include:
---
References:
https://biographymask.com/kelly-ripa/
https://www.bonappetit.com/people/celebrities/article/kelly-ripa-talks-breakfast-and-bolognese
https://people.com/health/kelly-ripa-still-follows-alkaline-diet/
Was this article helpful?