As one of the fastest NBA players on the basketball court, Westbrook knows what it takes to be unpredictable.
His explosive style of play combined with his athleticism has made him one of the most famous players of all time.
To perform at his maximum, Westbrook had to go through intense training to condition his muscles to react in a split second.
If you're curious about the secrets behind Westbrook's workout routine, we've spent hours researching to find out how he does it. Read on to learn more.
Quick Summary
Russell Westbrook's workouts include barbell bench presses, dumbbell jerks, weighted box jumps, standing triple jumps, and stiff leg deadlifts.
Westbrook consumes the following meals; brown rice, eggs, fruits, cottage cheese, beans, broccoli, chicken breasts, sweet potatoes, vegetables, and wheat bread.
Russell supplements revolve around natural foods rich in antioxidants like green tea, and turmeric.
Russell Westbrook's Stats
Age: 32 years old
Height: 6'3" (1.91m)
Weight: 90.72 kg (181 pounds)
Waist: 82 cm (32 inch)
Chest: 107 cm (42.5 inch)
Career Highlights
The all-time record for most career triple-doubles in NBA history
Voted in 2008 into the NBA All-Rookie First Team
Nine times an all-star player
2016/2017 NBA MVP
Teams: Oklahoma City Thunder, Houston Rockets, and currently the Washington Wizards
Two golds medals with the American National Basketball Team
Russell Westbrook's Workout Routine
Russell Westbrook's workout routine is an explosive workout that targets specific muscle groups. He works out five days a week and divides his routine into explosive supersets.
Westbrook starts his day with push-ups to get his blood flowing. Once in the gym, he focuses on working his core and honing his basketball skills.
Here's how Russell Westbrook's workout looks like.
Monday, Saturday: Push and Pull Exercises, Basketball

Pushing and pulling movements are essential in strengthening one's biceps and back muscles.
Lifting weights helps Westbrook build muscle and execute athletic moves during game day, which consists of:
Superset Weight Plate Pushups: 3 sets to exhaustion
Weighted Pull-Ups: 3 sets to exhaustion
Dumbbell Snatch Superset: 3 sets of 12 reps
Single-arm Cable Row: 3 sets of 12 reps
Bottoms-up Abdominal
Basketball Training
Russell Westbrook dedicates 2 hours on each of his workout days to performing full-court basketball training drills.
His on-court routine includes:
In the Box Dribbling: 2x2 minute
Bust Out and Retreat Dribbling: 2x1 minute
Combo-Move Weak-hand Finish: 1 minute
Step Back Crossover to Floater Finish: 3x6 makes
Ball Screen and Turn the Corner: 2x5 shots
Ball Screen and Pull-up Jumper: 2x5 shots
Ball Screen Refusal: 2x5 shots
Feeding the Post Passing: 2x8
Combo Move Partner Passing: 2x1 minute
Stretching: 10 minutes
Tuesday and Sunday: Compound Exercises, Basketball

For his compound workout, Westbrook starts with a 10-minute stretch session to prevent injury and strains.
This routine consists of five to six exercises to increase overall body strength, each with 4 sets of 8 reps and a 2-minute rest in-between sets.
The exercises include:
Walking Dumbbell Push up-to-row
Barbell Bench Press
Barbell Front Squat
Dumbbell Jerk
Standing Barbell Row
Weighted Wide-grip Pushups
Barbell Power Snatch
Barbell Shrugs
Wednesday: Lower Body Workout, Basketball

For this workout, Westbrook trains his core and lower body for balance, stamina, and stability.
It is a high-intensity cardio routine that allows him to unleash his full potential during critical moments, which include: 
Full Court Sprints (with Weighted Single-leg Rope Jump in-between sets): 5 sets
Weighted Box Jumps: 3 sets of 10 reps
Stiff Leg Deadlift: 3 sets of 10 reps
Barbell Sumo Deadlift: 3 sets of 8 reps
Dumbbell Side Lunges with Explosive Foot Swing: 4 sets of 10 reps
Single-leg Kettlebell Squats: 4 sets of 10 reps
Dumbbell Squat Jump:
Standing Triple Jump: 3 sets of 8 reps
Thursday and Friday: Rest
Other workout routines from NBA superstars:
Diet Plan

Discipline regarding carbohydrate intake is key to his diet plan.
Russell eats carbs only for breakfast, pre-workout, and post-workout to ensure speedy muscle growth, maximum energy, and pure fat loss.
Research supports this, with scientists claiming:
"Carbohydrate is the substrate most efficiently metabolized by the body and the only macronutrient that can be broken down rapidly enough to provide energy during periods of high-intensity exercise when fast-twitch muscle fibers are primarily relied upon [1]."

- Mitch Kanter, PhD
Below is Russell Westbrook's exact meal plan.
Breakfast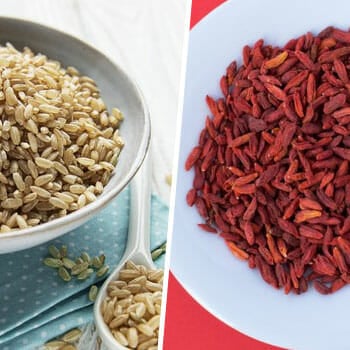 Breakfast is the basketball star's favorite meal of the day, and typically when he begins consuming carbs.
The point guard goes heavy with a big breakfast consisting of up to 7 egg whites, brown rice, and a ton of fruits.
He also takes two tablespoons of cottage cheese with a handful of goji berries to add aesthetic and nutritional value.
All of this gets topped off with a glass of orange juice or green tea.
Post-workout meal
Westbrook takes a meal after his workout to maintain muscle mass and get enough calories, consisting of ground turkey, brown rice, a cup of green beans, and broccoli.
Lunch
For lunch, the Russell Westbrook diet plan consists of chicken breast with sweet potato and veggies, topped off with a spoonful of olive oil.
For some extra nutrients, he'll also occasionally include a handful of raw almonds.
Dinner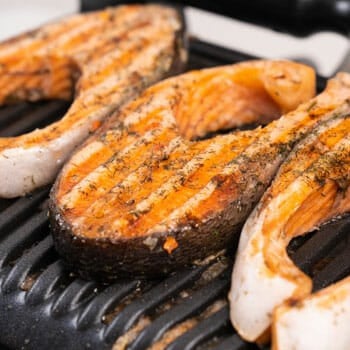 Westbrook eats a spicy grilled salmon for dinner, served with 1½ cup of steamed vegetables and coconut oil.
This gives him plenty of protein, iron, and omega 3 to assist him with practice and recovery.
Snacks and Cheat Meals
Before a game, Westbrook snacks on a peanut butter sandwich for pre-workout energy.
It is made up of toasted wheat bread, skippy peanut butter, strawberry jelly, and occasionally some almond butter on both sides.
He may also drink a recovery protein shake with whey protein and fruit to help him recover faster due to powerful antioxidants contained in the smoothie.
As for cheat days, Westbrook will take a chocolate chip cookie to sate his sweet tooth.
Russell Westbrook's Supplements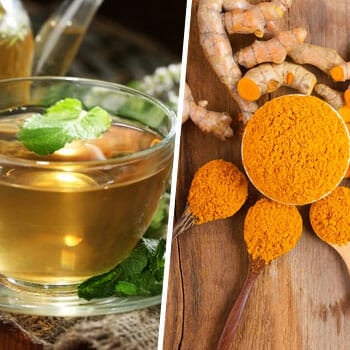 Westbrook's supplement plan mainly revolves around all-natural foods that contain antioxidants.
Russell eats goji berries, drinks green tea, and sprinkles plenty of turmeric on all his meals.
For those late-night hunger pangs, Westbrook takes casein shakes and includes stevia extract mixed with whey protein, which help muscles cool down and regenerate.
FAQs
Why Is Russell Westbrook so Explosive?
Westbrook's overall explosiveness has a lot to do with his speed and lower body strength.
His ability to dunk and make critical saves indicates that he focuses on training his lower body.
Would You Try Russell Westbrook's Workout Routine?
Being a point guard is one of the most demanding positions to play. For Russell Westbrook, it's a golden opportunity for him to shine.
Westbrook's agility, explosiveness, and fitness come from a high-intensity cardio workout combined with weightlifting and basketball drills.
In addition, the basketball player sticks to a strict diet to complement his athletic gains and gets plenty of natural antioxidants for maximum muscle recovery.
Let us know what kind of results you get from the triple-double king's workout and diet.
---
References:
https://www.ncbi.nlm.nih.gov/pmc/articles/PMC5794245/
Was this article helpful?