Some of my clients are basketball players, and many of them play the point guard position, where I help with their strength training. And they always ask about how they can get as fit and strong as Kyrie Irving.
I've followed Kyrie's career since his rookie year, and he certainly got a lot stronger in the years to his first NBA finals.
So, we decided to put together a Kyrie Irving workout routine for our readers to help them build the body strength needed to improve their scoring ability.
Quick Summary
Kyrie Irving's workouts range from bench machines, leg extensions, preacher curls, weighted pull-ups, high cable crosses, overhead triceps extensions, and cable curls.
Irving's workout regimes target the legs, chest, shoulders, back, triceps, and biceps.
Kyrie has combined supplements like BCAAs and post workout protein shakes with his exercises to maintain his perfect body.
Irving eats only plant-based meals all the time.
His Stats
Born: March 23, 1992
Height: 6"3"
Weight: 195 lbs
Kyrie Irving excelled from his High School time at St. Patrick in Elizabeth, NJ, to his college years at Duke, before being the first pick in the 2011 NBA draft for the Cleveland Cavaliers and becoming rookie of the year.
View this post on Instagram
Oh, and he had just a "little" success by winning the NBA Championship for the first time in the Cavs franchise history.
He then moved onto the Boston Celtics and currently plays with the Brooklyn Nets.
Kyrie Irving Workout Routine
The six-time All-Star player got a lot of support from the Cleveland Cavaliers and teammates to build up strength and endurance to compete at the professional NBA level.
Training for basketball is very different from other sports, and the workout regime most likely included two exercise combinations that he spread over 5 or 6 days.
Also Read: Brandon Curry Workout & Diet
Shoulders/Chest/Triceps Routine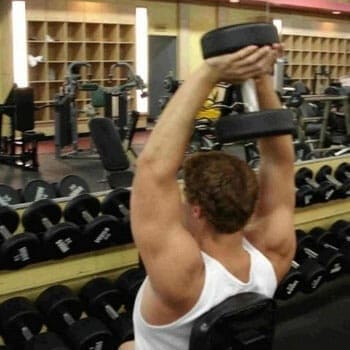 Make sure you change the order of these regularly and that you change the number of reps as well [1].
Just keep an eye on your gains, as increased muscle bulk can get in the way in a basketball game.
Cardio warm-up (20 minutes)
High cable cross (3 sets of 8 - 10 reps)
Dumbbell incline press (3 sets of 8 - 10 reps)
Rope pulldown triceps extensions (3 sets of 8 - 10 reps)
Low cable cross (3 sets of 8 - 10 reps)
Bench machine (3 sets of 8 - 10 reps)
Military press (3 sets to failure)
Overhead triceps extensions (3 sets of 8 - 10 reps)
Military machine (3 sets of 8 - 10 reps)
Back/Legs/Biceps Routine
You'll continue with lots of compound exercises and a heavy focus on creating explosive power in the legs.
Cardio and stretching (20 minutes)
Leg press (3 sets of 8 - 10 reps)
Leg extensions (3 sets of 8 - 10 reps)
Cable curls (3 sets of 8 - 10 reps)
Calf raise on leg press machine (3 sets of 20 reps)
Back machine (3 sets of 8 - 10 reps)
Hyperextensions (3 sets of 8 - 10 reps)
Preacher curls (3 sets of 8 - 10 reps)
Weighted pull-ups (3 sets to failure)
Weekly Workout Regime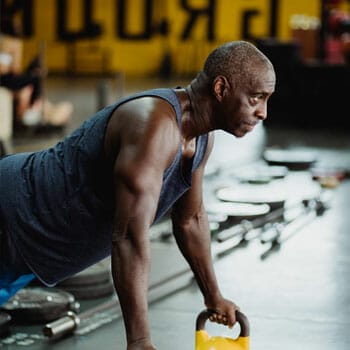 Monday: Shoulders, chest, triceps
Tuesday: Back, legs, biceps
Wednesday: Shoulders, chest, triceps
Thursday: Back, legs, biceps
Friday: Shoulders, chest, triceps
Saturday: Back, legs, biceps
Sunday: Rest
Now, you have to also factor in that the time you spend at the gym would need to come in addition to all the other training professional NBA stars go through.
It's not a common und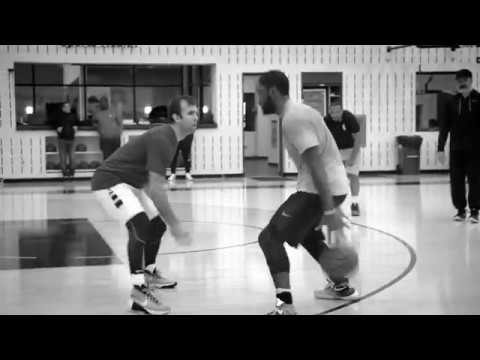 Kyrie Irving's Diet Plan And Supplements
Kyrie Irving mentioned a while ago that he had moved away from eating meat and towards focusing on plant-based food.
While he's not strictly vegan or vegetarian, it does seem like he credits his new diet approach with a lot of extra energy.
"This season, I've been on more of a plant-based diet, getting away from all the animals and all that. I had to get away from that. So my energy is up, my body feels amazing."

- Kyrie Irving
Unfortunately, the NBA All-Star hasn't shared details of exactly what's on his daily diet plan for fans to follow, but it's very likely that he also relies on a few supplements in his diet plan.
1. Post-Workout Protein Shake
Because Kyrie Irving no longer has a large chicken breast meal, he'll need to get plenty of protein from other sources. One of the best ways to do this is with a plant-based protein powder that combines rice, pea, or even hemp protein [2].
2. BCAAs
Many high-performance athletes have started taking advantage of a dedicated boost of these amino acids to help them with improved workout recovery times and soreness.
FAQs
What Is Kyrie Irving's Diet?
Kyrie Irving's diet is heavily plant-based. While he has spoken about moving away from meat, he hasn't specifically said that he's a dedicated vegan or vegetarian.
How fast is Kyrie Irving?
Kyrie Irving is among the fastest 25 NBA stars, according to a Bleacher Report [3]. He has developed an explosive speed off his feet, leaving most opponents struggling to keep up.
Are You Going To try Kyrie Irving's Workout Routine?
Even considering that Kyrie Irving is a lower than average height point guard, he has made up for any lack of height by being faster and stronger.
To gain the physique, speed, and strength of Kyrie Irving will take a lot of workout dedication and commitment to a healthy diet plan.
But if you stick with it, you'll see some incredible results within a few weeks.
Make sure you try out the Kyrie Irving diet plan and workout routine and let us know how well it worked for you.
---
References:
https://www.ncbi.nlm.nih.gov/pmc/articles/PMC4562558/
https://www.ncbi.nlm.nih.gov/pmc/articles/PMC6245118/
https://bleacherreport.com/articles/1305159-fast-25-the-25-speediest-guys-in-the-nba
Was this article helpful?