In my time as a fitness coach, I've had many clients who couldn't exercise for a period of time due to certain injuries. Many of them thought that losing weight would be impossible.
However, I've always managed to find ways for them to kickstart their fat loss before they could get back to the gym and crank their weight loss goals.
In this article, I'm going to share various weight loss techniques that don't require exercise but which proved to be quite effective both for my clients and me in times when excessive movement wasn't an option.
Quick Summary
Drinking water, getting enough sleep, intermittent fasting, eating more proteins, and cutting down on calories are some ways of losing weight without working out.
Genetics, medical conditions, and personal fitness goals are some limitations to losing weight without exercising.
The combination of a healthy diet, and regular workout is the best when it comes to losing weight.
Is It Possible To Lose Fat Without Working Out?
Yes, it's possible to lose fat without working out. Although, working out can speed up your fat loss significantly.
There are many other ways you can lose weight without getting your heart up. But keep in mind that to lose body weight through these methods requires hard work and patience.
Best Ways To Do It
My clients have consistently achieved weight loss and fought back unnecessary weight gain by using these methods of losing body fat.
1. Drink Water
Water is a miracle liquid that can help you lose belly fat quickly over a period of time. Many studies back up the relationship between drinking water and losing weight [1] [2].
Here are some of the ways water can help you lose fat:
It can be challenging to remind yourself to drink lots of water. So, here are some tips to increase your water intake:
Carry a reusable water bottle with you wherever you go.
Drink at least one glass (8 oz) of water before every meal.
Keep a full water bottle or glass next to your bed.
Eat water-rich foods (like stews, curries, broths, smoothies, fruits, and vegetables).
Related Article: Is Hot Water Good For Weight Loss
2. Get Plenty of Sleep
Getting enough sleep and better sleep quality are the best ways to lose weight without doing anything (literally).
Sleep is one of the many things new clients don't seem to take seriously because most of them relate sleeping to lack of physical activity — and by extension, weight gain. However, repeated studies have shown a strong correlation between poor sleep and weight gain [8] [9].
Other studies have shown that lack of sleep may lead you to increase your calorie intake, making you gain weight in the long run [10].
Think of sleep as nutrition for your brain. Most people require seven to nine hours of sleep every night. Achieving this was a challenge for many clients, including myself.
So, over the years, I learned the following tricks that can help trigger a good night's rest:
Avoid heavy meals at least two hours before bedtime and sugar and caffeine for six to eight hours.
Drink low-caffeine tea to reduce cortisol, your body's stress hormone [11].
Keep away from your phone, computer, and television for at least an hour before bedtime.
Use your bedroom for rest and sleep only. Take your work into another room.
Have a bedtime ritual before turning off your light to teach your body that it's time to sleep.
Turn off the lights; darkness makes your body release the natural sleep hormone melatonin [12].
"Sleeping longer may affect the secretion of appetite regulatory hormones, such as leptin and ghrelin, which may inhibit intakes of foods and energy. … Moreover, sleeping more reduces the time for eating."

- Dr. Lu Qi, PhD, Director, Tulane University Obesity Research Center
3. Cut Down On Calorie Dense Foods
Managing your calorie intake can be challenging, but it's one of the most effective ways to lose weight without exercising.
The best way to achieve a calorie deficit is to control what goes on your plate; a big part of this is what to avoid.
Trans fats, most sugary beverages, candy, and other processed foods with empty calories can add those extra pounds. Even if you do eat wholesome food, a calorie-dense addition can throw off your balanced diet.
Especially avoid sugary drinks as they make it quite easy to consume extra calories.
This is because liquid calories don't affect your fullness as solid foods do [13].
However, some calorie-dense foods (like nuts and avocados) are healthy and contain essential nutrients. So, instead of cutting them out, eat them in smaller portions.
4. Intermittent Fasting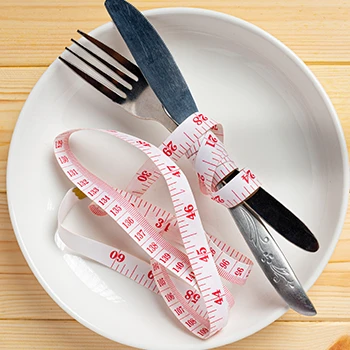 Intermittent fasting is a popular alternative to calorie-restricted dieting.
A 2020 study showed that intermittent fasting effectively reduced weight in people with obesity [14].
Unlike a crash diet, intermittent fasting allows you to consume a healthy number of calories but within a restricted time frame (e.g., 16 hours of fasting and 8 hours of eating). However, your eating time is not a license to binge.
A word of advice: make sure you consume highly nutritious meals when intermittent fasting so that your body gets everything it needs.
5. Consume More Protein-Rich Foods
In the early days of my fitness career, a myth went around that more protein on your plate will make you gain more muscle mass.
While this is partially true, you won't see a noticeable amount of lean mass without weight training as well.
However, a high-protein diet can increase satiety more than a diet high in carbs, leading to greater weight loss [15].
The next time you're at the grocery store, reach for lean protein sources like beef, poultry, fish, eggs, and greek yogurt. MUFA (monounsaturated fatty acids) protein sources like nuts, olive oil, and avocados are also great options.
Certain dairy products could also be an option, as Dr. Ingo Schmitz-Ubran of FitnessDoc shares that the presence of casein and whey can affect the individual metabolic rate.
He says that consuming a snack rich in these proteins before bedtime may elevate the overall metabolic rate due to their thermogenic effect during digestion – which could help one's weight loss goals.
Related Article: Are Protein Shakes Good For Weight Loss
"A healthy, balanced diet with a small deficit in calories will ensure body fat loss, providing you eat protein spaced out regularly across the day to protect your muscle mass."

- Laura Clark, Registered Dietitian & Sports Nutritionist
6. Eat Foods Rich in Dietary Fiber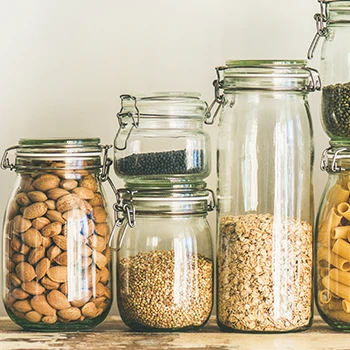 Eating fiber-rich foods makes you feel full with fewer total calories and helps with appetite control.
A 2019 study with 345 participants found that dietary fiber intake promotes weight loss and increases dietary adherence among obese adults [16].
Here's a list of fibrous foods you can add to your diet:
Legumes: Navy beans, pinto beans, chickpeas, green peas, and lentils.
Fibrous vegetables: Artichoke, potato, broccoli, and parsnips.
Fibrous fruits: Apple, avocado, pear, raspberries, oranges, and prunes.
Nuts and seeds: Buckwheat, quinoa, chia seeds, pumpkin seeds, and almonds.
Whole grains: Freekeh, bulgar wheat, and pearled barley [17

].
7. Weight Loss Supplements
A lot of supplements can fall into this category as they can help you lose weight through different mechanisms.
For example, multivitamins for women and multivitamins for men can help the systems in your body function better, which can ultimately lead to more efficient weight management.
Protein powders are also a good option for the same reason high-protein foods help with weight loss - more satiety and much lower sugar spikes.
But there's a class of supplements specifically designed for losing fat, and I'm talking about fat burners for men and fat burners for women. Those that contain all-natural ingredients and come from reputable brands can really move the needle when it comes to losing weight without working out.
8. Weight Loss Surgery
This option was considered a last resort and is not something I frequently recommend.
I've come across cases where clients, through no fault of their own, experienced a considerable weight gain — primarily due to heavy rehabilitation from injuries.
What weight loss surgeries do is cut part of your stomach to shrink it, so you feel fuller after a small meal, thereby consuming fewer calories.
My suggestion to you is that if you get stomach reduction surgery, strictly follow the supplement list your doctor prescribes to you. Since you're eating smaller meals, you'll be on a heavy calorie deficit and have to make up for the lack of nutrients.
Are There Limitations To Losing Weight Without Exercise?
Yes, there are limitations to losing weight without exercise. These are:
Personal Fitness Goals
Medical Conditions
Genetics
Losing fat without exercise is a good option for you if you want to see some moderate weight loss. But if you want something more, you'll need to exercise.
Let's look at how these factors — without exercise — can limit your fat loss goals.
Fitness Goals
The duration and specificity of your fitness goals might require you to engage in moderate to high levels of exercise.
While losing belly fat without working out is possible, it won't give you a ripped physique or significant strength gains. These require cardio and strength training alongside your "sedentary" weight-loss strategies.
Also, if you want to lose weight quickly, exercise will speed up the process while increasing your strength, muscle mass, and cardiovascular endurance. That's why I always recommend my clients do some form of exercise.
Medical Conditions
There are a host of medical conditions that don't allow certain people to lose weight as quickly as the average person. These conditions are chronic stress, Cushing's syndrome, Syndrome X, hypothyroidism, and certain hormonal changes.
Hypothyroidism, for example, slows down your metabolism and stores more fat than you can burn — especially if you're not physically active [18].
The good news is that, with many of them, you can still lose some weight with the help of exercise.
In some severe cases, health conditions make weight loss nearly impossible (even with exercise). If you suffer from such a condition, we highly recommend you speak to a healthcare professional and get on some medication.
Genetics
Not all bodies are built equally; some are more metabolically active and lose weight faster, while others struggle to lose an ounce of weight.
You can blame your genetics for making you more susceptible to gaining weight, but that doesn't mean you have an excuse not to lose weight.
A 2016 study found that regular exercise and a healthy diet can help you with weight loss, regardless of your genetic makeup [19].
That being said, I've had clients who needed a little bit of an extra boost. In such cases, I've advised them to add a natural fat burner to their daily supplement intake. These supplements help you lose weight by stopping extra fat accumulation, burning more calories, and controlling cravings.
FAQs
Can I Lose Belly Fat Without Exercising?
Yes, you can lose belly fat without exercising. How much belly fat and when you shed it is up to your body.
Should I Exercise If I Can Lose Body Fat Without It?
Yes, you should still exercise even if you can lose body fat without it. Exercise improves your mood, helps lower blood pressure, and reduces your risk of many health problems.
What is the Quickest Way to Lose Weight Without Exercise?
The quickest way to lose weight without exercise is by reducing your food intake. Everyone expends calories throughout the day. By expending fewer calories from food, you burn more body fat.
Is Losing Fat Without Exercise Worth It?
Losing fat without exercise isn't optimal, but it is required in certain situations (like injuries).
And in my experience, there are no shortcuts to fat loss, but there are safe and natural ways to speed it up.
One of the most reliable ways I've helped injured clients speed their weight loss is through some of the next high-quality natural fat burners:
When taken alongside your other fat-burning activities, these can boost your metabolism, burn stored fat, and increase energy levels.
They're not magic pills that will melt fat away overnight, but they can help you speed up your fat loss efforts significantly.
---
References:
https://academic.oup.com/ajcn/article/95/3/555/4578292

https://academic.oup.com/ajcn/article/102/6/1305/4555169

https://www.ncbi.nlm.nih.gov/pmc/articles/PMC4901052/

https://www.ncbi.nlm.nih.gov/pmc/articles/PMC3628978/

https://www.ncbi.nlm.nih.gov/pmc/articles/PMC2908954/

https://www.ncbi.nlm.nih.gov/pubmed/24684853

https://www.ncbi.nlm.nih.gov/pmc/articles/PMC4121911/

https://www.ncbi.nlm.nih.gov/pmc/articles/PMC2951287/

https://www.ncbi.nlm.nih.gov/pmc/articles/PMC3519150/

https://onlinelibrary.wiley.com/doi/10.1111/jhn.12813

https://www.ncbi.nlm.nih.gov/pmc/articles/PMC5703787/

https://www.ncbi.nlm.nih.gov/pmc/articles/PMC4334454/

https://pubmed.ncbi.nlm.nih.gov/21519237/

https://www.ncbi.nlm.nih.gov/pmc/articles/PMC7021351/

https://pubmed.ncbi.nlm.nih.gov/18296329/

https://pubmed.ncbi.nlm.nih.gov/31174214/

https://www.medicalnewstoday.com/articles/323133

https://www.webmd.com/diet/obesity/features/why-arent-you-losing-weight

https://www.bmj.com/content/354/bmj.i4707
Was this article helpful?