Reality star Alana Thompson, better known as Honey Boo Boo, recently came into the media spotlight when the news of her upcoming 'suture sculpt endoscopic sleeve' procedure caught the ears of many fans.
She hasn't gone through with the surgery so far, and as someone who helps people attain their goals naturally, I was happy to hear that.
I also decided to take a closer look at Alana's history and lifestyle, and after some research, I compiled a few ways in which I think the reality star would be much better off losing weight.
Let's dive in.
Quick Summary
Alana Thompson currently weighs 171 pounds, which she has worked hard to attain.
Thompson decided to shed weight when her health was at risk.
Alana had opted for Weight loss surgery and combined it with a healthy diet.
Why Did Alana Thompson Decide To Lose Weight?
Alana Thompson decided to lose weight when she realized her health was at risk.
As far as we know, she's been trying to lose fat through diet and exercise for the last couple of years, but she hasn't gotten the results she hoped for.
View this post on Instagram
So, Alana's initial plan was to opt for a suture sculpt endoscopic sleeve.
This is a minimally-invasive weight loss surgery where an endoscopist places sutures in your stomach, making it smaller [1].
Alana Honey Boo Boo and her family originally planned on getting this $13,000 surgery in August, and various news reports confirmed this information [2].
However, there hasn't been any update on Alana going through any sort of surgery or fat loss plan, for that matter.
Even her Instagram posts show no sign of her going through any transformation.
Why Did Alana Opt For Weight Loss Surgery?
Alana opted for weight loss surgery, most likely, so she could follow in the footsteps of her mother, Mama June Shannon, who had gastric sleeve surgery in May 2016 and later underwent a tummy tuck.
June's 300-pound transformation was documented on the WE TV reality show Mama June: From Not to Hot.
Alana Honey Boo Boo Stats
Date of Birth: 28 August 2005
Height: 5'1" (154 cm)
Weight: 171 pounds (78 kgs)
There are no records of her other measurements on the internet at this time.
Safety Implications of Surgery
While a weight loss procedure successfully worked for many adults, the same procedure may present certain risks for adolescents.
Research on the long-term effects of weight loss surgery on adolescents has a long way to go, but the early risks have been documented [3]. After a procedure, adolescents might:
Suffer from dehydration
Need additional surgery
Experience blood clots
Possibly die due to complications
While the benefits of the surgery outweigh some of the smaller risks, young people still have much to lose.
So, it's better to take a safer route to a healthier life than surgery.
A Better Weight Loss Plan
Since Alana Honey Boo Boo is still young and doesn't seem to have any genetic predisposition or illness that bars her from losing weight, we don't think surgery is the path to take.
We're not advising here as medical professionals, but based on the information we have, the reality TV star would be better off keeping her weight loss simple by making straightforward lifestyle changes.
Exercising Regularly
By doing regular low-impact cardio (at least 150 minutes a week), Honey Boo Boo could safely burn fat and improve her cardiovascular health [4].
She can start out by simply brisk walking to burn fat and slowly build her way up to more intense forms of cardio, like jogging.
Eating Healthy
Next, Alana would have to fix her diet by eating well-balanced meals loaded with proteins, which contain sources of healthy fats but are easy on carbs.
Additionally, she would have to count her calories to make sure she's burning more than what she's consuming.
Drinking Plenty of Water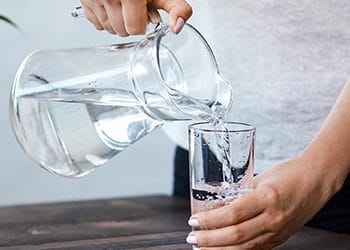 Staying regularly hydrated could help Alana Honey Boo Boo to curb unnecessary cravings and empty calories [5].
It can also help boost her metabolism and burn more calories [6].
Keeping the body well-hydrated goes beyond just weight loss, as it is one of the pillars of leading an overall healthier life.
Taking Natural Fat Burners
The best way Alana can supplement her fat loss is by taking natural fat burners.
These supplements can help her safely and effectively burn away stubborn fat, increase her overall energy levels, and help curb her appetite.
FAQs
Does Honey Boo Boo Have Diabetes?
No, Alana Honey Boo Boo does not have diabetes. However, she might be at risk for diabetes because the disease runs in her family.
How Much Did Honey Boo Boo Lose?
Honey Boo Boo did not seem to lose any weight. She was scheduled to undergo a weight loss procedure during the summer of 2022, but there hasn't been any news or updates regarding this.
Is It Ideal For Alana To Undergo Weight Loss Surgery?
Alana Honey Boo Boo is still young and doesn't seem to have any crippling health issues.
So, her best weight loss option would be a good old-fashioned diet and exercise.
And for anyone like Alana to really lose fat and keep it off, a recommended fat burner for women would speed things up.
We personally tested these fat burners on our clients, and a significant majority of them experienced positive results.
These supplements help burn stubborn fat, increase metabolism, curb cravings, and boost your overall energy levels, so you can give your best at the gym.
---
References:
https://www.mayoclinic.org/tests-procedures/endoscopic-sleeve-gastroplasty/about/pac-20393958

https://www.tmz.com/2022/07/20/honey-boo-boo-alana-thompson-weight-loss-surgery/

https://my.clevelandclinic.org/health/treatments/17859-weight-loss-surgery-for-adolescents-with-severe-obesity

https://www.ncbi.nlm.nih.gov/pmc/articles/PMC3925973/

https://www.ncbi.nlm.nih.gov/pmc/articles/PMC6209729/

https://www.ncbi.nlm.nih.gov/pmc/articles/PMC3809630/
Was this article helpful?