I've been taking ginger supplements for several years since my dietitian recommended it for knee pains I had from an old college injury. And ever since I've experienced the benefits of ginger root extract, I've been advising my clients with similar issues to do the same.
The problem I had is that some of the ginger root pills have issues like wrong dose or a poor quality source.
So, our team at TotalShape spent several months researching and testing dozens of ginger root capsules with clients to see which ones provided the most significant improvements in knee agility and overall health.
This best ginger supplements list is the result of all that testing.
Editor's Choice
Vimerson Health
Check Current Price
#2nd Best Choice
Zhou
Check Current Price
#3rd Best Choice
Nature's Way
Check Current Price
Our Top Ginger Supplements (September 2023)
1 - Vimerson Health Turmeric Curcumin & Ginger (Editor's Choice)
This Vimerson ginger supplement is another one that has added turmeric powder to provide a broader approach to your overall health. My clients have all commented that they feel less bloated with this turmeric and ginger root supplement [1].
I also like that this one has some added black pepper, which has been shown to help speed up the absorption of nutrients [2].
Just keep in mind that these capsules deliver a larger dose of turmeric and ginger, making them a bit more difficult to swallow.
Quick Facts: Form: Capsules, Dosage: 200mg
Pros
A strong dose of turmeric helps with digestive health and immunity
It contains black pepper extract to speed up absorption
Comes with a money-back guarantee for a risk-free trial
Cons
I found capsules more difficult to swallow as they are a bit larger than average
2 - Zhou Turmeric Curcumin And Ginger Supplement
Out of all the ginger supplements we tested with clients, this Zhou product with combined turmeric root powder came out on top.
The majority of my clients have switched to it and find that it greatly relieves their joint pain [3].
I also like that this ginger supplement comes in small enough capsules, allowing you to spread out the daily dose for a more even supply of ginger extract.
Quick Facts: Form: Capsules, Dosage: 140mg
Pros
Combined turmeric and ginger supplement for brain, heart, and joint health
Entirely plant-based product suitable for vegans
The capsules are small enough to swallow without getting stuck
Subscription service offers up to 20% discount
Cons
Free shipping is only available for orders over $30
"Curcumin is the primary bioactive substance in turmeric. It has anti-inflammatory properties, and there's decent evidence that it can alleviate various conditions, from chronic pain to depression." - Kamal Patel, Founder and Editor at Examine.com.
3 - Nature's Way Ginger Root
Nature's Way ginger root extract is one of the strongest supplements we tested, and the reason the company chose that higher dose is to support your digestive system.
There's good evidence that ginger extract can help reduce excess gas and bloating [4].
Unlike other ginger supplements, this one is fully certified as vegan and non-GMO, which should give you added peace of mind about the quality and purity.
While it does come in large bottles, you need to keep in mind that it will take two capsules to get the full dose.
Quick Facts: Form: Capsules, Dosage: 1,100mg
Pros
Higher than average dose marketed for digestive support
Certified vegan and non-GMO product for higher quality
Available in large bottles of 240 capsules
Cons
You'll need to take two capsules to get the full higher dose
4 - Turmeric Curcumin by Natures Nutrition
This is another ginger supplement that provides a great dose of turmeric for digestive, brain, and heart health. We also got a lot of positive feedback from clients who had less joint inflammation after taking this organic ginger root for a few weeks.
And like other turmeric and ginger supplements, this is also a good option for anyone seeking natural digestive support.
There's also some black pepper extract that should help with faster absorption of the turmeric ginger mix.
Quick Facts: Form: Capsules, Dosage: 300mg
Pros
Organic ginger capsules also provide a great dose of turmeric
Many positive comments about the pain relief in joints
Added BioPerine black pepper extract to help with faster absorption
Cons
It's not the cheapest product but keep in mind that it's an organic ginger powder
5 - Ginger Root by Horbaach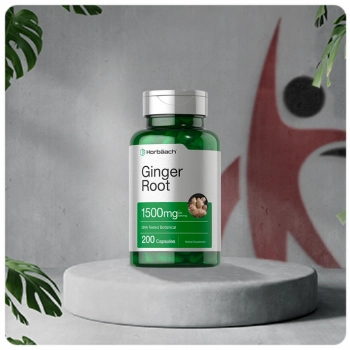 The Horbaach ginger supplement is the strongest dose product that we have added to our list, which should make it suitable for anyone with significant joint inflammation and pain.
Unlike other ginger supplements, this company claims that they have designed the capsules in a way that releases the ginger root powder faster and more effectively in your stomach.
That might explain why we got a lot of positive comments about fast and effective joint pain relief and healthy digestive support making users feel less gassy and bloated.
Quick Facts: Form: Capsules, Dosage: 1,500mg
Pros
Claims to be a fast release capsule
It's the strongest dose product for more severe joint pain
Many positive reviews about the natural and traditional digestive support
Cons
The capsules are quite large, making it a bit more difficult to swallow
6 - Ginger Root by Puritan's Pride
This Puritan's Pride ginger supplement is a good option if you want to take a lower dose on a regular basis to help with stomach issues like nausea and bloating.
Compared to other ginger supplements, I also found that the capsules seem to be a bit smaller and slimmer. That makes them easier to swallow without getting stuck.
The smaller dose also means that you don't have to overspend on a supplement that delivers more than what you need per day.
Quick Facts: Form: Capsules, Dosage: 550mg
Pros
Formulated to help with nausea and stomach bloating
The capsules seem to be smaller than average, making them easier to swallow
Affordable option if you need a smaller daily dose
Cons
It seems to be regularly out of stock making resupply a bit difficult
7 - Pure Mountain Botanicals Ginger Capsules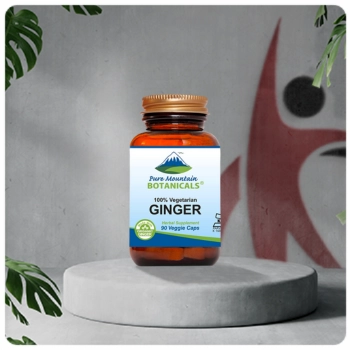 This is a ginger supplement that sticks to its name by delivering a completely natural and pure organic ginger. And unlike many other ginger supplements, it also doesn't use magnesium stearate, which can cause stomach upset in some people [5].
Several of my clients have also commented that it seems to support digestive health and reduce excess gas and nausea.
The only issue I had was that two capsules a day mean that a bottle would only last about six weeks.
Quick Facts: Form: Capsules, Dosage: 1,000mg
Pros
Organic ginger root source for higher quality and purity
It doesn't use magnesium stearate, making it ideal for people with stomach issues
Certified kosher and vegan capsules
Cons
Currently not available in bulk-order bottles
8 - Turmeric and Ginger Gummies by Havasu Nutrition
This is a turmeric and ginger supplement that comes in the form of gummies and uses natural fruit flavors. I liked the taste, but you have to keep in mind that they contain some sugar that might not be ideal for your diet.
The peach and citrus ginger gummies support healthy digestion, but the dose is probably too low to make a big difference on swollen joints.
It's also one of the few ginger supplements that don't contain gelatin or other animal products.
Quick Facts: Form: Gummies, Dosage: 50mg
Pros
Tasty ginger root gummies for anyone who doesn't like capsules
A low dose of ginger root and turmeric for the more sensitive stomach
Entirely plant-based ingredients make it suitable for vegans
Cons
It contains some sugar that you need to take into account for your diet
9 - NOW Supplements Ginger Root Extract
This NOW ginger supplement claims that by combining ginger root extract and powder that it's easier on the stomach and faster to absorb. I couldn't find scientific evidence to support this, but my clients reported positive results for stomach issues.
Unlike other ginger supplements, this one also has a lower dose and smaller capsule size that might be more suitable if you struggle with swallowing pills.
One thing I am missing, though, is some larger bottle sizes, as the 90 capsules don't tend to last very long if you take a few of these per day.
Quick Facts: Form: Capsules, Dosage: 475mg
Pros
Ideal for starting on a low dosage with small capsules
Combination of ginger extract and powder
Produced by a company dedicated to sustainability and charitable giving
Cons
There are no bulk-order offers available
10 - Himalaya Organic Ginger Supplement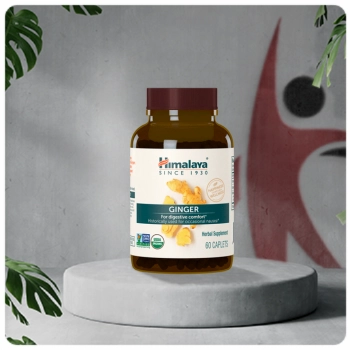 The Himalaya brand has created this standardized organic ginger extract and powder combination with a higher than average dosage.
It seems to be a popular dose with people who need some support for a healthy digestive system by reducing excess gas.
According to the company, the USDA-certified organic ginger is of the highest quality with strict controls to ensure purity.
And because it has a higher dose than other ginger supplements, we also found that several of our clients reported less joint pain after exercise.
Quick Facts: Form: Caplets, Dosage: 820mg
Pros
Himalaya organic ginger source that claims to be the highest purity
A higher dose makes it easier than drinking several cups of ginger tea
Positive reports of improvements on sore joints
Cons
The caplets are larger than most other products making them more difficult to swallow
Buyer's Guide
Before you decide on what ginger supplements would best suit your needs, consider these two nutritional details.
Dosage
As you can see, all the above ginger supplements have a different dose per capsule. You'll need that information to make a better price comparison between them. In many cases, this will explain a higher price tag for some products that offer a stronger dose in each serving.
The general advice is to take 170mg to 1,000mg a few times a day [6]. I personally have had the best results by taking about 300mg a day, but if you have stomach issues or significant joint inflammation, then gradually increasing the dose should support your needs.
Types Of Ginger Processing
The above list of products contains both extract and powder forms of ginger root. Extracts typically have a standardized concentration, but they involve more processing and tend to be more expensive [7].
I couldn't find evidence to suggest that an extract or powder is better for you, so I wouldn't be too concerned about that.
The other thing I would mention is that some people like the peace of mind that comes with certified organic ginger root capsules. But as long as you buy from a trusted manufacturer, you should still get great quality with non-organic ginger supplements.
"In most cases, you will be looking for an extract, in which case you will also need to know the % of specific compound(s) to which the extract should be "standardized" since there are many types and concentrations of extracts. Supplements made of whole plant plants, like root powder, are typically not standardized like extracts."

- Tod Cooperman, M.D., ConsumerLab.com
FAQs
Are Ginger Supplements as Good as Fresh Ginger?
No, ginger supplements aren't as good as fresh ginger, but the former offers some advantages and conveniences. Not everyone likes the spicy taste of ginger, and making several cups of tea per day isn't convenient, so most prefer to take them in capsule form.
How Much Ginger Should You Take Daily?
You should aim to take at least 300mg of ginger extract daily. This is based on medical recommendations that suggest you should also avoid taking more than 3 grams of ginger supplements per day.
Which Ginger Supplement Should You Choose?
Out of all the best ginger supplements we tested, we got the best results with the Vimerson ginger supplement. The capsules are small, and we all found that they helped with stomach issues and joint pain.
I take this supplement myself and recommend it to all clients and friends because it's been an effective solution for my knee joint pains.
It also offers the right amount of each ingredient as recommended by medical professionals for a normal daily intake. And because of the lower dosage, it's easy to take more if needed.
Order yours today to see if it can contribute to your healthy lifestyle as well.
Our #1 Recommendation
Vimerson Health Turmeric Curcumin & Ginger
Check Current Price

Pros
A strong dose of turmeric helps with digestive health and immunity
It contains black pepper extract to speed up absorption
Comes with a money-back guarantee for a risk-free trial
Cons
I found capsules more difficult to swallow as they are a bit larger than average
Was this article helpful?