Increasing free testosterone can be beneficial on multiple levels, not only for building muscle and increasing sex drive.
For that reason, testosterone boosters have long been a mainstay for many health-conscious males. However, I would argue that in certain circumstances women can also reap the benefits of these supplements.
Working as a trainer, I have seen first-hand what T-boosters can do for women's health when it comes to losing weight and gaining muscle mass, though it's crucial to know when it's safe to include these supplements.
To better understand the science behind this, I asked my dietitian to give us a rundown of what happens if a woman starts taking testosterone booster supplements.
Quick Summary
When women take testosterone boosters, it promotes muscle growth, fat distribution, sex drive, improved sleep, and improved mood.
Some signs of low testosterone levels in women include fatigue, sleep issues, muscle weakness, vaginal dryness, low bone density, irregular menstrual cycle, and fertility issues.
Proper diet, working out, minimizing stress, and taking testosterone boosters are some ways you can control your testosterone levels.
How Do Testosterone Boosters Affect Women?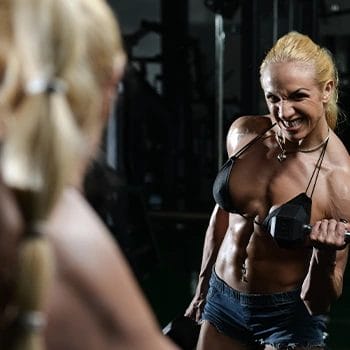 Testosterone, sometimes called the male hormone, is primarily associated with the male body, but it's also present in women's ovaries and adrenal glands, although in smaller amounts.
The optimal testosterone balance is critical for both genders' vitality, body composition (muscle growth and fat distribution), sexual function, disease prevention, bone, and general health [1].
That said, testosterone boosters for women are natural supplements that can do a fantastic job for women adjusting their blood testosterone, contributing to faster muscle gain, better mood, sex drive, and better sleep [2].
However, it's important to note that an excess of testosterone in women can cause more harm than good. Therefore, it's essential to consult a professional before taking these supplements.
"Once a woman decides to add a testosterone booster to the supplement regime, she can start noticing better sleep, energy, strength gains, and muscle gains. And, it is also possible that you may notice recovery in the gym to improve. I would suggest cutting the men's dose by one-half or a third to start out. Increase in the course of a 12-week cycle. And, I would also add in a support for the liver, such as milk thistle."

- Tammy Patnode, Head coach & Founder of Team Tammy Fitness Background
Normal Testosterone Levels For Women
Testosterone in the female body can vary over time, depending on various circumstances.
Normal levels of testosterone have at least three important roles in women:
They keep women's bones healthy [3].
They improve cognitive functions [4].
They promote a healthy sex drive [5].
Sometimes you'll experience side effects of too high or too low testosterone. Other times, you might not notice any symptoms at all.
That's why it's useful to know what normal T levels look like.
Below you can see the normal total testosterone range for women depending on their age [3].
Age
6 months–9 years
10–11 years
12–16 years
17–18 years
19+ years
Testosterone Range
<7–20 ng/dL
<7–44 ng/dL
<7–75 ng/dL
< 20–75 ng/dL
< 8–60 ng/dL
Low Testosterone in Women: Symptoms and Causes
Just like men, women naturally produce less testosterone as they get older.
Testosterone levels reach their peak when women are in their 20s. Postmenopausal women will produce about a quarter of the peak amount of testosterone [8].
This is normal and doesn't necessarily call for testosterone therapy.
For now, testosterone therapy is mainly reserved for postmenopausal women that suffer from hypoactive sexual desire disorder (HSDD), which causes a lack of sexual desire or interest [9].
Besides menopause, there are a few other possible causes of low testosterone in women:
If you suspect you suffer from low testosterone, I suggest you consult your doctor first to determine the cause of your issues.
Establishing Your Testosterone Levels
You can determine your testosterone levels by ordering a blood test through your GP. They'll probably want to examine your symptoms first before scheduling a test.
They can test you for either total or free testosterone. However, it's best if you get tested for both [17].
"Many people will check total testosterone, but forget about free testosterone levels. However, (...) some men may have normal total testosterone levels, but low free testosterone—so if you only test for one and not the other, you and your provider may not be getting the whole picture."

- Chimene Richa, MD
So, you could have normal total testosterone but low free testosterone. A general test may not show this, and your doctor could get the wrong idea about your state.
Another thing to keep in mind is that testosterone levels tend to fluctuate during the day.
That's why most experts recommend that you get tested around 10 AM when T levels tend to be at their highest [18].
You should always consult your healthcare provider if you notice any of these side effects.
Related Articles:
Is It Safe For Women To Take Testosterone Boosters?
Many people mix up testosterone boosters and prohormones, but they are not the same.
When testosterone production is low, prohormones are a type of drug sometimes used in testosterone therapy.
They are not the same as anabolic steroids but are synthetic chemicals that structurally resemble this hormone. [6].
While some early clinical trials of these drugs were promising, later studies threw some doubts on how effective they are, especially for long-term use [7].
Unlike some invasive interventions like testosterone injections, these boosters are health and dietary supplements that contain natural ingredients like herbs, minerals, and vitamin D. Therefore, they are safe for women to take.
That said, like any supplement, it's easy to run into T-boosters that are of poor quality and contain ineffective ingredients.
The key to ensuring safety when using a testosterone supplement is always to check and read the label. Make sure the manufacturer disclosed the complete list of ingredients and the individual doses. Also, choose products that your doctor or the FDA approves.
What Are the Side Effects of Testosterone Boosters in Women?
More testosterone isn't always better. High levels in women can be just as problematic as the lower ones.
That's why it's vital for women taking T-boosters to understand what might happen when there's too much testosterone in the blood.
Polycystic Ovary Syndrome
Women with increased testosterone levels are at risk of a pattern of symptoms known as PCOS.
This condition can undermine a woman's sex drive and overall health, causing many health complications such as irregular periods, enlarged ovaries, and even hindered pregnancy and fertility rates.
Hirsutism
Hirsutism is another hormonal condition caused by higher testosterone levels in women. It results in body hair growth in unwanted places, such as the back, face, and chest.
Congenital Adrenal Hyperplasia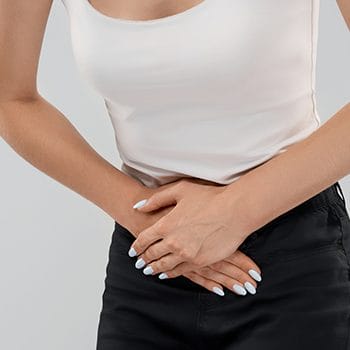 CAH directly affects a woman's adrenal glands, resulting in the overproduction of hormones like testosterone.
This can result in the development of masculine characteristics, such as deepening of the voice, frontal balding, acne, and excessive perspiration.
Additionally, high adrenaline hormone levels can result in other symptoms, such as anxiety, raised blood pressure levels, and jitteriness.
Over prolonged periods of time, these elevated adrenaline levels can wear down the body as a constant state of 'flight or fight' places stress on the body.
Hypersexuality
Testosterone is also known as sexual medicine because it increases a woman's sex drive.
This can be great news for postmenopausal women looking to spice up their sex life yet are hindered by low sexual desire.
As a result, some doctors prescribe androgen-like testosterone or the steroid hormone DHEA to treat low libido among women.
However, a high sex drive fueled by high testosterone can also come with many issues, especially if they can't act on their sexual desire.
Too much testosterone can cause women to suffer from issues like swollen breasts, which can cause sensitivity around tender areas.
This can hinder sex and similar activities in the bedroom.
Cardiovascular Diseases
Higher than normal testosterone production levels or long-term use of testosterone drugs may also expose women to cardiovascular diseases such as high blood pressure, stroke, and heart attacks.
This is caused by an increase in bad cholesterol levels, leading to clogs in the arteries and veins.
Weakened Emotional Health
People are generally controlled by their emotions - especially when it comes to women.
Hormones such as estrogen keep a woman's emotions balanced and are responsible for regulating diet patterns, balancing their emotional state, and even influencing their sex drive.
When there is an excess of masculine hormones such as androgens and testosterone, balance is disrupted. As a result, a woman's estrogen levels may become unstable, resulting in emotional instability and a lack of ability to control their behavior.
Symptoms include flying into bouts of rage, succumbing to periods of depression, and losing the appetite.
How to Treat Low Testosterone Naturally?
You should treat your high and low testosterone with the help of your doctor, as they will be able to provide a suitable treatment for you.
Some forms of treatment, like testosterone replacement therapy, may not even be available to you without a prescription.
That's especially true for high testosterone. There are virtually no other ways to treat it besides medication.
However, there are a few things you can do yourself if you suffer from low testosterone:
Regular exercise: Weightlifting and HIIT exercises seem to be especially beneficial for low testosterone.
Minimize stress: Cortisol, also known as the human stress hormone, reduces testosterone levels.
Proper diet: Try eating more foods that contain protein and healthy fats, such as eggs, liver, and oily fish. Also, include more lentils, beans, and fruits in your diet.
Testosterone boosters: Testosterone boosters for women

either contain testosterone or other substances that stimulate testosterone production, such as zinc and

vitamin D

.
FAQs
How Many Milligrams of Testosterone Should a Woman Take?
To prevent side effects, a woman should opt for around 0.5–2 mg of testosterone a day
How Long Does It Take for Testosterone to Work in Females?
It can sometimes take a few months for the full effects of testosterone to work in females; a 3-6 month trial is often recommended [9].
Do Squats Increase Testosterone Levels Long Term?
Yes, performing squats can increase testosterone levels long term. A study showed that post-exercise levels of testosterone were significantly increased following six sets of 10 squats [10].
So, Are T-Boosters Recommended For Women?
Testosterone levels naturally start to decline as women age, and it's vital to bring them back to normal because low testosterone has been linked to increased disease risk, depression, obesity, and other health issues.
For women with symptoms of low testosterone, T-boosters can do an excellent job for their energy levels and well-being. Ingredients of these supplements can differ, which is why doing your research and picking a trusted brand is key.
And if you need some help with choosing the right product, we have tested and reviewed some of the best T-boosters for women.
---
References:
https://pubmed.ncbi.nlm.nih.gov/26358173/

.

https://www.ncbi.nlm.nih.gov/pmc/articles/PMC6329173/

https://livhealth.com/testosterone-in-women-and-men/

https://www.medicalnewstoday.com/articles/322663

https://www.medicalnewstoday.com/articles/321292

https://pubmed.ncbi.nlm.nih.gov/16888459/

https://pubmed.ncbi.nlm.nih.gov/12671199/

https://www.medicalnewstoday.com/articles/322508

https://www.womens-health-concern.org/help-and-advice/factsheets/testosterone-for-women/

https://www.ncbi.nlm.nih.gov/pmc/articles/PMC7739287/
Was this article helpful?