Testosterone adds muscle mass, boosts energy levels, maintains bone dentistry, and improves sex drive.
Basically, testosterone is crucial for male health.
But, as men age, their testosterone levels drop, which causes all kinds of issues, including mood swings, muscle wasting, and trouble performing in the bedroom.
This is where testosterone-boosting supplements come in. I've tried my fair share of testosterone supplements, including this one, I've checked other people's reviews, and I've talked to my friends.
Here's everything you should know about this testosterone boosting supplement and if it's worth your time.
What is T-Hero?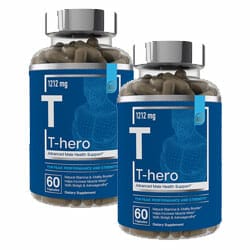 T-Hero is a natural supplement that has testosterone-boosting properties.
It has a mix of natural ingredients (more on those later), and it works to raise your energy levels and improve your libido.
Like other testosterone boosters, its primary function is to regulate your testosterone levels.
Healthy testosterone levels increase the muscle gains while exercising and improve the blood flow to the penile shaft, which leads to better sexual function.
Other products reviewed:
This testosterone booster also aims to balance other hormones that may influence your low testosterone production and cause weight gain and low energy.
It's manufactured by Essential Elements, a California-based company.
They offer a range of wellness and dietary supplements, with T-Hero being one of the most well-known.
I liked that Essential Elements products are FDA compliant and National Science Foundation (NSF) certified and that they provide all the necessary product information on their website.
T-Hero Benefits
Here are the three most important benefits of T-Hero, including the ingredients that provide these benefits.
Natural Stamina & Vitality Booster
When a man is sexually active or aroused, testosterone levels will rise. Men who have higher testosterone levels will also have higher sexual activity.
However, as men age, testosterone levels drop. Low testosterone negatively affects energy levels, libido and leads to erectile dysfunction.
It's been scientifically proven that testosterone boosters can improve sexual performance and stamina. [1]
Boosting testosterone levels doesn't only affect the sexual drive and performance but also the natural stamina.
Low testosterone also affects how well you perform in the gym. T-Hero will help increase your testosterone, give you energy, and improve your endurance in the gym.
Helps Increase Muscle Mass
Testosterone is directly responsible for increasing body mass.
Research has shown that men with low testosterone need testosterone treatment to increase muscle size and overall strength [2].
This is where the T-Hero comes in.
You'll be more energetic and can hit the gym harder. It also helps with post-workout recovery, and it'll increase your fat metabolism.
For best results, you should combine it with strength training and exercise.
Advanced Male Health Support
I've talked about how this supplement will boost your stamina and help increase lean muscle mass.
But, natural testosterone is good for overall health as well. Here's what testosterone production also does:
Improves cardiovascular health — Low testosterone levels lead to cardiovascular diseases. Normal testosterone helps red blood cells production and sends oxygen throughout the body, so both the muscles and organs can have peak performance.
Stronger bones — Testosterone is crucial for bone mineral density. The bone density drops as men age, and the body's natural production of testosterone decreases. This can cause weak bones and osteoporosis. T-Hero supports muscles and bone strength, which can lead to better athletic performance.
Boost mood — Lowered testosterone levels lead to depression, anxiety, and fatigue. By raising testosterone levels, this product also puts you in a good mood, ready to tackle anything. Also, its testosterone-boosti
T-Hero Ingredients
One of the major benefits of this supplement are its ingredients.
This testosterone booster is a natural product, and it's vegan, soy-free, dairy-free, sugar-free, gluten-free, shellfish-free, and GMO-free. You can take it without worrying about any allergies or side effects.
Let's talk about the active ingredients.
Ashwagandha Extract
Ashwagandha Extract is a medicinal herb that grows in India and parts of Africa. Because it's considered an adaptogen, it helps the body manage stress.
The herb's root is used because of its mood-boosting properties and because it can help relieve stress that causes low testosterone.
Studies have proved that this is one of the herbs that has 20 recognizable applications. [3]
These are some of the herb's benefits:
Reduce blood sugar levels
Has anti-cancer properties
Reduces cortisol levels
Helps with depression
Increases men fertility
It's anti-inflammatory
Shilajit (20% Fulvic Acid)
Shilajit is a mineral found in mountain ranges around the world, including the Himalayas. It's rich in fulvic acid.
Fulvic acid is a humic substance found in soils, compost, and marine sediments.
While it doesn't sound particularly palatable, it's a great testosterone booster.
Compared to other testosterone boosting supplements, shilajit is unique to T-Hero.
Here's what science has to say: A study was done with volunteers aged 45 to 55. Half of them were given a placebo and half 250mg of purified shilajit twice a day. After three months, men given shilajit had much higher testosterone levels than the placebo group [4].
Other shilajit benefits include preventing Alzheimer's disease, slowing down aging, aiding male infertility, and supporting heart health.
Diindolylmethane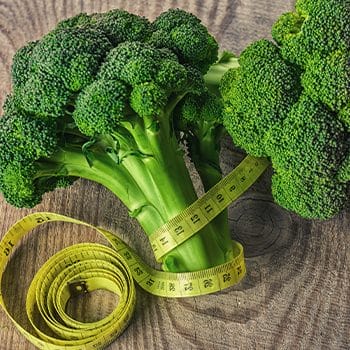 Diindolylmethane (DIM) is a compound that the body generates when it digests vegetables you consume, such as broccoli, kale, or spinach.
Estrogen imbalance can lead to erectile dysfunction, breast growth, and infertility in men.
DIM's main function is to block the enzyme that makes testosterone convert into estrogen. Essentially, it controls estrogen.
Other DIM benefits include:
Anti-cancer properties
Prevents enlarged prostate and prostate cancer
Helps weight loss
Boron
Boron is found in mineral deposits around the world. It's important because it balances testosterone and estrogen production (yes, you need a little of the girly hormones too).
It increases the metabolism of testosterone into free testosterone, which is the one body uses the most.
A 2015 study review found that taking a 6mg dose of boron for one week will [5]:
Increase free testosterone by 25%
Reduce estradiol by half
Reduce inflammation
Help free testosterone bond with proteins in the blood, which is beneficial as you age
Yohimbine HCL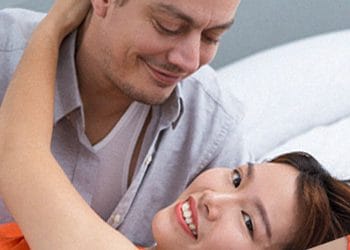 Yohimbine is made from the bark of African evergreen trees.
While it doesn't promote testosterone levels, it's connected to sexual performance.
It's long been used in West African traditional medicine to improve sexual performance.
It directly impacts your sexual wellness, as it promotes nitric oxide levels.
It's also believed to be able to reverse erectile dysfunction.
BioPerine
BioPerine is black pepper extract.
While it doesn't directly work as a T booster, it increases how effective other ingredients are.
It also has health benefits on its own, such as increasing nutrient absorption, boosting brain function, it's anti-inflammatory, and has anti-cancer properties.
T-Hero Shortfalls
I've talked about the highlights of this product, so now let's see what the shortfalls are.
T-Hero mostly has herbs, minerals, and natural plant compounds. However, not all of them will directly improve lower testosterone levels.
Essential Elements doesn't say right away that some of the ingredients only give a mood boost. This is fine but unnecessary if you're only looking for a T-booster.
While friends I consulted with said the testosterone booster didn't cause any health issues for them, I did find some other reviewers online who claim they had bad reactions, such as an allergic reaction or itchy skin.
Also, some people suffered from daily headaches while taking this testosterone booster.
If you also have a medical condition, make sure to seek professional medical advice before you start using testosterone boosters.
Even the best testosterone booster can cause health issues.
However, my opinion is that if you're in good health and are only looking to improve your low T-levels, you'll most likely be safe with using T-Hero. Chances are, the worst thing that'll happen is you won't notice any benefits.
Pros
Aids mental wellbeing
Increases libido
Aids muscle building and muscle gain
Easily available, no need for prescription
Cons
Can cause allergic reactions
Not all ingredients directly affect T levels
My Personal Experience With T-Hero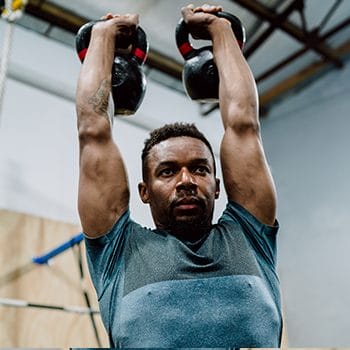 My experience with using T-Hero has been positive.
I admit I didn't notice the effects straight away. It took some time for them to kick in.
Before using this T-booster, I've been feeling sluggish.
But after a few days of taking the pills, I noticed vigor in any physical activity I did. I was even able to string together consecutive workouts with energy to spare once I was done.
While the effects aren't earth-shattering (not that I expected them to be), I did notice better muscle growth, I've been in a better mood, and I noticed better stamina and drive.
I'd recommend this product to everyone looking to get back a little of what they lost. Once you start to feel like your old self again, you'll notice incredible mental benefits as well.
One thing that set T-Hero apart from other testosterone boosters and protein powders was that it didn't cause jitters and make me crash as many other supplements do.
I like that there's no funky after-taste like some other products have.
How Does T-Hero Compare to Other T Boosters?
What sets this product apart from other products is its affordability. There are several price options to choose from, and the cost is significantly lower than the competitors.
For example, a single bottle of this product is $39.99, while a bottle of TestoPrime is $59.99, a bottle of Prime Male is $49.99, and of Testogen is $59.99.
Another thing that makes this product different from others is the dosage.
With other T boosters, such as TestoPrime, you need to take four pills a day. This can be annoying, and you'll end up setting up an alarm or a reminder throughout the day.
With T-Hero, you only take one pill a day, so there's no need to worry about when's the time for the next one.
Finally, and possibly most importantly, what sets this testosterone booster apart are the ingredients. They're all-natural, without any chemicals included.
Also, I like that this is the only T booster that has both Ashwagandha and Yohimbine as well. T-Hero combines everything a healthy male human body needs.
Where Can You Buy T-Hero?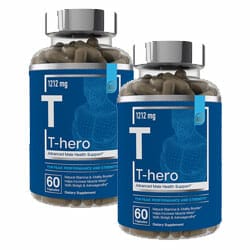 You can buy it on the official Essential Elements website or online and traditional retailers like Amazon and Walmart.
It comes with various pricing options.
If you go for a one-time purchase, the cost is:
$39.99 for 1 bottle
$34.99 for 3 bottles
$29.99 for 6 bottles
You might see T-Hero sold on platforms other than the ones mentioned above. However, I caution you not to buy from these since you might end up with fake or expired products that could be detrimental to your blood flow.
Other Users' Experience
Here's what others had to say:
"I definitely feel as though these pills are directly increasing my testosterone levels. I have more energy, more power, and stamina. They are very helpful."

-Umeme Houston, verified Amazon purchase
"Took a bottle's worth as directed and felt no difference. No noticeable gains lifting weights or anything else I hoped this would do and as they have stated."

-ajking616, verified Amazon purchase
"I was skeptical when I bought these but was pleasantly surprised. Within the first few days of taking these felt a noticeable vigor in any physical activity. Great value for the money, just remember to cycle on/off bi-weekly for best effect!"

-Umar Abdullah, verified Amazon purchase
FAQs
No, you shouldn't cycle T-Hero, as there is no need for that. It's an entirely natural product, and you can take it for as long as you want.
How should I take T-Hero?
You should take one T-Hero pill a day for the best results. If you're liable to forget things, consider taking this pill after breakfast to start your day right.
Does T-Hero have any side effects?
No, T-Hero doesn't have any side effects. However, if you experience any health issues, consult your health care provider straight away.
What is the best natural testosterone booster?
The best natural testosterone booster is Tribulus Terrestris, Vitamin D, as well as creatine monohydrate.
Should You Use T-Hero?
I hope you found this T-Hero review useful. I won't claim it's the best testosterone booster out there, but it's definitely at the top.
If you're interested in determining testosterone levels, consult with a healthcare professional.
If you've been feeling a lack of energy and aren't satisfied with your bedroom performance, you should consider this supplement.
T-Hero will improve fat burning, build lean muscle, give you energy, and high testosterone can even improve sperm quality.
Even if it doesn't work for you, there's an excellent return policy, so you can try the product guilt-free.
We Recommend
Pros
Aids mental wellbeing
Increases libido
Aids muscle building and muscle gain
Easily available, no need for prescription
Get the BEST PRICE until the end of June
Was this article helpful?