Testosterone levels decline as we age, and with that, our energy, stamina, muscle strength, and libido take a hit.
I strive to help my middle-aged fitness clients counteract the effects of declining natural testosterone levels with diet, exercise, and a testosterone support supplement.
Lately, I kept hearing about Roman Testosterone Support around the gym, so I conducted thorough research into ingredients, and I invited a few clients to test Roman's Testosterone for several weeks alongside a healthy diet and exercise routine.
So, does Roman Testosterone Support work against the aging process?
Let's see.
What Is Roman Testosterone?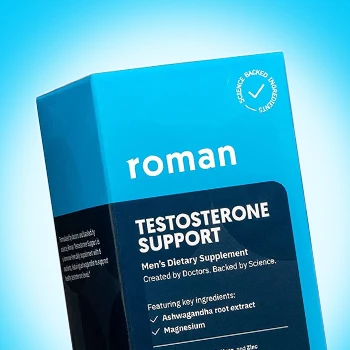 As a certified fitness professional with over a decade of experience, I was fascinated by Roman Testosterone Support. The website claims it's a doctor-created formula backed by science to boost testosterone and increase muscular health.
The proprietary formula consists of vitamin D3, magnesium, zinc, copper, maca root powder, and ashwagandha root extract.
According to the Roman Testosterone Support website, they chose these ingredients to support overall health and provide testosterone support.
Roman Testosterone Highlights
There are several notable things to mention about Roman Testosterone Support.
When I placed an order for our trial, I took advantage of the $25 savings by signing up for the subscription, which I could cancel at any time. It was worth setting a reminder on my phone to get the first order for just $10.
My order qualified for free two-day shipping, which arrived without delay in discreet packaging.
The website offers good instructions for taking Roman Testosterone Support, a daily dose of four tablets with food.
They advise individuals with a sensitive stomach that it is okay to split into two even doses with food.
Ingredients to Support Sexual Health
I want to back my observations with concrete evidence. Considering the role of Roman Testosterone Support in sexual health, it's critical to note that its natural ingredients may play a pivotal role in enhancing the body's testosterone production.
Let's take a closer look at those ingredients.
Ashwagandha
Ashwagandha is on many testosterone boosters' active ingredients lists because of its potential to reduce cortisol, anxiety, and stress, which have damaging effects on T levels. Ashwagandha may also enhance physical performance and improve sperm count [1].
Vitamin D3
Vitamin D3 is a fat-soluble vitamin that plays a role in immune function and bone health, aided in this formula by magnesium and the essential trace mineral, zinc, of which many men have a deficiency. Zinc supplementation can improve t levels [2].
Vitamin D deficiency is prevalent in the U.S. as well and contributes to many chronic health conditions [3]. Studies show vitamin D3 supplementation positively impacts testosterone [4].
Peruvian ginseng
Another ingredient worth mentioning is Maca root powder, also known as Peruvian ginseng. Many T boosters add one form of ginseng or another, one of the most common being Panax or Korean red ginseng.
Why did they choose Peruvian over Panax?
Peruvian ginseng is widely believed to improve sexual health, including infertility, premature ejaculation, and erectile dysfunction, and is a well-known natural remedy in Peru [5].
"Ashwagandha supplements have been shown in some studies to benefit male fertility and increase testosterone levels."

- Kim Chin, Registered Dietician
More Than Just Testosterone Supplement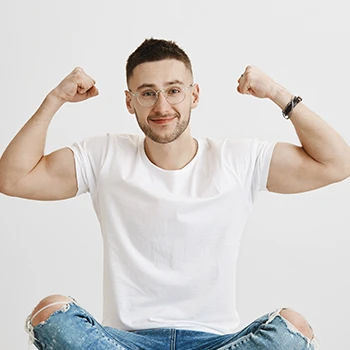 This product seems to be more than just one of the regular testosterone support supplements.
Roman's goal is to provide a safe place for men to face their health concerns head-on with U.S. licensed healthcare professionals, personalized treatment, and an online pharmacy providing discreet delivery.
Their website provides a one-stop-shop for sexual health issues like erectile dysfunction, premature ejaculation, testosterone support, and other male health concerns like hair loss, focus, and weight management.
Following your personalized online doctor consult, you can purchase vitamins, supplements, and even prescription medications through the online pharmacy.
Pros
Flexibility with monthly and quarterly shipments
Very reasonably priced
Ashwagandha is a good testosterone support
A solid reputation in the supplement industry
Manufactured in cGMP certified facility
Cons
All sales final, no refund or guarantee
Several online reviews express concerns about effectiveness mentioning inconsistent results
It is not vegan friendly
Four tablet dose might seem a bit much for some
Where It Falls Short
There are countless mixed reviews with users reporting that it doesn't do anything.
I saw many positives in the formula with the addition of ashwagandha, maca, and vitamin D, so does the formula need to be tweaked?
Our small group experienced the same mixed results taking Roman Testosterone Support.
A few in our group felt they had increased energy levels, muscle function and gains at the gym, and improved sex drive after a few weeks, while others thought it would be better to look for a more effective testosterone booster.
Other testosterone products reviewed:
Versus the Competition
In the ever-growing market of testosterone boosters, I've noticed a surge in demand. Men are seeking an effective, attainable solution to counter low testosterone.
Let's look at how Roman Testosterone Support competes against three well-known testosterone booster supplements.
Aphro-D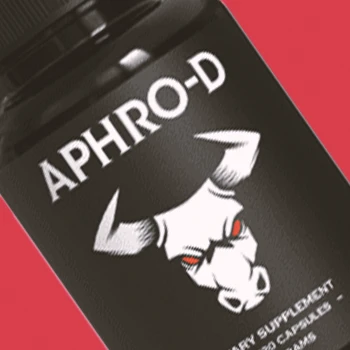 Aphro-D promises to boost testosterone levels and improve male vitality with just the four ingredients in its proprietary formula.
The ingredients in Aphro-D are Schisandra berry, pearl powder, Tongkat Ali, and He Shou Wu. Tongkat Ali and He Shou Wu are vital ingredients to boost testosterone.
Many of my clients have successfully used Aphro-D to boost testosterone, and though they paid a premium price, they felt it was worth it.
Compared to Roman's flexible subscription model, Aphro-D offers a unique community for expert advice, which is ideal for its users. However, Roman's doctor-created formula and natural ingredient list set it apart from Aphro-D's proprietary blend.
TestoPrime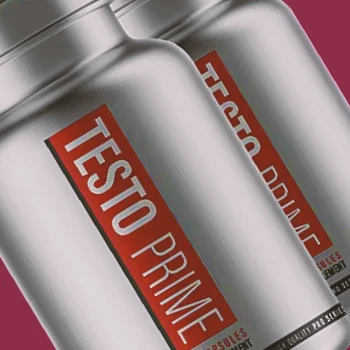 TestoPrime by Wolfson Brands Limited (UK) includes ashwagandha root extract in its formula for the good reasons I noted above.
There is a healthy dose of D-aspartic acid in TestoPrime 2000 mg. D-aspartic acid may have a critical role in how the brain and testes release hormones essential to T production [6].
When we reviewed TestoPrime, we found it quite reasonably priced, just over $0.50 per serving with free shipping.
Speaking to my fellow gym-goers, I find TestoPrime to be a noteworthy competitor to Roman Testosterone Support. While TestoPrime's inclusion of D-aspartic acid is intriguing, Roman's doctor-created formula and combination of natural ingredients provide a unique advantage.
Testogen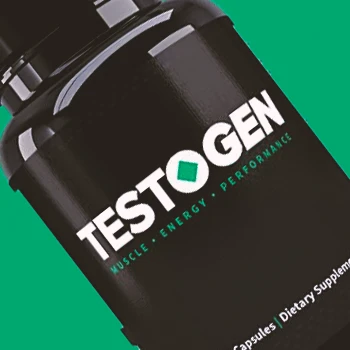 D-aspartic acid (2352 mg) is the key ingredient of Health Nutrition Limited's Testogen.
Additional natural testosterone boosters in the formula include vitamin D, magnesium, and Panax ginseng, which offers other health benefits like flu prevention, anti-inflammatory properties, enhanced cognitive function, and blood sugar regulation [7].
A 30-day supply of Testogen costs just under $60 with free shipping, which is comparable to Roman Testosterone Support's pricing. However, Roman's unique ingredient combination may provide added benefits.
Who Would Benefit From Roman Testosterone Support?
Men above thirty striving to combat natural testosterone decline could benefit from Roman Testosterone support. Alternatively, young males at their peak shouldn't get into Roman Testosterone as it's designed for those above thirty. It's crucial to emphasize that testosterone supplements are inappropriate for women as well.
Research shows that once a man reaches his thirties or forties, total testosterone decreases by approximately 1.6% per year, and free t levels decrease by 2-3% per year [8].
Imagine the difference in your daily life when you boost your testosterone levels. Not only can it possibly alleviate stress and enhance mood, but it might also amplify energy levels, rekindle libido, and even boost male fertility [9].
Who Shouldn't Take Roman Testosterone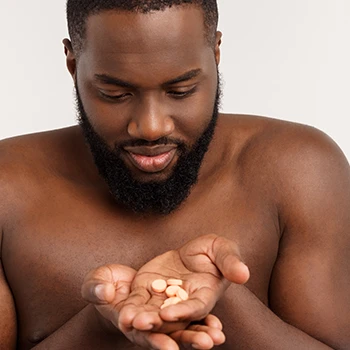 Young, healthy males whose testosterone production is at its peak shouldn't take Roman Testosterone, as it is primarily intended for men over thirty.
Elevated testosterone levels out of a healthy range can lead to aggression, heart problems, prostate enlargement, and other physiological and physical health problems.
Testosterone supplements are not for women, either.
The key ingredients in these male health products likely decrease estrogen and increase testosterone, leading to androgenic effects like excessive hair growth, significant muscle development, deepening voice, and irregular periods.
What Users Say
Nothing speaks more honestly than real users' testimonials. In my search to uncover genuine insights, I dedicated hours to scouring online feedback about Roman Testosterone Support. Here are a handful of testimonials I found particularly insightful.
"Love these vitamins -- have been reading about how Ashwagandha and Maca are what ancient warriors took to maintain vitality and stamina. Really awesome formulation."

- Thomas, Walmart
He says it did nothing except raise his blood pressure. He completed the first full box as directed and had zero positive effect.

- Dan from Arizona
He is two weeks into taking this, and he has not felt or seen anything yet, no difference in energy, fat burning, or testosterone. Waiting, but he is not expecting anything will happen.

- Robert from Ohio
FAQs
How Long Does It Take Roman Testosterone to Work?
Based on our client trials, many users experienced noticeable improvements in energy levels and mood within the first two weeks, with a significant increase in testosterone levels observed after four weeks of regular use.
Many consider the Roman company trustworthy with licensed online doctors, a pharmacy, and supplements containing carefully sourced natural ingredients.
Final Thoughts on Roman Testosterone
Reflecting on my own experiences and feedback from my clients, I find that while Roman Testosterone Support has its benefits, it falls short compared to other available options. It's important to look into alternatives for the best results.
The best way to naturally improve testosterone is to combine healthy eating, workout ethic, and adequate rest with a high-quality T-boosting supplement.
In my opinion, the best product for the job at the moment is Testogen, primarily because of its short list of natural ingredients, the results I've seen with my clients, and the high volume of positive online reviews.
We Recommend This Instead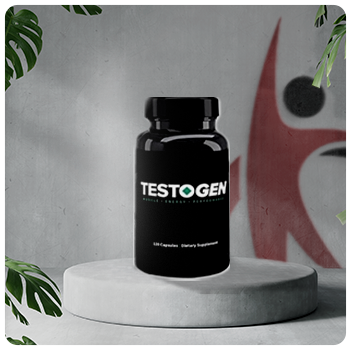 Click For Best Price

Pros
May work well as a natural testosterone booster
Positive reviews about improved physical and mental energy
Seems to boost confidence levels
100% money-back guarantee if you're not satisfied
Get the BEST PRICE until the end of September
Cons
You can only buy it on their website
Was this article helpful?