As an experienced personal trainer, I've used resistance bands for many training sessions. They provide constant tension, challenging your muscles throughout the exercise and promoting growth.
After trying multiple exercises like the bicep curl or other free weights variations, I discovered they are exceptional tools for anyone with a gym membership.
In this article, I'll share insights into building muscle with resistance bands through a workout routine.
Quick Summary
You can build muscle using resistance bands compared to traditional bodyweight workouts by using its tension to train all your muscles through dynamic and isolated motions.
Resistance band workouts engage all muscle groups for customizable intensity.
Unlike traditional weights, resistance bands provide a targeted muscle growth and strength workout.
Use these protein powders to fuel your body with amino acids to enhance muscle recovery and performance.
Best Resistance Bands Exercise Variations to Try
Consider these resistance band variations to boost your muscle-building workout regime:
Chaos Push-Up
The chaos push-up is a unique resistance band exercise designed for enhanced muscle growth.
With this high-intensity push-up variation, you can challenge your chest, triceps, shoulders, and core muscles while exercising.
How to do it:
Attach a resistance band across a sturdy anchor point at waist height.
Take the band on each end and return to a high plank position, keeping the band under tension.
Lower yourself towards the floor, maintaining a tight core and a straight body line.
Engage your muscles to push through your palms and return to the starting position.
The instability of the band enhances muscle engagement and promotes muscle growth.
Bent-Over Rear Delt Fly
The bent-over rear delt flye is a powerful resistance band exercise designed to stimulate muscle growth in your rear deltoids and upper back.
It's a superior movement to create metabolic stress, a key driver for muscle hypertrophy.
This exercise promotes shoulder stability, enhances posture, and contributes to well-rounded upper body strength.
How to do it:
Stand in the resistance band's middle. Bend your hips while keeping your back flat, letting the band's ends hang from each hand.
Slightly bend your elbows, and raise the arms to the sides until they align with the floor.
At the movement's peak, squeeze your shoulder blades together, creating metabolic stress in your rear deltoids.
Lower your hands slowly to maximize muscle growth.
Half-Kneeling Band Row
The half-kneeling band row is an exceptional resistance band training exercise designed to build muscle mass in your back and biceps.
This movement provides constant tension on the targeted muscles, promoting strength, stability, and balance while reducing strain on the lower back.
How to do it:
Anchor your resistance band at waist height and kneel a few steps away, maintaining full tension on the band.
Go into a bow position with one of your legs and align with your hip.
Pull the band with both hands, retracting your shoulder blades and squeezing your back muscles.
Release the row slowly and control, ensuring the muscle mass remains under constant tension for maximal benefit.
Related: Half Kneeling Quad Stretch
Band Thruster
The band thruster is a dynamic and full-body resistance band exercise, optimal for gaining muscle in multiple muscle groups.
This compound movement simultaneously works your lower body, core, and shoulders, offering a time-efficient way to boost total-body strength and muscle mass.
How to do it:
Position your feet hip-width apart on the band. Bring the ends of the band to shoulder level.
Lower your body into a squat. Keep your chest and knees aligned with your toes.
Drive through your heels, extending your legs and hips. Simultaneously, press your hands up overhead.
Return your hands to shoulder level as you lower into the next squat, maintaining tension on the band to stimulate the muscle groups.
Band-Assisted Broad Jump
The band-assisted broad jump is a dynamic exercise that uses muscle resistance bands to amp up your training.
It's a full-body workout that targets the glutes, quads, hamstrings, and calves [1].
How to do it:
Attach your resistance band to a sturdy anchor point at waist height.
Stand away from the anchor point and walk forward until the band is taut.
Squat down and jump ahead as far as possible, with the band adding resistance.
Land with your knees slightly bent, ensuring your feet are flat.
Walk back to the starting position, keeping tension on the band.
Resistance Band Biceps Curl
The resistance band biceps curl is a straightforward exercise for targeting your biceps.
Adding resistance bands to your workout can engage more muscle fibers, leading to improved muscle growth and strength.
How to do it:
Position your feet shoulder-width apart on the band.
Hold the band's end with your palms facing forward.
With elbows fixed at your sides, curl your hands toward your shoulders, contracting your biceps.
Lower your hands slowly.
Related Articles:
Overhead Triceps Extensions
The overhead triceps extensions is a targeted resistance bands training exercise to enhance your triceps.
It's an effective muscle-building move that strengthens and tones your upper body while improving overall functional fitness.
How to do it:
Stand in the band's middle, holding its ends in each hand.
Extend your arms above your head.
Keep your elbows close to your ears. Bend them to lower the band behind your head.
Extend your arms back down, contracting your triceps.
Lower and raise the band in a controlled motion to ensure full muscle engagement.
Band-Resisted Push-Up
The band-resisted push-up intensifies hypertrophy training by targeting the chest, triceps, and core for enhanced muscle growth.
How to do it:
Position the band around your back, holding its ends beneath your hands in a push-up position.
Ensure hands are shoulder-width apart, body forming a straight line from head to heels.
Lower your body until your chest nearly meets the floor. Push back up against the band's resistance, maximizing the benefit of banded push-ups.
Retain a steady, controlled movement to engage muscles fully.
Band X Crossover Lateral Walk
The band x crossover lateral walk is a versatile bodyweight exercise that helps gain muscle in the lower body.
It stimulates the muscles in your glutes and thighs, promoting more muscle mass and improving balance and coordination.
How to do it:
Stand in the band's center and cross it in an "X" form.
Grab the band's ends at hip level.
Step to the side, leading with your heel to engage the glutes, then follow with your other foot.
Keep the band taut throughout the exercise to ensure constant muscle engagement.
Band-Assisted Chin-Up
The band-assisted chin-up adds a new dimension to your bodyweight exercises.
It uses the resistance bands' work to aid the traditional chin-up, which allows more muscle growth in your back, shoulders, and arms.
How to do it:
Loop the band around a pull-up bar. Thread one end through the other to secure it.
Prepare for the chin-ups: hold the bar with an underhand grip and place your feet or knees in the band.
Pull until you're over the bar, then lower yourself slowly.
Emphasize a steady and controlled movement to maximize muscle engagement.
Mini Band Hip Flexion Iso Hold
The mini band hip flexion iso hold is a multifaceted strength training exercise. The hip flexion engages the core and lower body muscles, boosting balance and stability.
It develops isometric strength, which is crucial for athletic performance and injury prevention.
How to do it:
Place the mini band around your feet while standing upright.
Flex one hip to 90 degrees, lifting the knee until it's level with your hip. This is the proper position to start.
Keep your balance and maintain this position for the prescribed time, focusing on your core to stay steady.
Also Read: Best Exercises for Hip Flexors
Banded Passive Leg Lower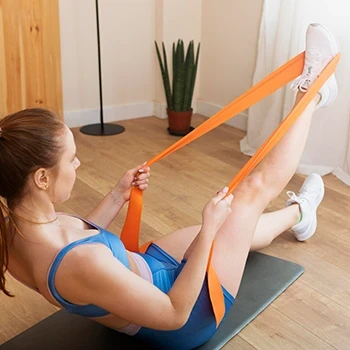 The banded passive leg lower is an excellent inclusion for high-volume training, engaging your core and lower body muscles.
This exercise improves mobility, flexibility, and strength.
How to do it:
Loop the band around one foot while lying down with both legs straight up.
Gradually lower your other leg, maintaining control over the movement.
Pull back with the banded foot to create tension, allowing for effective muscle engagement.
Band Tall-Kneeling Pull-Apart
The band tall-kneeling pull-apart is an excellent way to target upper body muscles with resistance bands.
This exercise engages your back, shoulders, and arms, promoting strength and stability.
How to do it:
Kneel upright with a band held at chest height, arms extended.
Keep your arms straight.
Pull the band apart to engage your back and shoulder muscles.
Ensure your torso remains stable and your hips align with your body.
Banded Hamstring Curl
The banded hamstring curl adds a layer of difficulty to traditional bodyweight exercises, targeting the hamstrings effectively.
This exercise stimulates muscle growth, strength, and endurance.
How to do it:
While lying face down, loop a band around your ankles.
Flex one knee and pull your heel towards your glutes, creating resistance with the band.
Ensure a smooth, controlled motion, focusing on the hamstring contraction.
Resistance Band Workout Routine to Build Muscle
Here's a full workout routine to start building muscle resistance bands. Follow through to burn fat and gain strength.
Warm-Up:
Light Resistance Band Stretches: 2 sets of 10 on each side
Arm Circles: 2 sets of 10 reps in each direction
Squats: 2 sets of 10 reps
High Knees: 1 minute
Resistance Band Lunges: 2 sets of 10 for each leg
Workout Routine:
Chaos Push-Up: 3 sets of 10-15 reps
Bent-Over Rear Delt Flye: 3 sets of 12-15 reps
Half-Kneeling Band Row: 3 sets of 12 reps per side
Band Thruster: 3 sets of 15-20 reps
Band-Assisted Broad Jump: 3 sets of 10 jumps
Resistance Band Biceps Curl: 3 sets of 15-20 reps
Cooldown:
Light Walking: 5 minutes
Deep Breathing: 3 minutes
Seated Resistance: Band Hamstring Stretch: 2 sets of 30 seconds on each leg
Child's Pose: Hold for 1 minute
Resistance Band Chest Stretch: Spend 2 minutes
Cobra Pose: 2 sets of 30 seconds
"Resistance bands are an effective and versatile method to add variety and challenge to a strength training program. They can improve strength, increase muscle stability, and enhance flexibility when used correctly."

- Gary A. Sforzo, Ithaca College
The Role in Enhancing Muscle Gains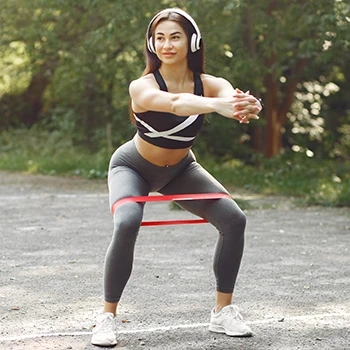 Resistance bands are integral to building muscle, offering variable resistance that stimulates growth.
With the versatility to target various muscle groups, resistance bands contribute to balanced muscle development and reduce injury risk [2].
They provide mechanical tension and metabolic stress for muscle hypertrophy, confirming that resistance bands build muscle.
Additionally, through the strategic approach of resistance bands periodization—adjusting intensity and volume over time—you can optimize muscle growth while mitigating overtraining.
"Resistance bands have proven to be effective tools for improving muscular strength and endurance, promoting functional capacity, and reducing the risk of injury in both healthy individuals and clinical populations."

- Juan C. Colado, Director of the Research Group in Prevention & Health in Exercise & Sport
Muscles Worked Out When Training
Here are the muscles targeted in resistance band training [3]:
Upper Body Muscles: Biceps, triceps, pectorals, and back muscles.
Lower Body Muscles: Quadriceps, hamstrings, and glutes.
Core Muscles: Abs, obliques, and lower back.
Forearms: Forearm muscles for more grip strength.
"Resistance band training provides similar muscular benefits to weightlifting but with reduced joint strain. This makes it an excellent option for those with joint issues or those rehabilitating from injuries."

- Carlos García Sánchez, Universidad Politécnica de Madrid
Why Should You Integrate Bands into Your Exercise Routine?
You should integrate bands in your exercise routines to bring an adjustable resistance for progressive overload.
They're portable and affordable, making workouts accessible anywhere, anytime.
With the versatility to cover warm-ups, main muscle group workouts, and flexibility exercises, resistance bands cater to busy individuals and those committed to optimizing their fitness journey [4].
"Resistance bands have been proven effective in improving muscular strength and endurance and also offer benefits in flexibility and balance."

- Juan C. Colado, Director of the Research Group in Prevention & Health in Exercise & Sport
FAQs
Can I Effectively Build Muscle Using Resistance Bands?
Yes, you can effectively build muscle using resistance bands. They provide variable resistance, increasing tension as they stretch and challenging your muscles through the entire movement.
What Is The Recommended Frequency for Resistance Band Workouts for Muscle Building?
The recommended frequency for resistance band workouts for muscle building is three to five times weekly. However, the frequency can vary depending on individual fitness levels and goals.
Are Resistance Bands a Viable Alternative to Traditional Weights?
Yes, resistance bands are a viable alternative to traditional weights. They provide variable resistance throughout the movement and are versatile and portable, suitable for most workout routines.
---
References:
https://www.researchgate.net/publication/5306007

https://www.researchgate.net/publication/23181506

https://www.researchgate.net/publication/369149365

https://www.researchgate.net/publication/346436506
Was this article helpful?