Italian dressing is one of those products that seem vegan at first glance, but in reality, that's not always the case.
So, in this article, we'll look into homemade Italian dressing - one of the most versatile salad dressings, to answer this question that's been bugging many vegans.
Quick Summary
Italian dressing is vegan because of the ingredients used during the preparation stage.
Examples of ingredients used in Italian dressing are lemon juice, vegetable oil, dried Italian spices, garlic, onion, and chopped bell pepper.
Some problematic ingredients to be on the lookout for in Italian dressing are honey, milk, eggs, and xanthan gum.
The Italian dressing is a good source of Vitamin K, and unsaturated fat, which helps prevent cardiovascular disease.
What is Italian Dressing Made Of?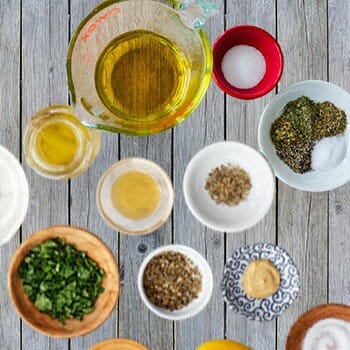 This famous salad dressing is a vinaigrette, a combination of lemon juice or vinegar (apple cider, balsamic, or red wine vinegar), vegetable oil (like olive oil), salt, and water.
All of these ingredients are vegan, which makes the basic recipe also vegan.
Some varieties may also contain sugar or corn syrup alongside the lemon juice, dried Italian spices and herbs, chopped bell peppers, and sometimes onion and garlic.
In addition to these ingredients, factory-made dressings, especially the creamy variety, can contain animal products and food stabilizers.
3 Problematic Ingredients
1. Milk & Eggs
With homemade vegan Italian dressing, you're safe. As for bottled options, you should probably pay attention when the label says "may contain trace amounts of milk/eggs."
2. Xanthan Gum
Another ingredient that may not sit well with others is xanthan gum, a food additive produced from fermented sugars. Some people might have a problem with this ingredient because a small percentage of those sugars come from animal products like whey.
3. Honey
If a salad dressing is advertised as plant-based, it shouldn't contain honey, commonly found in various condiments.
Does it Contain Dairy?
Although homemade Italian dressing tends to be dairy-free, there's still a chance to encounter some non-vegan stuff, especially its creamy version.
The usual animal products in salad dressings include:
The good news? Dairy is not the only way to make a creamy vegan Italian dressing. Plant-based alternatives can make it equally satisfying, such as cashews, vegan butter, or any plant-based milk.
Homemade vs. Store-Bought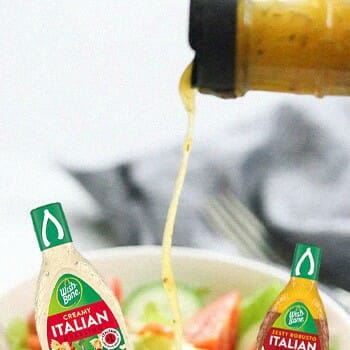 Whipping up your very own vegan Italian dressing recipe takes just a bit of creativity.
The total prep time usually involves only a couple of minutes, so you don't need proficient-level cooking skills.
Besides, the internet is flooded with delicious vegan salad dressings so that you won't be lacking inspiration.
If you're into creamy stuff, you can always rely on cashews to make a nice and thick Thousand Island-style vegan dressing.
You get to select the best ingredients, so you can skip on consuming low-quality vegetable oils and replace them with extra-virgin olive oil, for example.
To be more of help, we've contacted Whole Health Practitioner Paula Sturm RD, FMN, NLP.
As a Mayo Clinic trained dietitian and functional nutritionist, Paula suggests that the best way to make a vegan Italian dressing would include the following ingredients:
1/2 cup olive oil
3 TBS red wine vinegar
1 TBS Nutritional yeast
1/2 TBS Dijon mustard (acts as the emulsifier)
1 tsp maple syrup
1 finely chopped garlic clove
2 tsp of Italian seasoning
Simply put everything together in a mason jar, shake well, and you can refrigerate it up to one week.
Also, if you are extra-careful about eating healthy, you can even make oil-free, creamy Italian dressing in no time.
"If you just made a green salad chock full of vitamins and nutrients, why ruin it with a store-bought dressing that may quite possibly have refined sugars, poor-quality oils and, artificial flavors?" [1]

- Gigi Gaggero, Culinary Education Expert & The Author of "Food Fight."
On the flip side, not everyone is cut out to be a chef, and that's totally fine because there are some excellent vegan dressings you can order online or pick up at your local supermarket.
To get inspired, check out our top picks of vegan salad dressing brands below.
4 Best Vegan Brands
When it comes to Italian dressing recipes, vegan options are plenty, so if you're not crazy about experimenting in the kitchen, you can rely on any of these super-delicious vegan salad dressing brands:
Daiya (Homestyle Ranch, Creamy Caesar, Creamy Italian) - All are gluten, soy, and egg-free, vegan, and contain no GMOs.
Primal Kitchen Vegan Ranch - is based on avocado oil and is sugar, gluten, and soy-free. A great replacement for creamy Italian dressings.
Anni Organic Goddess - a perfect balance of garlic, sesame seeds, parsley, and chives; all dipped in canola oil and apple cider vinegar.
Garlic Expressions dressing If you are into garlicky flavors, you'll love this vinaigrette made with apple cider vinegar, canola oil, and fresh garlic cloves. It may not be creamy, but it's damn delicious.
Related Articles:
Creamy, Oil-Free Vegan Salad Dressing Recipe

Extra-picky vegans or folks with dietary restrictions can always resort to homemade, oil-free versions of these creamy Italian dressing recipes and tweak the flavor to match anyone's taste. This is the compromise necessary to ensure that their nutritional needs are met without compromising the taste.
Just blend the following ingredients:
½ cup raw, unsalted cashews
¾ cup water
1 ½ tbsp red wine vinegar
1 tsp onion powder
1 tbsp lemon juice
1 to 2 garlic cloves
¼ or 1 cup nutritional yeast
3 tbsp dried Italian herbs
½ tsp salt
1 tsp dijon mustard for a zesty flavor
You can make it zesty by adding Dijon mustard and garlic powder, or you can make it sweet by adding corn or maple syrup.
Is It Healthy?
Classic Italian dressing offers a healthier option to the creamy version because it's naturally lower in calories and fat.
"You won't get many nutrients from any salad dressing, but regular Italian dressing is a good source of vitamin K and healthy unsaturated fats that help prevent cardiovascular disease"

- Sandi Busch, livestrong.com [2]
Too much oil or salt can undoubtedly contribute to some health issues, but you shouldn't be too worried if you find the right balance.
Also Read:
So, Is Italian Dressing Vegan?
Yes, its plain classic form is vegan-friendly.
In general, dressings clearly labeled as vegan are also a safe bet. However, not all store-bought sauces are completely free from animal-derived ingredients.
The homemade dressing is critical, especially for neutral-tasting greens. Even if it's just fresh lemon juice and olive oil, you can't fail. Many of us enjoy making it on our own, but many bottled dressings are just as good.
If you are a vegan, Italian dressing can be an excellent addition to your vegan diet if you know how to make it vegan.
Share your favorite homemade plant-based recipe in the comments below.
---
References:
https://30seconds.com/food/tip/16564/Homemade-Vs-Store-Bought-Salad-Dressings-Here-Are-3-Reasons-You-Should-Make-Your-Own
https://www.livestrong.com/article/394210-is-italian-dressing-healthy/
Was this article helpful?