Setting up a home gym should never be just about choosing the right equipment, machines, and free weights, as you also have to consider what will be underneath your feet.
And the more equipment you're going to be using, the more important this decision will become.
So, our team did some research, and we visited 25 different home gyms of friends, family, and colleagues. When we looked at different materials and found an interesting theme with a lot of these configurations.
Let me show you what to focus on.
Quick Summary
You'll find everything from rubber to vinyl and foam for home gym flooring, and they all have some advantages.
There are significant price differences, and rubber tends to be the most expensive material to kit out a home gym.
You also need to pay attention to thickness and safety features in order to get the best soundproofing and avoid damage.
What Type of Flooring Is Best for a Home Gym?
Rubber flooring is best for a home gym setup as it combines durability and safety for athletes that use heavy cardio machines and weights.
Out of all the home gyms we visited, those with rubber floor mats showed the least amount of wear and tear.
And this is in strong contrast to most other materials.
The other common material you find is foam, and it's often similar to the foam you have in yoga mats that don't tear too easily.
Then there are carpet and vinyl tiles as well that can add some protection against scratches on the underlying floor.
The two hardest-wearing materials are rubber and vinyl [1].
But it's important to understand that vinyl doesn't come close to rubber when it comes to high-traffic and impact areas as you would have in a home gym.
Based on our research and testing, we found there is much better bounce off the rubber when weights drop down, and you'll also get great sound insulation.
How Thick Should Home Gym Flooring Be?
Home gym flooring should be at least half an inch thick if you have heavy cardio machines and regularly use dumbbells and barbells for weight lifting.
Looking at commercial gyms where you'd have the squat and power rack set up, you'll typically find rubber mats that are 5/8 inches thick, which would probably be classed as commercial-grade.
What we found with thinner gym flooring is that dropping something heavier won't get much of a bounce.
That means the sound will travel, and you'll likely damage the underlying floor as well.
"While thicker mats provide added cushion and support, thinner ones tend to be lighter and easier to travel with."

- Daniel Bubnis, M.S., NASM-CPT
Do Rolls or Mats Work Better?
Mats generally tend to work better as home gym flooring. While rolls can be helpful in the form of large yoga mats, they don't tend to stay in place as well as mats and tiles do.
One reason why you'd probably choose rolls is if you move your home gym equipment out of the way when you're finished.
This is typically the case if you use a spare room rather than a dedicated garage gym that you leave fully set up throughout the year.
Otherwise, make the extra investment and buy interlocking mats or tiles, as they will stay in place and not shift around.
If you are not sure what to pick, feel free to check out our home gym essentials or home gym ideas.
Check for Safety Features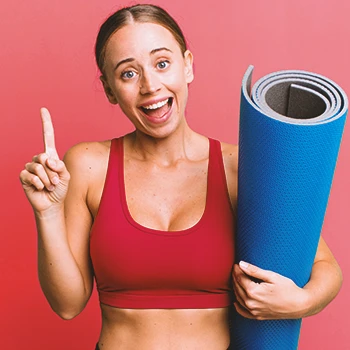 When it comes to rubber floor mats, there are two things to look out for from a safety perspective.
First of all, look for ones that have a solid interlocking system.
This is the only way you can make sure you don't end up with gaps that can become tripping hazards.
Secondly, check for a kind of riffling print on the surface.
Just like on rubber tires, this will stop you from slipping when sweat drips onto the mats.
FAQs
Do You Need Gym Flooring for Home Gym?
Yes, you need gym flooring for a home gym. Even if you just do bodyweight exercises, you'll want to have a cushioning effect on your body [2]. And a floor mat will also protect a wood or carpet floor from sweat dripping down on it.
Is Foam or Rubber Better for Home Gym Floors?
Rubber tends to be better for a home gym because it is a lot more durable and less likely to tear. Foam can work fine for yoga and bodyweight exercises like plyometrics, but anything involving weights and machines is better done on rubber.
---
References:
https://www.americanfloormats.com/rubber-mats-versus-vinyl-mats/

https://www.tunturi.com/en/blogs/blogs/whats-the-difference-between-a-yoga-mat-and-a-fitn/
Was this article helpful?