You don't have to be a body-building fan to admire the competitive fitness levels that women in this sport can achieve.
I coach quite a few female bodybuilders, and it's great to see a huge fan base for these athletes.
It took us just two weeks to be flooded with votes from our readers with their favorite women in the bodybuilding and fitness world.
And we encountered quite a few surprises on this list.
Our Top 17 Hottest Women Bodybuilders
17 - Dana Linn Bailey
I remember the first time I saw Dana Linn Bailey compete. As the first Women's Physique Olympia champion in 2013, her blend of strength and stunning beauty left an indelible mark on me.
Known for her chiseled physique, she's captivated over 2 million followers on Instagram with her graceful poise and intense dedication. Co-owning Warehouse Gym with her husband, Rob Bailey, her attractiveness extends beyond her physical form.
It's her passion for lifting, her pioneering spirit, and her magnetic presence, both in the gym and online, that make her a truly appealing figure in the fitness world.
Her long-standing success in the lifting game adds to her allure, marking her as a symbol of both beauty and strength.
 

View this post on Instagram

 
16 - Stefi Cohen
Having trained alongside powerlifters, I've always been in awe of Stefi Cohen. She's not just a powerlifter and physical therapy doctor; she embodies the epitome of attractive strength.
Her perfectly sculpted physique, combined with her prowess in setting 25 all-time world records, makes her a captivating figure. Competing at 114 pounds, her grace and poise in lifting are as impressive as her beauty.
Cohen's attractiveness isn't confined to her looks alone; it's in her blend of power, elegance, and sheer determination, making her a true sensation both on the platform and online.
 

View this post on Instagram

 
15 - Heidi Vuorela
And finally, we have Heidi Vuorela, one of the most successful bodybuilders from Finland.
Her interest in the sport came at just 12 years old, and she got her IFBB Pro Card at the age of 29.
You'll often see her in the top 10 results of competitive events, and there are rumors that she might be looking at an acting career as well. Regardless, everyone is looking forward to her acting career blossoming.
 

View this post on Instagram

 
14 - Eva Andressa
During one of my trips to Brazil for a fitness convention, I came across the mesmerizing Eva Andressa. A dark-haired beauty, she stood out even among the elite women bodybuilders.
Some argue she has the most striking looks of all the bodybuilders in the globe, and I would tend to agree.
You just need to browse some popular brand names in the bodybuilding world to see her face regularly pop up.
 

View this post on Instagram

 
13 - Erica Cordie
Erica had an interesting start to bodybuilding as she started strength training and physical training at 17 after injuring her knee in a skiing accident.
Because of her involvement in sports from a young age, she didn't give up and decided to become a bodybuilder and fitness model.
She also has a charming personality that shines in interviews. And you want to check her out in her favorite superhero outfit as Wonder Woman.
 

View this post on Instagram

 
12 - Sarah Backman
Sarah is one of the bodybuilders who transitioned from a professional wrestling career to bodybuilding.
The former wrestler was known for arm wrestling many people to the ground, and her strength allowed her to compete effectively in her first competition.
And in recent years, she has transitioned to becoming a real estate broker. Even so, her amazing physique remains consistent, allowing her to retain a lot of her followers and admirers.
 

View this post on Instagram

 
11 - Nikki Fuller
Next on our list of hot bodybuilders is Nikki, who should be a household name for anyone that follows bodybuilding.
She had featured in many magazines, especially during the 90s when she was competing for Ms. Olympia.
Before becoming a professional bodybuilder, Nikki was into many different sports and even competed in the water polo state women's championship during her college years.
She was also one of the early women who successfully transitioned from bodybuilder to fitness model.
10 - Larissa Reis
Larissa modeled as a college student and probably could have had a great career in the fashion industry.
But she wasn't satisfied with being just another beautiful woman. So, she started weight training and strength training and quickly figured that it was a hidden passion of hers.
She also gained sponsorship from a supplement company early on in her career. And you just need to follow her Instagram feed to admire her attractive physique and the effort she puts in at the gym.
 

View this post on Instagram

 
9 - Brooke Holladay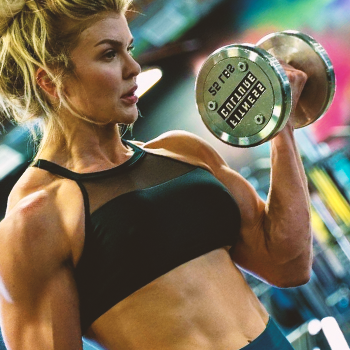 Brooke Holladay started as a dancer and gymnast but quickly realized that she was able to gain a lot of muscle mass.
She instantly dominated many competitions, including Ms. Olympia.
Out of all the attractive bodybuilders we had submitted, she might have the most striking looks that combine a good physique with a cute face and smile.
8 - Jennifer Broomfield
Jennifer is one of those bodybuilders who grew up in a family that was into sports and fitness.
And from an early age, she decided that she wanted to lift weights to bulk up and become more athletic.
She has taken weightlifting so seriously that she lives and breathes it every day as a personal trainer.
 

View this post on Instagram

 
7 - Sharon Bruneau
What's interesting about Sharon is that she started as a fashion model and then switched things around to bring her attractive physique into the bodybuilding world.
It just goes to show that hard-working fitness models can compete with the toughest athletes.
At first, all the weightlifting resulted in too much weight to continue modeling, but that seems like it has changed a bit in recent years.
 

View this post on Instagram

 
6 - Jennifer Rish
Jennifer Rish is from Southern California and has made a career as a professional bodybuilder after spending many years as a kickboxer.
Yes, this lady is not just incredibly strong but could likely take the head off anyone who got on the wrong side of her.
And if you follow her social media feeds, then you'll get a glimpse into how Jennifer Rish is doing as a fitness model as well.
5 - Wendy Lindquist
Wendy is one of the strongest bodybuilders in the world, and she started her professional career in British Columbia, Canada.
These days, she's not involved in that many competitive bodybuilding events anymore as she has refocused on her fitness model career.
But she did dominate many bodybuilding competitions over the years, and you just need to look at her biceps to understand how she did so well as a professional bodybuilder.
4 - Debi Laszewski
Here's my personal favorite because I think she is one of the sexiest bodybuilders in the world.
She started weight training at 20 and within four years was taking part in bodybuilding competitions.
Her achievements include a second-place finish at the 2012 Ms.
Olympia contest, and she's also done some work as a fitness model for different sports brands. She has a great balance of muscle and a sexy physique.
 

View this post on Instagram

 
3 - Pauline Nordin
Next on our list of hot bodybuilders comes 39-year-old Pauline Nordin. She entered the bodybuilding world at age 17, which is quite late.
But by the time she turned 20, Pauline was a highly competitive female bodybuilder.
In recent years, she has become the personal trainer and diet coach for the Swedish version of The Biggest Loser, and she has helped countless people turn their lives around.
 

View this post on Instagram

 
2 - Cory Everson
Cory Everson is the oldest woman on this list, but the fact that she's still on here recognizes both her physical achievements and incredible looks.
She was the first woman to be recognized with a Lifetime Achievement Award at the 2007 Arnold Classic.
I have followed her career for many years, and I think I have all of her books sitting on the shelf in the office.
She's a true champion of bodybuilding competitions.
 

View this post on Instagram

 
1 - Oksana Grishina
Oksana Grishina is a popular Russian beauty, and she entered the professional arena with her IFBB pro card in 2007.
She's one of those female bodybuilders who live for bodybuilding and has achieved a degree in physical training and sports science.
As a young girl, she was also involved in competitive gymnastics, but she later decided to transition from a professional gymnast to a female bodybuilding competition and was instantly hooked.
She is one professional bodybuilder to keep an eye on in future events.
 

View this post on Instagram

 
Was this article helpful?