Your diet and workout routines can help transform your body. This is how Jason Momoa attained his bulked body. As a celebrity, his body transformation over the years has been noticeable. This has left many individuals wondering what is the secret to attaining such a body.
Today, we will look into Jason's exercise routines, which he publicly speaks about, and his diet. I have seen numerous individuals attain a bulked body after copying their lifestyle.
Jason's routines and lifestyle are easy to incorporate. Let us find out more about Jason Momoa.
Quick Summary
Jason Momoa's workout routines vary from chest exercises, shoulders workouts, back exercises, leg workouts, core exercises, and arms workouts.
Momoa's diet mostly comprises fish, different types of meat, fruits, and vegetables.
Jason believes that cutting out processed carbs has helped him maintain his bulky body.
Jason Momoa rests once a week to allow damaged muscles to be repaired.
Who Is Jason Momoa?
Jason Momoa is an American actor and model who is best known for his appearances in Aquaman, Justice League, and Game of Thrones.
His career started as a 19-year old in Baywatch Hawaii, where his physical appearance drew the first attention.
He also appeared in the remake of Conan The Barbarian, which didn't have the same success as the original 1980s version.

Definitely check that one out if you want to see Arnie in his hay-day.
One thing that has always stood out for me is that he's not an actor who needed to bulk up for movies. Looking back at old photos and videos of the original Baywatch series, and you'll notice that he was already pretty ripped.
Born in Hawaii, Jason was no stranger to beach life, surfing, and staying fit. And this early lifestyle is clear in his fitness routine.
Jason's Accelerated Results 7 (AR-7) Training Basics

Some folks find it strange that I can get behind a weights routine that defies common recommendations.
But when you look at the results Jason has achieved, it's kind of hard to argue.
AR-7 is a technique that uses low reps, low weights, and short rest periods. It might sound like an easy weight training routine, but it will quickly have you pushed to the limits.
Here's how it works.
You have a routine of maybe 5 different exercises. You go through all 5 exercises in 3 rounds, and in each round, you adjust the sets, reps, and rest like this:
Round 1: 7 sets of 7 reps with 7 seconds rest
Round 2: 6 sets of 6 reps with 6 seconds rest
Round 3: 5 sets of 5 reps with 5 seconds rest
For example, you'd complete 7 sets of a bench press in round 1, followed by the same number of sets of chest dips, and so on until you have round 1 completed.
Then you do the same exercises for round 2 and 3.
Does it still sound like an easy workout routine?
Next, let's take a specific look at the Aquaman workout plan he used.
The Jason Momoa Workout Routine
For this section, we went through many hours of interviews and videos to figure out what types of exercises Jason would do during a movie preparation phase.
It's important to put these exercises into the context of his AR-7 approach outlined above.
So if you think this looks like a small routine, keep in mind that you have to take each one through 3 rounds.
And here's the real kicker.
For certain movies like Aquaman and Justice League, he would do these routines 2 or 3 times a day.
Let's start with day 1 of Jason Momoa's workout plan.
Day 1
This day is all about targeting the chest muscles with some added impact on the shoulders as well.
Some people might struggle with these at first because they target a muscle group with a large amount of body weight forcing you down.
My training advice here would be to make sure you go for quality over quantity. Get that full range of motion going on every single push-up.
Flat Bench Press
Incline Bench Press
Incline Bench Dumbbell Press
Day 2
Many people think that pull-ups target the arms more than other muscles. But they're actually a lot more targeted to your back and shoulder muscles.
My own clients know that I place a much higher role on these workouts, as they can really change the shape of your physique.
Med-Grip Pull-Ups
Reverse-Grip Chin-Up
Close-Grip Pull-Ups
Seated Pulley Row
Bent-Over Row
Day 3
Here's where you'll focus on your legs and core.
I've worked with many folks who ended up in a lollipop shape because they spend all day at the gym working on their chest and arms, but don't exercise their legs enough.
By training your body in this way, you'll also build up some good core strength, which should start shaping your abs as well.
Bodyweight Squats
Stiff-Legged Deadlifts
Barbell Back Squats
Jump Squats
Day 4
These workouts are aimed at just your core, which is everything from just below your chest to your upper thighs.The important thing here is that you shouldn't do these like a cardio exercise. You want to challenge your core muscle section as much as possible.
Burpees
Medicine Ball Slams
Leap Frog
Kettlebell Swings
Short Hill Sprints
Day 5
You'll notice a lot of push-ups here, and those are going to target your arms and chest. This is where quality comes into play a lot more again.
If you shorten the movements, then the workouts simply won't have the same effect. Get on your knees if you have to at first, and push each muscle to its limit.
Diamond Push-Up
Bodyweight Dips
Barbell Military Press
Triceps Extensions
Dumbbell Curls
Day 6
I think it was in an interview with Men's Health that Jason mentioned that he wasn't a big fan of running, but he likes rock climbing as a more adventurous form of cardio.
Boxing is also high on his list, and I'm sure most folks wouldn't want to spar with him.
Different cardio exercises
Day 7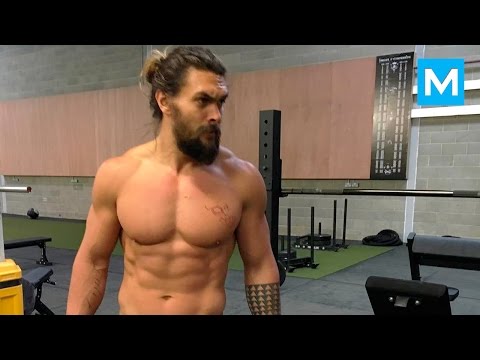 Personal Statistics
You'll find some conflicting data about the Jason Momoa height, weight, and BMI statistics, but we think we found some pretty accurate data.
Jason is 6'4" tall or 193 cm. That's taller than average [1] and why he seems to have such a physical presence on movie sets without requiring a lot of CGI.
"I'm not a big fan of just doing weights. Anything more physical is infinitely better."

- Jason Momoa
After several months of his Aquaman workout, we saw one reference that he was weighing 225 pounds. I would personally say it might be a bit more than that, but it's likely to fluctuate with different phases of training.
He also doesn't seem to go for extreme fat loss, and probably has a body fat percent [2] at about 15%.
The Jason Momoa Diet Plan
His Approach to Macros
It's all about the carbs for Jason. And that means cutting out as many processed carbs as possible.
Apparently, he did enjoy the occasional Guinness, but it's not likely to have been something he indulged in.
I'd also say that he didn't indulge in anything unhealthy, as he avoided any type of fast food all the time. The approach to macros is different for each person, so instead of tracking someone's macro ratio, we recommend that you calculate your macro profile using our free macro calculator.
Sample Meal Plan
1 - Breakfast

A large bowl of oatmeal with fresh fruit is how he seems to start his day. He'll also get a protein shake for an early amino acid boost.

2 - Snack

A few slices of wholegrain toast with organic peanut butter. This has to be the unsweetened type and ideally the crunchy one too.

3 - Lunch

It wouldn't be uncommon for him to get through 4 chicken breasts or fish fillets along with a pile of sweet potato and lots of leafy greens.

4 - Dinner

A similar choice of chicken or fish along with whole grain rice, salad, and plenty of green veggies.
FAQs
How often does Jason Momoa workout?
Jason Momoa works out 5 to 6 days a week and often 3 times a day. This is dependent on whether he's preparing for a certain type of movie role and how much muscle he's trying to gain. What is even more impressive is the intensity with which he trains.
Jason Momoa is 6'4" and about 235 pounds. That makes him quite a towering man, and with the muscle weight he has gained through his workouts, you can see why he's such a suitable man for a superhero role.
No, Jason Momoa is not vegan. His diet often contains different types of meat and fish, but he does rely heavily on fruit and veg. Jason has also been quite outspoken when it comes to environmental issues and animal rights.
Would You Be Able To Do The Jason Momoa Aquaman Workout?
Even our team was impressed with Jason's dedication to a stringent workout program. It's obvious that his size isn't just some luck in the genetic draw, but down to hard work at the gym.
The great thing is that the AR7 method that he uses is quite easy to implement for your next trip to the gym. So I'd suggest trying the work outs for a few weeks.
Make sure you report back to us how this type of exercise works for your body.
References:
https://www.medicalnewstoday.com/articles/318155
https://www.cdc.gov/healthyweight/assessing/bmi/adult_bmi/index.html
Was this article helpful?