Are your workout routines not giving you the desired results? Well, the body transformational journey of Kumail Nanjiani will inspire you. He started off as a skinny guy when he was first featured in Hollywood.
Since then, his body transformation has impressed many. In fact, it has left many wondering about his workout routines and his diet. I embarked on a journey to find out the secret behind Kumail Nanjiani's transformation.
You will be surprised by his simple yet effective exercises and diet.
Quick Summary
Kumail Nanjiani's workout routines vary from back & shoulders, legs, chest & core, and arms.
Nanjiani rests once a week, which helps repair damaged muscles and regain lost energy.
Kumail's regularly eats the following meals; eggs, avocados, vegetable salads, chicken breasts, fish, brown rice, and protein shakes, among others.
Who Is Kumail Nanjiani?
Nanjiani is a Pakistani born actor who started his American career with many smaller TV shows.
It wasn't until the movie The Big Sick that he caught the attention of the Hollywood press.
And then came Silicon Valley.
His role as Dinesh was one of the funniest things I've watched.
But the world was in for a really big surprise. Suddenly, he started posting pictures on Instagram with a ripped body, including a 6-pack.
His physical transformation came in preparation for featuring in the Marvel movie The Eternals.
And it's not a superhero computer nerd role.
Nanjiani's Body Transformation
Looking at his physique over time shows that he was neither slim nor fat. But he was certainly not a muscular man that spent much time in a gym.
I would actually hazard a guess and say that he spent no time exercising.
All that changed when he was cast into the role of Kingo Sunen, which might make him the first South Asian superhero to hit the big screens.
When he filmed the last episodes of Silicon Valley, his
body fat percent was about 20%. This is according to Grant Roberts, a former Mr. Canada and Kumail's personal fitness trainer.
He designed workouts and a diet that saw him go through 10 months of grueling training, with his BMI dropping to 10% [1].
I know, that's impressive!
Surprisingly, he managed to keep it a secret until the results were in. That might be why I was convinced that some clever photographers digitally enhanced an image.
Man, was I wrong.
One of the funniest characters I've seen in years had managed to take strength and fitness to a whole new level.
And his new build is certainly worthy of featuring in The Eternals.
The big question is: what kind of training is needed to build that kind of muscle mass.
"I would not have been able to do this if I didn't have a full year with the best trainers and nutritionists paid for by the biggest studio in the world."

- Kumali Nanjiani.
Other celebrity workouts:
What's His Workout Plan?
Based on interviews with Roberts, I gathered that they headed for the gym at least five days a week.
He also kept a close eye on his diet, and carbs seemed to be only allowed before training [2] and not for the rest of the day.
Let's see what each day looked like.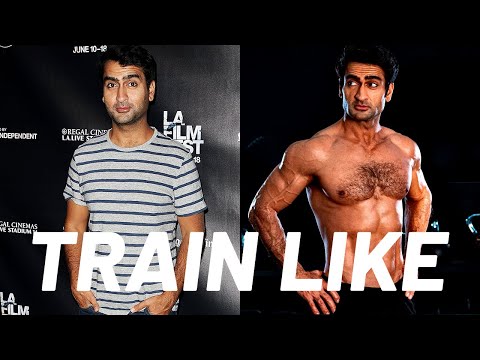 Monday: Back & Shoulders
Each of the exercises is done in 3 sets of 6 reps, and the last two have to count. That means you'll be lifting a heavy load right from the start.
Easy Warmup and stretching
Deadlift
Dumbbell shrugs

Shoulder Flyes
Upright rows
Weighted pull-ups
Tuesday: Legs
It's the same 3 sets for these workouts, but this time a few more reps, so bring them to a maximum 8. You'll need to stay away from the low weights to make sure you still feel the burn.
Easy Warmup and stretching
Dumbbell lunges
Back squats
Leg presses

Leg curls
Calf raises (hold at the top)
Weighted box jumps
Wednesday: Chest & Core
Just look at those gym photos and tell me that Grant Roberts did make a big deal out of punishing those core muscles.
This time around, it's 3 sets of 6 reps, so make sure you raise the bar on your goals.
Easy Warmup and stretching
Bench press
Incline dumbbell press
Seated chest flyes

Cable flyes
Crunches: 3 x max
Side plank: 3 x 90 seconds
Knee raises 3 x max
Thursday: Full Body

This is a mix of the previous couple of days, and you still need to get the weights up and do your 3 sets of 6 reps.
By this day, you should really be starting to struggle. But the full-body approach will trigger more muscle groups to maximize growth.
Easy Warmup and stretching
Weighted pull-ups
Cross cable flyers
Deadlifts

Rear lunge squats
Front raise
Lateral raise
Friday: Shoulders & Core
Yup, if your core is still sore from the last set of ab workouts, then at least you know you're doing it right. But you want to keep the week's progress going to get that 6-pack (no, you're not allowed a few beers!).
Again, it's 3 sets of 6 reps.
Easy Warmup and stretching
Standing rowers
Front or lateral raise
Wide grip weighted pull-ups

Dumbbell shrugs
Crunches: 3 x max
Side plank: 3 x 90 seconds
Knee raises 3 x max
Saturday: Arms
You're almost there, but without this day, you won't get those pumped up arms.
Aim for 3 sets of 6 reps again, so pick up those big weights at the gym.
Easy Warmup and stretching
Alternating dumbbell curls
Cable pushdowns
Overhead triceps extensions

Hammer curls
Close grip chin-ups
Crouching triceps kickbacks
Sunday: Rest
That's a long week, and you'll want to take full advantage of some time without a personal trainer shouting orders at you.
Other celebrity workouts:
FAQs
How long did Kumail Nanjiani workout?
Nanjiani spent about 10 to 12 months working out with personal trainer Grant Roberts. Roberts says that the grueling routine was designed to maximize every minute at the gym, as there was a lot of pressure to get ready for a Marvel movie.
Why did Kumail Nanjiani get ripped?
Kumail Nanjiani got ripped in preparation for a role in The Eternals, where he plays a superhero. And you can't be a successful actor in that kind of role unless you look the part.
Could You Keep Up With His Workout Routine?
Now, it's a lot easier to do this with a Hollywood studio budget to back you up. And when you're getting paid a lot of money to continue working on your body, then there are some good incentives.
However, this is a routine that I have seen normal men and women go through. And if you put in the hours like he's done, then the rewards may be more impressive than you think.
Let us know how the exercises work out for you, and best of luck getting into shape.
References:
1 - https://www.health.harvard.edu/diet-and-weight-loss/bmi-calculator
2 - https://www.ncbi.nlm.nih.gov/pmc/articles/PMC5794245/
Was this article helpful?