Jennifer Lopez has one of the best bodies in the business, and a figure like that only comes with sheer commitment and a lot of hard work.
Luckily, JLo has dished tons of info about her workout and diet secrets over the years.
After scouring the web for her past interviews, here's everything we know about the Jennifer Lopez diet and workout.
Quick Summary
Jennifer Lopez's diet entails spinach, broccoli, spinach, brown rice, sweet potatoes, oatmeal, salmon, lemon juice, eggs, meat, and baked yams, among others.
Lopez's workout plan can be categorized into ab routine, butt routine, arm routine, upper body routine, butt exercises, and leg workouts.
Jennifer's diet has played a crucial role in her glowing skin and strong body.
Collagen peptides, multivitamins, and whey protein are the supplements Jennifer Lopez takes.
Career Highlights
Born in Bronx, New York, Jennifer Lopez began appearing in films in the late 1980s.
She got her first TV break in 1990, when she landed the role of a "Fly Girl" in the show "In Living Color."
She eventually starred in multiple films and released her debut album "On the 6" in 1999, which turned out to be a huge success.
Now, with eight studio albums and at least 46 movies under her belt, "Jenny from the Block" remains one of Hollywood's biggest celebrities.
Wonder how the 51-year-old singer, dancer, and actress got her rockin' body? We reveal the juicy deets below.
Jennifer Lopez's Workout Routine
With her killer abs, defined muscles, and overall insane body, it should be no surprise that Jennifer Lopez follows a strict diet and exercise routine, which comprises a combination of strength training, cardio, and circuit-style workouts.
Lopez is 5 feet 5 inches tall and weighs about 130 pounds. She trains for around an hour four to five times a week.
Workout Plan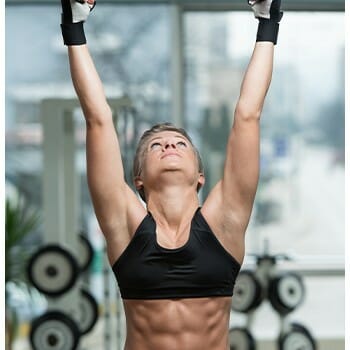 Dodd Romero, one of her trainers, helps JLo focus on different body parts during their workout sessions.
Here's what her typical training regimen looks like.
Ab Routine
Set 1: 50 reps each exercise
Hanging ab raises
Rope crunches
Incline sit-ups with a 45-pound plate
Set 2: Everything above but with 35 reps.
Set 3: Same moves, but only do 21 reps.
Note: No breaks in between each set.
Butt Routine
Of course, there's also a workout for that famous booty of hers.
When they're not focusing on her abs, JLo's other trainer, David Kirsch, makes her do the "platypus walk" for her bum. This lower-body exercise involves walking forward and backward while in a squat position.
Kirsch also makes her do squat jumps, lateral lunges, and plie toe squats to shape her booty.
Read more about Jennifer Lopez's Butt Workout.
Arms Routine
Kirsch said he has done variations of "Spiderman push-ups" with Jennifer Lopez, one of which involves using a Bosu ball.
While we can't confirm if it's still part of the "On the Floor" singer's daily routine, Kirsch recommends this total-body move for all his clients.
He also incorporates arm weights with moves that involve the butt, thighs, and core.
Other Exercises 
Jennifer Lopez has also taken up pole dancing and built up her upper body to play the role of Ramona in the film, Hustlers. She spoke about the experience with Jimmy Kimmel.
"It's like acrobatic; it's [working] different muscle groups. The things [pole dancers] do with their legs and everything, and go upside down…it's hard," she said, adding, "I have a lot of respect for people who do the pole."
Other workout plans:
Jennifer Lopez's Diet

Jennifer Lopez couples her intense workout routine with what can only be described as a clean and healthy diet. In fact, she credits it for her glowing skin and strong body.
In a 2016 interview with People, her Los Angeles trainer, Tracy Anderson, revealed what JLo typically eats.
"I have her eating very clean because she needs really good fuel for all the things that she's doing. It's all organic and it's all very well thought out, with the balance of very high-quality proteins and a lot of nutrient-dense food … Everything is fresh."
4 JLo's Dieting Principles
H2O all day, every day: Water is a huge part of JLo's diet. Dodd Romero says the superstar tries to drink at least seven glasses of water every day to stay hydrated, especially before workouts. Lopez has also stopped drinking alcohol and caffeine, saying that they can wreck the skin.
Eating clean: Jennifer Lopez stays away from processed foods and gets her nutrients from whole sources."There's nothing processed–just [protein powder] in a shake if we do a protein shake one day," says Tracy Anderson.
Getting her greens in: Jennifer Lopez piles up her plate with plenty of greens like kale, broccoli, and spinach. However, she skips vegetables with high amounts of naturally occurring sugar, such as carrots and corn.
Carbs aren't always the enemy: When she's not doing the no carb, no sugar 10-day challenge, JLo eats healthy carbs. Some of her favorites are brown rice, quinoa, sweet potatoes, oatmeal, and rice bread.
Here's what Jennifer Lopez eats every day.
Breakfast
The "World of Dance" judge kicks off her day with a smoothie blend of cinnamon, berries, Greek yogurt,  honey, ice cubes, a squirt of lemon juice, and a scoop of protein powder.
Her other go-to breakfast is oatmeal with fresh berries. Unlike most of us, JLo doesn't drink coffee unless she's absolutely sure that it's decaf.
In fact, she told Us Weekly that she hasn't had caffeine in years.
Lunch
For lunch, Lopez will have a veggie-filled salad with lemon juice and extra-virgin olive oil dressing. She also likes making salads with salmon, broccoli, peppers, zucchini, and a drizzle of vinaigrette.
Whenever she starts having cravings, she'll turn to any food with proteins, saying that it's a "great muscle fuel" that fills her up and keeps her full longer [1].
Lopez's main protein sources are chicken breast, grass-fed beef, egg whites, white meat turkey, and fish like omega-3-rich salmon and sea bass.
Snacks
Lopez likes having a handful of nuts a day for healthy fats. Her other healthy snack options are fresh fruit and veggies, which she always carries with her so that she has something to munch on when she gets hungry.
Dinner
If she's at home, JLo will have dinner with her kids around 6:30 p.m.
Her evening meal usually consists of lean protein and veggies, plus complex carbs like brown rice, sweet potatoes, or quinoa.
She also loves cooking a Puerto Rican dish consisting of grilled chicken breast with sautéed brussels sprouts and baked yams.
And when she's out at a restaurant, Lopez still tries to make good choices.
"Most restaurants offer healthy, low-calorie meals so I watch for things on the menu that fit my lifestyle. I'll have a salad or some fish with veggies. And I make sure I drink lots of water throughout the meal,"
she told Hello!
Dessert
Despite her clean eating habits, Lopez doesn't deprive herself of the foods she loves. But, she makes sure to have them in moderation.
Her guilty pleasures? Chocolate chip ice cream and chocolate chip cookies.
3 Supplements JLo Uses

In order to maintain that great body and glowy skin, JLo uses supplements on a daily basis. Supplements are a great way to give your body everything it needs to build strength and recover faster.
Here is the list of supplements JLo uses:
1. Whey Protein
Like JLo herself said: "Protein is my go-to whenever I start to have cravings. It fills me up and keeps me full longer. It's a great muscle fuel"
Protein is a great way to start your day as it will give you the energy you need, but also it will prevent you from having cravings that can ruin your diet.
See best protein brands for women
2. Multivitamin
We all know how important it is to take your vitamins in order to stay healthy and to improve your immune system. Besides their power to maintain your health, vitamins will help you achieve that glowy skin and shiny hair that JLo has.
See best multivitamins for women
3. Collagen Peptides
Collagen is crucial when it comes to looking youthful even in your older age and JLo is a living proof of that. Collagen helps to protect your skin from aging by keeping it elastic and healthy. Also, collagen is very important when it comes to bone strength. [3]
---
References:
https://www.mayoclinic.org/healthy-lifestyle/fitness/in-depth/the-best-foods-to-fuel-a-workout/art-20269958
Was this article helpful?