Jessica Biel rose to fame as the basketball-loving Mary on 7th Heaven, but the actress has never been far from her character in reality.
Like her fictional character, Biel has always tried to stay in shape and take care of her health.
Many of my clients see her as a role model, so here's Jessica Biel's workout routine and diet plan to inspire you!
Quick Summary
Jessica Biel's workouts range from walking lunges, jump squats, pushups, lateral lunges, planks, dumbbell rows, yoga, seated Russian twists, and sit-ups, among others.
Biel's diet sample entails green tea, vegetable burger, salmon, fruits, fresh juice, and pancakes, among other meals rich in protein.
Jessica also takes supplements like green tea, multivitamins, probiotics, and vitamin B12.
Biel believes that balancing exercises, consistency, and dedication is the only key to attaining your desired body.
Career Achievements

Since she was a little girl, Jessica was into gymnastics, and she even played club soccer as a teenager and gave dance training a shot later on.
As she says herself, exercise and sports are some of the reasons she's comfortable with her body as an actress.
"I'm aware of how my muscles feel, what it feels like when anything changes. Playing sports and being physical helps me maintain that sort of relationship with my own body."

- Jessica Biel, Actress
Nowadays, Jessica is doing squat variations with the help of her trainer, working on perfecting her handstand, and hiking through the Hollywood Hills with her husband, Justin Timberlake.
That is if she's not busy being a mom to their two exceptional children or shooting scenes for a new movie.
But, there's one thing she's never doing, and that's staying still.
The 39-year-old actress is 5 feet 7 inches tall, weighs 121 pounds, and here's how she achieves looking incredible.
5 Jessica's Workout Principles

If it's still not clear how seriously Beal takes staying active, it's about to become. Biel doesn't joke when she works out.
She's been working with her trainer, Jason Walsh, for years. He's been working with many celebrities, musicians, actors, athletes, and actors.
He ensures her workouts are a mix of yoga, sprinting, cardio, and walking lunges.
She Goes All-in for Every Single Workout - not even a super-tough workout during which Ben Bruno, her other trainer, counts painfully slowly.
She Appreciates Balance - There's a video of her sneaking some extra exercise between filming scenes for Cruel Summer, where she does lunges while eating cake! Multitasking at a whole new level!
She's a Dedicated Yogi - She's been practicing yoga for over ten years. Biel says she was intimidated by all the crazy poses, but now she wants to demystify yoga and bring it closer to everyone.
Workout Dates Are Her Thing - Jessica Biel appreciates a good workout buddy, no matter if it's her husband or her coach.
She Loves Challenging Her Body - Jessica isn't satisfied with just staying active, but she tries to challenge her body with compound exercises. She works her legs, glutes, core and strengthens her stabilizing muscles.
Jessica Biel's Workout Routine
Being such an athletic and active person, you'd think Jessica doesn't miss a day in the gym, and you'd be pretty right — she works out five times a week, combining strength training and cardio workout.
Mondays and Fridays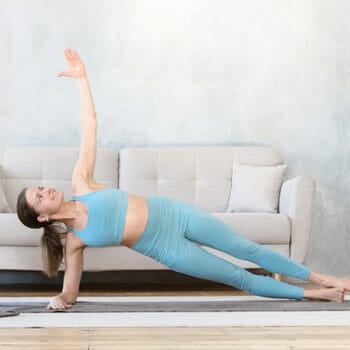 On Monday and Friday, Jessica usually does three sets of 11 exercises.
This routine includes:
Cardio warm-up
Walking lunges — three sets, 15–20 reps
Jump squats — three sets, 15–20 reps
Pushups — three sets, 20 reps
Side planks — three sets, 30 secs hold
Squat to press — three sets, 15 reps
Pullups or lateral pull-downs — three sets, ten reps
Bent-over rows — three sets, 15 reps
Lateral lunges — three sets, ten reps
Step-ups into the bench — three sets, ten reps
Straight leg sit-ups — three sets, 15 reps
Tuesdays
Tuesdays are even rougher, and Biel hits 14 exercises:
Walking lunges
½ mile jog
Sprints — two sets, 200 meters
Sprints — two sets, 150 meters
Sprints — two sets, 100 meters
Stair jumps — 20 minutes
After this cardio workout, Biel does some yoga:
Sun salutes

Reverse Warrior

Chair pose

Low boat pose
One-arm side plank

Forearm plank and leg lift

Temple pose

Tree pose
Wednesdays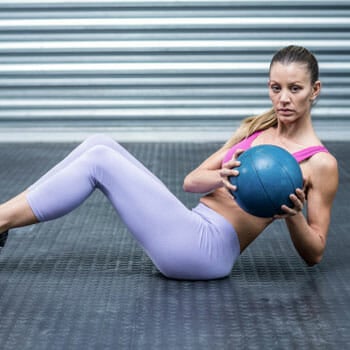 On Wednesdays, Biel tones it down a notch and does a total of 11 exercises:
Cardio warm-up — five minutes
Walking lunges — three sets, 25 reps
Jump squats — 30 seconds
Twisting dumbbell press — three sets, 10–12 reps
Seated Russian twists — three sets, 15 reps
Pushups with burpees — three sets, 15 reps
Medicine ball lunge with a twist — three sets, ten reps
Planks —three sets, 30 seconds
Dumbbell squats —  three sets, 15 reps
Dumbbell rows — three sets, ten reps
Hanging leg raises — three sets, 20 reps
Thursdays
Thursdays are for winding down and doing yoga, during which Jessica Biel does a total of eight exercises:
Sun salutes
Reverse warrior
Chair pose
Low boat pose
One-arm side plank
Forearm plank and leg lift
Temple pose
Tree pose
Saturdays and Sundays
The weekend is the time when Biel takes a rest.
Other workout routines:
Jessica Biel's Diet Plan
Biel tries to eat clean, nutrient-dense foods high in protein, and she also avoids alcohol.
But, she also loves having cheat days when she has pasta and red wine for lunch and drinks "a million cups of coffee in the morning," as she says. But, let's see what she eats:
Breakfast
Biel's breakfast consists of pancakes, green tea, and fresh juice. Green tea is incredible for improving brain function and lowering the risk of heart disease and burning fat [1], while fresh juice is packed with vitamins.
Lunch
For lunch, Jessica typically eats a veggie burger with a side of salad.
Snack
The movie star usually snacks on some pretzels.
Dinner
Biel feasts on salmon with some green veggies for dinner. Salmon is one of the healthiest foods as it contains tons of omega-3 fatty acids, vitamin B, and protein [2].
Supplements
To help her stay healthy and fuel her gains, Jessica uses:
Would You Train Like Jessica Biel?
Many of my female clients love these types of workouts, as they've proven to be very effective.
Jessica's workout principles are incredible and can serve as an example to all of us.
But would you try working out like her? What do you think of her routine and diet? Share your thoughts in the comments!
---
References:
https://www.healthline.com/nutrition/top-10-evidence-based-health-benefits-of-green-tea#_noHeaderPrefixedContent
https://www.healthline.com/nutrition/11-benefits-of-salmon
Was this article helpful?