Method Man, a Grammy award-winning artist and member of the legendary Wu-Tang Clan, displayed great prowess and strength in benching 100-pound dumbbells, impressing his 2.1 million Instagram followers.
I've been in the fitness community for almost a decade, and I have worked with non-pro lifters like Method Man, who have gained a massive increase in muscle mass and strength through consistent workouts and proper diet and supplementation.
Recently, I decided to thoroughly analyze Method Man's workout routine, diet plan, and supplements, and I've compiled my findings in this article.
Let's dive in.
Quick Summary
The best of Method Man's workout routines include deadlifts, barbell squats, weighted neck extensions, bench presses, incline dumbbell presses, and bent-over rows.
Fresh fruits, vegetables, legumes, whole grains, and meat are some meals Method Man enjoys eating.
Method Man is likely to be using pre-workout supplements to enhance his performance.
Method Man's Stats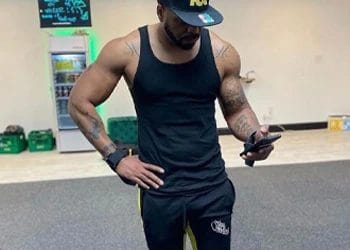 Clifford Smith, Jr., also known as "Method Man," went from being a well-known songwriter, rapper, actor, and producer to becoming an excellent weight lifter.
After posting a video of his triple bench press, he earned himself the title of a "legit fitness influencer."
Before we dive into his workout, let's peek at his current stats.
Age: 51 years old
Birthdate: April 1, 1971
Height: 6 ft, 3 in (191 cm)
Weight: 203 lbs (92 kg)
Waist: 37 in; Chest: 47.5 in; Biceps: 15.5 in
How Did Method Man Get Into Working Out?
According to his social media, Method Man got into working out after suffering from severe insomnia, which caused him to wake up at two a.m. every day, which at the time he remedied by playing NBA 2K. =
He realized that his time was being misused, so he thought of a way to make his early morning hours more productive. He started working out in the gym at 4 a.m. two to three days a week.
Eventually, three days turned into five days of working out. And as Method Man realized this newfound passion for muscle building, he began pushing himself more to lift heavier weights and eventually beat insomnia.
Method Man Workout Routine
Method Man's workout routine includes:
An early morning back workout with weighted neck extensions.
A leg workout with two supersets.
A chest workout with alternating supersets.
Here's a more in-depth look at his workout routine.
Early Morning Back Workout
Method Man's Warm-Up (3 sets of 8 reps each) - Wide Grip Pull-Ups and Close Grip ChinUps
Method Man's Workout
Deadlifts (5 sets of 5 reps)
Bent Over Rows (4 sets of 10 reps)
Superset One (4 sets of 20 reps each) - Seated Cable Rows and Straight Arm Pulldowns
Weighted Neck Extensions (4 sets of 20 repetitions)
Superset Two (4 sets of 20 reps each) - Ab Rollout and Cable Crunches
Leg Workout
Barbell Squats (5 sets of 5 reps)
Superset One - Leg Press (5 sets of 10 reps), Walking Lunges (5 sets of 20 reps), Calf Raises (5 sets of 20 reps)
Superset Two - Leg Extensions (5 sets of 12 - 15 reps), Leg Curls (5 sets of 12 - 15 reps)
Chest Workout
Bench Press (5 sets of 5 reps)
Incline Dumbbell Press (5 sets of 10 reps with 30 seconds rest in between)
Superset - Incline Weighted Flies ( 3 alternating sets of 12, 10, 8 reps) and Chest Busters (3 alternating sets of 12, 10, 8 reps)
End Superset - Decline Hammer Strength Machine (4 sets of 10 - 12 reps)
Related article: Regan Grimes Chest Workout
Method Man Workout Principles
Method Man decided to work out because he didn't want his early mornings wasted.
So, after discovering that he enjoyed weight lifting, he became relentless in setting his goals high.
"Regardless of how tired I get, no matter what the workout is, I at least will try it. I'm not going to say no to anything."

- Method Man
In an interview, he also stated that his primary goal in working out is to achieve an extremely ripped physique, similar to that of the Rock, so that he can take his shirt off on any occasion.
Method Man Diet and Nutrition Principles
According to my research, Method Man's diet plan consists of plant-based foods. He stopped eating meat in 2012 and joined GZA, a founding member of the Wu-Tang clan, in adopting a vegetarian lifestyle [1].
He decided to adopt a vegetarian diet after learning about the health risks associated with a typical meat-heavy Western diet [2].
Furthermore, Method Man started eating whole foods, such as fresh fruits and vegetables, whole grains, and legumes such as edamame.
He has also given up regular fast foods and started making his veggie burgers from texturized vegetable protein and meat-like crumbles.
Although he is strict about consuming plant-based foods high in protein, carbs, and fiber, he doesn't set a definite time when he eats.
Method Man Supplements
Method Man is most likely using supplements to improve his exercise performance, such as pre-workouts.
However, he has not released any information about his exact supplement regimen.
My educated guess is that Method Man probably takes pre-workout supplements made entirely of plant-based ingredients like plant-based protein powders to boost his training performance [3].
FAQs
Is Method Man a Vegetarian?
Yes, Method Man is a vegetarian who only eats plant-based foods such as burgers made from vegetable protein, legumes, and whole grains. Since 2012, he has stopped eating meat along with other members of the legendary Wu-Tang Clan.
What Keeps Method Man In Shape?
Consistent workouts and a healthy diet plan keep Method Man in shape. In addition, he's most probably taking pre-workout supplements to increase the intensity of his exercise, allowing him to burn more calories during his gym sessions [4].
Can Method Man's Fitness Regimen Help You Lose Weight?
Method Man's fitness regimen can help you lose weight because his consistent and rigorous workout uses a lot of energy, releasing stored fat and building lean muscle mass, enabling weight loss even further.
In addition to his training, I believe Method Man's diet and pre-workout supplements are vital factors in his fitness equation.
So, if you've also vegan, I advise you to check out our top ten vegan pre-workouts. Our team has tested them to find out which ones improve overall performance the most.
---
References:
https://vegnews.com/2012/10/redman-and-method-man-adopt-plant-based-diets

https://pubmed.ncbi.nlm.nih.gov/26780279/

https://pubmed.ncbi.nlm.nih.gov/28429998/

https://www.ncbi.nlm.nih.gov/pmc/articles/PMC3894395/
Was this article helpful?