Everyone knows him as a star of the movies Kick-Ass, The A-Team, James "Ghost" St. Patrick in the crime drama Power, just to name a few, but he is also known for his love of poetry, art, fitness, and sports, especially football.
In this article, we're going to reveal detailed information on Omari Hardwick's diet regimen and workouts that resulted in such a killer figure.
Quick Summary
Omari Hardwick's workouts range from dips, Arnold presses, wide-grip pulldowns, dumbbell shrugs, leg raises, squeeze presses, weighted lunges, sled pushes, and barbell squats.
Hardwick's exercises can be categorized into HIIT routines, stretch routines, weight lifting, yoga, boxing, and core exercises.
Creatine, CLA, green tea, Omega-3, and probiotics are examples of supplements Omari takes to boost his results from exercises.
Omari eats the following meals; fresh berries, eggs, fresh orange juice, steamed vegetables, avocados, oatmeal, turkey meat, grilled salmon, mashed potatoes, and fruits.
His Workout Principles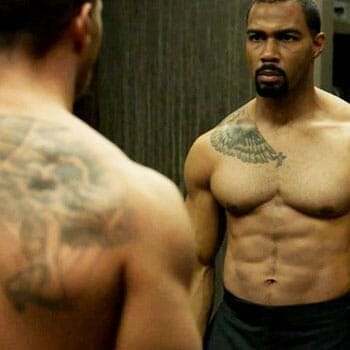 Being an actor requires Hardwick to train for various roles, and he approaches every part with equal dedication.
Whether he's running or lifting, he gives his all when he's in the gym.
Changing his routines and exercise sets is one of the trademarks of Omari Hardwick's workout routine.
This "muscle confusion" helps him stay in shape and makes his muscles work harder.
A core routine is also something he does every week to keep his abs ripped.
Omari Hardwick's Workout Routine
Before we dive right into the details, let's take a look at Omari Hardwick's stats:
Height: 5'10
Weight: 187 lbs
Age: 46
For Hardwick, as for so many people, the workout schedule depends on how busy he is, but he tries to train at least four times a week or more.
He combines a range of activities that help him burn fat and keep his body chiseled and in perfect shape.
Here's what Hardwick says about his favorite routines:
''I switch it up so much to trick my body. I'm doing Bikram yoga this week, but I take a lot of boxing classes. I also do sprints in the pool, go on hikes, sprinting up hills, and isometric work where I'm able to engage my core. I also play basketball when I can. My secret is drinking a lot of water, especially when I'm working.''
To get to the peak of physical condition and gain strength, Harwick often pushed his body to the limits [1].
It does take a lot of dedication and commitment to train like Omari Hardwick, but you can do it with the right amount of commitment and dedication.
HIIT Routine
Omari Hardwick workout routine involves high-intensity interval training (HIIT), boxing, football-inspired upper body workout, running, and even yoga and meditation.
Stretch Routine
Hardwick admits that he pays a lot of attention to hitting the right amount of stretch routines.
Twice a week, he takes Vinyasa yoga; it's great because it really stretches out the muscles. On other days he hikes, swims, and sprints to keep his muscle flexible and his joints healthy.
Workout Examples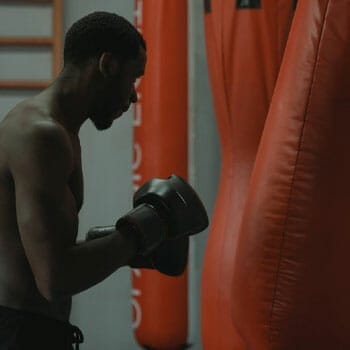 Here's the example of Omari Hardwick's workout volume and frequency:
Yoga: two times a week
Boxing: at least two times a week
Weight lifting: at least 2x/week
Core work: at least once a /week
Meditation: regularly
So, let's get access to some workout variations that Omari Hardwick relies on to maintain his physique for demanding roles, such as James St.Patrick's role.
Variation One - Full Body Workout
Warm-Up: Light stretching
Workout:
Superset One:

A. Dumbbell Bench Press, 4x10
B. Overhead Tricep Dumbbell Extension, 4x10
C. Dips, 4x10

Superset Two:

A. Bentover Barbell Rows
B. Wide Grip Pulldowns, 4x10
C. Chin Ups, 4x10

Superset Three:

A. Barbell Squat, 4x10
B. Weighted Lunges, 4x10

Superset Four:

A. Arnold Press, 4x10
B. Dumbbell Front Raises, 4x10
C. Dumbbell Shrugs, 4x10
Variation Two - Old school ''Power'' Workout
This routine is similar to a full-body workout and consists of some dips, chest workout, abs combined with pull-ups, and a finisher.
DB Incline Bench Press - 3 sets (reps of 15, 12, 10)
Squeeze Press - 3 sets (10,8,6)
Alternating Biceps - 3 sets of 10 reps (each arm)
Eccentric Focused Chain Dips - 3 sets of 8 reps
Short Rest
ISO-Pull-Up Holds & Leg Raise - 3 sets of 15 reps
Finisher
Hardwick also has a unique style when he trains on the squeeze press [2]:
"I come from the world of football, so we sort of superset our chest workout with these," says Hardwick. "You bring your elbows in; make sure everything stays tight. Shoulders in, elbows in, and straight up. Sometimes you want to go slow on the drop and explode at the top."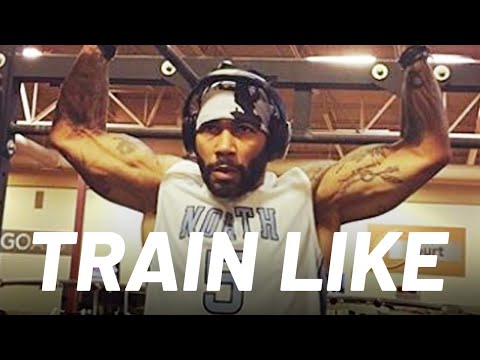 Omari's Diet Plan
Breakfast
It's crucial how we start our day, and Omari Hardwick is very particular about his breakfast, even a bit OCD, according to his own words.
He usually has the oatmeal with fresh berries and brown sugar, or toast and egg whites with turkey, followed by some orange juice and water.
Lunch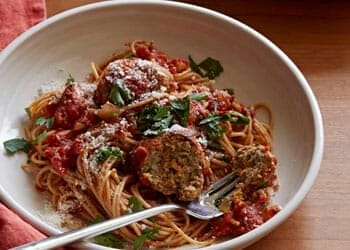 That's not to say that lunch is any less important. The A-Team star shares that pasta with turkey meatballs is often his midday meal choice.
The alternative could be some steamed vegetables or a mixed salad with avocado and fruit.
He drinks water all day, but a ginger ale could be a nice lunch treat, as well as an oatmeal cookie
''Also some steamed vegetables or a mixed salad with avocado and fruit. I tend to drink water all day, but maybe a ginger ale for lunch. I also like to treat myself to an oatmeal cookie.''
Pasta can be a great source of much-needed energy for a demanding workout session.
For his protein supply, Omari Hardwick mainly relies on an animal protein that usually comes from poultry, so turkey meat is often on his menu.
Dinner
Hardwick's dinner of choice usually includes some type of fatty fish, like salmon, or just grilled salmon with vegetables like asparagus and mashed potatoes.
Snacks
Snacks are always welcome, especially if they are healthy. Omari admits that he's a huge fan of apples.
''The apple ritual is so big for me that the cast will bring them to me. They all try to figure out which ones I like best''.
When there are no apples, the trail mix and dried fruit will do the trick.
Omari Hardwick's workout and diet seem to be in perfect harmony, helping him achieve nutritional balance while still enjoying the food.
Does He Take Any Supplements?
Hardwick takes supplements due to his active lifestyle, which usually includes:
According to Omari Hardwick, these additions to his diet help him fuel his gains and stay on track with his workout routine while boosting energy and building muscle mass.
How it All Started?
Omari Hardwick started as a struggling actor after graduating from the University of Georgia, so he did odd jobs to pay for acting classes. After some unsuccessful attempts, he lived in his car for some time, until his first significant role in the TV movie Sucker Free City.
Hardwick became one of the founding members of "Plan B Inc. Theater Group" In 2010, and a co-founder of "Actor's Lounge" at the LA Greenway Theater. He also founded the production company "Bravelife Films''.
But he was also an athlete growing up. During his high school days in Marist School in Brookhaven, Georgia, he excelled in basketball, baseball, and football, which won him a football scholarship for the University of Georgia.
He hoped for a spot in the NFL, but he was not selected, so he continued pursuing his acting career.
After graduating from college, Hardwick moved to San Diego for a spot on the San Diego Chargers. However, after suffering a knee injury, he had to quit his football career.
He returned to acting, but he has never lost his passion for sports and fitness, and he exercises regularly.
Omari Hardwick's film roles often require him to be in the top form, so we will take a look at his current workout routine, training, and diet plan.
Ready to Try Omari Hardwick's Workout Routine?
When he's not in the gym, Harwick spends his time acting and writing poetry, and he's also very active on social media.
His Instagram account has millions of followers, and it's a great place to get inspired and learn more about his eating habits and workout routine.
So, do you think you can train like a movie star? We hope that detailed information on Omari Hardwick's workout routines motivated you to start the new training.
Need more inspiration? Check out other ''train like'' videos here.
---
References:
https://www.bet.com/news/lifestyle/2014/07/30/omari-hardwick-shares-his-workout-routines-and-food-addictions.html
https://uk.style.yahoo.com/actor-omari-hardwick-shares-crushing-134300809.html
Was this article helpful?