Cook is one of those bodybuilders that has it all; impressive strength and a killer physique.
This figure model and IFBB pro is eager to share every bit of his daily routine and diet with his followers on social media.
But we decided to gather all essentials and bring you Steve Cook's workout plan, diet, and supplements in one place.
How It All Started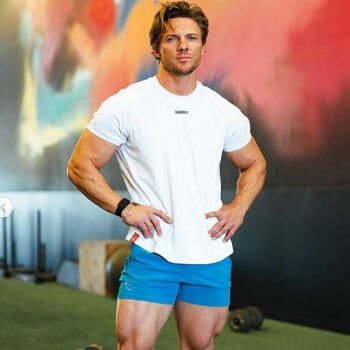 Idaho-born Steve Cook grew up loving sports, coached by his dad, a former athletic director.
Starting with football, he soon excelled in weightlifting, even earning a college scholarship.
An injury ended his football days, but he bounced back, dominating bodybuilding competitions and landing in the top ten at Mr. Olympia twice—a huge deal.
Now, he's rocking it as a social media star, personal trainer, and Bodybuilding.com spokesperson in sunny California.
Steve Cook's Body Stats
Height: 185.5 cm (6' 1");
Weight: 205-215 lbs
Chest: 45";
Waist: 34";
Steve Cook Workout Routine
For Steve Cook, it's all about mixing and matching different exercises depending on your fitness goal.
Okay, but there are some tips and tricks that can help you train and look like Steve Cook.
So, let's see his combo of choice and what kind of exercise he does to get those kickass muscles and body.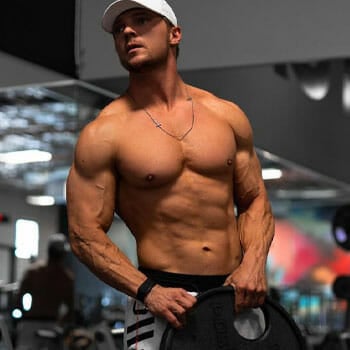 Steve Cook's workout makes him hit the gym six days a week, out of which two full days are dedicated to cardio.
Cook's cardio days are similar to his weightlifting sessions. He starts with warm-ups, a light jog and tops it with some active stretches.
Mondays: legs;
Tuesdays: chest, biceps and abs;
Wednesdays: cardio;
Thursdays: workout for back, triceps and calves;
Fridays:  workout for abs, delts and traps;
Saturdays: cardio;
Monday: Legs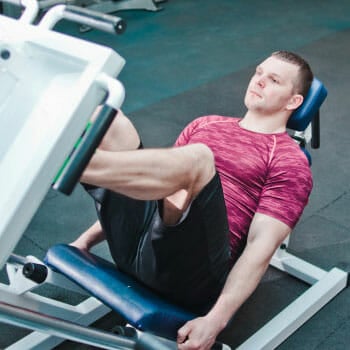 Don't skip your leg routine if you want to be strong enough for other exercises. Within this workout routine, Steve Cook performs 7 exercises with a total of 10 to 15 reps.
When I tried Steve's leg routine, those 7 exercises really pushed my limits, just like they do for him.
Leg extension - warm-up: 2 sets x 15 reps
Leg Press - 2 sets x 10-12 reps (desired weight and 1 min rest between sets)
Hack Squat - 2 sets x 10-12 reps
Seated Leg Curl - 1 set x 10-12 reps (desired weight and 1 min rest between sets)
Stiff-Legged Barbell Deadlift - 1 set x 10-12 reps
Calf Press using the Leg Press Machine - 1 set x 10-12 reps
Seated Calf Raise - 1 set x 10-12 reps
Tuesday: Chest, Biceps and Abs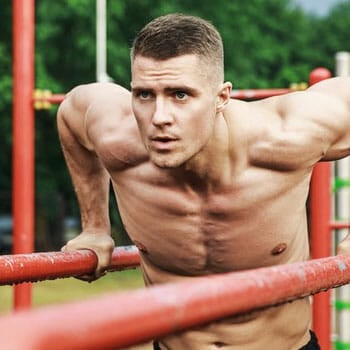 Many people assume that only doing the bench press is good enough for chest size increase, but Steve is aware that there are many other movements involved in this popular exercise.
Steve Cook's program for building an impressive chest consists of 6 exercises:
Incline Cable Fly - 5 sets x 12-14 reps
Smith Machine Incline Bench Press - 3 sets x 8-10 reps
Isolateral Dumbbell Bench Press - 3 sets x 8-12 reps
Chest Dip - 3 sets with 1 min rest
Landmine Barbell Press - 3 sets with 1 min rest
Decline Push-ups - 3 sets with 1 min rest
After he's finished with chest, he blasts his biceps with these 3 exercises:
Incline Dumbbell Curl  - 4 sets x 8-12 reps
Standing Barbell Curl - 4 sets, 8-12 reps
Seated Cable Curl - 4 sets, 8-12 reps
For abs, he's doing 4 sets of crunches until failure.
Thursday: Back, Triceps and Calves
Steve advises changing your back routine often enough to involve all the muscles.
He uses this simple workout plan to build a thick and wide back:
Dumbbell Bent-Over Row - 4 sets x 8-12 reps
Barbell Deadlift - 4 sets x 8-10 reps
Close Grip Seated Lat Pulldown - 4 sets x 8-12 reps
Bending Rope Lat Pulldown - 4 sets x 8-12 reps
Seated wide grip cable row - 4 sets x 8-12 reps
For triceps, he's doing only these two exercises:
Cable Rope Pulldown - 8 sets x 8-12 reps
Cable Incline Triceps Extension - 4 sets, 8-12 reps
He finishes his workout session with calves:
Calf Press using the Leg Press Machine - 1 set x 10-12 reps
Seated Calf Raise - 1 set x 10-12 reps
Friday: Delts, Traps, and Abs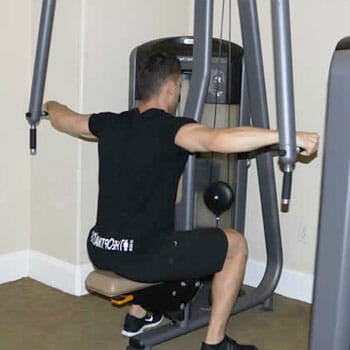 The Friday's workout involves 7 exercises with 1 min between sets for shoulders.
I gave Steve's Friday shoulder routine a go, and these 7 exercises are as intense as they sound.
Standing overhead barbell press - 4 sets x 8-12 reps
Single arm dumbbell press superset with Cuban press - 4x8
3 single arm upright row superset with incline facing lateral raise - 4 x 8
Rear delt dumbbell fly - 4 x 8-12
Cable standing lateral raise - x 8-12
Single arm cable shrug - 4 sets x 10 reps
Reverse pec deck machine - 4 sets x 8-12 reps
Behind-the-back Barbell Shrug - 4 sets x 8-12 reps
For abs, he does 3 supersets to failure:
Cable Ab Crunches: 3 sets to failure
Hanging leg raises: 3 sets to failure
He doesn't stick to the same routine. Instead, he focuses on mixing exercise, so he switches between his workout routines every two weeks.
"I don't think just one specific routine works the best. I am constantly changing my rep range, rep tempo, and volume to make sure the muscle is always being shocked into new growth."
Cook likes doing higher volume training throughout the year. He focuses on performing basic moves combined with heavy compound exercises for developing hard muscles during the offseason.
And sure enough, it's showing on those brag-worthy biceps and triceps.
Steve Cook's Diet Plan

When it comes to his diet, Steve Cook tracks all of his macros. He keeps his fats around 50-70 g and eats between 250-300 g of protein a day.
The amount of carbs will vary depending on whether he is in training or not.
Steve Cook - Diet for Building Muscle
Meal 1: Two whole eggs and eight egg whites, 1 cup peppers, 1 cup spinach added to an omelet. Two packets of oat bran with almond milk and Cinnamon;
Meal 2: (Pre-workout) 8 oz. 1 cup greens and tilapia or other white fish, 1 cup brown rice, or 7 oz. sweet potato;
Meal 3: (Post-workout) 3/4 scoop whey protein, 45 mins later 1 cup greens, 4 oz. chicken, 1 cup brown rice, or 7 oz. sweet potato;
Meal 4: Shake- 1.5 scoops Optimum Nutrition whey protein, low-fat string cheese, one apple, and 14g almonds;
Meal 5: 8 oz. Beef sirloin, 2 rice cakes, some veggies, usually greens;
Meal 6: Fish or Ground Turkey with olive oil and greens;
His go-to snacks are almond butter, shake, or/and a post-workout protein bar.
His Diet Principle
The diet Steve sticks to is based on a consistent meal plan throughout the year, keeping his fat level between 50 and 70 grams and protein level within 250-300 grams.
He takes more fruits, dairy, and carbs during the off-season but drops his carb intake before photoshoots or competitions.
In his diet plan, Steve relies on lean meat such as chicken steak, fish, beef jerky, and ground turkey.
"It took some time to learn the nutritional side of bodybuilding, but I found I enjoyed eating clean."
In one of his YouTube videos titled "Abs are Created in the Kitchen," Cook detailed his nutrition for building lean muscle while keeping the body fat down.
Keeping track of your macro and micronutrients is crucial, especially if you're just starting out: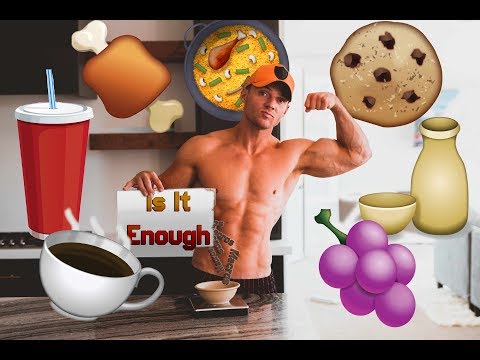 His Diet Advice
What to avoid:
Fast food
Sugary drinks and sweets,
Anything loaded with additives
Foods to eat: 
Complex carbs
Vegetables
Lean meat
Healthy fats (e.g., Olive oil, avocado, etc.)
Plenty of water
Supplements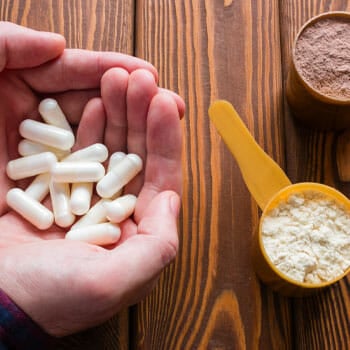 For additional nutrients that boost the lean muscle growth and supports recovery, Steve relies on:
Need more tips? Stay updated on Steve Cook diet plan and workout by following him on social media.
FAQs
How Often Does Steve Cook Work Out Each Week?
Steve Cook usually works out 5 to 6 days per week, dividing his routine into different muscle groups per day. This allows for focused training and adequate recovery time for each muscle group.
Does Steve Cook Incorporate Cardio Into His Fitness Regimen?
Yes, Steve Cook includes cardio in his fitness regimen. He often integrates HIIT (High-Intensity Interval Training) sessions to boost endurance and burn fat, balancing it with his weightlifting routines.
Does Steve Cook Follow Any Specific Dietary Restrictions?
While Steve Cook does not strictly adhere to specific dietary restrictions, he focuses on clean eating. He limits processed foods, sugars, and unhealthy fats, opting instead for nutrient-dense, natural foods that align with his fitness goals.
Was this article helpful?