Christina Haack is a well-known TV presenter who has managed to stay in shape and got the fans talking about her hot body. But how does she stay fit?
As a fitness coach, I love following fitness stories, especially from well-known celebrities who motivate others to work out.
To gain new ideas to motivate my clients, I took my time to study her interviews, YouTube videos, and her routine.
Keep reading to see what I found out.
Her Stats
Born: July 9, 1983
Height: 5' 9"
Original Weight: 182 lbs
Total Fat Loss: 50 lbs
What Is Christina Haack's Workout Routine?

Christina Haack's workout routine consists of pilates, running, fitness, and yoga to burn fat and is complemented by her long-term maintenance strategies like periodic fitness goal reassessment and constant exercise scheduling.
As someone who has tried various workout routines, I've found that enjoying working out is key. Just like Christina Anstead, enjoying the activities you engage in can make a significant difference in your fitness journey.
While exercising isn't always easy, increasing her heart rate does help Haack feel good.
This is how Christina Haack works out.
Pilates for muscle building – Pilates has aided Haack's health, livelihood, and overall fitness. This workout affects the strength, muscles, and core through coordinated movements [1]. During a discussion with her dietitian Cara Clark, the "Christina on the Coast" star admitted that she enjoys pilates despite finding it tough to practice.
Christina Anstead goes for a morning run daily – Christina Haack's average day starts with a run across her neighborhood. The three-mile workout takes only 30 minutes out of her day, yet it trains the proper muscles. Running not only helps her keep in shape, but it also helps her calm her mind, stay focused, and make her day better. She tries to make her morning routine more enjoyable by running to burn belly fat alongside her French Bulldog.
"Exercise is my stress reliever; nothing beats a solid three-mile run to calm my mind and get my endorphins flowing."

– Christina Haack
She started attending Orangetheory Fitness sessions – Christina Anstead told Country Living that, besides spending time outside and running, she started taking Orangetheory Fitness sessions. Orangetheory concentrates on combining cardio and strength workouts in small groups while monitoring your heartbeat. "It's a great exercise, really intense and tough, and I felt a tremendous shift in my physique as a result," she remarked.
Yoga keeps her mind and body in good shape – Haack has also embraced an awesome workout regimen to stay active. The star has spoken out about doing prenatal yoga while expecting her son Brayden.
She ended up liking the lessons, which made her mind and body feel amazing.
It also made a huge change regarding her sleep. It's no surprise she stuck to the program even after her pregnancies.
What Is Christina Haack's Diet Plan?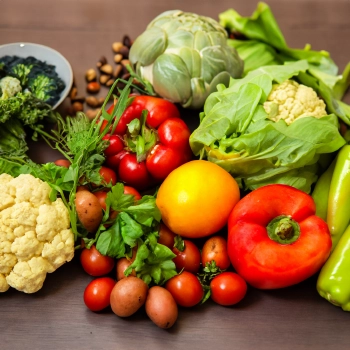 Christina Haack's diet plan consists of eating organic food while allowing herself cheat days on rare occasions. Her diet plan is a reflection of mine; her organic food choice and occasional indulgence. It's a balance of discipline and delight.
Moreover, she avoids eating unhealthy fast food, which is crucial to stay healthy.
During a chat with People magazine, Haack shared that her usual healthy eating routine is one of her top objectives.
She also informed Life & Style magazine that she sought to achieve a "90/10" balance between healthy food and indulging from time to time.
"Nutrition is really essential to me for both my own health and wellbeing, and also for the wellness of my kids; it's all about balance; if I desire a glass of wine, I'll have it, or even some chocolate — why not?"

– Christina Haack
She claims that she follows her typical regimen and tries to eat healthy 90% of the time, but on a date night or a girls' night out, she'll opt for that piece of pretzel bread or dirty martini and not torment herself over it.
Like I always tell my clients, when life throws something at you, you cope with it.
Haack has also stated that she avoids fast food and prefers organic meals, which might be difficult to achieve for people with a busy schedule. Still, she said that it is crucial for her healthy lifestyle.
Who Is Christina Haack?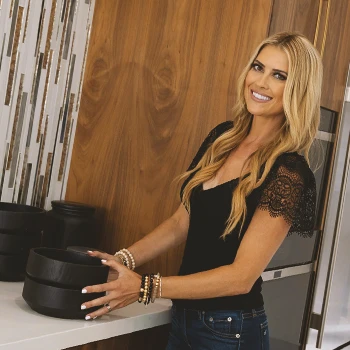 Christina Anstead Haack is a TV presenter with worldwide followers. She often shares her Instagram stories to give her followers an intimate glimpse into her daily life.
The "Christina on the Coast" star and "Flip or Flop" actress managed to lose weight despite dealing with polycystic ovary syndrome, Hashimoto's disease, and the mental health challenges that accompany these ailments.
Her weight loss journey draws parallels with other celebrities such as Adele and Rebel Wilson and serves as an inspiration, demonstrating that with the right mindset and support, anyone can work towards a healthier and happier lifestyle.
Her psychological resilience and positive mindset were particularly instrumental in her navigation through weight loss and health restoration.
FAQs
What Christina Haack Eats in a Day?
Christina Haack eats five small meals a day, consisting of oats (breakfast), green juice (snack), salads and protein (lunch), granola bars (snack), and chicken or salmon (dinner).
How Does Christina Stay so Skinny?
Christina Haack stays so skinny by engaging herself with yoga, cardio, Orangetheory Fitness classes, and running three miles every morning.
What's the Weight and Height of Christina Haack?
Christina Haack stands at 5 feet 9 inches tall, with a weight of 132 lbs.
---
References:
https://www.ncbi.nlm.nih.gov/pmc/articles/PMC5005852/
Was this article helpful?