When it comes to choosing a dietary supplement, "high-quality product" should be the first thing you check off on your reasons-to-purchase list. This naturally applies to your glucomannan supplement, by extension.
I've done a good deal of research, spoken to my dietician, and experimented with many different brands. The result: a list of the best glucomannan supplements I'm confident will benefit my readers and clients.
So, here's our list of the best glucomannan supplements you should seriously consider adding to your weight management regimen.
Editor's Choice
Leanbean
Click For Best Price
#2nd Best Choice
NOW Foods
Check Current Price
#3rd Best Choice
Nature's Way
Check Current Price
Our Top Products (June 2023)
1 - Leanbean (Editor's Choice)
Leanbean is on the top of our list because, other than glucomannan, it contains a powerful combination of green coffee extract, turmeric, and Garcinia Cambogia, and with these ingredients, it has proven to be one of the most potent and effective fat burners for my clients.
Leanbean is also the safest choice for women. It's low in stimulants (like caffeine), which can cause jitters and nausea. It uses alternatives like Vitamin B12 to give you an energy boost (especially when you're on diet mode) [1].
Leanbean's customers love that it's both an appetite suppressant and a mood enhancer (a feature lacking in other supplements on this list).
Quick facts: Glucomannan: 3000mg, Choline: 82.5mg, Garcinia Cambogia: 100mg
Pros
A well-balanced blend of appetite-suppressing and fat-metabolizing ingredients
Free from soy, gluten, and GMOs
Low stimulant content makes it ideal for consumption before bedtime
Offers a money-back guarantee
Cons
Each serving (two pills) should be taken three times a day for efficacy, which some might consider a high dosage
2 - NOW Foods - Glucomannan Pure Powder
NOW has been one of the leaders in the natural products industry since 1968, and they joined the glucomannan game in 2011 with NOW Foods Glucomannan Powder.
NOW's glucomannan powder adds high-quality fiber to your diet, aiding your weight loss by keeping you full. As a powdered glucomannan, you can add it to any of your favorite foods and protein shakes. It also doubles as a thickener for your soups and gravies.
In addition to supporting our bowel movement, NOW Glucomannan Pure Powder definitely aided weight loss and healthy cholesterol levels for me and most of my clients, which makes long-term weight management a bit easier.
Recommended serving is 1/2 teaspoon, and it should be taken with eight oz. of water before every meal, twice a day.
Quick facts : Pure Glucomannan Powder
Pros
Powder form; so it can be added to a variety of foods and drinks
Contain pure glucomannan and nothing else
A trusted brand for over 50 years
Cons
Not convenient for consumption when traveling
3 - Nature's Way - Premium Glucomannan
Nature's Way has always been a front-runner in producing quality health products. And they've come through yet again with a premium glucomannan supplement.
At 1,995 mg per serving, Nature's Way claims it will keep your stomach filled, barring hunger for three to five hours. Some of my clients reported they felt like they'd just had a meal.
What sets Nature's Way Glucomannan apart from some other glucomannan supplements is that users have reported reaching their desired results with smaller doses. So, you should be getting value for your money.
Quick facts : Pure Glucomannan Capsules
Pros
It's TRU-ID authenticated, meaning you're promised exactly what's given on the label
Effective with less than the recommended dosage
Promotes a strong feeling of fullness
Cons
Swallowing without adequate fluid will make this a choking hazard
4 - Nutricost - Glucomannan Powder
This product comes from a company called Nutricost and is flavorless with no aftertaste. So, you can add it to all your foods without sacrificing taste. Since it's in the powdered form, it's also a good substitute for flour to be used as a carb-free thickener.
I really liked the fact that it's flavorless because I added it to my shakes and soups, and it only affected the texture, which I didn't mind at all.
Quick facts : Non-GMO Glucomannan Powder
Pros
No flavors or aftertaste
Good flour substitute for thickening sauces, gravies, and soups
Small serving size, so one bottle will last a long time
Cons
It's less convenient than capsules
5 - Carlyle - Glucomannan Powder
Carlyle has been in the supplement industry for over 40 years. Their glucomannan is a non-GMO weight loss supplement packed in a GMP facility in the USA.
Carlyle is a gentle fiber supplement. While many glucomannan products contain hidden ingredients, this one is safe for all diets. It's also a perfect add-on for smoothies and milkshakes because many of my clients reported it blends well with most drinks.
The company claims the product is effective at tackling high cholesterol levels and blood pressure, controlling diabetes, and limiting bloating and constipation. But we were able to confirm only a few of these in our own testing
Quick facts : GMP-facility-packed Glucomannan Powder
Pros
Blends well with smoothies and milkshakes
Safe for all diets
Packed in a GMP facility, so no hidden ingredients
Cons
May cause mild cramps for some users
6 - BulkSupplements - Konjac Root Glucomannan Powder
This powder produced by BulkSupplements is based on the Konjac Root Extract. Glucomannan comes from this root vegetable whose soluble fiber reaches your lower intestines (where it breaks down) faster than other fibers.
It's great for supporting your digestive health and cardiovascular system while aiding weight loss (provided you exercise and follow a calorie-restricted diet) [2].
My clients reported it helped them with intermittent fasting because it limited their hunger and increased energy.
Quick facts : Powdered Konjac Root Extract
Pros
Successful at curbing hunger when intermittent fasting
Claims to be good for cardiovascular and digestive health
Flavorless and has no smell, so you can add it to any foods
Cons
Might not be good for sensitive stomachs
7 - Nova Nutritions Konjac Root Glucomannan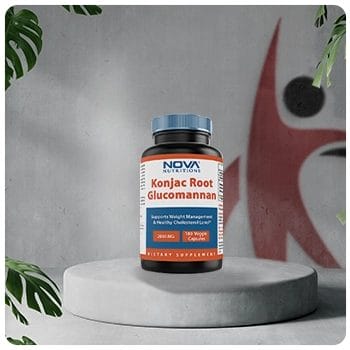 This supplement from Nova Nutritions is another one with more than just glucomannan among its ingredients. The company claims it is formulated with only research-backed ingredients, like vegetable cellulose.
What's great about Nova's glucomannan is that it's free of artificial colors, flavors, and any other contaminants. It also claims it supports healthy blood glucose levels.
I found it definitely curbed my food cravings that sometimes interfere with my workouts.
Quick facts : Vegetable-cellulose-based Glucomannan Capsules
Pros
Promotes feelings of fullness and prevents constipation
Each batch is lab-tested for quality assurance
Claims to support digestive health, appetite control, and weight management
Cons
Users should be aware of potential allergens among ingredients
8 - Micro Ingredients Organic Glucomannan Konjac Root Powder
Out of all the supplements on our list, MicroIngredients Organic Glucomannan is the only one that is certified USDA Organic. It's a premium all-natural glucomannan supplement for those of you on a strictly organic diet.
Micro Ingredients claims it helps with constipation and some of my clients confirmed that. It's also completely free from additives and fillers.
Quick facts : USDA Organic Glucomannan Powder
Pros
Increases satiety and supports regularity
No additives, preservatives, artificial colors, or flavors
Certified USDA Organic
Cons
Not as good a thickening agent as the rest of the powders on the list
9 - NutriGold Glucomannan GOLD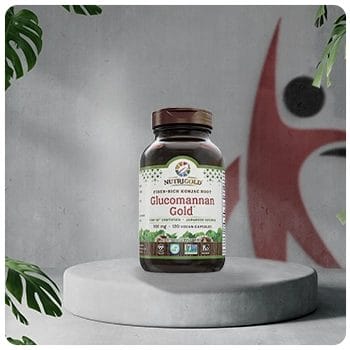 NutriGold's Glucomannan Gold is a non-GMO verified konjac plant powder from Japan that also claims it helps keep your appetite at bay and reduces your cravings.
My clients reported feeling slightly less hungry than normal, but they said it did reduce fast-food and sugar cravings they were battling against.
This supplement is Kosher-approved, and it's also manufactured without fillers and binders like magnesium stearate, stearic acid, silicon dioxide, or chemical preservatives.
Quick facts : Kosher-approved Glucomannan Capsules
Pros
Free from harsh chemical preservatives
No fillers or binders
Kosher and vegan-friendly
Cons
700 mg of glucomannan might not be strong enough to keep some people satiated
10 - Puritan's Pride Konjac Root
Over the past 45 years, Puritan's Pride has played a major role in the health and fitness industry, and they're claiming their glucomannan capsule is made with ingredients of the highest quality.
In addition to glucomannan, this unique formula combines another traditional herbal ingredient that was proven to support weight loss and overall wellness, and that's white kidney bean [3].
It's friendly to all diets because it's free of the ingredients like artificial colors, flavors, sweeteners, and preservatives.
While it did affect our satiety positively, our team concluded it might be better for improving the sense of well-being rather than effective weight loss.
Quick facts:Konjac Root: 1000mg, White Kidney Bean: 1000mg
Pros
Made with the high-quality ingredients
Contains both glucomannan and white kidney bean for overall wellness
Free from additives, sweeteners, and artificial colors
Cons
Some users reported feeling bloated after consumption
Buyer's Guide and Considerations

Before you purchase any glucomannan product, consider the following.
Fitness Goals
You should choose the supplement based on your health goals. If your primary aim is satiety and digestion, you might need to choose a supplement that's pure glucomannan.
But if your goal is to lose weight more effectively and quickly, you might want to choose a supplement like Leanbean that combines multiple ingredients; each one included to help with effective fat burning.
You should keep in mind that glucomannan, with its properties and mechanisms, is still the main active ingredient for weight loss here as well.
With its low energy density and bulking properties, glucomannan seems to promote weight loss by displacing the energy of other nutrients and producing satiety and satiation as it absorbs water and expands in the gastrointestinal tract. - Joyce Keithley, Professor at College of Nursing, Rush University, Chicago
Supplement Form
Two primary forms this supplement comes in are capsules and powders. Now, you should choose powders if your want to have absolute control over the precise amount you take in.
This might be preferable for people who like to fine-tune their intake and experiment with doses. Also, this form is easy to mix with beverages and stews, and it even might be used as a thickener in the kitchen.
Capsules, on the other hand, are much more convenient, especially on the go. They are also tasteless, so you don't need to worry about mixing them with anything. They also offer the benefit of standardized intake without the hassle of measuring your doses every time.
Glucomannan Dosage
Studies did not determine the exact safe or effective dosage for health purposes, but the number that's is usually mentioned in research papers is 1 - 5 grams of glucomannan, one to three times a day [4] [5].
So, based on your individual needs and preferences, you should choose supplements that offer higher or lower dose per capsule, but my advice is to go with the golden middle of what is used in scientific studies, and that's 3g.
FAQs
How Much Glucomannan Should I Take To Lose Weight?
You should take 1 to 5 grams of glucomannan three times a day with water to lose weight. Be sure to take it before meals; otherwise, it won't help with weight loss.
How Long Can You Take Glucomannan?
You can take glucomannan supplements daily for up to four months without the risk of side effects.
What Is the Standardized Glucomannan Supplement Dosage?
There is no standardized dosage for glucomannan supplements because the FDA does not regulate it. If you want to find the right dosage for your needs, try the smallest dose and adjust depending on your body's reaction.
Are There Any Side Effects of Glucomannan Supplements?
There are no known side effects to taking glucomannan. However, uncoated glucomannan pills or powders can be a potential choking hazard if taken with insufficient water.
Can I Take Glucomannan before Bed?
Some people recommend taking glucomannan before bed, while others advise against it. The timing of your intake should depend on your reaction to it and the specific instructions on the label.
Our #1 Glucomannan Supplement Recommendation
After a few months of testing and gathering feedback from our clients and online users, our team at TotalShape concluded that Leanbean is probably the best glucomannan supplement currently on the market. You can check results from our clients using it in our Leanbean review.
It combines multiple high-quality ingredients with no harmful stimulants to curb your appetite and ramp up the fat utilization for energy while giving your body the nutrients it requires for overall health.
I've been using it for a long time myself for my cutting phases, and it never failed to deliver on its promised effectiveness with no stomach upset or any side effects common with these supplements.
Ordered yours today to find out if it'll make as much of a difference for you as it did for my clients and me.
Our #1 Recommendation
Click For Best Price
Pros
A well-balanced blend of appetite-suppressing and fat-metabolizing ingredients
Free from soy, gluten, and GMOs
Low stimulant content makes it ideal for consumption before bedtime
Offers a money-back guarantee
Get the BEST PRICE until the end of June
Cons
Each serving (two pills) should be taken three times a day for efficacy, which some might consider a high dosage
Was this article helpful?