Hangover symptoms may include headache, nausea, sweat, and dehydration, all of which affect your overall exercise performance. But if you find yourself with a hangover like that, there are a few products that might help.
While many pre-workout supplements claim to relieve such ailments, not all of them contain ingredients that are actually effective. So, I spent several months researching pre-workouts with the most efficient ingredients to cure hangover symptoms.
Keep reading to find out the five best pre-workout supplements that can help you bounce back from a night out.
Editor's Choice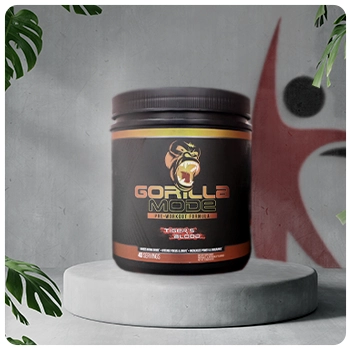 Gorilla Mode
Click For Best Price
#2nd Best Choice
Transparent Labs
Click For Best Price
#3rd Best Choice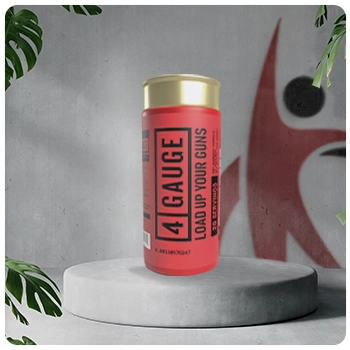 4 Gauge
Click For Best Price
Our Top 5 Products (September 2023)
1 - Gorilla Mode Pre-Workout (Editor's Choice)
Gorilla Mode is a pre-workout supplement with a blend of efficient ingredients that can help those suffering from a hangover.
Firstly, it contains a massive dose of GlycerPump that helps to prevent further dehydration during training [1]. Secondly, Gorilla Mode has agmatine, which helps reduce hangover symptoms such as anxiety by helping regulate the nervous system [2].
Additionally, Gorilla Mode contains malic acid, which may help clean your body from toxins coming from alcohol.
I have to say that I was impressed with this product. I've tried it myself and experienced an unparalleled energy level, and I was able to recover quickly after drinking alcohol.
L-citrulline : 4500mg
Creatine monohydrate : 2500mg
Caffeine : 175mg
GlycerPump : 1500mg
Malic acid : 1500mg
L-tyrosine : 750mg
Agmatine sulfate : 500mg
Kanna : 250mg
Caffeine anhydrous : 175mg
N-phenethyl : 175mg
Bioperine : 5mg
Huperzine A : 200mcg
Pros
Rehydrates your muscle cells due to GlycerPump and L-citrulline
Increases blood flow due to the presence of agmatine sulfate
Helps with stress and anxiety during alcohol withdrawal
Reduces muscle soreness
Get 10% off using coupon code:  TOTALSHAPE
2 - Transparent Labs Bulk Pre-Workout
PreSeries Bulk pre-workout contains a good dose of BCAAs and beta-alanine that can reduce fatigue [3].
In addition, individuals who drink alcohol with abundant dietary zinc, one of the key ingredients of PreSeries Bulk Pre-Workout, have been shown to metabolize alcohol faster than those with somewhat lower levels [4].
Transparent Labs Bulk can also help the body metabolize calcium and remove waste and toxins as it contains boron [5].
The pre-workout contains vitamin D3, which helps absorb calcium and phosphorus [6]. This can have a role in influencing alcohol metabolism, therefore alleviating hangover effects, too.
Theanine, another Transparent Labs Bulk key ingredient, has been proven to eliminate fatigue by lowering glutamate activity in the brain [7].
Personally, I think that Bulk from Transparent Labs is an excellent option that can help ease some hangover symptoms thanks to its choice of amino acids, which further stimulate muscle protein synthesis.
Citrulline malate : 6000mg
Beta-alanine : 4000mg
BCAA : 4000mg
Beta pure betaine anhydrous : 2500mg
Taurine : 1300mg
L-tyrosine : 1000mg
AlphaSize : 300mg
L-theanine : 360mg
Caffeine anhydrous : 180mg
Pros
It helps reduce fatigue
Third-party lab tested
Free from artificial food dyes
It's available in many flavors
Cons
The flavor might be too strong for some users
Get 10% off using coupon code:  TOTALSHAPE
3 - 4 Gauge Pre-Workout
4 Gauge is a pre-workout designed to help you power through a challenging workout despite feeling less than stellar due to the presence of clinically effective doses of popular hangover cures like coconut powder, acetyl-L-carnitine, L-theanine, and red beet.
These excellent ingredients create potent antioxidant, anti-inflammatory, and vascular-protective effects [8].
Adding to this, 4 Gauge contains Rhodiola Rosea, which may help reduce stress and fatigue and may have antidepressant, anti-inflammatory, and antioxidant properties [9].
After just one month of using the supplement, I noticed a significant increase in performance and energy levels, which helped me reach my fitness goals easier.
L-citrulline dl-malate : 6000mg
Creatine monohydrate : 1000mg
Acetyl-L-carnitine : 500mg
Coconut water powder : 300mg
Red beet : 300mg
L-theanine : 200mg
Caffeine anhydrous : 150mg
Rhodiola Rosea (root) powder : 100mg
Pros
Powdered coconut water to encourage hydration
Sugar-free formula
No preservatives and artificial sweeteners
Cons
Caffeine may further dehydrate the body
4 - Nitro Surge Pre-Workout
Nitro Surge can improve blood circulation, reduce inflammation and fatigue, and make you feel more alert due to the presence of L-citrulline [10].
This pre-workout also contains clinically effective doses of beta-alanine that may help calm down muscles' fatigue and increase exercise capacity [11].
That said, research has shown that beta-alanine has immune-enhancing and antioxidant properties [12].
On top of that, the Nitro Surge pre-workout supplement contains l-theanine, an amino acid shown to improve focus and help with stress and anxiety that often accompanies a hangover [13].
It balances out the hormone levels and helps reduce the production of cortisol.
Many clients I spoke with at the gym reported noticing remarkable growth in their endurance after using Nitro Surge for a month.
L-citrulline : 3g
Beta alanine : 1,6g
Betaine anhydrous : 1,25g
Caffeine anhydrous : 180mg
L-theanine : 90mg
Theobromine : 50mg
AstraGin : 25mg
Pros
It can help with stress due to the presence of L-theanine
Reasonable price
Good choice of flavors
Cons
It contains artificial sweeteners
5 - Legion Pulse Pre-Workout Drink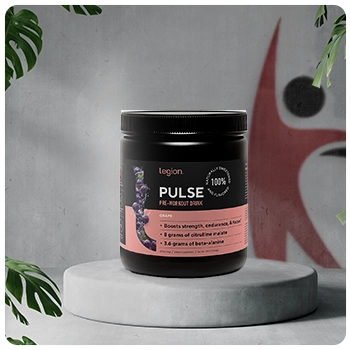 Legion Pulse is an all-natural pre-workout produced by Legion Athletics. It contains ingredients like calcium, sodium, and potassium, which can ease the effects of a hangover [14].
Supplementing with these minerals helps with oxygen transport, neuronal processes, and acid-base homeostasis [15].
What I like about this product is that it comes in two forms, with and without caffeine, allowing you to choose the one based on your needs.
Based on personal testing and feedback I got from my clients, Legion Pulse pre-workout lessens hangover symptoms, including headaches, dehydration, and fatigue.
Caffeine : 350mg
L-theanine : 350mg
Alpha-gpc : 300mg
Citrulline malate : 8mg
Beta-alanine : 3,6mg
Betaine : 2,5mg
Pros
All-natural ingredients
Has a caffeine-free option to avoid the jitters
Contains large doses of minerals that help with oxygen transmission
Cons
Many users reported feeling itchy 30 minutes after drinking it
What Are the Things to Consider Before Buying a Pre-workout for a Hangover?
When buying a pre-workout for hangover, you should consider factors like the ingredients and medication.
What Is a Pre-Workout?
A pre-workout is a product used to improve your energy levels and boost your performance during a workout session.
So far, all my clients who have used this product reported that it has helped them get rid of some hangover symptoms, after which they felt more energized and strong.
The main ingredients in most pre-workouts are caffeine, beta-alanine, and branched-chain amino acids.
Caffeine makes you feel more alert and energetic, beta-alanine helps reduce fatigue during exercise, and branched-chain amino acids (BCAAs) have been shown to improve muscle growth and enhance athletic performance [16].
Unlike protein powder or fat burners, pre-workouts are most beneficial when taken 30 minutes before your training.
Many of my clients reported improved athletic performance after three weeks of Gorilla Mode use and less fatigue during and after sessions.
Ingredients
Although there is not a lot of research assessing hangover cures, studies suggest that specific preparations can be helpful. One option is to look for a pre-workout with well-known hangover cures like electrolytes and amino acids.
B Vitamins
Another possibility is to ensure the pre-workout you choose has B vitamins that are essential for energy production while preventing fatigue [17].
While there are no one-size-fits-all hangover cures, B vitamins can be an essential part of your strategy for dealing with the aftermath of a night out, as it also plays a role in cognitive function and can help reduce anxiety [18].
Agmatine
In addition, products with agmatine can help treat alcohol use disorder, protect the brain from toxins and strokes, widen the blood vessels, and improve blood circulation [19].
GlycerPump
GlycerPump, a form of 65% glycerol powder, may also be beneficial by protecting against dehydration the morning after excessive alcohol consumption [20]. 
Boron
Boron intake can act as one of the most efficient hangover cures, as it causes decreased urinary excretion of both calcium and magnesium [21]. These electrolytes may help reduce fatigue, headaches, and muscle pain.
Zinc
Zinc deficiency is associated with alcohol abuse and can contribute to impaired lung function and susceptibility to lung diseases [22].
In addition, zinc supplements help to protect the liver from damage and promote healing.
L-Theanine, Alpha GPC & Yohimbine
Other ingredients you should look for in a pre-workout to minimize the effects of a hangover are L-theanine, alpha GPC, and yohimbine.
That said, L-theanine is an amino acid that can help reduce anxiety and improve sleep quality [23].
Similarly, alpha GPC is a choline compound that helps lessen stress and ease your mind by increasing acetylcholine. Finally, yohimbine is an alkaloid that improves energy levels, performance, and alertness by stimulating serotonin levels.
"Beetroot can improve athletic performance in various different contexts. In general, it seems to reduce fatigue with continued muscle contractions and may therefore have most benefit during anaerobic cardiovascular exercise or muscular endurance events."

– Kamal Patel, Editor at Examine 
Other popular hangover cures you should look for in a pre-workout are beetroot, red ginseng, prickly pear, ginger, borage oil, and eleuthero [24].
In addition, studies suggest that L-cysteine may also be one of the most beneficial ingredients your pre-workout could have [25].
Medication
Some pre-workouts can interact negatively with other drugs, so it's always best to check with your doctor or pharmacist before using anything new that may cause liver damage or other health problems.
Antibiotics, for example, can interfere with the absorption of many common pre-workout supplement ingredients.
Other medications affected by pre-workouts include blood pressure drugs and antidepressants.
Who Should Take Pre-Workouts for Hangover?
Bodybuilders, weightlifters, and other high-intensity sports athletes should take pre-workouts for hangovers.
An excellent dietary supplement can give you the boost you need if you lack energy or feel run down, as long as you stick to the prescribed dose.
Just be sure to check the ingredients and avoid pre-workouts that can further dehydrate you.
Who Shouldn't Take Pre-Workouts for Hangover?
People with certain heart conditions or high blood pressure shouldn't take pre-workouts for hangovers as they may exacerbate underlying health problems.
The ingredients in these dietary supplements can cause an increase in heart rate, which can, in turn, worsen the underlying conditions.
So it is vital to speak to a doctor before using stimulating pre-workouts.
In addition, people sensitive to caffeine may want to avoid pre-workout supplements, as they can further exacerbate hangover symptoms.
Typical signs you may notice are heart palpitations, anxiety, and nausea, especially when taken on an empty stomach.
FAQs
How Do I Stop Feeling Sick From a Hangover?
To stop feeling sick from a hangover, you should stay hydrated and opt for easily digestible foods rich in complex carbs, like toast or crackers. Drink plenty of liquids like water, juice, and broth to improve low blood sugar levels, and take pre-workout supplements or B vitamins to speed up recovery.
Can BCAAs Help Ease the Aftereffect of Alcohol Consumption?
Yes, BCAAs can help ease the aftereffect of alcohol consumption. Your liver breaks down alcohol into acetaldehyde, a toxin that can cause nausea and vomiting. BCAAs help the liver detoxify acetaldehyde, which in turn helps reduce hangovers.
What Gets Rid of a Hangover Quickly?
Rehydrating with fluids is what gets rid of a hangover quickly. Eating food will also help your body restore some of the nutrients it loses while drinking. Milk thistle and some pre-workout supplements may also help lessen the symptoms.
Do Vitamins Help with Hangovers?
Yes, vitamins can help with hangovers. Vitamin C helps the body break down alcohol and speeds up the healing process. B vitamins help metabolize alcohol and reduce its harmful effects on the body, and niacin (vitamin B3) helps remove toxins from the liver.
Do Pre-workouts Help With Hangovers?
Yes, pre-workouts help with hangovers. Ingredients like beetroot, L-theanine, and ginseng all work together to help clear toxins from the body and improve cognitive function.
Is It Bad to Work Out After Drinking the Night Before?
No, it is not bad to work out after drinking the night before. You'll feel better after working out. Endorphins are released during exercise and can help counteract the effects of alcohol. Just make sure to avoid overtraining – if you push yourself too hard, you'll only feel worse, especially when you end up injuring yourself in the process. Take things easy to ensure your body gets better as the day progresses.
Which Pre-Workout Supplement Is Best for a Hangover?
After several weeks of use, I can say that Gorilla Mode is one of the best pre-workouts for hangovers I've tried. It has allowed me to power through my sessions despite feeling washed out after a night of drinking.
High doses of L-citrulline help the body to get rid of ammonia, one of the causes of hangover symptoms.
Also, the Kanna plant, found in Gorilla Mode, is believed to help reduce feelings of stress and anxiety.
GlycerPump helps the body retain fluid, which can help with dehydration caused by drinking alcohol.
Finally, because agmatine helps the body absorb minerals, you will be able to finish your training without dehydrating your body.
My clients have also reported feeling more alert and focused while seeing solid upgrades in their training after using Gorilla Mode.
Our #1 Recommendation
Click For Best Price

Pros
Rehydrates your muscle cells due to GlycerPump and L-citrulline
Increases blood flow due to the presence of agmatine sulfate
Helps with stress and anxiety during alcohol withdrawal
Reduces muscle soreness
Get the BEST PRICE until the end of September
Was this article helpful?