Whether you want to maintain your weight or stay fit to prepare for childbirth, you will need protein.
However, even in a perfectly healthy pregnancy, it can be challenging to get enough protein into your system. This is especially true if you can't face certain foods.
With the help of my dietitian and the TotalShape team, we analyzed dozens of products to identify the best protein powder for pregnancy and breastfeeding.
As it turns out, we couldn't agree on just one option, so we're highlighting a few to cover dairy, vegan, and organic products.
Top Protein Powder for Pregnancy (2021)
1 - Transparent Labs Whey Protein (Editor's Choice)
One of the best-reviewed proteins available right now is the Transparent Labs whey option. What people love about it is that every ingredient you'll find on the label actually serves a purpose.
There are no fillers or artificial flavors, colors, or preservatives, which is of particular importance to pregnant women.
Each serving contains 24 grams of grass-fed whey, which ensures the best quality nutrients. The only thing better would be an organic option, but given the quality of the dairy ingredients, this shouldn't pose any concern.
Pros
24 grams of protein per serving
Contains no artificial sweeteners or additives
Gluten and GMO-free
Sourced from grass-fed cows
Cons
Not available in an unflavored option
I know that a lot of pregnant women like making healthy smoothies and shakes with superfoods. Having an unflavored option would be great to not overpower some of those shakes.
See this related article on the ​Best low carb protein powder on keto diet, where Transparent Lab's Grass-Fed whey protein is also ​ranked number one.
2 - Mommi 90 Prenatal Protein Powder
Mommi 90 was specifically created for pregnant women and new moms who are breastfeeding. Both the dosage of the whey protein and the added nutrients were specially formulated to support a healthy pregnancy and nursing baby.
The flavors are highlighted as subtle enough to make nutrition-rich pregnancy protein shakes by blending the powder with other ingredients.
What my dietitian highlighted as a real positive is the broad selection of vitamins and minerals that can help to support a healthy body for both the mother and baby.
Pros
15 grams of protein per serving
Contains essential vitamins and minerals to support pregnancy and nursing
Many reviews are positive on the flavors and consistency
Available in good bulk order options
Cons
The bags can be difficult to seal
The only real downside I could identify is that it comes in resealable bags where the seal sometimes doesn't close tightly enough, which may cause spillage.
3 - Baby Booster Prenatal Vitamin Supplement Shake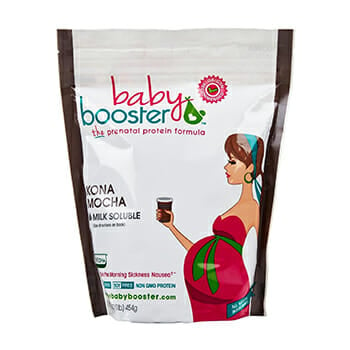 Next on our list of protein powders for pregnancy and nursing is the Baby Booster.
What many women love about it is that you can blend it easily with other foods to create a creamy, nutrition-packed drink.
It's not only gluten and soy-free. You also won't find any unnecessary additives that are so common with other proteins on the market. For health-conscious women, this will make a very safe diet supplement.
Pros
Does not have allergens and any artificial ingredients
Contains important nutrients including folic acid
Blends easily to mix with shakes and smoothies
Comes with no-fuss refund policy if you're not happy
Cons
Some more prenatal vitamins would make it even better
While it does contain important mineral nutrients, it lacks a bit in the vitamin department, considering that it's specifically advertised as a pregnancy and baby booster.
4 - Tera's Whey Organic Protein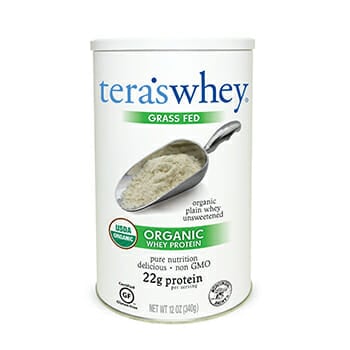 For some women, organic whey protein powder is going to be the only option, which makes this Tera's Whey an ideal choice.
It's healthy for both pregnant women and nursing infants, so you can take this throughout the various stages of pregnancy and while breastfeeding.
As a low carb and gluten-free option, you can avoid any gluten reactions as well as blood glucose spikes that can have negative health impacts.
Pros
21 g of organic whey protein powder per serving
Certified gluten-free to help women with celiac disease
Low carb and glycemic to avoid blood sugar spikes
Available in vanilla, ​plain, and chocolate options
Cons
Doesn't contain vitamins or minerals
One thing to keep in mind when comparing it to other products is that you won't find any added nutrition like vitamins and minerals.
5 - Pure Food Plant-based Protein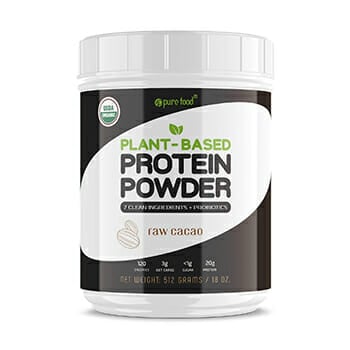 Although not specifically designed as a prenatal protein powder, this plant-based protein has all organic ingredients.
Based on rice, hemp, and pea protein, you get the full range of essential amino acids to support a healthy body and baby.
What a lot of people comment positively is that the vegan-friendly BCAAs can help with maintaining a healthy weight.
Pros
Based on organic real vegan food sources
Contains a broad range of pea, rice, and hemp protein
Contains 4.5 grams of BCAAs to help with weight management
Has added probiotics to support a healthy digestion
While this is an ideal choice to support a vegan diet, you can get a bit bored with having just a vanilla option available.
Is Protein Powder Safe For Mothers?
Yes, generally speaking, protein powder is safe for pregnant and breastfeeding mothers.
However, this doesn't mean you can pick the first protein supplement off a supermarket shelf.
The problem is that many dietary supplements also contain ingredients designed to be performance-enhancing that may not be suitable and potentially unhealthy.
More on this below.
While this can be achieved through careful food selection, like extra dairy products, including milk and cheese, protein supplements can give you a lot more flexibility with your diet.
The protein powders for pregnancy recommended above would be considered safe for prenatal use, but it's always best to discuss your supplementation needs with your doctor.
During pregnancy and nursing, your body will need significantly more protein.
This will also help with determining the right amounts at different stages of your pregnancy.
Pregnancy complicates the already complex metabolism of amino acids. Expansion of blood volume and growth of the maternal tissues require substantial amounts of protein. Thus, additional protein is essential for the maintenance of a successful pregnancy (1).
Benefits for Pregnant Women

There are 3 key areas where having enough protein is critical when you're expecting.
1. Control Weight Gain
Weight gain is going to be inevitable and also highly important as your baby grows. Not only will your unborn require vital nutrients, but your own body will become more reliant on energy storage.
This means you may gain weight when you drink protein powder. However, it should not lead you to obesity. The good news is that proteins can help with managing stored body fat levels, thus can control weight gain efficiently.
2. Aid in Baby's Brain Development
While your baby will need a lot of protein for every single cell development, it becomes especially critical in the third trimester, where a lot of the brain development activity happens [1]. With the right pregnancy protein, you can make sure you get all the critical nutrients needed in this phase.
3. Support Increased Blood Supply
When you're pregnant, the amount of blood that circulates your body will significantly increase. The increased blood volume may result in spikes in blood pressure, which can be detrimental to your health.
Research shows that protein supplementation helps normalize your blood pressure levels, avoiding any potential harm to you and your baby [2].
Benefits for Lactating Women
1. Lose The Baby Weight
A lot of your baby weight, especially fat, will start dropping off during breastfeeding, as your milk supply will be very reliant on fat. However, moderate amounts of protein can also help to lose any excess body weight to get you back to your pre-pregnancy shape.
2. Increase Your Milk Supply
Some studies have revealed that there is a link between protein intake and milk supply for breastfeeding moms [3]. While the studies have not been extensive enough, as long as you're taking high-quality protein products, this is a safe way to give your feeding a boost.
Choosing the Right Protein Powder

Based on the experiences of our team and conversations with some of my pregnant clients, we have come up with this list of factors that you should consider when researching protein powders for pregnancy.
1. Protein Source
The source of protein is directly linked to ease of digestion as well as receiving the full amino acid profile.
When it comes to dairy-based options, ideally choose a grass-fed product. And when it comes to plant-based protein powders, make sure that it's a blend of rice, soy, and pea. This blend contains the full range of essential amino acids.
Recommended post:
2. Presence Of Additives & Sweeteners
It's a bit annoying to see how many types of protein powder have synthetic stuff added in as fillers, colors, and flavors. These are always chemical-based, and especially during pregnancy or while nursing, they should always be avoided.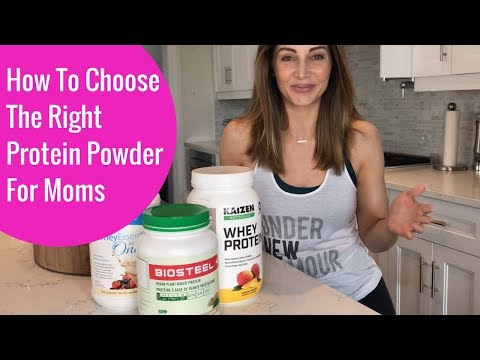 3. Taste & Flavor
This is an important one to consider as you don't want anything to make your morning sickness any worse. One option is to buy an unflavored product that you can add to shakes and snacks.
4. Affordability
My advice is to stay away from the cheap stuff out there. They don't usually contain high-quality protein, and you might be better off taking less of a more expensive option. Grass-fed protein or organic plant-based products are most suitable.
5. Other Ingredients
Some of the above recommendations contain prenatal vitamins, such as folic acid, which can be vital while your baby is growing. If you're taking other supplements, then these may not be as important, but you can achieve multiple nutritional goals with one supplement.
Ingredients Pregnant Women Should Avoid
There are certain things that you should never see on the label of protein powders for pregnancy. The more limited the ingredient list is to protein, the better.
1. Certain Herbs
You will find increasing numbers of whole food protein supplements that have added herbs that can provide health benefits. However, there are dozens of usually safe herbs that can have adverse effects for expecting moms [4].
Herbal supplements that were perfectly safe for you before pregnancy might cause pregnancy complications or harm your baby. Herbs are all-natural, but natural is not synonymous with safe, especially when you're "with child.

- Becky Hand, Registered Dietician
2. Heavy Metals
Some studies have shown that dietary supplements have increased levels of heavy metal content [5]. This can be limited by choosing an organic plant or grass-fed dairy protein.
3. Artificial Sweeteners
Artificial sweeteners have become so abundant in sports supplements despite having significant negative effects on your gut health. Avoid anything that has chemical names on the label that sound like they belong to a science lab.
4. Caffeine Or Other Stimulants
Overstimulation through caffeine can have a negative effect on your heart rate and blood pressure, as well as on your baby's development. You want to limit your caffeine as much as possible.
The Right Amount of Protein Powder
Pregnant women can need up to 20 grams of extra protein in their diet, especially in the third trimester, where the demands from the baby's development are highest.
Overall though, your total amount of daily protein is dependent on your weight and height. The general guideline is to aim for 0.5 g of protein per pound of body weight, but it's probably best to discuss this with your doctor to avoid over or underestimating what you need.
Most of this should come through the food you eat, but supplements are a great way to give you more flexibility.
You probably won't be surprised to learn that mothers who don't eat enough protein tend to have smaller babies and higher rates of pre-term births.

- Monica Reinagel, Nutrition Journalist
Which Protein Supplement Should You Buy?
Our most common advice to pregnant women is to stick with something that is limited to protein, with minimal other ingredients. That has led us to the conclusion that Transparent Labs is the best protein shake for pregnancy and breastfeeding.
It contains only natural ingredients, is gluten, soy, and GMO-free, which all adds up to a healthy baby and mom.
If you've had experience with other products, then make sure you let us know on one of our social media pages.
Transparent Labs Whey Protein
Our #1 Protein Powder for Pregnancy
24 grams of protein per serving
Contains no artificial sweeteners or additives
Gluten and GMO-free
Sourced from grass-fed cows
Get the BEST PRICE until the end of March
Click For Best Price

About the author