Increasing protein intake can enhance lean muscle, weight loss, and injury recovery.
While many protein supplements claim to do this, there are only a select few products I recommend to my clients.
So, when Transparent Labs entered the market, I had my work cut out for me.
As a health and performance coach, I teamed up with our resident dietician and spent weeks researching its ingredients and their impact on muscle gains and endurance.
Here's what I found.
What Is Transparent Labs Protein Powder?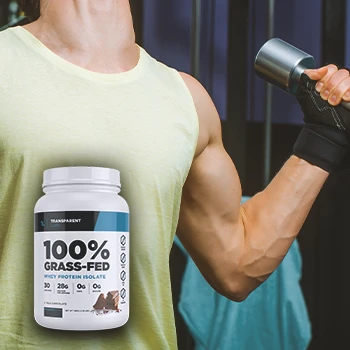 Transparent Labs (TL) protein powder is a dietary supplement that claims to help gym goers hit their daily protein marks to support muscle growth and repair.
Transparent Labs offers whey-isolate protein supplements with high-quality components and a few extraneous substances (no artificial flavors, coloring, or sweeteners).
The highest-rated products from the TL ProteinSeries are the 100% Grass Fed Whey Protein Isolate, Mass Gainer Weight Gainer, and Collagen Hydrolysate, all of which are clean of artificial ingredients.
All TL protein products are enriched in nutritional supplements like iron, calcium, and potassium and are convenient for people who are looking to lose some inches as they're low in sodium and carbs, with no hidden fillers or additives.
However, it's worth noting that the number of carbs and fats may change slightly depending on the flavor.
Suited fo rMen & Women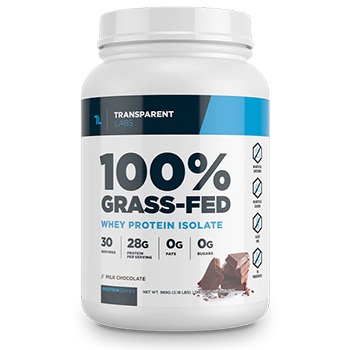 Transparent Labs Protein Powder
How Does Transparent Labs Protein Powder Work?
Transparent Labs protein powder works by providing your body with efficient nutrients, like protein and sodium, to help your muscles recover after a workout.
The Whey Protein Isolate's components have been shown to play a role in building lean muscle and enhancing physical performance and recovery.
A study has shown that higher consumption of high-quality protein impacts the intensity and potentially the duration of muscle protein synthesis.
According to two studies found on the PubMed website, this effect interacts with resistance exercise and may even be amplified by it [1,2].
Transparent Labs Protein Powder Ingredients

Transparent Labs Grass-Fed Whey Protein offers whey protein isolate, which is a high-quality protein source containing essential amino acids necessary for muscle protein synthesis. It does not contain artificial sweeteners commonly found in other protein powders.
Transparent Labs contains 28 grams of protein per 32-gram scoop. Let's see what other ingredients are present and how they affect us.
Whey Protein
Transparent Lab's best seller 100% Grass Fed Whey Protein Isolate is made from hormone-free whey from grass-fed cows, which is packed with amino acids [3].
"Whey Protein's benefits extend to the benefits of increased protein intake in general, such as augmenting muscle gain in conjunction with resistance training, limiting muscle loss during low-calorie diets, and modestly limiting fat gain during periods of excessive calorie intake."

– Kamal Patel, Editor & Co-Founder of Examine.com
Calcium
Studies have demonstrated that calcium is necessary for healthy muscle contraction and helps prevent muscle cramps.
One of the studies found on the National Center for Biotechnology Information website suggests that it has long-term benefits on strength and muscular function when paired with vitamin D, but further research is required to confirm this [4].
Iron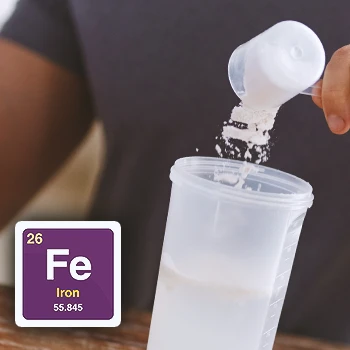 The body needs iron to create the protein myoglobin, which oxygenates muscles.
This helps us maintain our strength during heavy exercise.
In addition, iron aids the production of hemoglobin, which is found in red blood cells and delivers oxygen from the lungs to all areas of the body.
Finally, it's vital for creating hormones [5].
Potassium
Potassium is a necessary electrolyte for a variety of bodily functions, including maintaining muscle growth.
The right amount of potassium is required for proper muscle contraction; its deficiency will result in weakness and muscle cramps [6].
Transparent Labs Protein Powder Benefits

With so many protein powders available, Transparent Labs Grass-Fed Whey Protein stands out for its high-quality protein concentrate and whey concentrate, offering a favorable protein-to-weight ratio for building muscle. It boasts one of the highest protein contents and is made with minimal ingredients.
Transparent Labs was developed to help athletes and gym-goers build muscle, lose weight, and boost recovery. Based on 1st hand experience, here's how that exactly happens.
1. Muscle Building
The Grass Fed Whey Protein is an excellent source of protein, providing 28 g per serving. Many gym-goers mainly use this product to gain muscle mass and improve endurance.
After taking this product for three weeks, I definitely felt a boost during my workout sessions. I could push myself a little harder by performing extra reps, and I even jumped to the next weight up.
2. Weight Loss
Research has shown that protein influences hormones responsible for appetite stimulation and control, such as ghrelin, peptide tyrosine-tyrosine (PYY), and glucagon-like peptide [7].
I often recommend the Grass Fed Whey Protein Isolate to my clients looking to lose weight because it contains no fat and cholesterol and is low in sodium.
This is important to note because sodium has been proven to cause weight gain and obesity when used in large doses [8].
3. Fast Recovery
The Grass Fed Whey Protein Isolate can accelerate the rate of muscle recovery and improve endurance due to the presence of essential amino acids.
They have been shown to boost athletic performance and improve mood [9].
This was, by far, one of the greatest benefits that I've experienced with this product.
Besides improvement in energy levels and mental clarity, I noticed faster muscle recovery and reduced soreness after intense workouts within only two weeks of using the Grass Fed Whey Protein Isolate.
Pros
It provides an ideal amount of protein necessary for active muscle building
It contains no artificial ingredients, which makes it suitable for most users
The product is third-party tested
It comes with a wide choice of flavors
Cons
It is a bit pricey compared to other similar products
Are There Any Side Effects of Transparent Labs Whey Protein?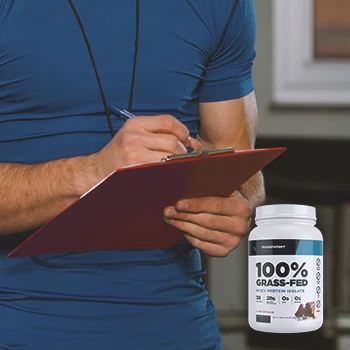 No, Transparent Labs Whey Protein Isolate typically doesn't induce any side effects as long as you comply with the recommended dosage.
The most common side effect connected to using protein is digestive discomfort. However, I did not experience any sort of uneasiness when using this product.
Also, my clients who have used it have never reported any side effects so far, and the customer reviews I've read have been mostly positive.
Transparent Labs uses grass-fed whey protein, whey protein concentrate, and whey protein isolate, all clean sources that our body can easily digest.
How to Use Transparent Labs Protein Powder?
To use Transparent Labs protein powder, mix a scoop with 6–8 oz of cold water or your preferred beverage.
The company recommends mixing one scoop (26g) with 300–400 ml of your drink of choice and drinking 1–3 scoops daily to get the best results.
You may want to adjust the amount of liquid until you get your desired flavor and consistency.
Where to Buy Transparent Labs Protein Powder and Price?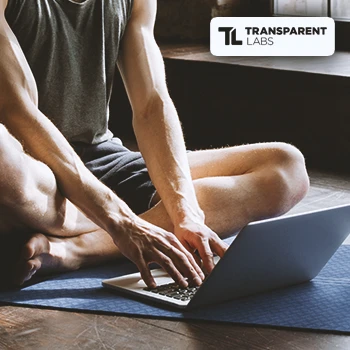 You can buy Transparent Labs grass-fed whey protein isolate directly from their website for around $60 for a 2,14 lbs tub of 30 servings.
Some vendors may even provide TL's whey protein concentrate with a significant discount; however, you can not be sure whether you will receive the genuine product.
From my experience, it's always best to stay safe and order from the official website, where you can find all the information about the product.
Suited fo rMen & Women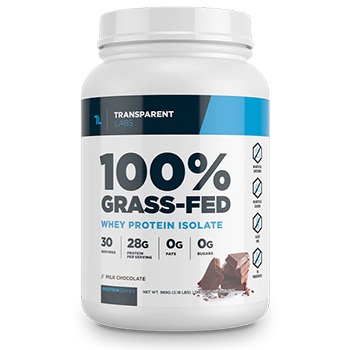 Transparent Labs Protein Powder
Shipping and Delivery
Transparent Labs offers free delivery to the USA for all orders over $99. In addition, they ship internationally, with the exception of nine countries that are featured on the website.
Overall, Transparent Labs' shipping service has been good; each time I order their 100% Grass-Fed Whey Protein Isolate, it is delivered to me in a single day.
Other Transparent Lab Products:
Customer Feedback

I looked at hundreds of Transparent Labs' user testimonials on Amazon to see if their products live up to their claims. Let me briefly outline a few customer reviews.
She found that the Whey Protein Isolate was a good-quality and tasty product, but she had to stop using it because it gave her respiratory problems due to histamine intolerance.

- Sita from the U.K.
He purchased the 100% grass-fed whey isolate protein powder. He found that the taste is smooth, and the ingredients are of a high standard.

- Pedro from the U.S.A
Mark found that the 100% Grass Fed Whey Isolate Protein is the best protein powder he has ever used and that it hits all the markers. He found that French vanilla is the most delicious flavor, and the product dissolves easily in water.

- Mark from the U.S.A
Comparison to Other Products

Ritual Essential Protein Shake +18
Ritual's Essential Protein Shake aims to improve muscle mass and recovery.
It has a gluten-free and sugar-free formula and contains natural ingredients like organic pea protein and L-methionine, proven to deliver improved energy levels and focus.
It has slightly less protein than the Grass Fed Whey Protein Isolate (20g), but it is also a great choice if you're looking for a high-quality product at a lower price.
While the Whey Protein Isolate offers a wide selection of flavors, Ritual's Essential Protein Shake relies on handcrafted vanilla flavor and Fermented Sugarcane (Reb-M) to sweeten its formula.
Onnit Whey Protein Grass-Fed
Onnit Whey Protein Grass-Fed offers protein derived from, as its name suggests, grass-fed cows.
This product also contains ingredients like calcium and potassium, proven to promote muscle recovery and support muscle gain.
Although the Whey Protein Isolate contains more protein (28g), you can still get outstanding benefits from this powder, as each serving contains 20 grams of protein.
Transparent also offers more flavors, while you can get the Onnit Whey Protein Grass-Fed in Mexican chocolate and vanilla.
Optimum Nutrition Gold Standard 100% Whey Protein Powder
Finally, Optimum Nutrition contains efficient ingredients to improve muscle mass and boost endurance.
This product is approved by the European Food Safety Authority and is available in many flavors.
This is a worthy competitor for the Whey Isolate protein powder because users can get almost the same amount of protein (24g) for less money.
However, it contains more calories, so if your fitness goal includes losing weight, the Whey Isolate Protein is a better choice.
FAQs
Are Transparent Labs Clean?
Yes, Transparent Labs are clean. The 100% Grass-Fed Whey Protein Isolate is one of the purest proteins available. It is free of artificial sweeteners, food colors, gluten, and preservatives and is created from cow whey.
Is Transparent Labs Third-Party Tested?
Yes, Transparent Labs is third-party tested. Independent laboratories perform all certificates of analysis.
Is Transparent Labs FDA-Approved?
No, Transparent Labs is not FDA-approved. The FDA does not regulate protein powders or any other dietary supplements. However, all the company's products are manufactured in factories that adhere to FDA standards.
What Are the Environmental Benefits of Using Grass-Fed Whey Protein?
Grass-fed whey protein is often produced through more sustainable farming practices, leading to a reduced carbon footprint compared to conventional whey. This makes it a more environmentally friendly choice for those concerned about the ecological impact of their dietary supplements.
How Does Grass-Fed Whey Protein Compare to Plant-Based Protein Powders?
Grass-fed whey protein typically offers a complete amino acid profile, which is essential for muscle growth and recovery, while some plant-based proteins may lack certain essential amino acids. However, plant-based proteins are a viable option for those with dietary restrictions or environmental concerns, offering a different nutritional profile and lower environmental impact.
Can You Explain the Amino Acid Profile in Transparent Labs Whey Protein?
Transparent Labs Whey Protein contains a comprehensive amino acid profile, including essential amino acids crucial for muscle repair and growth. This profile supports optimal muscle recovery and development, making it highly beneficial for athletes and fitness enthusiasts.
What Is the Impact of Grass-Fed Whey Protein on Digestive Health?
Grass-fed whey protein is generally easier on the digestive system and can be a better option for individuals with lactose intolerance or sensitive stomachs. Its high-quality protein content and potentially lower lactose levels help maintain a healthy gut flora and reduce digestive discomfort.
How Does the Body Adapt to Long-Term Use of Whey Protein Supplements?
With long-term use, the body can adapt to regular whey protein supplementation, maintaining its efficacy in muscle recovery and growth. However, it's important to balance protein intake with a varied diet to ensure overall nutritional needs are met.
Our Verdict on Transparent Labs Whey Protein
Transparent Labs Grass-Fed Whey Protein is an excellent choice for those looking for a protein powder made with quality ingredients. It not only tastes great but is also one of the cleanest proteins available. The fact that it offers a good amount of protein per serving is a huge plus, making it stand out from other options on the market.
Based on my own experience, I definitely recommend Transparent Labs protein powder as it contains most of the nutrients gym-goers need to reach their fitness goals.
What really stands out to me about this product is that it's free of artificial sweeteners and preservatives and has one of the best protein-to-weight ratios in the market.
The Transparent Labs Whey Protein Isolate, in particular, has been highly effective in helping me build muscle mass.
Suited fo rMen & Women
Transparent Labs Protein Powder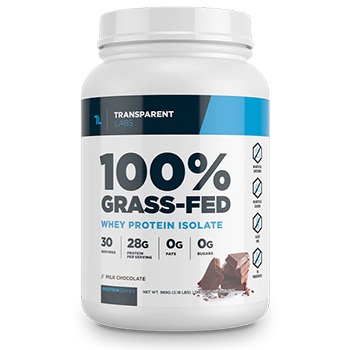 Pros
It provides an ideal amount of protein necessary for active muscle building
It contains no artificial ingredients, which makes it suitable for most users
The product is third-party tested
It comes with a wide choice of flavors
Get the BEST PRICE until the end of December
Cons
It is a bit pricey compared to other similar products
Was this article helpful?